It doesn't matter what stage of the relationship you're in, your sweetheart will be so touched that you got something so cute for you both to enjoy. His and hers gifts can be matching items, separate things they individually love, or a gift set that they can enjoy together. As long as you know he loves beer and she loves wine or something along those lines, his and her gifts are bound to be a big hit. Best of all, couple gifts are perfect for any stage of the relationship or any special occasion! Whether it's for a wedding, Valentine's Day, your anniversary, or you just want to do something nice for your special someone, you just can't go wrong with these adorable gifts.
Champagne Glasses Always Make the Best His and Hers Gifts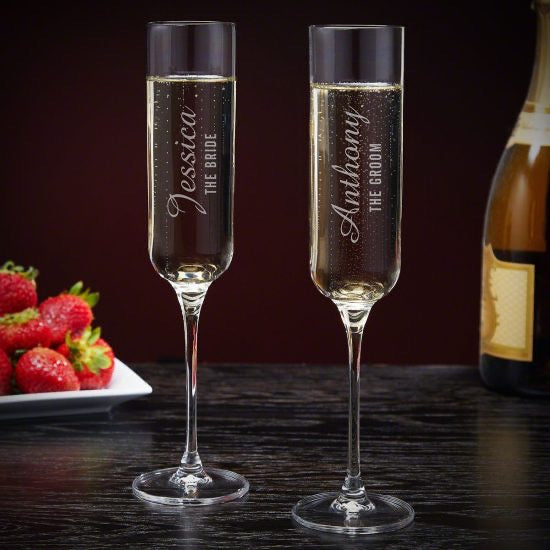 When momentous occasions happen in your life, what do you do? Drink champagne and celebrate, of course! You just found out that your best friend is pregnant, your sister got engaged, or your parents are celebrating a milestone anniversary. Naturally, you want to get the happy couple something special for both husband and wife to enjoy. Surprise them with a set of personalized champagne glasses! This gorgeous set of champagne flutes are perfect for toasting to all of those wonderful moments in a couple's life. No matter what the happy occasion, the couple you give these champagne flutes to will be overjoyed to have the proper glasses to celebrate with. Just don't forget to give them an actual bottle of champagne, too!
His Beer & Her Wine Collection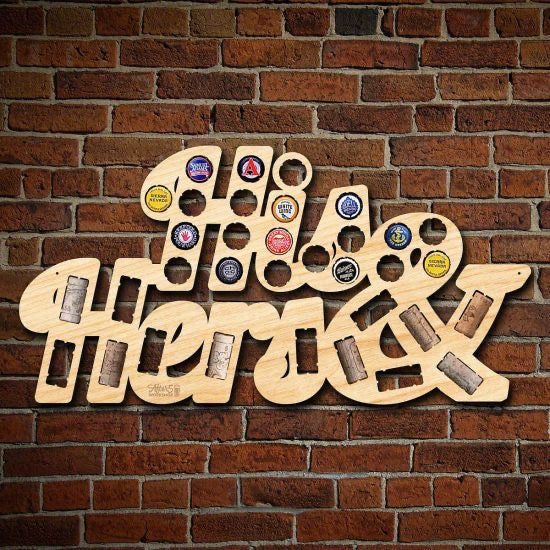 Do you know a couple where he loves beer and she loves wine? Give them a his and hers gift that they will both enjoy: a bottle cap and wine cork collector! Adorably shaped like the words "His & Hers," there are plenty of spaces for the pair to show off their favorite brands. The lovebirds will enjoy placing their keepsakes on the sign. They could even use the "&" part to signify the bottles they've enjoyed together. How cute! This sweet piece of decor would make a lovely housewarming, wedding, or newlyweds gift.
A Beautiful Decanter Set The Couple Can Use Together
You're in search of a nice, thoughtful gift for a couple as a gift for both of them, but you also want it to be a kind of his and hers gift. You've searched for days trying to find either one complete gift they will both enjoy or two separate gifts geared toward their individual interests. Look no further than this three piece decanter set! They can each have their own rocks glass and share the decanter, making it the perfect his and hers set as well as for them both as a whole. Whether they like whiskey, tequila, rum, vodka, or any other spirit, they can enjoy it in this stunning crystal decanter set!
The Tools They Can't Live Without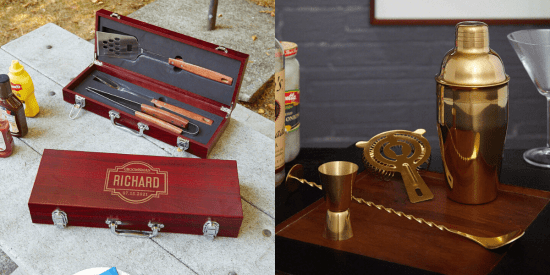 When it comes to giving his and hers gifts, they don't necessarily have to be a matching set or things that go together. You've got to get gifts for a couple, but it doesn't have to be one thing for them both to enjoy. In fact, they'll appreciate getting individual gifts related to their interests even more than one big thing! For example, if the husband is really into cooking and the wife is known for her incredible drinks, get them a set of tools for their trades! The husband will love a nice set of grilling tools that come in a handsome personalized case and the wife would be overjoyed to get gorgeous gold-plated bar tending tools! Both tool sets are bound to be appreciated and enjoyed, especially when the couple hosts dinner parties or cookouts where they'll use their new essentials together.
His and Her Gifts for a Pair of Beer Lovers
Looking for something special to give to a couple who loves beer? Last year you surprised them with a brewery tour and every Christmas they each get a case of their favorite beers. These adorable his and hers gifts are perfect for a couple celebrating their wedding or anniversary. They will love the unique design on the mugs but most of all, they'll love having the proper glassware to knock back plenty of beer! These hefty mugs are great for enjoying a brew during dinner, a movie, or the lovebirds' favorite sport. No matter what occasion you give them for, the beer-loving duo will treasure these lovely mugs for many years and use them all the time.
176+ WEDDING GIFTS THEY WILL LOVE>
Cute His and Hers Shirts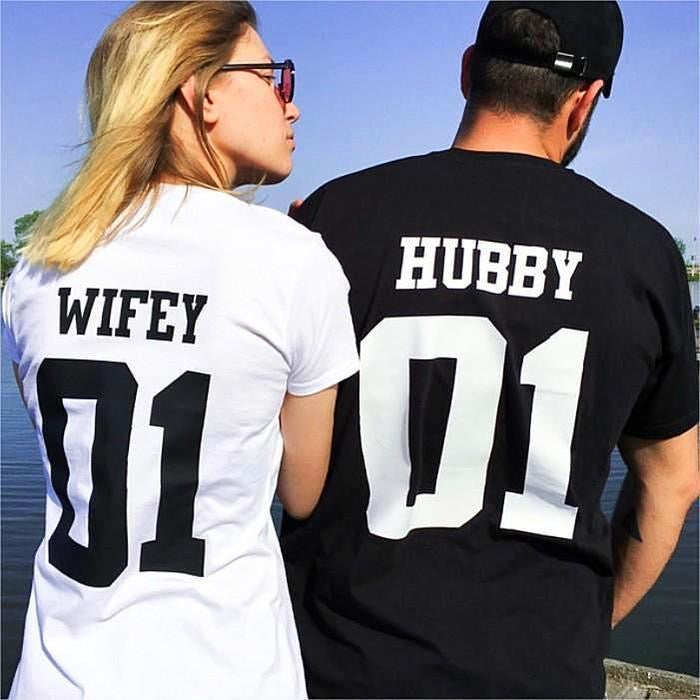 Do you know a couple who is just so nauseatingly cute that they're like a pair of highschoolers who just started dating? You never know what to get them for gifts because you don't want to leave either of them out. Now they're getting married, which makes these adorable wifey and hubby shirts the perfect his and her gifts! The newlyweds will absolutely love these super cute jersey-style shirts. They will definitely want to take them on their honeymoon, wear them everywhere when they go shopping together, and especially when they go out with friends. They'll certainly never lose each other in a crowd or a store!
Classic Mr. and Mrs. Wine Glasses
Looking for a classy his and hers gift for a married couple in your life? Mr. and Mrs. wine glasses are always appreciated! These beautiful his and hers wine glasses are the perfect wedding or soon-to-be married gifts because they're timeless, meaningful, and bound to be used for years. They're perfect for using on date nights, anniversaries, and even the holidays. Every time the happy couple uses them, they'll be reminded of their wonderful wedding day.
Fun Signs for Both Him and Her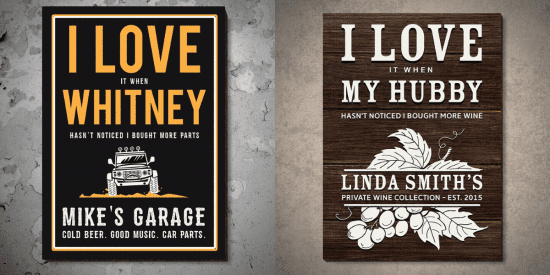 You're here because you're looking for gifts for both people, but that doesn't mean they necessarily have to be the same item! With these customizable signs, you can give the couple each their own unique gift. The garage sign is the perfect gift for the guy who loves to spend time outside or in his workshop fixing up cars and doing DIY projects. The lovely rustic wine sign is ideal for the woman who enjoys all kinds of wine!
The Perfect Beer Gift for Couples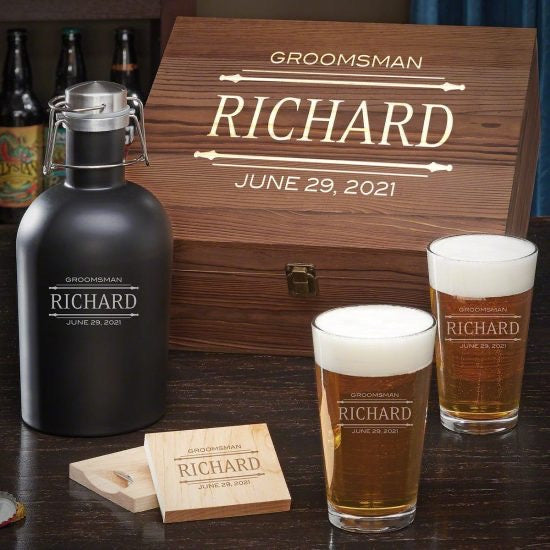 Know a couple who likes beer? Pull out all the stops and get them this ultimate beer lover gift set! From the personalized pint glasses to the nifty bottle-opening coasters, this set has it all. One of the best things about this awesome his and hers gift is that it has something for both people to use on their own as well as together. The growler is perfect for bringing along plenty of beer to share between them on a camping or hiking trip while the pint glasses and coasters can each be his and hers. They will love the wooden gift box as well for storing keepsakes and various items such as a bottle cap collection or wedding mementos.
He Golfs, She Cooks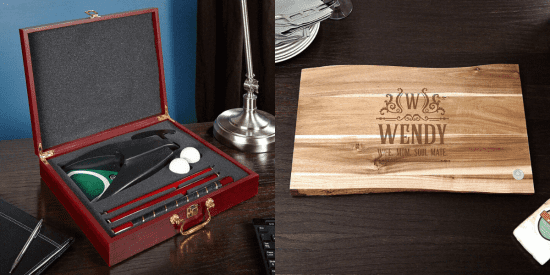 The best way to give his and hers gifts is to get each of them something related to their hobbies. For example, does he love to golf and she loves to cook? This portable putting set and engraved hardwood cutting board are the perfect gifts for them! He will love being able to bring his love of golf wherever he goes thanks to the handy portable putting set. Even on the days when he doesn't have the time to make it to the green, he can practice his shots at the office or his home. She will absolutely love the beautiful cutting board, which has a raw, rustic look that will add a touch of nature to her kitchen. She'll enjoy using the cutting board for preparing all kinds of ingredients for her famous meals whether it's breakfast or dinner!
Give Each One Their Own Bathrobe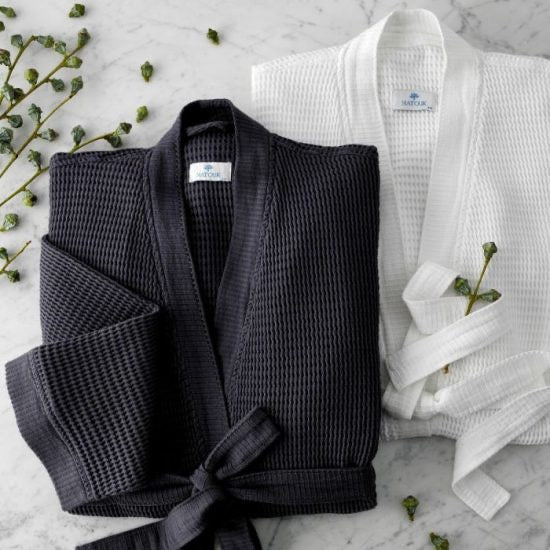 Whether you know the couple well or not, you can never go wrong with his and hers bathrobes! These luxurious cotton waffle-knit robes are simply divine and would make wonderful gifts for your boss and his wife, your parents, or even a friend and their partner on any occasion. You can choose from all kinds of color combinations and even have the robes monogrammed to make them extra special.
Must-Have His and Her Pint Glasses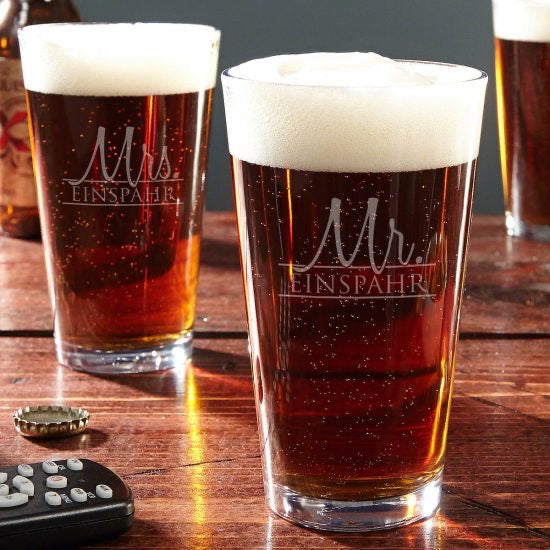 Some his and her gifts can be over-the-top or largely geared toward one person, but yours don't have to be! Make sure that both he and her will love your gift by getting them these lovely personalized pint glasses. These glasses are great for beer, iced tea, iced coffee, cocktails, and so much more. The lovebirds will enjoy using these cute Mr. and Mrs. glasses daily, and everyone who sees them will want a pair for themselves.
For Mom and Dad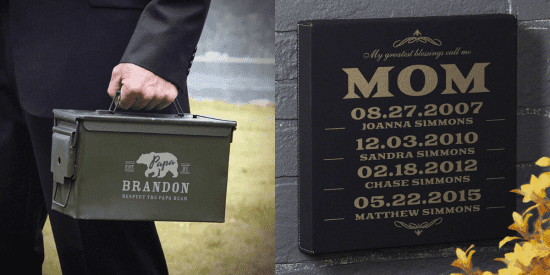 Are you looking for a couple of sweet gifts for your mom and dad? Look no further than these two adorable his and her gifts! The papa bear ammo can is a fun, personal, and practical gift that your dad will enjoy for many years to come. Every time he uses the ammo box to get out his live rounds or favorite tools, he'll be reminded of his awesome kids. As for mom, she will proudly display this thoughtful piece of decor for everyone to admire. She will love seeing it in her home every day to remind her of the happiest days of her life when she was blessed with you and your siblings on your birthdays. With these adorable gifts, your mom and dad will each get something nice to remind them of their wonderful children that makes them feel special.
Unique His and Hers Gifts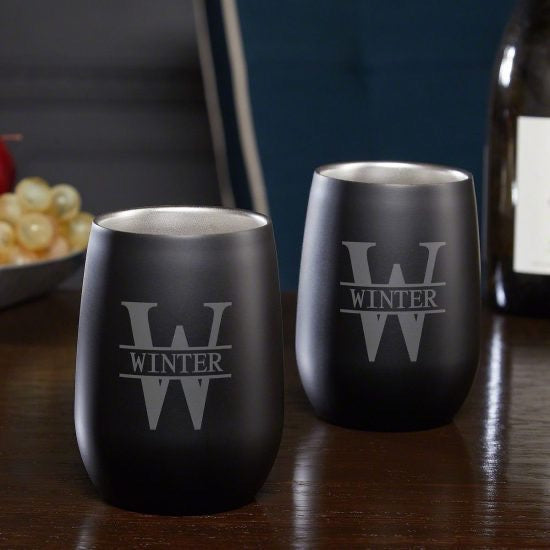 You don't have to get something typical for the lovebirds in your life, get them something cool and unique that no one else will think of! These insulated drink tumblers are great for wine, cocktails, and even juice. The double walled stainless steel will ensure that even if the two are outside by the pool sipping Mojitos that their drinks stay ice cold until the very last drop. The tumblers are great for traveling, too, as they are extremely durable. They can go along on the annual camping trip or weekend lake trips so that the couple doesn't have to worry about bringing disposable plastic cups! These personalized tumblers make fantastic Christmas, anniversary, or Valentine's Day gifts to the couple you know who loves their cold drinks and traveling.
He Loves Beer, She Loves Wine
When it comes to shopping for gifts for couples, you want to get them something they'll both love. For a duo where one loves wine and one loves beer, get them the biggest glasses for their favorite beverages! These giant glasses hold more than enough beer and wine to get them through a whole movie or half a football game. The beer mug can hold up to one liter while the wine glass holds an entire bottle of wine! The couple will get a kick out of these fun glasses and use them all the time. Seriously, these are his and hers glasses every wine and beer-loving couple has dreamed of!
Adorable Couple Necklaces
His and hers jewelry is a little more traditional than the previous suggestions. With this unique concept of interlocking personalized necklaces, the couple you give them to will be able to carry a little piece of their sweetheart wherever they go. How cute is that? Any couple would adore these sweet keepsakes whether they're just dating or have been together for years. These necklaces are the perfect Valentine's Day, anniversary, or wedding gifts!
Essential His and Her Gifts
Of course, you can keep it classy by giving the lovebirds a pair of personalized rocks glasses. The couple that enjoys after-dinner drinks together by the fire would absolutely love these! The unique square shape makes them easier to hold, and the thick glass helps insulate their drinks so that the pair can enjoy their romantic cocktails together for as long as they wish. This matching pair of his and hers glasses are great for any occasion to your adorable parents, friends, or coworkers.
423+ HIS AND HER GIFTS FOR ANNIVERSARIES>