Finding the perfect gift for one person is difficult enough, but trying to find an awesome gift for two people? That can be incredibly tough! Whether it's a couple of friends getting married, your aunt and uncle on Christmas, or a thank you gift for your neighbors, choosing the ideal gift that both halves of the couple will enjoy is hard. That's why we're here to help! Good gifts for couples should be presents that are one-of-a-kind, personal, and can easily be enjoyed by both halves. We looked and found the most spectacular couple gifts ideas that any couple, young or old, will absolutely adore!
Glassware Set of Good Gifts for Couples
There's no couple on the planet who won't immediately fall in love with this sculpted glasses and decanter set when it's presented to them as a gift! They'll be big fans of the uniquely-sculpted glassware that is different from any other set of glasses they've ever owned, and the decanter being engraved just for them is also an awesome touch that is sure to make them feel special too! Any time the two of them want to spend time together and have a drink, they'll immediately reach for their handsomely engraved decanter and uniquely sculpted glasses.
A Nice Box and All the Wine Tools They Need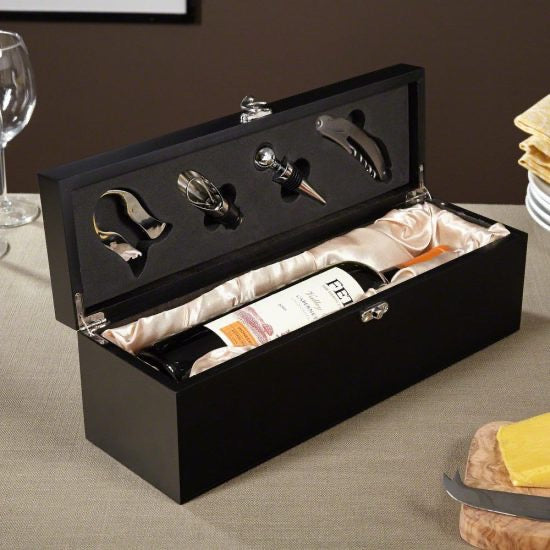 Good gifts for couples that they'll use time and time again is always an excellent choice, which is why this personalized wine tool box is a perfect gift! This gift box is not only a timeless gift they'll use time and time again, but it's beautiful and extremely useful as well! The couple will love having this handsome, customized box to keep a nice bottle of wine in, saving it for a special occasion. They'll definitely appreciate having all the wine tools they could ever need all in one place, making it a breeze whenever they want to share a nice Merlot or Riesling together. Include a nice bottle of their favorite wine inside this box when it's gifted to make it the ultimate wine gift for a couple!
Personalized Couple Gift for the Kitchen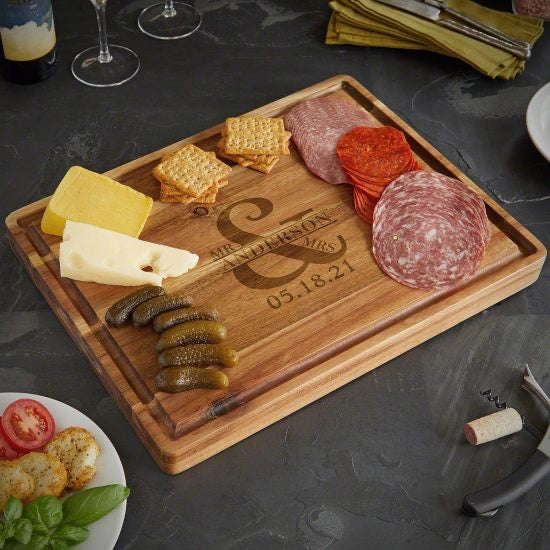 A simple yet incredible date night activity for any married couple is cooking together in the kitchen. Make their next at home date night better than ever with this engraved cutting board! They'll feel so special seeing the customization on this handsome board as they're using it as a surface to chop up various meats and veggies. It even functions as a perfect serving tray when they want to serve their guests some scrumptious foods they've made. Talk about a great gift for a couple!
Couple Gifts Ideas for Easy Access to Beverages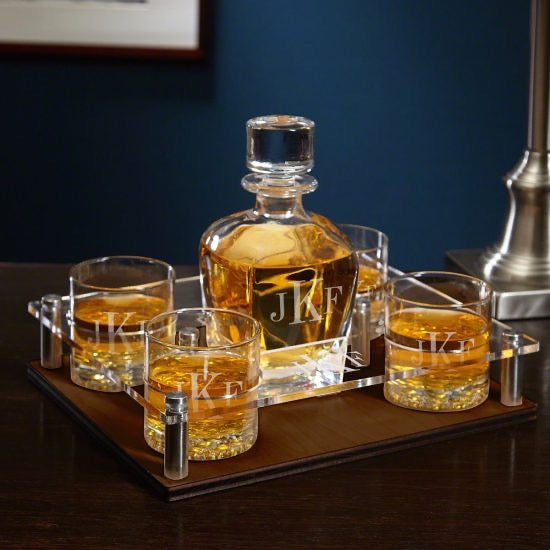 There's not a couple alive that won't feel incredibly cool and sophisticated with this whiskey presentation set in their living room or kitchen! Sitting on the couch together sipping on their favorite drink from a monogrammed glass will become their favorite thing to do together on their anniversary or Valentine's Day. They'll really appreciate having this set within arm's reach of where they're relaxing so they don't have to go to any trouble when they want to have a drink.
Handsome Wine Sign for Their Home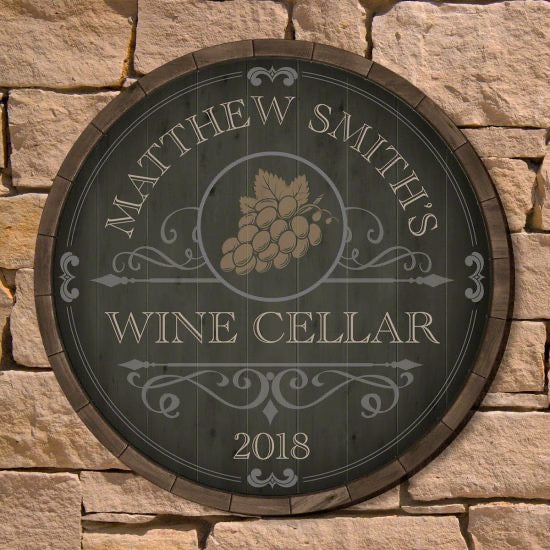 You're looking for gifts that manage to make every day a little brighter for the couple. This gorgeous wine cellar sign will do just that! It's one of the best couple gifts ideas because they'll love the way it looks hanging in their home, no matter where they choose to hang it. Seeing their name on their own personal sign will make them feel like they own their own wine cellar!
331+ STUNNING PERSONALIZED SIGNS>
Fried Food Times Two
A super unique, useful present that ends in delicious food for both halves of the couple? Say no more! This dual air fryer isn't your run-of-the-mill present, and the couple you're buying for will appreciate its uniqueness. They'll definitely appreciate it when he wants French fries and she wants tater tots because they can simply cook up both at the same time. How convenient!
Keep the Memories in a Shadow Box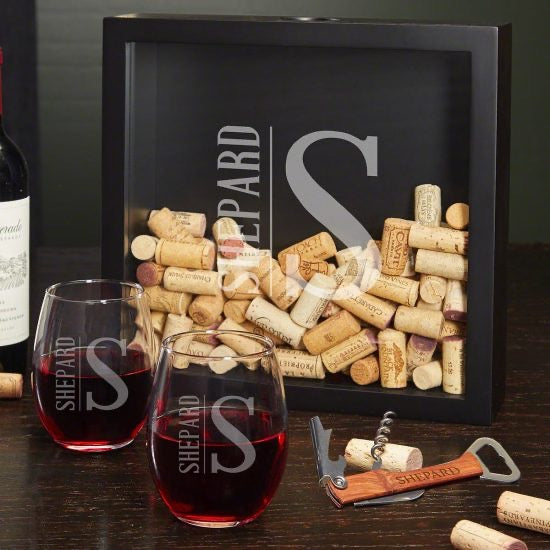 Savoring memories is important for couples, so you know that good gifts for couples often include a way to remember life's best experiences. That's what this custom wine glass and shadow box gift set does! This gift set is the perfect way to save and enjoy memories from anniversaries or date nights by placing wine corks, bottle caps, photographs, or ticket stubs inside. They'll love sipping on their handsomely customized wine glasses and talking about all the good times they've had together!
Have Fun Making Cocktails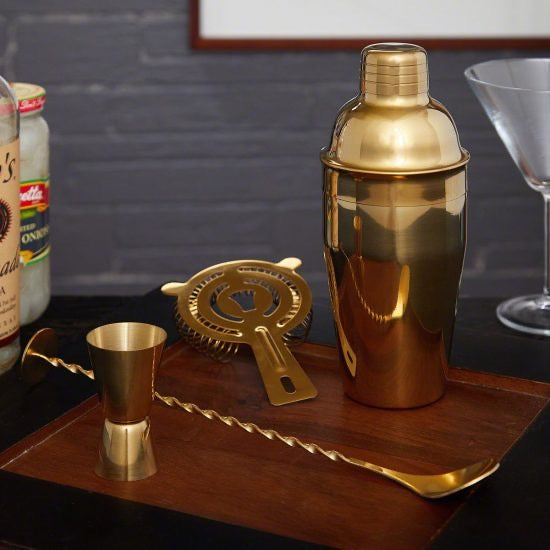 Is there anything more fun than whipping up delicious cocktails with your partner in your home bar? Get the couple this bar tool set so they can have a fun time making cocktails together whenever they're in the mood to have a delicious drink but don't feel like going to a bar. It'll feel so rewarding after they work together to concoct a delicious beverage!
Globe Decanter and Glencairns are Good Gifts for Couples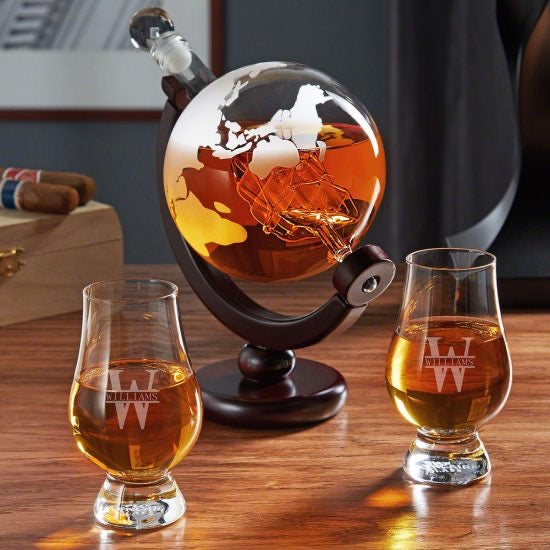 This globe decanter and Glencairn glasses set is an excellent gift idea that'll make the couple feel like every special occasion is a super fancy one! They'll really enjoy using this set to sip on scotch together on holidays or date nights, feeling like the most sophisticated couple in the world with the classy, custom Glencairns that accentuate the taste of their favorite whiskeys more than regular glasses. The globe decanter will always remind them that they have a partner who means the world to them!
A Perfect Glass for Each Half
Chances are, there will be times in their relationship when they aren't in the mood for the exact same thing, and that's okay! This pint and wine glass set is one of the best couple gifts ideas that they'll appreciate because it lets them use a fun matching set of glasses, even when one person wants beer and the other is in the mood for wine! They'll feel so in sync even when they're wanting different things with this gift set!
Work Side by Side
Happy couples love to spend as much time together as they can, no matter what they're doing! With this amazing extra long two person desk, they'll be able to work side by side! They'll love all the room this desk provides for all of their electronics and anything else, but it also saves them room from having to have two bulky desks in their home. Nothing will make them happier than working on projects for their jobs, doing some research, or doing anything else on their computers together!
The Best Couple Gifts Ideas are Practical and Portable
Couples love practical gifts that make their lives a little bit easier, like this customized portable wine chiller! Not only will this handsome chiller keep their wine cold when they're bringing a bottle to a friend or family member's house but also when they're on a picnic or camping! The couple will be incredibly appreciative of such a simple, useful present!
A Fun, Competitive Couple Gift Idea
Couples are always looking for new ways to have fun together. With this custom bean bag toss game, they'll always have a foolproof way to have a good time together or with friends on a holiday or special occasion. They'll love that this set is portable, so they can put it in any room in the house, backyard, or even somewhere they want to take it. Seeing the customization will make them feel special as they're having some competitive fun with this gift!
Super Sophisticated Decanter Box Set
There are few good gifts for couples out there that are as impressive as this decanter boxed set! Any couple, young or old, will feel incredibly classy and sophisticated when they open up this handsomely engraved box to see this fancy glassware. They'll love placing this decanter on their home bar or dining room table filled with their whiskey of choice, ready to pour themselves a delicious glass of whiskey into their monogrammed Glencairns when spending a date night together.
A Sign to Make Them Smile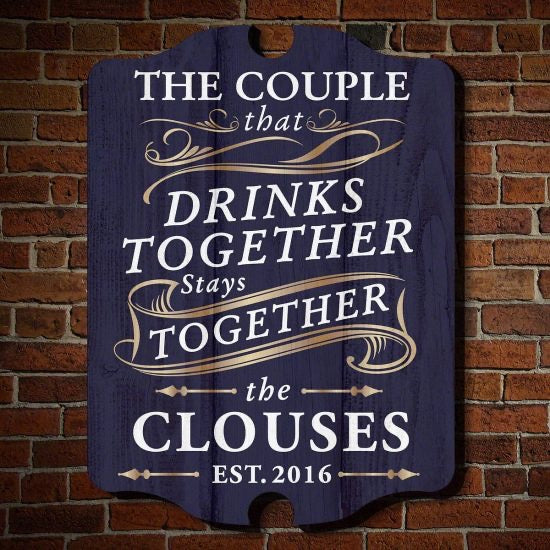 Get them the coolest decor piece for couples ever! This personalized wooden sign is one of the best couple gifts ideas that will make them smile each time they look at it. They simply won't be able to wait to hang it up in their kitchen, dining room, living room, or anywhere else in their home! Each time they see it, it will be a perfect reminder that so many things can be solved by just sharing a drink together.
Cozy and Warm Couple Present
Good gifts for couples don't have to be anything extravagant or complicated. This Sherpa heated blanket is a no-frills, simple present that they'll absolutely adore. Nothing will make them happier than cuddling up together on the couch and watching a movie while using this blanket to stay super warm. In the winter, this blanket will bring them so much warmth as they sleep, which they'll really appreciate as well.
Couple Gifts Ideas to Keep Their Drinks Chilled
This set of custom stainless steel tumblers is just the kind of couple gift that the two of them will use all the time! No matter if they're drinking wine on a special occasion, a cocktail on date night, sweet tea by the pool, or anything else they want to keep chilled, they'll use these customized tumblers to keep their drinks chilled till the last drop. They'll definitely do a toast to your awesome gift-giving skills using this present!