Men are notorious for claiming "I don't need anything" when you ask them what they want for their birthday, anniversary, or the holidays. They might not need anything, but you can always get them something awesome that they'll love! What makes a great gift for men who have everything? Most importantly, the gift has to be practical so that he can use it again and again for many years. Secondly, it should be related to something that he likes, will solve a problem, or has shown interest in, like a super cool bar cart for the husband who dreams of a home bar or a robotic lawn mower for the dad who dreads the chore. We did all of the hard work for you and found the best, most unique gifts for men who have everything that are ideal for any occasion of gift-giving to make your shopping troubles easier!
An Antique Bar Cart
For the guy who says he has everything except for a home bar: a gorgeous bar cart that's as functional as it is attractive. The globe part of the cart opens up to reveal a handy storage space for glasses and a few bottles of liquor or wine. Below, he'll have extra storage space to hold several more bottles! He'll love having this exquisite piece of furniture parked in his dining room or kitchen. The vintage design of the replicated Italian frescoes decorating the cart will give his home a touch of class. All in all, this is one of the best gifts for men who have everything for Christmas, an anniversary, or even his birthday.
Handsome Decanter Serving Set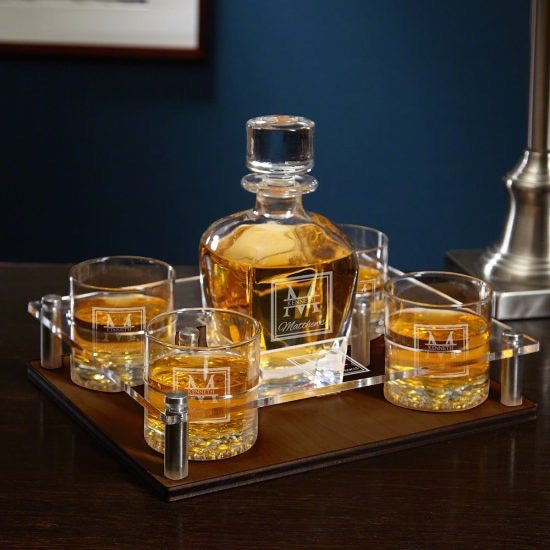 A man of such wealth and accomplishment probably has a decanter and glassware for his home bar, but he definitely doesn't have a set like this. This six-piece set comes with a decanter, four glasses, and a glass and wood serving tray, which are all engraved with his name. This set is the perfect, classy touch to his home office or work office and is an ideal Christmas or anniversary gift.
A Manly Gift Set for the Manly Dude Who Has Everything
Looking for unique gifts for men who have everything? This manly gift set is the ideal gift set for your dad, husband, or grandpa. Included is a genuine military surplus ammunition box, a 2-in-1 cigar holder and liquor flask, a hatchet, and a cool new knife. Your manly man will love every super cool piece in this set! Now he has a new ammo can to carry his ammunition to and from the range, a flask that will store his cigars and a few ounces of his favorite liquor, and two handy new tools. Ideal for Christmas or an anniversary, he is sure to enjoy every unique piece in this manly gift set. You can customize the engraving on the ammo can with a title, name, and date, such as "World's Best Dad, Daniel, June 16th, 2019" for a great Father's Day gift or "To My Husband, William," followed by the date of your wedding or his birthday. The options are endless!
An Out Of This World Decanter
No matter his liquor of choice, anything will look exquisite in this incredibly detailed decanter! Shaped like the Earth and laser etched with fine details of each continent, this all-glass decanter holds its own unique World Wonder: a hand-blown glass ship! This gorgeous piece sails through the seas of his liquor like the flying pirate ship from Peter Pan. How amazing! This gorgeous work of out will look outstanding in any room he displays it in whether its his home office or living room.
A Whiskey Glass that Can Hold His Cigar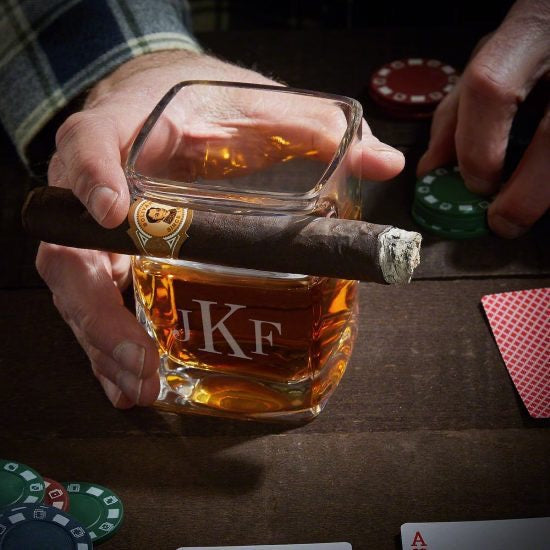 He's probably got an ashtray and a rocks glass or two, but he definitely doesn't have this glass! Designed to hold both his drink and his cigar, this remarkable glass is a total game-changer. He'll love having a free hand to change the channel or hold his deck of cards thanks to this handy glass! Make sure to include a bottle of his favorite whiskey and a couple of cigars to make this unique gift for men who have everything a complete birthday, holiday, retirement, or anniversary gift.
203+ MORE LIQUOR FLASKS FOR MEN >
A Robot That Makes Incredible Pancakes
Does he love eating pancakes for breakfast but never has the time to make them? That's where the PancakeBot comes in! He can get his lunch ready for work while the PancakeBot draws pancakes in the shape of a dinosaur, the moon, or even the Empire State Building. If he has kids, they'll love this incredible gift just as much as he will. He can create his own designs with the included software or choose from hundreds of online designs to upload to the Bot via an SD card. One of the best gifts for men who have everything but time to make a proper breakfast, this is sure to be an amazing gift for his wedding, anniversary, or for Christmas.
Otherworldly Steel Pint Glasses
While these unique pint glasses might look like they're from outer space at first, the set of two is just another one of the most unique gifts for men who have everything. He will love using these super cool glasses to enjoy a nice, cold beer in style. Made of insulated stainless steel, his beer will never get warm, even if he's outside relaxing by the pool. The durability of these cool glasses means that he won't ever worry about them getting broken, which also makes them great for traveling.
Infuse His Own Drinks with A Smokey Taste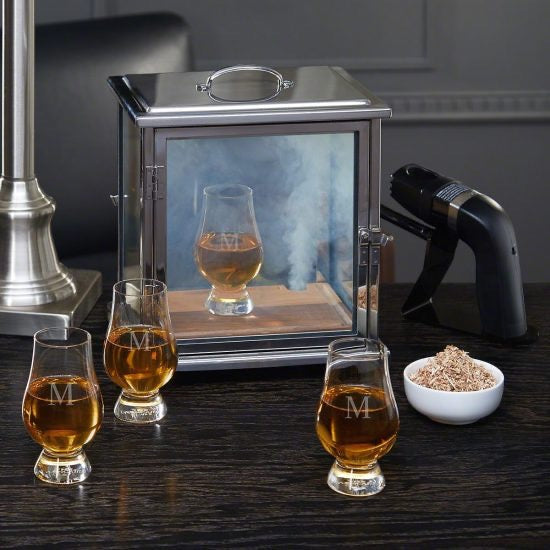 Is your guy a whiskey drinker? Then he'll be over the moon for this totally awesome whiskey gift set. Included are four Glencairn glasses, which are designed to improve the flavor of his favorite scotch. Also included is a really cool smoke box system, which he can use to infuse a smoky flavor of his choosing into his drink! How cool is that? The set comes with everything he needs to experience his bourbon in a whole new way, even the wood chips! He'll love experimenting with this set to create new exotic flavors, making it one of the best gifts for men who have everything.
A Regal Beer Mug Fit for a King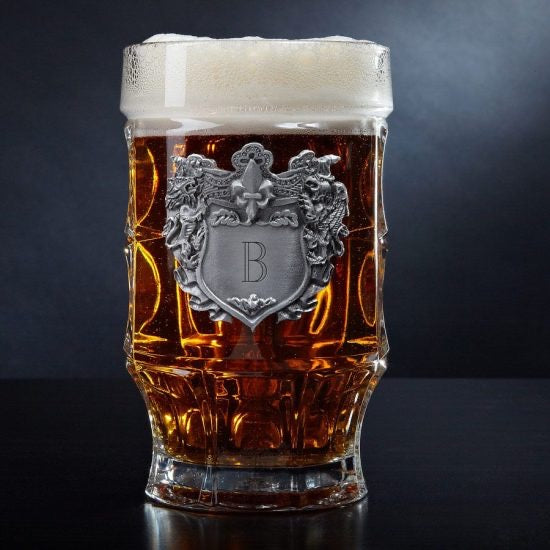 He doesn't have to be of royal descent to enjoy a quality drink like a Lord. This handsome beer mug features a pewter crest that is intricately detailed with a lion and a griffin on either side of his initial. Whether he's watching Monty Python and the Holy Grail or the newest King Arthur remake, he will feel like a true king when drinking from his regal mug.
Unique Diamond Whiskey Stones
Every whiskey drinker knows that whiskey stones are essential to the drinking experience, but these whiskey stones are unique. Shaped like diamonds, these stones will chill his drinks faster than standard 6-sided stones. Now he can truly enjoy his scotch on the rocks without having to deal with pesky melting ice!
DNA Test Kit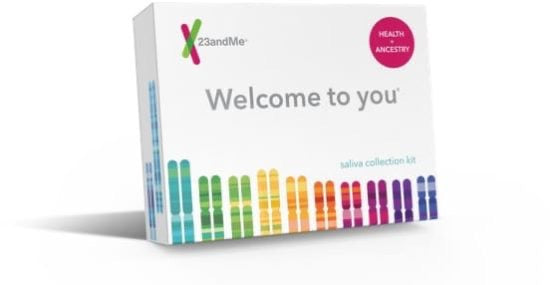 DNA testing kits are super popular right now, and make the best gifts for men who have everything. He'll be able to discover distant family members he never knew existed, learn about the connections between his genes and his health, if he has certain traits based on his DNA, and if he is a carrier for any inherited conditions. He'll be fascinated by the amount of information he'll learn!
A Highbrow Decanter Set for the Scotch Guy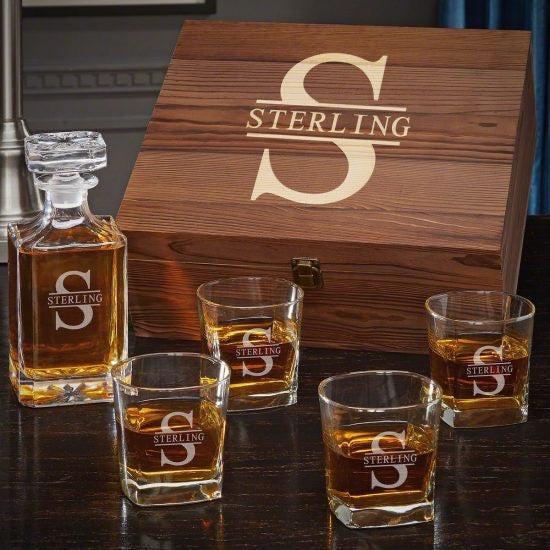 Whether he doesn't have a home bar or a decanter set for his office, this handsome decanter set is a must-have even for the guy who has it all. Starting with the decanter, this work of art is made of the finest crystal and is the perfect way to show off his fine liquors. The four square glasses are the perfect size for a double Old Fashioned or a martini and are easier to hold than normal rocks glasses. With the wooden gift box, he can store anything he likes inside. He'll even love that each piece is engraved with his name and initial. This set will look handsome on his home bar or is a great way to start one, but will also look exquisite in his home or work office.
A New Way to Drink
Give him a whole new way to enjoy his favorite liquor or wine with this incredible, revolutionary Vaportini! He simply pours an ounce or two of his favorite spirit in the sphere, lights the tealight in the glass, and inhales the liquor through the glass straw. How cool is that? By inhaling, his liquor of choice will go directly into his bloodstream and give him a quicker buzz. Ideal for birthdays and holidays, the Vaportini is one of the most unique gifts for men who have everything.
Wine Box Set
For the distinguished wine drinker, he probably has a couple of classic wine glasses, but these are far from ordinary! This set of four glasses are ornately engraved with a beautiful vine design surrounding his name. He will prefer these stemless glasses over his ordinary stemmed ones because they are easier to hold and will aerate his wine better. The matching wooden box is perfect for storing anything from bar tools to photo albums, something that even a man who has everything will enjoy using!
Whiskey On the Rocks Set
Is the man in your life a scotch on the rocks kind of guy? With this set, he can serve and enjoy chilled whiskey or cocktails without the hassle of going back and forth to the kitchen to fetch ice. This set comes with an insulated ice bucket that will keep his ice from melting for hours, even on the patio in the hot summer sun! Also included is a gorgeous decanter and two matching rocks glasses, which even have a cool glacier-like design at the base. He'll love everything about this set and use each piece all the time, making it one of the best gifts for men who have everything.
Give Him the Gift of Never Having to Mow Again
With this fun new gadget, he'll never have to mow the lawn again! That's right, this nifty robot mower keeps the lawn trim and at the perfect height for him for an hour or two every day! Over the course of a week, his lawn will be completely mowed. How cool is that? He'll love that he won't have to do his least favorite chore ever again. One of the best gifts for men who have everything, this is the perfect Christmas or birthday gift for your dad, husband, or boyfriend.
A Noble Whiskey Decanter Set
A man of his distinction knows that Glencairn glasses are the best way to enjoy whiskey, but does he have any of his own? With this set, he can enjoy whiskey like never before. The four Glencairn glasses are specially made to enhance all of the subtle aromas and flavors hidden within the rich liquor so that each sip tastes better than the last. He can host friends and business partners and offer them a truly quality drink thanks to this set. He'll even love the handsome decanter to add to his home bar! This top-notch set is truly one of the best gifts for men who have everything who also enjoy whiskey.
399+ MORE UNIQUE WHISKEY GIFTS FOR HIM >
Beer Lover Gift Set
Give the man who has everything, including a home bar, a cool new set of beer mugs and a bar sign! He will love having a cool personalized sign to make his home bar official. The hefty mugs are perfect for any kind of beer he serves on tap, and even match the design of the sign! Now he and a friend can enjoy a couple of cold ones in style. Can it get any cooler than this?
Travel Bar Set
Is the man who has everything the corporate type who has frequent business trips? Then he'll need this awesome travel bar kit! Designed to look like a discreet shaving kit on the outside, the inside has room for a 750 mL bottle and comes with collapsible 5 ounce cocktail glasses, a corkscrew, ice tongs, and stirring stick. Now he can enjoy a couple of drinks in the privacy of his hotel suite with his coworkers and boss if there isn't a decent hotel bar!
Classic German Beer Stein
For the beer snob in your life, a traditional-inspired beer stein is one of the best gifts for men who have everything. Inspired by Germany, the homeland of beer, this handsome stein features an ornate pewter lid and matching crest on the mug. He will love using this stein to enjoy his favorite lagers, ales, stouts, and IPAs. Plus, when not in use, it will be a neat, antique piece of decor for his home bar!
The Ultimate Swiss Army Knife
Guys who say they don't need anything for their birthday or Christmas are all about practicality in their gifts. This ultimate Swiss Army knife is the epitome of practical gifts! This incredible multi-tool boasts 82 functions. With everything from thermometers to a magnifying glass, he'll want to have this handy tool in his pocket at all times! This handy Swiss Army knife is by far one of the best gifts for men who have everything, especially as it's great to give for any occasion!
Self-Aerating Wine Glasses
His cabernet sauvignon will taste better than ever before with these works of art! The unique twisted shape and delicate curves of the glasses are the main factors in aerating the wine, especially as he swirls or sips from his glass. This means that each sip will be even tastier than the last, all the until the last drop! He'll love getting this pair of unique glasses for his anniversary, Valentine's Day, or Christmas.
A Different Whiskey Stone and Glass Set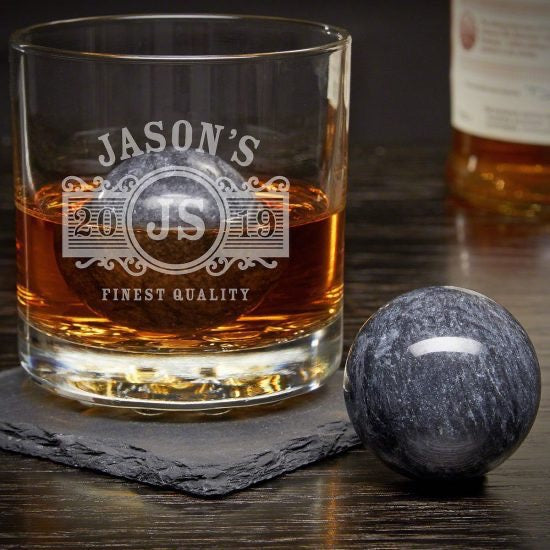 Typical whiskey stones are small and cube-shaped, but these unique whiskey spheres are twice the size with twice the chilling power! This whiskey gift set comes with two of these interesting spheres and a personalized rocks glass. The whiskey spheres don't just chill, either, he can even warm them up to keep his coffee or tea piping hot! How cool is that? He certainly won't have anything like this, making it one of the best gifts for men who have everything!
Give Him A New Hobby
For a guy that has everything he could possibly need, does he have very many hobbies? If he doesn't, this fun gift will give him a new one to start: collecting! With this shadow box, he can collect anything he wants from golf balls to cigar wrappers. Finding and gathering the items to collect will just take a little bit of time, and he'll love watching his shadow box fill up with his keepsakes. Plus, the shadow box is a unique piece of decor to use to show off his collection anywhere in his home.
Unique Skull Decanter and Glasses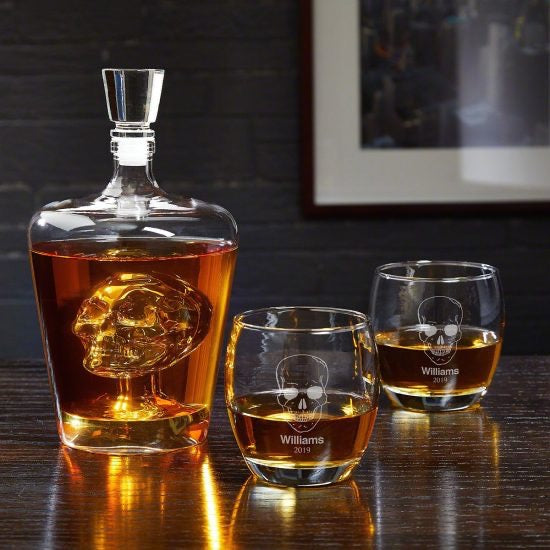 An Indiana Jones fan will love this unique decanter set! The detailed crystal skull inside the decanter makes an eye-catching piece for his home bar. The two matching rocks glasses are a cool addition to his glassware and are perfect for the guy who enjoys horror movies or macabre decor. This set is definitely one of the most unique gifts for men have everything!
A Unique Gift Set with Many Uses
Is your husband or boyfriend a guy with many tastes? Then this is the perfect gift set for him. Included is a personalized pint glass, an engraved survival knife, a cigar cutter, and a lighter. When he feels like a cold beer, he'll reach for his very own pint glass. Or if he wants a cigar after dinner or to celebrate a special occasion, he'll have these handy cigar accessories on hand. The survival knife has a handy survival kit inside the hilt that he could use in case of emergency while he's out hiking or camping with the family. He may say he doesn't need anything, but he'd never turn down any piece in this awesome set!
221+ UNIQUE GIFTS FOR MEN WHO HAVE EVERYTHING >