Finding the right gift for the men in your life is always a struggle. They all say "I don't need anything" and insist that they have everything they could possibly want. You're determined to get them a really great gift, even an expensive one! But what are the best expensive gifts for men? Ideally, something unique, possibly hard-to-find, personalized, and definitely a step above anything you've ever given him before. Don't worry, our experts created a specially and carefully curated list of the best expensive gifts for any man in your life.
Infuse His Drinks with a New Flavor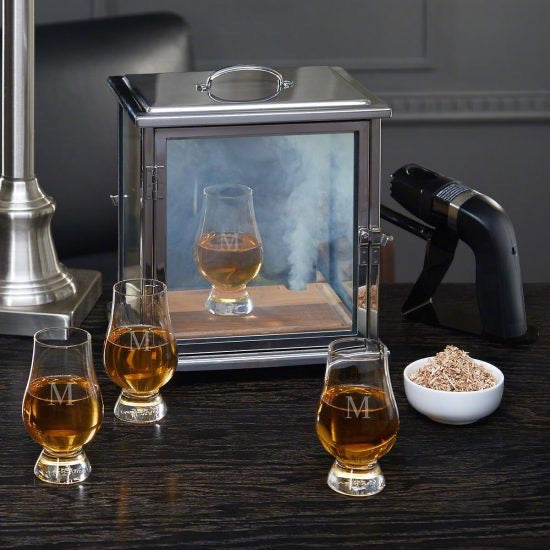 A classy gentleman knows his liquors and often spends time discussing the differences between certain whiskeys with his friends. He's been wanting a nice set of glasses to impress his friends with during these long discussions. One of the most impressive and expensive gifts for men who enjoy whiskey is this incredible smoke box system set! This awesome gadget will actually infuse his drinks with a delicious smoky flavor of his choosing. Also in this set are four custom Glencairn glasses, which were specifically designed to improve the drinking experience. His fellow whiskey club members will be so impressed by this amazing set that they'll want him to host every week!
Unique Gift for the Outdoorsman
Most men love spending time outdoors. They're either doing yard work, gardening, or building something. The guy you're shopping for especially loves to go on trips to the lake and the mountains so that he can go fishing, hiking, and hunting. This manly ammo can set is right up his alley as a fantastic outdoorsman gift! He'll love the cigar flask that he can take along when he goes golfing or fishing with his buddies. The lockback knife is a great everyday tool that he'll use for anything and everything, but the hatchet is a little more specialized for using when camping. Best of all, the ammunition can is customizable with up to three lines of text and is great for holding all kinds of tools, ammo, and gear! Is this expensive gift for men the perfect gift for him or what?
Ultimate Beer Tasting Set
You usually settle on a couple of cases of his favorite beer as a gift for your man's birthday. He always insists that's all he ever wants or needs, but you want to get him something really nice this year. Whether it's a milestone birthday or a special anniversary, the beer lover in your life will be over the moon for this amazing beer tasting set! It comes with the four most popular beer glasses: an IPA, snifter, English pub, and pilsner. He will love trying out his favorite brands of beer in the glasses and comparing their taste and aromas to how they normally taste straight from the bottle or can! This set is certainly one of the coolest expensive gifts for men who love beer.
A Decanter Set to Serve His Top Shelf Scotch
Finding the perfect gift for the men in your life is never easy. They always claim they don't need anything or want anything when their birthdays come around, and Christmas is even tougher! You want to get the sophisticated guy in your life something nice that he'll actually enjoy. How about a personalized decanter set that he can use to show off his finest scotch? Whoever he's entertaining will be so impressed by the gorgeous crystal decanter engraved with his name and initial. The matching rocks glasses have a unique bubbled base that is not only attractive, but also helps prevent condensation stains. He can use the gift box to store the set for safekeeping, or reuse it to store his collection of ties or watches. Overall, this handsome decanter set makes a fantastic holiday, anniversary, or Father's Day gift.
The Coolest Beer Gift Set
The coolest guy you know deserves a fantastic gift that's just as cool as him. This beer lover gift set is one of those expensive gifts that he'll never forget: It comes with a 64 ounces insulated growler for him to carry around plenty of beer to enjoy on the go as well as a matching personalized pint glass to use at home. Both are engraved with his name followed by "The Man. The Myth. The Legend." How awesome is that? He'll love using them at every opportunity because they make him feel like a legend. Also included is a bottle opener and a matching engraved gift box which he can use to store all kinds of things from bar tools to a collection!
379+ AWESOME GIFT SETS AND GIFT BASKETS FOR MEN>
Take Workout Classes from Home
Whether he lives far away from a gym or likes to work out at specific times, he doesn't have time to go into town to take a fitness class. He prefers exercising at home and frequently works out along with YouTube videos or DVDs. The Mirror is an expensive gift, but definitely one of the most useful investments for him. He can track his workouts as well as participate in live classes all within the comfort of his own home whenever he likes. He'll love using the Mirror so much that he'll never want a gym membership ever again!
A Fun Game for His Whole Family to Enjoy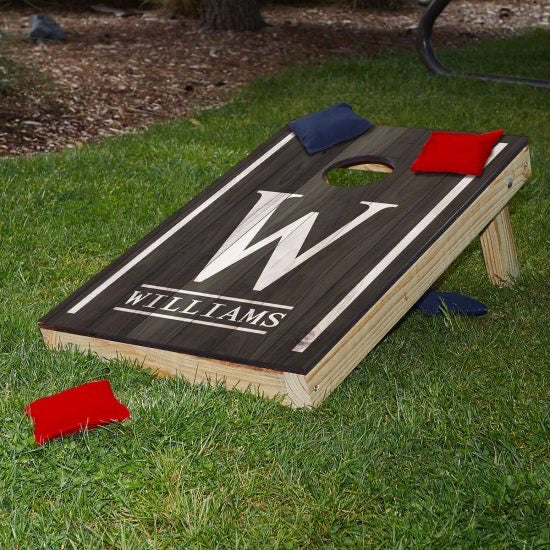 The best kind of gift for a family man is something that he can share with everyone. A grill or a new TV, for example, is a gift that everyone can enjoy together. Another great gift idea is a custom bean bag toss set! Anyone, no matter how young or old they are, can enjoy this easy and fun game. Best of all, it can be played inside, outside, and it's portable!
A Luxury Decanter Set for His Office
Corporate guys know that keeping business partners and clients entertained the entire time you're dealing with them is vital. Having the necessary tools to impress and occupy visitors to his office is very important, so you're searching for something special. One of the best expensive gifts for men is a quality decanter set! This gorgeous monogrammed crystal decanter set comes with a decanter, four glasses, and an acrylic tray to display and serve from. It's certainly perfect for decorating his office! He'll love being able to offer his boss, clients, and potential business partners a drink from this luxurious set.
A New Cologne
Men know that smelling good at all times is a must. Guys enjoy trying new colognes, but the one you're shopping for hasn't quite found the right one for him. Enter Invictus Legend: The earthy spices and subtle citrus scent of grapefruit makes this legendary cologne a one-of-a-kind. He'll feel like a winner every time he puts it on, especially since the bottle itself is shaped like trophy! This awesome cologne is perfect for everyday wear or for special occasions, and makes a fantastic gift for Christmas or an anniversary.
Stunning Crystal Decanter Set
Having a quality home bar is a popular dream for most guys. They want the cool decor, liquor bottle display, and the vintage crystal decanters displaying different spirits. One way to help make this dream come true is with an impressive centerpiece, like this twisted decanter set! This three piece set is made of entirely lead-free crystal with an elegant twisted style. Best of all, each piece is laser engraved with a name and initial of your choice. Your guy will be so impressed by this amazing, expensive gift for your anniversary or Christmas!
Genuine Leather Briefcase
Any man who has to travel frequently for work or needs to carry a lot of paperwork with him needs a quality briefcase. You've noticed that the man in your life's briefcase is looking rather worn and could use an upgrade. His birthday is coming up, so why not surprise him with a handsome new leather bag? He'll love the style and multiple pockets that will help keep him more organized. The entire briefcase is made of genuine leather and will last for many years, so you know it's worth the investment.
The Best Beer Lover Gift Set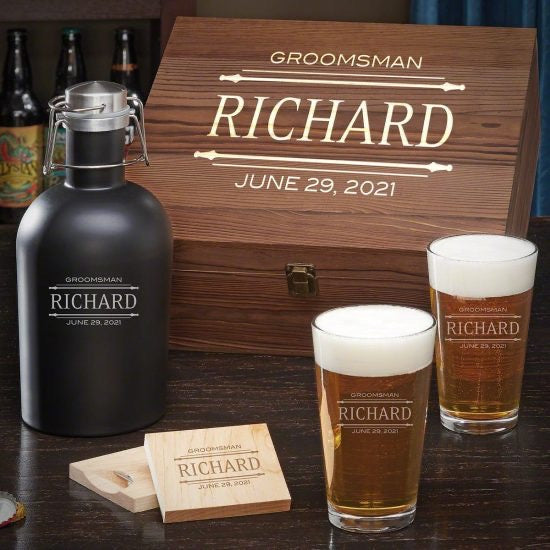 The beer lover in your life is usually pretty easy to buy gifts for as long as you get something related to beer. He has a mini fridge that is always stocked with various types, and he loves going to craft breweries to try new ones. Naturally, you usually get him a couple of cases of beer or a gift card to his favorite liquor store when his birthday and the holidays come around. For Valentine's Day or your anniversary, you want to get him something a little more impressive. How about this ultimate beer lover gift set? The two of you can enjoy the pint glasses and bottle-opening coasters together. He'll love having a growler to take to his favorite breweries and fill it with their newest flavor to enjoy at home as well. Best of all, the whole set is personalized just for him! Is this one of the most amazing and expensive gifts for men or what?
The Only Whiskey Tasting Set He'll Need
If you're a whiskey drinker, you've probably heard that the type of glass matters when enjoying a glass of scotch. Some glasses are designed to enhance the flavors and aromas, some are designed to be used for cocktails, and others are designed for specific types of the spirit. The whiskey lover in your life knows this as well, and he's been wanting each kind of popular glass that all of his friends have. One of the best expensive gifts is this complete whiskey lover gift set! This ultimate tasting set includes five essential whiskey glasses: the Canadian Glencairn mixer, classic square glass, the original Glencairn glass, unique double old-fashioned glass, and even a cognac brandy snifter. Plus, a set of whiskey stones and a matching personalized gift box to store all of the glasses in. The man in your life will love showing off his amazing set to all of his friends and trying his favorite brands in each glass to see how they compare to each other.This worth investment is a great gift for his birthday, anniversary, or the holiday season.
Ultimate Entertaining Set
Guys who enjoy entertaining are always memorable people because they go all out for every party and get-together. Everyone loves to come to his events no matter the occasion because he's such a great host. Finding gifts for him is usually a challenge as he is the kind of guy who seemingly has everything. One of the best expensive gifts for him is an ultimate entertaining set! He will love any of these items: a beer tasting set, personalized marble coasters, a custom slate cheese board, and a wing roasting rack! He can use this set for a variety of occasions from formal dinner parties to a 4th of July BBQ.
The Perfect Gift for a Suave Gentleman
A sophisticated guy who enjoys a cool glass of scotch on the rocks and a fresh cigar after work every evening is usually hard to impress with a gift. He's a classy guy who loves to read, listen to records, and talk about psychology and philosophy in depth with you and several of his friends. One of the most sophisticated expensive gifts for men, this personalized ammunition box set has it all: two matching engraved rocks glasses, a cigar cutter, leather-wrapped flask that also holds cigars, all within a custom ammo can. He will be so impressed by this amazing gift set as a birthday or anniversary gift set. He'll certainly be using the glasses and cigar cutter for his evening drink and stogie every day!
467+ WHISKEY GIFTS HE WILL LOVE>
A Powerful Telescope
For the guy who always has his eyes to the stars, a telescope is one of the best expensive gifts to invest in. Your father, husband, or grandfather will love using this incredible telescope to admire the planets in our solar system, the movement of the stars, and the International Space Station. It even has a built in camera to capture anything he's looking at in incredible detail! How cool is that? This amazing telescope is one of the best holiday or anniversary gifts for any guy who loves the night sky.
Complete Stainless Steel Beer Set
Beer is your buddy's favorite beverage, but often struggles with it getting warm. It doesn't matter if he's drinking from a glass, can, or bottle, his beer just always ends up lukewarm. You can solve his problem with this insulated beer set! Each piece in this set is made of double walled stainless steel, which will keep his precious beer cold for hours on end. That's right, hours! He can take his time drinking his beer while binge watching a new show or playing video games and not have to worry about it getting warm ever again. The growler in this set will even keep plenty of his beer ice cold for 24 hours, even if he's on the go in the hot sun!
Glencairn Whiskey Decanter Set
Whiskey is one of those refined spirits that is meant to be experienced and enjoyed slowly. There are even specially designed glasses to help you do so, like the Glencairn mixer glasses! The whiskey lover in your life has always wanted a set of Glencairn glasses, and now is the perfect time to get him one, like this expensive gift set! This set comes with four Glencairn mixer glasses, decanter, and a large wooden gift box that are all personalized with his name and initial. He will love using the professional glasses to slowly experience his finest scotch with a couple of friends, and will be impressed by the improved taste and aromas!
The Most Awesome Beer Mug Set
A legendary guy deserves an equally awesome gift. You know he likes beer, but don't just settle for 10 cases of his favorite brew. Step it up a notch and get him an expensive gift that really shows off his awesomeness, like this beer mug gift set! Included are two personalized beer mugs that you two can share at dinner that proclaim just how cool of a man he is. He'll feel like a million bucks every time he uses them, which means he'll use them pretty much every day. Also included in this set is a bottle opener, something that he can never have too many of. Your man will be over the moon for such a spectacular gift!
Design Your Own Amazing Gift Set
You're here because you're looking for a really great gift for a guy, that much is clear. Not seeing anything that fits him? Don't worry, you can create your own expensive gift for men! That's right, you can DIY an amazing personalized gift that he'll absolutely love. For example, if your guy is a manly beer lover, he'd love this giant beer mug gift set we put together! It comes with a huge mug that can hold an entire liter of beer, a set of wooden coasters with bottle openers on the bottom, a bottle opener made from a genuine.50 caliber bullet, and a customizable ammunition box. Whatever the occasion, the guy you're shopping for will be amazed at this awesome DIY gift set!
Give Him the Gift of Never Mowing Again
The future is here, and it comes with robots that do yard work! The guy you're shopping for hates doing yard work as much as the next guy, and mowing is one of the most tedious. With a robotic lawn mower, he'll ever have to mow again! This incredible gadget has top-of-the-line AI technology that comes equipped with a rain sensor, navigating tight spaces, has a customizable schedule, and more. All he has to do is program the mower and it'll do all the rest for him automatically. How amazing is that? This high-tech gadget is certainly one of the coolest and most expensive gifts for men!
Essential Pint Glass Set
Most guys who like drinking craft beer dream of creating their own unique brew. You've given him a home brewing kit for his birthday or Christmas before, but this time the perfect gift for him is this personalized beer glass set. The glasses are engraved with a custom brewery label that will make him feel like he has his very own home brewery! Thanks to you, he'll have everything he needs to curate his hobby and turn it into a business.
Personalized Whiskey Decanter Set
When it comes to whiskey, the best way to serve this distinguished drink is from a decanter into a double old-fashioned glass. The whiskey lover in your life knows this, but just hasn't gotten around to getting himself a decanter set. He wants a nice home bar, which is why this personalized decanter set is the best possible gift. He will love the handsome crystal decanter and unique square DOF glasses that are engraved with his name and initial. He'll love using the set to entertain his friends when they come over after a day on the golf course. Decanter sets are expensive gifts for men, but it's worth it when they use it all the time as well as display it!
Awesome Beer Growler Gift Set
Beer-loving guys are usually pretty easy to shop for so long as you get him a birthday or Christmas gift that has something to do with beer. This personalized growler gift set is one of the most amazing gift ideas for beer lovers. He will love using the growler to travel with plenty of cold beer to enjoy along the way. The four pint glasses are perfect for serving to his buddies when they come over to hang out. The entire set is even personalized just for him, how awesome is that? The only thing that would make this beer gift set better is with the addition of actual beer, so make sure you pick up a six-pack of his favorite brand before giving it to him!
Vintage Globe Bar Cart
Even the guy who has everything needs a home bar, or at least a bar cart. Even if he doesn't drink often, a home bar is a great way to entertain and impress friends and family when they visit. This luxurious globe bar cart is one of the best gifts for men who don't have a home bar. Not only does it look like an expensive piece of decor when the globe is shut, but it's certainly a conversation piece at parties! It can store plenty of glasses and bottles for both wine and liquor so that you don't have to run back and forth between the kitchen and the party to get your guests' drinks. Everyone will be so impressed by this vintage bar cart that they'll want one for themselves!
Make His Own Fresh Espresso At Home
The busy coffee-loving man shouldn't have to pay for an expensive cup of subpar espresso every morning on the way to work. Instead, he should have his own espresso machine at home! Every morning, he can enjoy a cup of freshly ground coffee without having to make extra time to drive 15 minutes out of the way to the nearest Starbucks. He can make just about any kind of coffee with this incredible machine whether it's a Cafe Americano or an Espresso Macchiato. All of his friends will want to come over for coffee from now on after trying it out!
The Perfect Gift for a Movie Lover
Guys who love movies know how important it is to have the right tools when it comes to hosting movie marathons and binge watching sessions of the latest Netflix show. He has to have a comfy seat, easy access to his drink, and plenty of snacks to fill him up as he watches. One of the best expensive gifts for a movie-loving guy is this ultimate entertaining set! The wood and acrylic tray will snugly hold everyone's drinks and snacks in glasses, eliminating the noisy crinkling of plastic that most snacks come in. Now he and all of his friends can enjoy the movie or show in peace. Plus, the personalized marquee sign is the perfect piece of decor for his home theater!
Must-Have Wine Decanter Set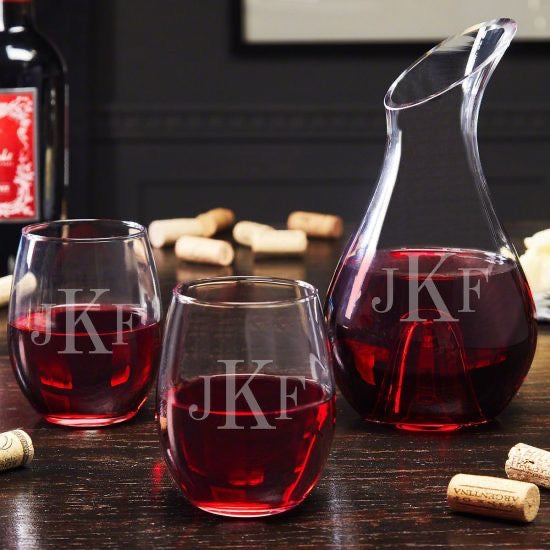 Some guys enjoy wine more than beer. His absolute favorite is Liberty Creek's Cabernet Sauvignon and always has a constant supply of it. You've noticed that he doesn't have a wine decanter, and you've tried telling him over and over that decanting his reds will make them taste better. For Christmas, you should get him a wine decanter set! This way, he'll finally try properly decanted red wine and will be amazed at how much smoother his Cabernet tastes. Thanks to your useful gift, he'll have better wine than ever before!
The Perfect Home Bar Starter Set
Guys who want to create their own bar like to go all out to create the ultimate entertaining area in their home. He's got the space for one, but he doesn't know where to start. Don't worry, that's where this fun home bar starter set comes in! This complete set includes an insulated ice bucket, two glasses, and a decanter. Now he'll be able to serve iced cocktails and liquor in style from his home bar. This set may be pretty basic, but they're essential for having a home bar. The engraving of his initial, name, and date are classy and sophisticated.