A great way to show he is in your thoughts is with a care package that you've picked out just for him! Men's care packages need to be full of things that make them think of you, home, or things you know they need while they are away. Don't think that you need to have a specific reason to give him this gift. He could be away from home, you could be away from him, or you may even just want to give him one just because! Want to find a manly gift basket for men? In search of something that reminds him of home? Want to give a thank you gift for men? We have you covered! Whether you want to put a smile on his face or give him the strength to continue on whatever journey he is doing away from home, take some of the best care package ideas on the internet today and get him something amazing right away!
A Taste of Home
When you're giving a man a care package, it is a bit different than when you're sending a gift package off to a college student. Men want a true taste of home, that is why a cigar and whiskey gift set is one of the most perfect care package ideas for the guy who is missing home. Include a few local stogies and some whiskey, and he'll feel like he never left. His favorite vices are a great way to show that you've been thinking about him and to give him a taste of home.
A New Twist on Care Package Ideas
He's in dire need of a gift set to make him feel classy while he drinks, give him the care package that you know he really needs with this twist glass box set! Perfect for neat drinks and cocktails alike, this set will have him drinking from a stylish set of glasses in no time. No longer will he have to drink from whatever glasses are around, now he can open his keepsake box to take out his own personalized gift basket for men and feel like the most refined guy around as he takes a sip of his perfectly chilled drink!
The Ultimate Cigar Gift for Him
Smells are rather famous for bringing about memories, and with the strength of cigar smoke, a good stogie will surely jog some memories. That is why his very own shadow box and cigar case will make a fantastic men's care package gift! Each time he smokes, he'll be able to feel closer to home; yet, with this set the fun doesn't end there! He can store the bands from each cigar he has smoked in the shadow box! A care package that lets him enjoy his favorite thing when he is both at and away from home is a gift he simply can't live without.
Wine for When He Needs It
For the wine-aficionado, nothing will beat a men's care package focused all round his love of good wine. This personalized set will have him feeling like he is back sharing a bottle of wine with you like the good old days. Each time he takes a sip of his Riesling or Port it'll be like he has been transported back to some of the best nights he has shared a bottle of wine with you, friends, or family. Top the set off by adding a bottle of wine that he can only get back home for the ultimate care package you know he really needs!
A Pick Me Up Gift
One thing he has been missing in his life as of late has been a way to carry his favorite hot or cold brew everywhere he goes. Give him a personalized carafe with mugs! This awesome gift lets him enjoy drinking from your gift at home with one cup and at work with another! He'll be thrilled to carry his favorite beverage inside this carafe, so no matter what time of day, or where he is at, he can enjoy as much of his drink as he can handle!
A Package to Help Take Care of Himself
Can you think of a guy who wouldn't be happy to have a beer and bacon gift sent to his front door? You probably can't. So, you know this care package is sure to be a winner with him! Add a few bottles of his favorite suds and you'll have given him a gift full of flavor that he won't be able to help but love. The set even comes with six different gourmet flavors of beef jerky, there is no way he won't enjoy this gift!
You Can Bet He'll Love This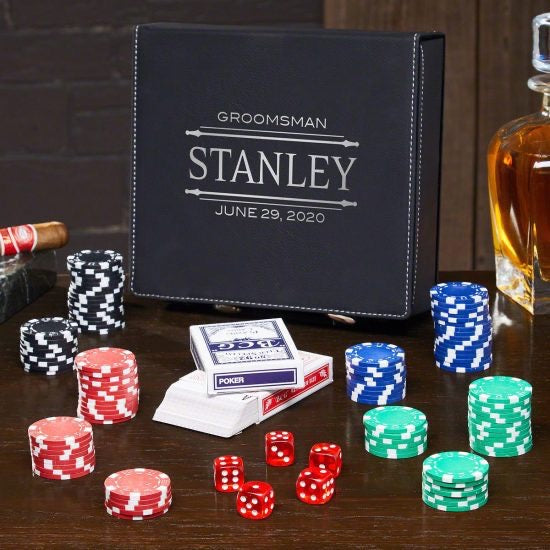 The best men's care packages put a smile on their face as soon as they open it, and what could do that better for a guy than his very own poker set? He's out making new friends and meeting people, and what better way to learn what his new friends are really made of than challenging them to a few hands at poker! Whether they play blackjack, Texas Hold'em, or anything else, this set will provide him years of entertainment and guy nights!
Craft Beer and Cigar Gift Set for Him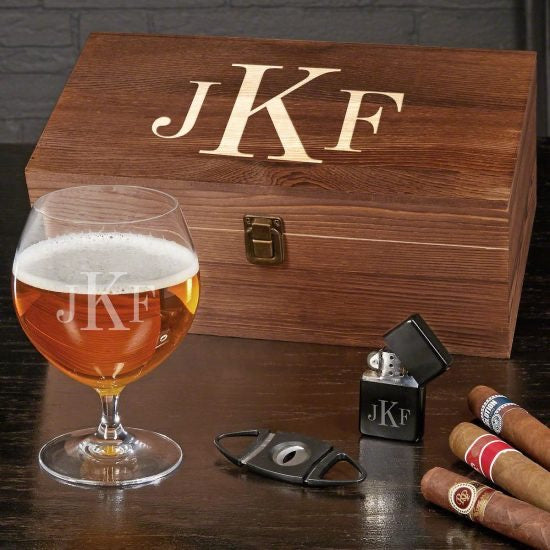 He's out in the world experiencing all sorts of new kinds of craft beers and cigars, so what could be a care package full of his new favorite vices? He'll feel like a true craft enthusiast as he experiments with different bottles of microbrews and cigars to find what pairings taste the absolute best. This gift set will keep him busy mixing and matching flavors for years, plus, he'll never stop talking to you about how awesome this gift set was and how it changed his whole beer and cigar tasting experience!
He Needs His Movie Snacks
Movies have always been his favorite way to unwind, or even get engaged with. He watches every kind of film out there, from classics like Metropolis to modern films like Once Upon a Time in Hollywood, he is sure to enjoy this care package that has everything he could ever want while watching a movie! This care package even comes with a Redbox card, so he can rent the hottest new movie that night! Just add a large Coke, and he'll be ready to do a movie marathon of all his favorite films!
An Outdoor-Themed Men's Care Package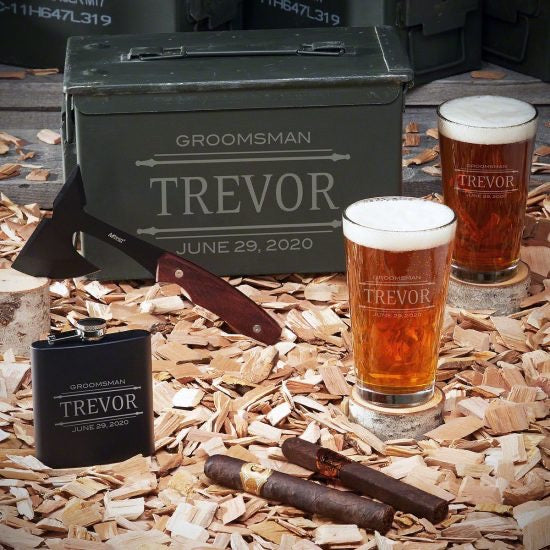 When he is out traveling, a gift package that can travel with him is the perfect gift. He's out hiking, camping, or traveling wherever the world takes him. But he still has a taste for the finer things in life. This ammo can will let him take a set of beer glasses and flask with him. Now, in the woods, he can still feel classy as ever while he sits around a campfire and enjoys his favorite drinks. Speaking of which, he is sure to find a use for the hatchet, whether he is opening a package of hot dogs to roast or chopping up some much-needed firewood.
A Cleanliness Package for Gentlemen
Care package ideas for men can be things that make them think of home; however, sometimes what they really need is to remember to freshen-up a bit. Have them revitalize their look and smell with a grooming set they're sure to find just as high-quality as its old school wrapping and image leads it to be. Their shampoo and body soap are sure to be a welcome change to their off-brand random body wash. They'll have a dapper and defined smell after their next shower thanks to your manly care package.
The Whiskey Package for Whiskey Lovers
When he is off making his way in life, sometimes he still needs a gift set from home that has a personal touch; in fact, those make the best care package ideas. No matter where he is in life, a whiskey lover won't be able to help but be thrilled when they receive a decanter set with 4 glasses! He will immediately want to fill his decanter and share a glass with his best friends. Whiskey will not only bring him and his buddies together, but it is sure to make him think of you every time he uses, or even looks at, this personalized decanter.
Wine on The Go
The guy you are buying for is always on the go. He could be hiking, boating, or doing some other form of awesome travel. When he gets a chance, he likes to enjoy a nice drink of wine, but he can never bring any glassware without him, well now he can! These stainless-steel tumblers are near indestructible, even with daily use, and they'll fit nicely inside the display box, making drinking on the go both easy and classy!
An All-Inclusive Beer Set
Some of the best men's care packages are truly simple, but that doesn't mean they don't address his needs. As an absolute avid beer lover, he'll be over the moon having a mug that has his name engraved on it! This whole set will have him collecting beer caps from his favorite brand or from all the new microbrews he has started trying. You know his favorite thing in the world is beer, so get a manly beer set you know he will be proud of!
A Care Package for All His Needs
A gift package that has a little bit of everything will be one of the best gifts he has ever gotten! This gift set prepares him to enjoy whiskey, a bottle of beer, and even a cigar if he chooses, how cool is that? He can literally celebrate or relax at the drop of a hat thanks to this gift set. When you know he is in dire need of a way to celebrate or to relax after a hard day of work, don't even hesitate, buy him a set that lets him have the dealer's choice of vices.
635+ FANTASTIC WHISKEY GIFTS FOR HIM>
A Tasty Care Package Idea
A common saying is that big things can come in small packages, well sometimes big flavor comes in a big package too! This care package will have his taste buds exploring some classic Texas flavors and spices! He's got plenty of snack mix for a quick source of energy, or when he has more time this set comes with sauce and seasonings. Food, especially a beautifully seasoned food gift basket, is a guaranteed win when giving him a care package!
The Perfect Care Package Fore Him
The guy you are buying for is a massive golf enthusiast yet, he is always too busy to get a full round in. Make his day with his very own executive golf set! No matter how busy he is or where he is at, he'll be able to breakout his putter and portable hole from this set and start working on his short game! It may not be a full course, but he'll be thrilled to work on the most difficult aspect of golf anytime he wants.
Whiskey for When He's Away
One thing you know the guy you're buying for is always on the lookout for is the perfect whiskey glass. Well, surprise him with a care package idea that covers every sort of whiskey glass he could ever want! He'll be nosing whiskey's in no time thanks to you! With this gift, he'll be able to drink whiskey any way he chooses and experience how each glass alters the flavor of his go to liquor.
Gift Him A Close Shave
He's been debating on getting a good clean shave for years. That doesn't mean he currently has the most rugged Santa meets Captain Ahab style beard you've ever seen, but it also doesn't necessarily exclude that either. This care package is the perfect gift for the guy who wants to clean up in the most old-school way possible. This safety razor set is safer than a straight blade, but will give him just as close of a shave; you'll be blown away at the face you see under all that scruff.
A Simple and Discrete Care Package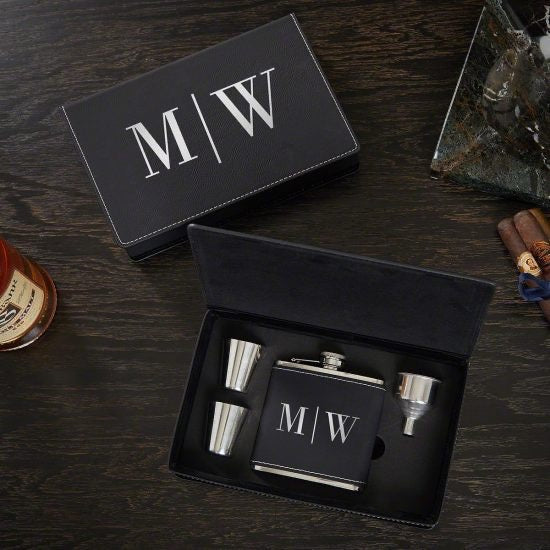 One of the best men's care packages he can receive will help him to enjoy his favorite booze on the move. This flask set will have him discreetly sipping quality liquor wherever he wants. Not to mention, if he is at home, he can pour some shots with a buddy to who wants to share in a quality drink! Pair this awesome flask with his favorite bottle of liquor, and this will be the manliest care package he's ever gotten!
A Great Growler Gift
Get him this men's care package you know he really needs with this growler and pint glass set! He's always going out to get a drink that his favorite watering hole only has on tap. Now, with a growler and a fantastic set of personalized pint glasses, he can fill up on his favorite beverage in town, and then relax at home with his drink! Better yet, if he wants to, he could even share a glass with a buddy! 
Keep Him Going with Caffeine
Whether he is a huge fan of Starbucks or coffee in general, he simply won't be able to get enough of this highly caffeinated gift basket! He'll look forward to starting their morning off with their favorite brew, and enjoying a snack or two as well! Make his day start off the right way, with a bit of "go juice" to keep him going!
Take a Shot at This Care Package Idea
The perfect men's care package for hunters, gun enthusiasts, and outdoorsmen alike is this bullet whiskey stone set! Set this gift package up in their house, man cave, or anywhere else they like to hang out and watch them go nuts over the coolest way to drink whiskey ever! No matter if you're away, they'll be able to look down at their new set of engraved glasses and think of you as they sip their favorite 12-year whiskey that's been chilled to perfection.
A Great Beer Care Package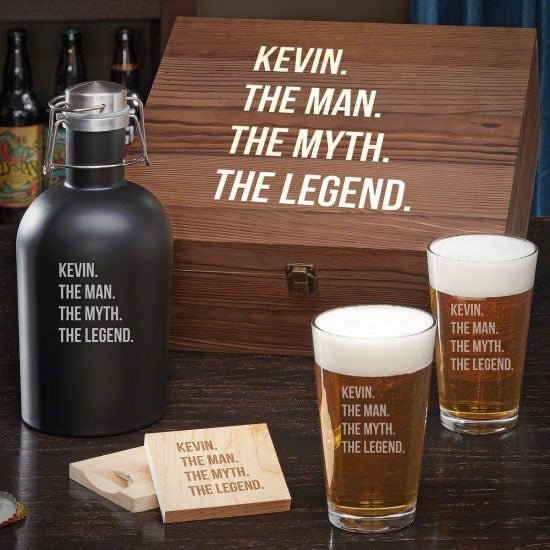 Send your legendary man a care package worth his mystical stature. Now, only do so if you think he is manly enough to handle such an awesome gift. He'll be ready to travel anywhere at a moment's notice since he'll always have a growler full of his favorite beer from his local brewery. If you give a man enough awesome beer, there are few things in the world he won't believe himself capable of doing. So, give him all the confidence he could ever need with this mystical care package idea for beer loving men!
For the Whiskey Lover
If there is one thing you know about your man, is he loves his favorite brand of whiskey. He would travel the world to make sure he's always got a bottle. So, what could be a better gift than a personalized whiskey set inspired by that brand? He probably won't ever have his own whiskey label, but with a gift set like this, he won't mind! This is a care package that absolutely any fan of Tennessee whiskey will be thrilled to use and to show off to all of his buddies.
A Fantastic Men's Care Package
Show you're thinking about them by going through one of the most definitive and proven methods possible for a man, through his stomach! Whether he decides to gorge himself in a single night, or spread this gift over a few days, he'll know you are thinking of him. Beer, popcorn, salty snacks, how could he be any happier with a care package?
The Care Package for Any and Every Man
He's off in an area of the world that you're a bit unfamiliar with, so you're not quite sure what he needs: A drink? A cigar? Something sharp? How about, yes! Get him a little bit of everything with this awesome ammo can gift set. City slickers to country boys are sure to find a use from this gift. They'll be able to bring their cigar flask everywhere they go, because for all they know they might need to celebrate at a moment's notice, and have you ever known a guy who didn't love getting sharp and pointy things as a gift?