Enjoy Our Selection of Unique Gifts for Men That Have Everything They'll Never Forget
We all know a guy who is impossible to buy gifts for because he says he has everything and wants nothing. It's never easy finding gifts for men that have everything because you have to consider the things they do own, things they would buy for themselves, and even things they want someday but don't need right now. That doesn't leave you with much room to work with when it comes to shopping for a gift! Ideally, a good gift for a man who has everything is unique, maybe even personalized, is practical, and something he wouldn't buy for himself. You're probably still wondering, what do you get for someone who has everything? Looking for luxury gifts for men who everything? Trying to find cool gifts for guys? We've got plenty of fantastic gifts for the man who has everything and wants nothing that will work for any occasion you need them for.
Classy Gifts for Men That Have Everything
Looking for luxury gifts for men who have everything? They will love this classy whiskey and cigar gift set! From the elegant whiskey glasses to the handy cigar stand and case, everything in this set is as practical as it is luxurious. Any guy you know who enjoys the occasional stogie along with his evening scotch will enjoy using this entire set to relax in style after a long day. Such an impressive gift is perfect for the holidays, his retirement, or an anniversary.
Grilling Gift for the Man Who Has Everything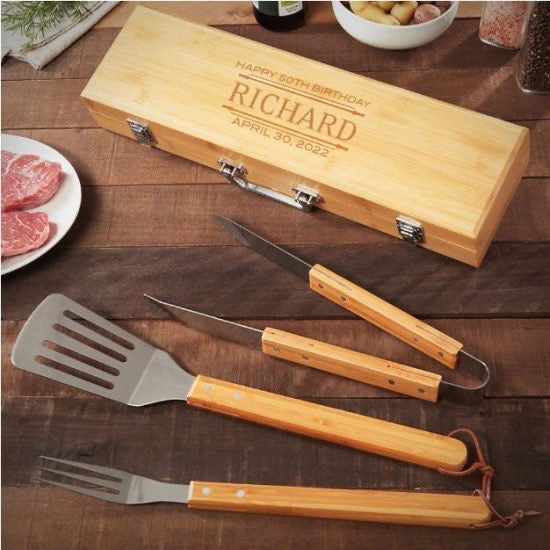 Does the man you're shopping for enjoy grilling? Instead of getting him yet another set of gourmet meat rubs or a set of spices, get him these personalized grilling tools! He will be amazed when he sees the engraving on the carrying case, but the tools themselves will leave him speechless. The lightweight, heat-resistant bamboo allows him to grill easier and quicker than ever before, plus he can take them anywhere from the park to his friend's house! Honestly, these are some of the coolest retirement gifts for men or they're even great for his birthday or the holidays too. 
A Gift That Makes Him Feel Like Royalty
When it comes to finding the best gifts for someone who wants nothing, getting him something that's personalized is never a bad idea. Even if he has something like it already, he will appreciate the fact that you went to the trouble of getting him something that's uniquely personalized because you put your own creativity and thoughtfulness into it. This regal beer stein may be similar to the beer mugs he already has, but this one will make him feel like a king because of the engraved plate and the beautifully decorated lid!
Design a Sign Just for Him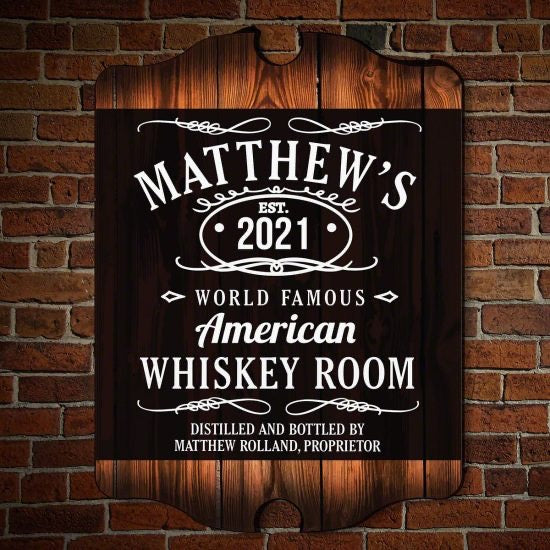 Want to get him something really unique? This custom sign is the coolest gift for a man who has everything! Inspired by the popular Jack Daniels whiskey label, this incredible sign will be a one-of-a-kind piece of decor as you can customize almost the entire thing. He will be amazed by how much thought and creativity you put into making him such a cool sign whether you want it to be for his new home bar or man cave, something cool he can hang in his office, or commemorate a special occasion. Once you give him this impressive gift, he'll treasure it forever. 
Relaxing Gift Set for the Man Who Has It All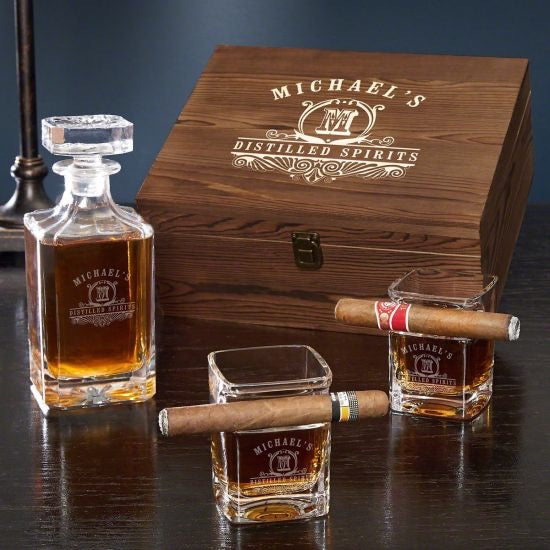 Does the guy you're shopping for enjoy a nice glass of whiskey to help him unwind after a long day? You can make his relaxation routine even better with this incredible whiskey decanter set! The unique glasses even hold his cigars so that he can puff and sip with ease, freeing up a hand to flip through streaming services on the TV to find something to watch. From now on, he'll be even happier when he comes home after a long day because it means he gets to treat himself to a fresh stogie and a relaxing glass of whiskey in his own personalized glass.
575+ UNIQUE GIFT SETS AND BASKETS FOR HIM >
The Smartest Ring He'll Ever Own
Surprise him with the smartest piece of jewelry he's ever seen: the Oura ring! This incredible ring is like a smartwatch but in ring form! It tracks his heart rate, sleep, exercise, and more. He will be able to keep an eye on his health with ease thanks to the auto-tracking and not have to deal with the bulkiness of a typical watch. By far one of the most unique gifts for someone who has everything, the Oura ring is perfect for anyone!
A Home Run Gift for the Man Who Has Everything
Is the man you're in search of a gift for a fan of baseball? Whether he's a casual fan, a diehard season ticket holder for the local team, or even a baseball player himself, he will be so excited about this stunning baseball decanter set! From the impressive baseball bat decanter to the baseball design at the bottom of the glasses, every aspect of this decanter set is a baseball lover's dream gift. He will be so proud to have this set on display in his office or home bar, and he'll make sure to use it for drinks when he watches baseball games on TV. 
A New Way to Experience His Favorite Drinks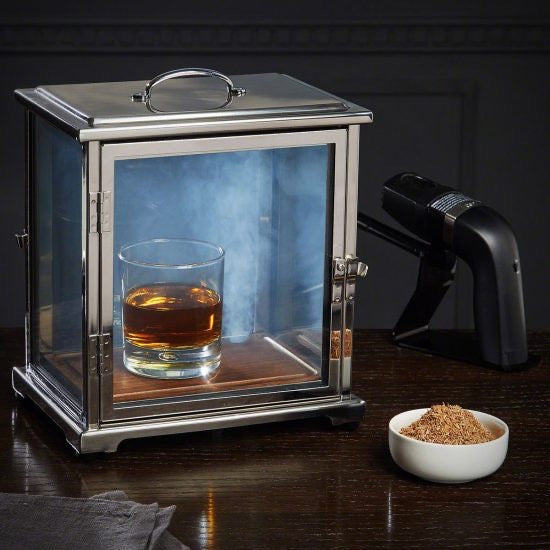 Great gifts for men that have everything don't always have to be something totally new. Sometimes, a gift that makes his favorite things more enjoyable is even better! This smoke box system falls under the latter type of gift because he can infuse his favorite liquor or cocktail with a unique, smoky flavor that allows him to experience it for the first time all over again. He'll be amazed by how delicious his preferred brand of whiskey is with a hint of cherry smoke or his Old Fashioned infused with hickory. Once he tries out this fun gadget, he'll want to infuse everything he drinks with a fresh, smoky flavor!
The Ultimate Way to Drink His Beer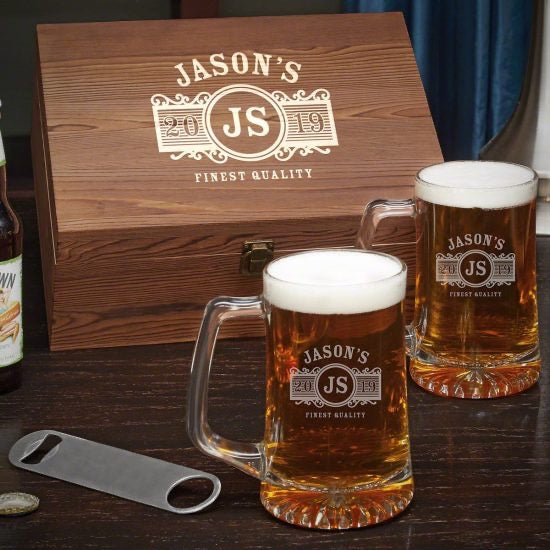 Everyone knows that beer is best enjoyed out of a mug, but even the guy who says he has everything doesn't necessarily have beer mugs at home. Solve that problem by getting him this beer mug box set! He'll not only have a couple of beer mugs to enjoy his favorite beer out of, but he'll also get a new bottle opener and even a large wooden gift box to store his bar tools or keepsakes in. Once he tries out his favorite beer in one of his new personalized mugs, he'll never want to use a regular pint glass or drink straight from the can again because his beer will be foamy, flavorful, and stay cold until he finishes it!
Badass Whiskey Gift Set
Looking for awesome and unique gifts for men that have everything? This awesome bullet whiskey stone set is by far the coolest! He will be so excited to have his favorite whiskey in his own monogrammed glass, but he'll be even more excited to try out the badass bullet whiskey stones that will chill his drink so that he doesn't have to deal without the hassle of ice and a watered-down drink. Thanks to your incredible gift, his scotch on the rocks will be literally cooler than ever before, and he'll feel like a badass every time he uses this set!
A 3D Printer Just for Him
Nothing is more unique and awesome than having your very own 3D printer at home. The guy who has everything definitely doesn't have a 3D printer, which makes it the perfect gift! He will love creating his own parts, projects, and even toys with this awesome gadget. Thanks to you, he'll never have to wait weeks for that tiny little part he needs to fix his computer to come in the mail or be bored ever again since he can create fun desk toys and action figures whenever he wants! The only downside to this magnificent gift is that it'll be tough to beat next year. 
Luxury Gifts for Men Who Have Everything
Now, this is the most luxurious gift for him! He will be speechless when he sees this stunning globe bar cart, but he'll be absolutely stunned when he opens the globe to reveal the hidden bar storage inside. Such an amazing gift is perfect for the man who has always wanted a home bar or a miniature one that he can keep in a different room so that he always has easy access to drinks for himself and his guests. This beautiful bar cart is designed to look like a priceless antique so that it blends in perfectly with his decor and adds a classy touch to any room it's in. 
A Gift He'll Never Expect
Whether he's an outdoorsy kind of man or not, he will enjoy this awesome ammo can set! The cool glasses are perfect for enjoying a nice glass of scotch, especially with a stogie since he has a lighter and cigar cutter to prepare one now. The ammo can, personalized to match the glasses and was actually used by the military, is ideal for storing his tools, fishing gear, or prized bottles of liquor! He can take the entire set with him on his next camping trip or keep it in his office. Either way, this awesome set of unique gifts and their versatility are sure to make his day every time he uses them.