You owe a lot to your boss. After all, they hired you, taught you, and encouraged you every step of the way at your job. That's why you want to give your boss an incredible gift! Whether they're retiring, going to a different company, or you simply just want to say thanks, these thank you gifts for bosses are simply perfect. These gifts are the perfect balance between personal and professional so you know your boss will feel very appreciated when they receive them. Whether the gift is merely a thank you gift, or you're more in need of farewell gifts for bosses, we've got you covered with the best of the best boss gifts out there.
A Classy Custom Decanter Set
Get your boss a classy glassware set to show them that you appreciate the way they lead at work with class and sophistication! This custom sculpted glasses and decanter set is one of the best thank you gifts for bosses because they'll love using it when they're relaxing after a long day or week at work. This set also serves as a token of your gratitude that they can display in their home or even at work. They'll feel like the most beloved boss in the world seeing the customization on the decanter, and they'll without a doubt know that you're thankful for them!
A Gorgeous Sign for Their Home
Give your boss a gorgeous, personalized wine cellar sign for their home! It's one of the greatest farewell gifts for bosses that they'll love hanging in their home! Whether they've just moved into a new house or they've been in theirs for years, they'll really enjoy sprucing up their wine cellar, home bar, or kitchen with this stunning sign, and they'll be so grateful for their awesome employee who gifted it to them!.
The Best Cigar Set of Thank You Gifts for Bosses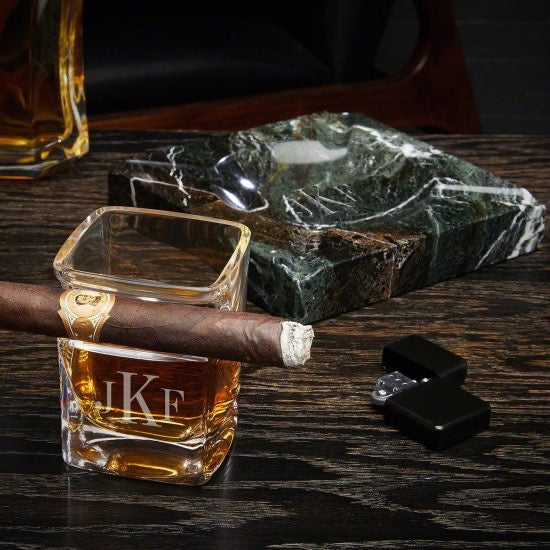 If there's anyone you know who deserves to celebrate after closing a big account or completing a long project, it's your boss. Help them do so with this monogrammed cigar gift set! They'll get so much use out of this set when they're smoking their favorite stogies and having a drink while celebrating the hard-earned victory. Your boss will feel incredibly sophisticated as they enjoy their cigar and favorite whiskey all using one hand! This gift for your boss is so good, it is practically foolproof!
The Cutting Board of Their Dreams
Give your boss a big "thank you" for all they've been helping you with at the office with a gift that'll help them at home in the kitchen! This custom wooden cutting board will make both chopping up and serving food easier than ever. They'll be a huge fan of this board that makes every experience they have in the kitchen easier than before, and they'll be very appreciative of this unique present.
Most Convenient Wine Set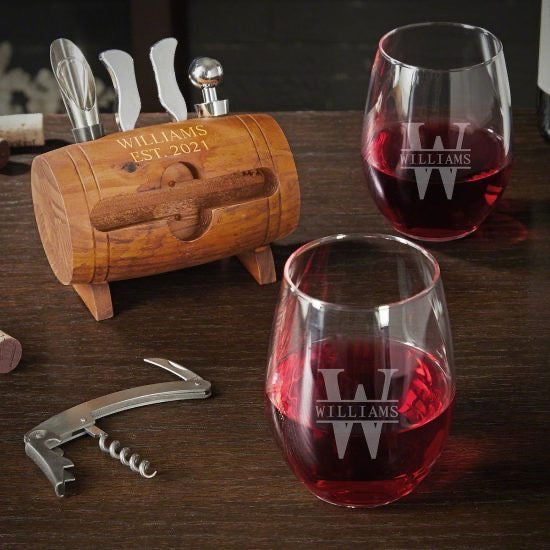 Some of the best thank you gifts for bosses help them sip on delicious wine with the best accessories possible! Your boss will immediately fall in love with each piece of this personalized wine gift set, from the classiness of the stemless glasses to how useful the barrel is with all the wine tools they need. When they come home from a long day at work, they'll want nothing more than to use their new favorite gift set ever to enjoy a drink.
155+ HANDSOME PERSONALIZED WINE GLASSES>
Organize Their Desk
Thank your boss for all of the times they've been there for you with a gift that'll make their work station perfect! This bamboo monitor stand is the type of present that's so useful, they'll wonder how they ever lived without it! It'll keep their desk so organized, with spots to put their phone, books, and office supplies. A gift that both looks great and keeps them organized is perfect for any boss!
Best Boss on Earth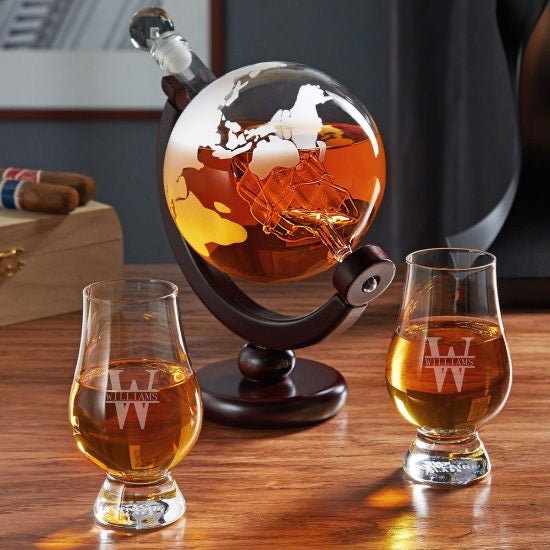 When you have the best boss on earth, you thank them with one of the most unique glassware sets out there. This globe decanter set is one of the best thank you gifts for bosses that they'll be able to use all the time! It's perfect for developing strong whiskey-tasting skills using the Glencairns. Plus, when they look at the globe, they'll always be reminded that their employees think the world of them!
Best Way to Gift a Bottle
Nothing will make your boss feel more appreciated than a bottle of their favorite wine presented to them in this handsome wooden engraved black box! They'll be so impressed with the presentation of this set because it's so personal, and it's much more professional than just handing them a bottle of wine. If you're saying goodbye to them, this gift is one of the best farewell gifts for bosses so they'll always remember you and how great of an employee you were.
Coffee Set of Thank You or Farewell Gifts for Bosses
Coffee at work is a must, especially for your caffeine-obsessed boss. This coffee carafe and mug set is an excellent gift for your boss because they'll appreciate being able to bring tons of coffee to the office that stays piping hot until the last drop. They'll feel really special knowing that you went to the trouble to find them a gift that not only is customized just for them, but helps them enjoy some of their favorite things!
Healthy, Yummy Snack Set
They've always given you everything you need at work, so give them something they'll definitely use at work when they're hungry! This gourmet healthy snacks set is one of the greatest thank you gifts for bosses that they'll be so appreciative of. When they have the munchies, or forget their lunch, or simply need an energy boost, they'll eat one of the healthy, high-quality snacks in this set.
Custom Whiskey Gift Set Your Boss Will Love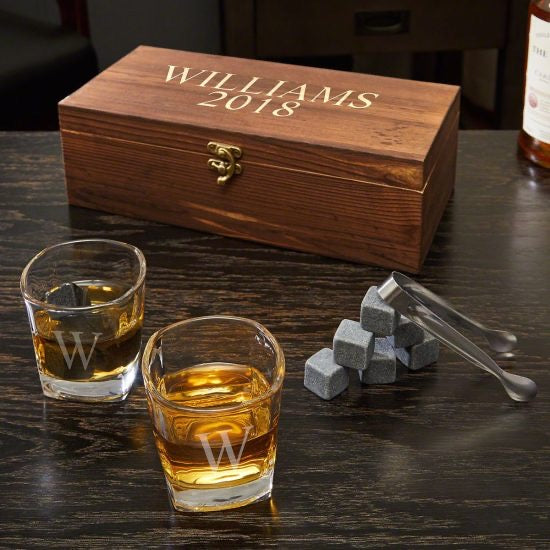 The best thank you gifts for bosses don't have to be complicated. This whiskey box set is a simple yet incredible present that any boss, young or old, will think is fantastic. It's the best set to have when they want to enjoy a chilled drink, whether that's after celebrating a win at work, when they want to relax on the weekends, or when it's a holiday and they want to celebrate with a beverage. You can even add a miniature bottle of their favorite whiskey or a thank you card to make this set even better!
Bet on this Set of Thank You Gift for Your Boss
You've gotten to know your boss pretty well in the time you have been with the company, so you know what some of their favorite hobbies are. That's why you know they'd think this custom poker gift set is an incredible present! They'll be so excited to have a nice, new set of poker must-haves that will provide them with hours of poker and other card game fun with their friends or family. They can even have some of their coworkers and employees over for a game night or two!
Their Own Custom Glasses Set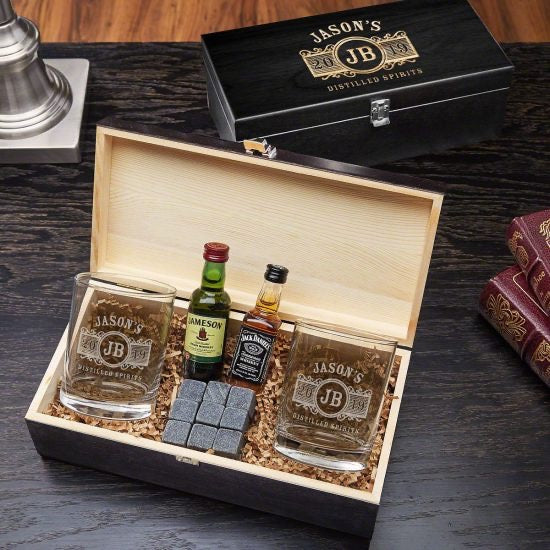 Farewell gifts for bosses need to be gifts that they can use for a long, long time. They should also make them think of their old place of work every time they do. After all, there's a lot of nostalgia tied with old jobs. This whiskey glasses and stones box set is an incredible gift that your boss will love. They'll always remember one of their favorite places they ever worked as they sip on their drink with their custom glass!
531+ INCREDIBLE GIFT BOX SETS FOR BOSSES>
The Best Bag Ever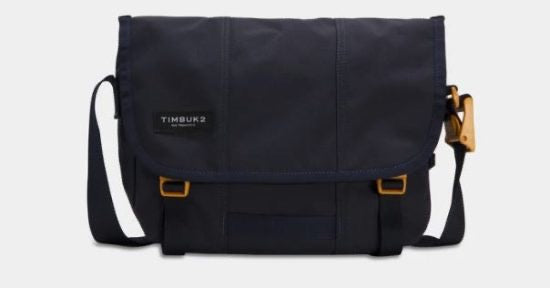 Surprise your amazing boss with a brand new messenger bag! It's a fantastic way to thank them for all of their input into your career. They'll absolutely love how handsome and sleek this bag is, and they'll feel really cool bringing it into work with all of their documents, chargers, pens, and other must-have items inside it.
Ammo Can Filled with Thank You Gifts for Bosses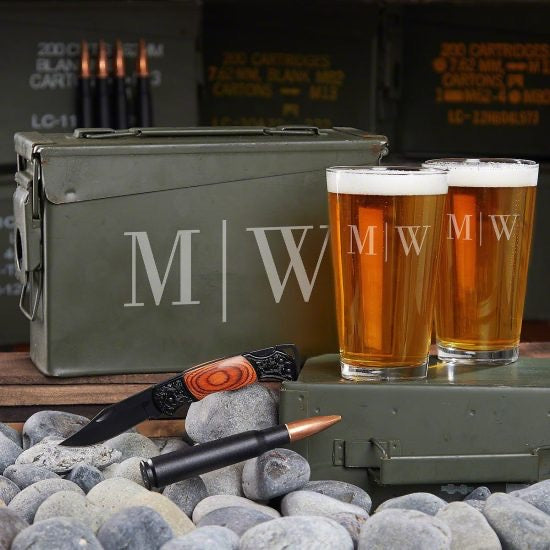 Wow your boss with this stunning personalized ammo can gift set! They'll be so impressed with how unique this gift is! The customization of the pint glasses sets this gift apart from any they've ever been given before. You can even fill the handsome ammo can with some of their favorite snacks or favorite beers to make it even better. With how hard they work, you know they deserve a unique, incredible present like this one!
Coolest Wine Tumblers Of All Time
Get your boss the most stunning wine gift set of all time! This stainless steel wine tumbler set is so incredible, your boss will be in awe of how fantastic these tumblers are! They'll love using the handsome, sleek tumblers to sip on their favorite chilled wine, or any other cold drink they want. They can even keep them in the office so they can have a celebratory drink when the team finishes a project or makes a big sale!
Make the Work Space Better
This gift will make their work desk one of their favorite places to be! This cool mist humidifier is one of the best thank you gifts for bosses that will always keep them in good spirits. Turning it on at their desk or in their office will help the stuffy indoor office air feel so much more clean and breathable. They'll be very appreciative of this gift that gives their work area a peaceful feeling.
Thank You Gifts for Bosses They'll Use to Enjoy a Drink
A classy whiskey decanter set is all you need to make your boss really happy and show your appreciation to them for being such a terrific boss! This personalized glassware set is what they'll want to use to celebrate a big win for the company, or even when they want to relax after a long day. It'll really impress them seeing that you went to the effort to get them a gift that's personalized just for them, and they'll feel like the most beloved boss ever.
A Traditional Beer Gift
Your boss is leaving, so you're searching for farewell gifts for bosses that are personal, not too complicated, and will help them remember you as a grateful employee of theirs. This custom traditional German beer stein is absolutely perfect! They'll greatly admire the vintage, unique feel of this stein, and of course they'll always want to drink their favorite beers from it! They'll remember you fondly whenever they use it.