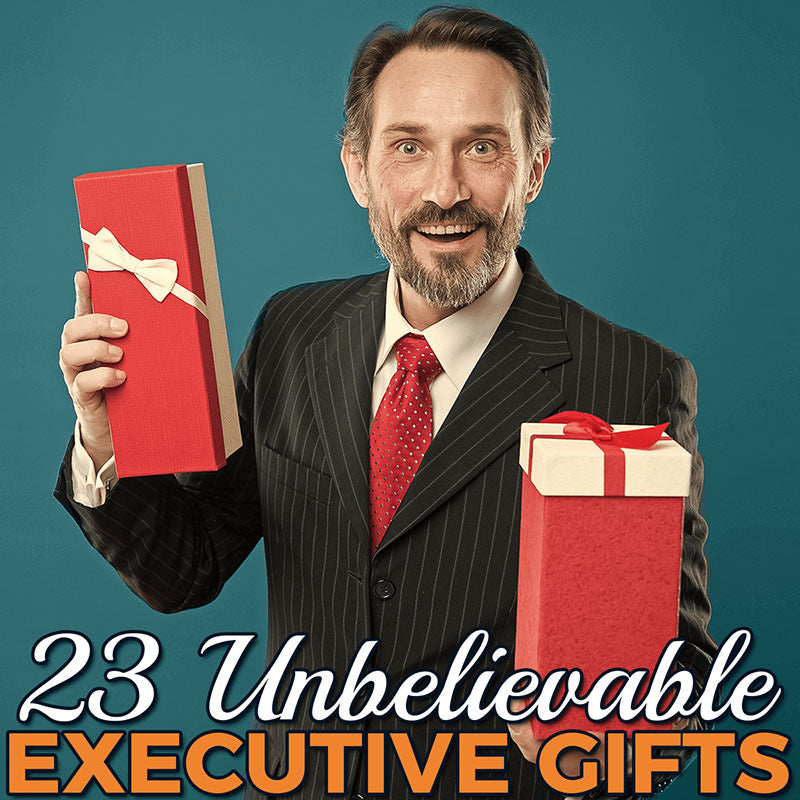 23 Unbelievable Executive Gifts
Impressive Executive Gifts for Any Occasion
Executives are extremely hard-working, busy people who deserve a special gift once in a while. It's an extremely nice gesture to give an executive, such as your boss, team lead, account manager, project manager, or the CEO of your company, a nice gift when the occasion calls for it. This could be Christmas, their birthday, or maybe even just because. We know that it can be difficult to know what kind of executive gifts to give. These gifts should be functional, sophisticated, and personal without being too intimate. These fantastic gifts are also a great way to show them that you notice and appreciate all they do for you, or to thank them for their leadership after finishing a project, closing a deal, or getting a promotion. What kind of gift is appropriate for this kind of situation? What price range should you be looking for gifts in? We've found the perfect office gifts for him and for her on absolutely any occasion.
Gorgeous Glassware Set of Executive Gifts
This twisted decanter set is absolutely stunning, so you know that your company's CEO or boss will absolutely love using it to celebrate a special occasion or work-related victory. They'll feel so respected and appreciated seeing the customization as well as the beauty of this unique glassware set. Nothing will make them happier than a celebratory drink from this set or going home and relaxing with a glass of their favorite scotch after a long day or week at work.
Handsome Classy Glasses
Classy gifts are always safe bets when it comes to executive gifts. This stainless steel tumbler set is definitely the classiest of the classy! Your boss will love how unique this gift set is. They'll feel so fancy with one of these super classy tumblers in hand, sipping on wine or cocktails that will stay cold until the last drop. The box will serve as an excellent useful decor piece for their desk in their office, a constant reminder that they have the best employees. Seriously, this is a foolproof boss gift that you know they'll love for any occasion!
Custom Cigar Gift Box Set
Got a project manager who is a fan of cigars? Then look no further than this fantastic engraved whiskey and cigar gift set! It is so good that you won't even have to wrap it! They'll love seeing their name engraved on the classy keepsake box but still won't be able to wait to see what is inside. This is the perfect gift for them to celebrate finally finishing a long project or even for them to kick back and relax after a week on the daily grind!
An Above Par Gift Idea
Executives are passionate about what they do, but they have other passions when they're out of the office as well, such as golf. That's what makes this golf gift set such a terrific executive gift! This special set contains unique gifts that any golfer will really like. Having a vessel for their favorite beverage is a must, and they'll never lose track of their bag with this bag tag! They'll be so appreciative of this gift, especially for the excuse to get out of the office and play!
The Most Beautiful Attache Case
They likely have some sort of briefcase, but they'll feel like a million bucks when you surprise them with this fancy leather attache case for Boss Appreciation Day or their birthday! It's one of the most impressive executive gifts that your boss will be absolutely thrilled to have. It's absolutely gorgeous as well as an easy way to carry their important documents and other items inside. They'll feel so cool while carrying it!
Personalized & Sophisticated Executive Gifts
There's nothing like a super fancy set of glassware to make a sophisticated executive happy! This whiskey decanter and glasses set is perfect for keeping in the office, using it on special occasions to celebrate. Nothing will make celebrating record sales or a new hire better than this fancy set!
The Perfect Mug Set
For bosses, workdays can be so tiring, so all they want to do is have a mug full of a delicious beverage. Help your boss do that by getting them one of the coolest gifts: this beer mug set! They'll greatly enjoy sitting in their favorite chair in their living room and having a nice cold beverage, relaxing before the next workday.
Any Executive Will Be Impressed
It can be tough to impress a team lead or CEO who probably already has it all, but once you take a look at this wine glass box set, you'll know they definitely don't have anything as beautiful as this! They'll be so thrilled with these customized, classy wine glasses that are perfect for enjoying a glass or two of their favorite wine on the weekends when they want to relax.
Boss Bag: One of the Best Office Gifts for Him
Important people are always on the go, and there's no better way to travel than with the perfect luggage. This leather travel bag is handsome, high-quality, and will fit all their travel essentials with ease. Not only will the higher-ups in your company love this executive gift, but your coworkers will as well! It's one of the greatest office gifts for him or her that's impressive without being too personal.
For the Most Badass Bosses
It takes a lot of talent as well as hard work to lead a group of people. To show your boss how much you appreciate their strong leadership, get them this bull decanter! It's an incredible gift that will represent to your boss how their employees feel about them. Just as bulls are strong and unique, so is your boss, and you really appreciate them for it.
Unique Whiskey Gift Set
A young executive in your company is having a birthday soon, and you want to get them an incredible present. This whiskey gift set is one of the most unique executive gifts that you know they'll absolutely love, even if you don't know them extremely well! They'll be incredibly impressed with the personal engravings this set has, and they'll love having the beef jerky in their desk at work in case they're in need of a snack!
Delectable Executive Gifts
Speaking of being in need of a snack, some executives get really hungry because of all their hard work and will definitely appreciate a snack gift basket as an executive gift for any special occasion! This fancy basket is filled with delicacies such as tomato bruschetta, caramel milk chocolates, Tuscan olives, and many more. Your account manager will really appreciate the chance to indulge in some gourmet snacks now and again at work. Their mouths will be watering when they open up this gift!
Customized Ammo Can Set
There are nice executive gift sets, and then there are phenomenal gift sets that come inside an ammo can! This handsome ammo can gift set will cause the CEO of your company to immediately give everyone a raise! Just kidding, but they will absolutely love it! The ammo can is perfect for storing work essentials or whatever else they please, and they'll love using the whiskey and cigar items to indulge in those vices once in a while!
A Special Glassware Gift Any CEO Will Be Obsessed With
A sophisticated wine decanter set is always a good go-to gift for an executive because there's no way they won't think it's one of the most classy gifts ever! The fact that you went to the trouble to have their gift personalized will make it even more of a special gift, and they'll love relaxing with a nice glass of wine after work.
163+ GORGEOUS PERSONALIZED WINE GLASSES>
One of the Most Useful Executive Gifts
A classy CEO deserves a super classy present on Christmas or Boss Appreciation Day such as this Italian leather watch case! It's absolutely gorgeous, with spots for your CEO's most precious watches. They'll really appreciate not having to worry about bumping their Rolex off of their dresser or misplacing it. They'll also really like locking this case to ensure that no one steals them!
Timeliest Office Gifts for Him Ever
Make him feel super fancy (and also ensure that he's never late for a meeting!) with this gorgeous black LED clock! It's one of the most amazing office gifts for him out there that he can keep on his desk or even in his home. He'll love having the time boldly displayed on his desk so he never misses a meeting.
Ultimate Beer Glass Set
As a company, you and your coworkers have come together to get your CEO the best executive gifts ever for their birthday. This ultimate beer gift set is unbelievably awesome! Trying different beers from these unique glasses is the perfect fun activity they'll love to do when they need to let loose and have fun after a long week of work, and it will without a doubt be the best birthday gift they've ever gotten. The awesomeness of this set will have them feeling like a beloved boss!
Take a Break for Fun!
Even the boss likes to have a little fun once in a while! This poker game set gives them the opportunity to enjoy tons of competitive, card game fun with their loved ones. They'll have an absolute blast forgetting about any of the stresses of work and just having a good time with people they care about. A game night with their work friends may even be in the future!
Easiest Charging Ever
Help your team lead out by making something in their life a little bit easier—the charging of all of their technological items! This handsome charging catchall is a phenomenal executive gift because they will love how easy and convenient it makes charging their smartphone, tablet, smartwatch, and ear pods. They'll really appreciate waking up every morning to all of their items fully charged in the same spot.
Best Boss on Earth
Considering they're the best boss in the world, you want to get them a gift for Boss Appreciation Day that shows them that! This incredible globe decanter set is a fantastic gift idea that your boss will definitely love! They'll proudly display it somewhere in their home to show off how loved they are by their employees, and using it to enjoy a drink after a long day at work will make them very happy.
Engraved Executive Gift Set Any Boss Will Love
Gift sets that are full of awesome items which are also personalized make for slam dunk executive gifts. This custom ammo can gift set is the coolest of them all! Your boss, project manager, or any other executive will be a huge fan of the handsome ammo can that they can use to store whatever they want inside it. They'll also be obsessed with the pint glasses and flask with an initial on them so they always have a way to enjoy their favorite drink!
Executive Gifts for Ultimate Organization
Managing employees and performing all their other duties is a lot to take on day after day. Make their job easier with this super handsome leather organizer! They can put their planner, calendar, pens, important papers, and anything else inside that helps them keep track of their duties, meetings, and deadlines. They'll love the high quality of the genuine leather and hand stitching so much, they'll definitely use this forever!
Can't Go Wrong With this Gift Set
You simply can't go wrong with getting your boss or CEO an attractive box set of handsome glassware. This decanter box set is a phenomenal gift idea for an executive because it's sophisticated and stately, just like them. From the customization to the useful walnut-stained box, they'll really appreciate this gift. Because they work so hard each and every day to help out their employees, they deserve to have a drink using this awesome glassware when they get home!