Buying a gift for your boss is different than any gift giving occasion. You need to get something that you know they will like; however, you don't want to go to safe and get them a vanilla gift either. The perfect gift for your boss needs to look classy but still be practical for them. To get the exact right gift you will need to take some things into consideration: what sort of company do you work for? Or, what do they like to do? These sorts of variables will lead you to specific avenues of great gifts. Take our advice to avoid the safe gifts and instead, use or expertise to find a gift they almost any boss will love but will show that you know what they like!
A Great Whiskey Gift for the Boss Man
A great gift for your boss should be something you are proud to give them. A whiskey stone set with a personalized engraving will surely be a standout gift for them this year. You know your boss likes to enjoy a nicely chilled glass of their favorite ten or twelve year at the end of a long week, so make their next occasion to relax a little more special since they'll now be able to have their own personalized glassware while chilling their drink to the perfect temperature with their own whiskey stones!
Executive Golf Set
Nothing makes a gift for the boss feel cooler than their own executive golf set. You know deep down they have always secretly wanted to golf in their office. Now, they can practice their short game whenever they want or if they need to take a minute away from work without leaving the office this set is perfect! They'll feel like they are at the course as they sink putt after putt. Also, when they start winning more rounds, they'll have you to thank because it is drive for go, and putt for dough!
An Awesome Gift Set For Your Boss
A great gift for your boss allows them to relax or celebrate with their favorite things. For your boss, that means a cold pint and a smooth cigar. This set has everything they will ever need to create the perfect night! Depending on how well you know them, filling the cigar box with their two favorite kinds of stogies may an ideal way to make this the best gift from an employee they have ever received!
Another Gift on the Chopping Block
Make sure your boss knows that you pay attention to their interests with a fantastic cutting board! Large wood boards are great when you have a lot of things to chop up for dinner, and you know your boss loves cooking meals with a ton of different foods! Give them all the room they could ever want on a cutting board with this hardwood board! Just make sure they know to wax and/or oil the board to keep it ready for use for years to come!
Simple, Sleek, and A Great Gift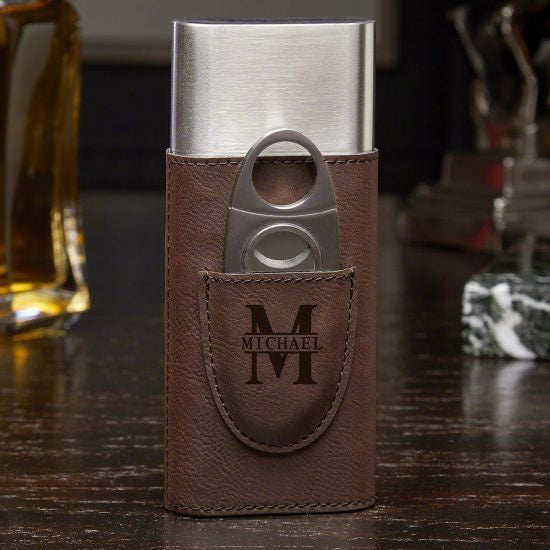 A fantastic gift for the boss that loves to have a good cigar can be as simple as their own cigar case! They can bring their stogies anywhere they like in style and stealth. They won't have to deal with pocketing a cigar and having the tobacco smell waft out or worry about losing any of the leaf falling into their pocket. This simple gift lets them know you pay attention to what they want and that you can see they are all about efficiency, this is an ideal gift for the cigar loving boss!
403+ EVERYTHING PERSONLIZED THEY WOULD EVER WANT>
Gifts for A Boss with Great Penmanship
An often-overlooked part of life are the things that everyone writes with—pens! Pens used to be a thing that you took pride in, that you could show off how great your handwriting was or that you really have an awesome signature. So make sure your boss has a top-quality and comfortable pen with this Parker Jotter pen. They may only use it for signing important documents, but a high-quality pen is perfect for the boss who loves a bit of refinement in the workplace and wants to feel like John Hancock himself!
Decanter Gift Set For The Boss Who Loves Whiskey
Show your boss that you think they deserve to put their feet up and relax with a decanter set that'll make them want to do just that! This classic set will have them feeling like they've got their own corner office (if they don't already)! Whether they keep this set at their desk for specific celebrations or bring it home so they can relax each night with a drink of their favorite scotch, you won't regret getting your boss a luxury piece of glassware as a gift.
A Sign for Whiskey Lovers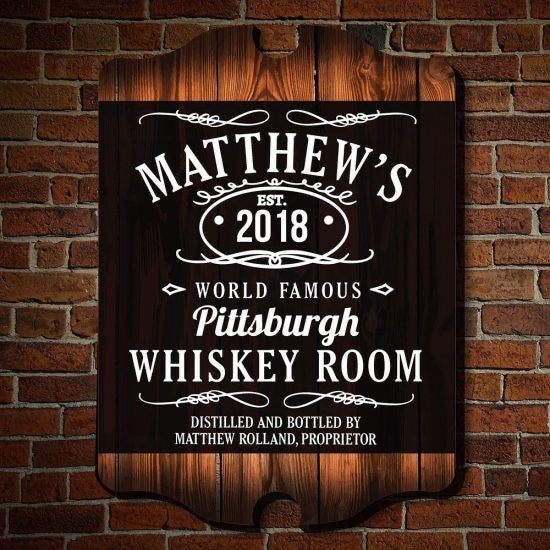 A bar sign is the perfect gift for the boss who is passionate about their favorite drink. They can hang their new personalized gift in their office if they are a die-hard fan, or if they decide to be more conservative, this whiskey bar sign looks fantastic in any living room or home bar. It'll be one of those gifts that they get to look at and appreciate every day!
A Great Germanic Beer Stein Gift
There is nothing quite like getting a beer stein as a gift. No matter the person, it always feels like a classy and well thought out gift. For your boss, make it special by engraving their name into the crest on the frontside of the stein. Whether they absolutely love their beer or just like the looks of it, the stein is a fantastic gift that shows you took the time to get something great for your boss!
A Gift He'll Love Beyond the Shadow of A Doubt
It is possible your boss prefers to have a glass of wine instead of a bottle of beer or even a glass of whiskey. For those bosses, one of the best wine gifts you can get is a complete drinking set. These four glasses will let them host a group of friends whenever they want and it even comes with a shadow box! They can hang their shadow box, and through the hole in the top fill it with wine corks! It'll be a great reminder of the fantastic evenings they have spent with friends and family!
Forever Hot Coffee
No one likes a cold cup of coffee, especially your boss. Ensure that never happens again with a self-warming coffee cup! This rechargeable mug will keep their coffee at their perfect, pre-set temperature for as long as they need! No more will they come back from a meeting to have cold or luke-warm coffee waiting for them.
Flask For A Fantastic Boss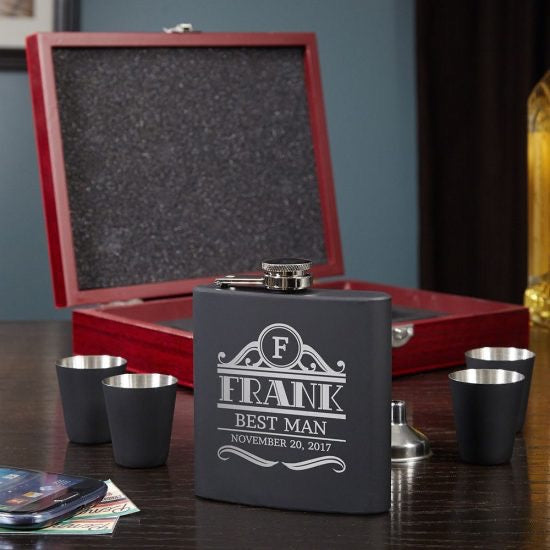 Making you're gift for your boss both practical and visually stunning is something this flask set does incredibly well. They now have their own discreet and stylish way to drink on the go, or if they want they can pour some shots into their matching shot glasses. The set comes in an awesome looking display box that they may just leave out in the office so everyone knows how awesome of a gift your boss got! Make sure that person that gives the awesome gift they love is you!
Awesome Kitchen Gift for Your Boss
They're not only a boss at work, but you know for a fact they are a boss in the kitchen! Gifts for the boss who loves to cook should allow them to keep making kickass meals! Give them a cutting board that will last them for years! They'll be making their food in no time with this perfectly sized cutting board. Your boss can cut up all their aromatics and leave them on the board, which is fantastic compared to running out of room on a traditional cheap plastic cutting board.
Give Them A Taste of Competition
You are aware that your boss is a competitive person, hell, that is probably how they got to the position they're in today. Give them a taste of competition once again with their very own poker game set. They can challenge anyone they like to a game of Texas hold'em or their preferred card game, all the while they'll be smoking a cigar and enjoying a fantastic glass of scotch. For the boss who loves games, cards, or is just outright a competitor, you can do no better than this!
Ammo Can Gift Set For Your Boss
Wow your boss with a gift box they will never see coming! Your boss has gotten plenty of gift baskets over the years but never one in the form of their own personalized ammo can! This gift set is perfect for the biggest beer loving boss you know! They'll know that you see them as an awesome boss, but in a work way, when they get a gift box that lets them drink their favorite beers in the most awesome way possible! They may even keep the ammo can at work to keep their most important things!
Never Have Them Lose Things Again
Help your boss organize their life in style with an awesome leather catchall tray. This is a perfect gift for that they can use at either the office or at home. If they're tired of misplacing their wallet, keys, and sometimes even their phone, a classy catchall is exactly what your boss needs. They'll always have all of their important stuff in one place and will never again have to do the patented pocket pat down before leaving somewhere only to realize they are missing one or more important items!
A Refined Gift for Your Boss
A classy gift for your boss will always be a whiskey set. There is no way they could ever deny a box set like this doesn't have class. They'll feel incredible drinking from a set of elegantly twisted glass that have been engraved specifically for them. This is a great gift for any whiskey enthusiasts and if you feel you need to spice it up even more, a bottle of their favorite liquor wouldn't hurt.
The Ultimate Wine Tool Set
Gifts for the boss who loves wine have never been simpler than with their very own wine gift box! This elegant gift box is not only personalized for them, but comes with the only set of wine tools they'll ever need again! This is also a great gift to place a bottle of their favorite wine inside. They can either have a drink right away, or they can save the bottle in their engraved box for a special occasion.
The Perfect Gift Set
Make the next gift for your boss a foolproof kit with this whiskey set. Collected in an awesome wooden box, this set will have them enjoying a chilled to perfection glass of their favorite scotch, bourbon, or rye. They'll love that each piece of this gift set is usable, even the gift box itself is a perfect item that they can keep at work for storing important items on their desk while being used as a fantastic display piece.
A Sign They Can Put Anywhere
Maybe your boss is a little more of a blue collar than they are refined; or maybe they simply enjoy time in their garage. For these bosses, a plaque that makes their garage feel like it is more than just the place where they work on cars or build things out of wood is the perfect gift. Use this sign as an opportunity to give a gift your handy boss will love and you know they'll be looking at it every time they go to their favorite place!
A Little Bit of Nature on Their Desk
Spending long hours in the office can make life feel a little artificial for your boss. Make them feel like nature is at their fingertips with this awesome looking terrarium. The geometric shape is sure to get tons of attention from coworkers and clients alike. As long as your boss has somewhat of a green thumb, you can rest easy knowing that with some attention and water these plants in their cool new terrarium will survive.
The Coolest Whiskey Gift Set For Your Boss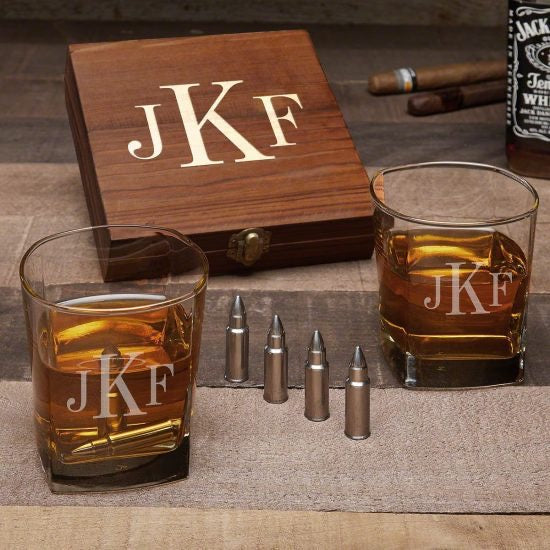 Some gifts for the boss in your life need to be just different enough that they'll take notice of your unique gift. For the occasions when you want to have the best gift, a personalized set of whiskey glasses with novelty whiskey stones in the shape of bullets are what you need. No other gift you can get them will stand apart as much as this! No matter their passion, they are going to love this set. They can have a sip of their best bourbon while talking about the last time at the range, the last hunt, or while they talk about their favorite action movie.
Brewery Sign for Your Boss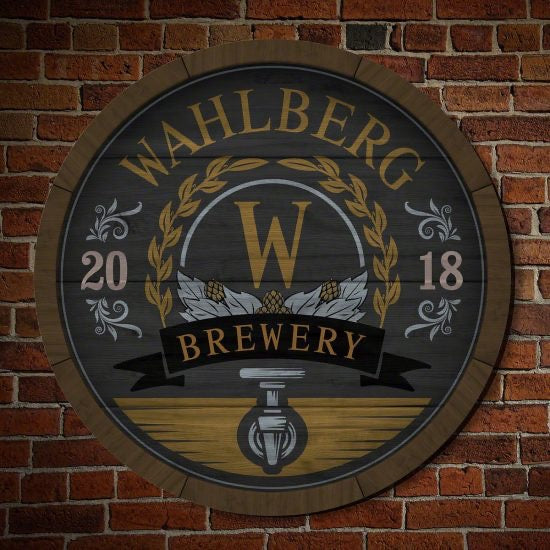 Make the beer loving boss you work with ecstatic with a brewery sign they get to hang anywhere they like! You've had a few post-work brews with your boss, and in that time, you found out they are absolutely crazy about breweries, they love every step of the beer making process. So, it only makes since to get them an awesome sign that makes their home or office feel like they're at their own brewery all the time!
A Legendary Coffee Gift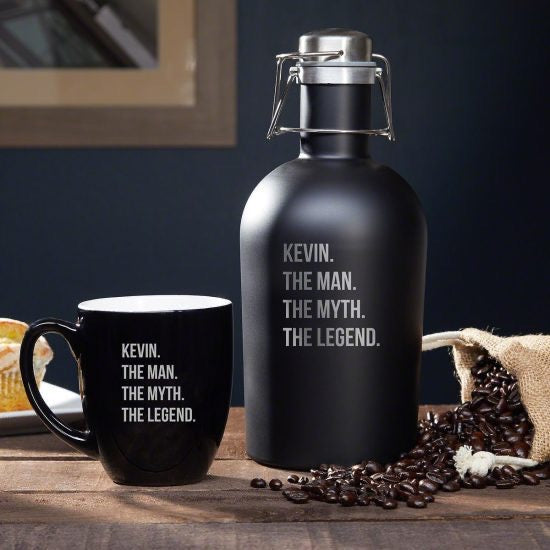 As much as you may not want to admit it, your boss is human. Every time you arrive they are there, already moving and being productive; yet somehow, they are still going at the same pace even when you leave at the end of the day. Their secret, coffee. Use that as an opportunity to give them a kickass gift. They can bring as much of their own blend as they can drink to work with this engraved carafe, they then just needs to drink out of their matching mug for that sweet brown caffeine!
Gift For the Boss Who Loves Whiskey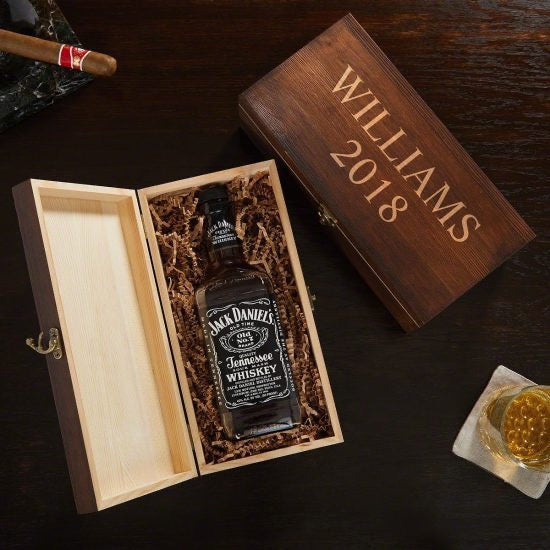 A great gift for your boss can be a bottle of liquor; however, it doesn't always come off as the most personal or creative. To make that bottle of booze stand out as awesome, surround it with a kickass gift box meant for liquor bottles! Now, they have an awesome box to keep storing their liquor in or to use as a display piece in their office. If they do that, each time you walk by and the box is sitting out you'll know you gave them a great gift!
A Classy Card Holder
If you are truly unsure of what to get your boss, a high-end card holder for their desk is a perfect gift. It shows that you have great taste, care enough to get a gift, but still want it to be professional. This holder is sure to impress any clients that come into their office with the sleek design and gorgeous presentation. The matching pen that comes with the holder is a great bonus, not only does it look great, it allows for people to easily write whatever they need onto the card.
Give Your Boss The World
There is no better way to make them feel like they rule the world than by giving a globe decanter set as a gift for your boss. This is a great display piece that will look perfect in any office or on any end table. As they drink their best scotch, you know they'll have to look at the detail in each glass as they show a map of the entire world, while he'll be in awe of the decanter that has an entire glass ship inside of it!
An Awesome Wine Gift Set
A great gift for the boss who loves wine is their very own wine tumbler set. The entire set is personalized which will make it feel like a super classy gift. They'll also love the stainless steel tumblers that keep their wine at just the right temperature and are also incredibly durable! Your boss won't ever have to worry about accidentally dropping this custom-made gift. So give them an awesome looking wine set for the wino boss! They'll even be able to open their bottle of wine since this set comes with their very own personalized wine opener too!
The Biggest Mug for the Big Boss
Give your boss all the beer they can drink in one sitting with this gigantic beer mug! This is the perfect gift for the boss who absolutely loves their beer. Considering it can hold an entire liter of beer, you can rest easy that any beer loving boss will be head over heels for such a great gift! You know they love their mug right now, and you know bigger is better, so get them the biggest beer mug you can!
229+ FANTASTIC FOOLPROOF GIFTS FOR YOUR BOSS>
David Harrington is a seasoned researcher with a degree in English literature. He uses his extensive training and research skills to evaluate thousands of gifts a year. He then narrows that list down to a select few, choosing unique gifts that will surprise and delight his readers and their gift recipients.