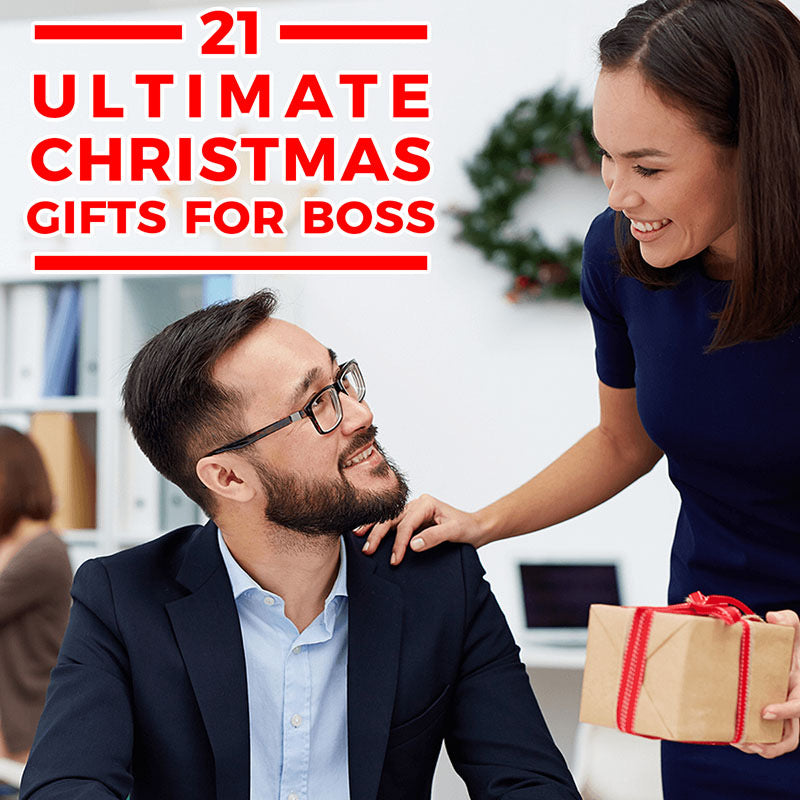 21 Ultimate Christmas Gifts for Boss
The holidays are here and it's time to find the best presents for everyone in your life, including your boss! You want to get your boss a nice gift that says, "I appreciate everything you do for us and our company," but bosses are never easy to shop for. Good Christmas gifts for boss can be decorative items for their office or home, practical gifts they can use at work, or something that will help them relax when they're off the clock. You should keep your boss's interests and hobbies in mind when picking out their Christmas gift because you want to get them something they will like and use, but it's okay if you see something nice to display in their office instead! No matter what you choose for their holiday gift, your boss will be highly impressed by your thoughtfulness and generosity for getting them something nice.
The Most Impressive Christmas Gifts for Boss
In every movie, there's an important character who always has this big fancy office with a stunning crystal decanter. This Christmas, make your boss feel like the most powerful person in the office with this luxurious decanter set that's just like the ones you see in the movies! Your boss will be speechless when they see that each piece is engraved with a unique monogram of their initials, making it an even more impressive gift. Such a luxurious Christmas gift for boss is a perfect gift to give on your own or with a group of your coworkers as well!
For the Boss Who Enjoys Cigars
Like every cool and important leader should, your boss enjoys the occasional stogie when celebrating a successful quarter or gaining a big new client. One of the best Christmas gifts for boss is this awesome ammo can humidor! That's right, this ammo can that was once used by the United States military has been turned into the coolest humidor you've ever seen. Your boss will be so excited about keeping their stogies in this humidor that they'll probably start enjoying cigars more often just so that they can utilize the humidor! Of course, don't forget to put a pack of their favorite brand of cigars inside before you give it to them for Christmas.
The Perfect Holiday Gift for the Boss Who Drinks Wine
When your boss gets home after a long day, there is no better way to relax than having a glass of wine with their spouse. This lovely decanter set is the perfect holiday gift for your boss and their significant other to enjoy together! The two-step decanting process will turn your boss's wine from bitter to sweet so that they can truly unwind after a long day at work. In fact, you should pair this decanter set with a bottle of your boss's favorite red wine to make it a complete Christmas gift!
Turn Your Boss's Home Bar Into a Golf Hangout
Does your boss enjoy playing golf? Then they will love getting this personalized wooden bar sign for their home bar! By designating their home bar as the 19th hole, your boss can bring all of their golfing friends home to celebrate their round with a couple of drinks. This fun sign is one of the most unique Christmas gifts for boss and will certainly ensure that you'll be invited to their next tee time!
Cool Grilling Christmas Gift for Boss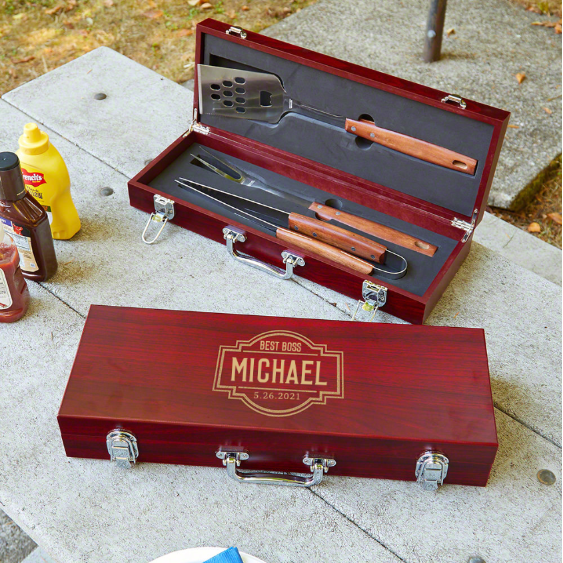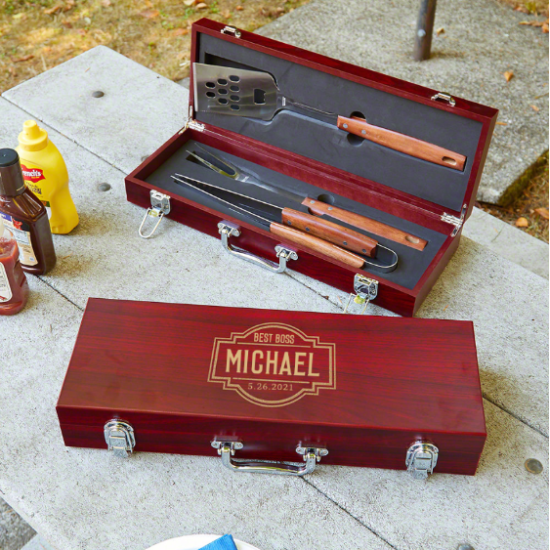 Is your boss known for their excellent cooking skills? This Christmas, get your boss a set of their very own personalized grilling tools so that they have the essentials for their favorite way to cook: BBQ! This trio of tools are must-haves for when your boss makes their incredible ribs, burgers, and steaks for the whole office. They will love that they can bring these amazing tools anywhere, too, from their in-laws house to the company retreat!
299+ BESTSELLING GIFTS FOR BOSSES>
Executive Travel Gift Set Every Boss Needs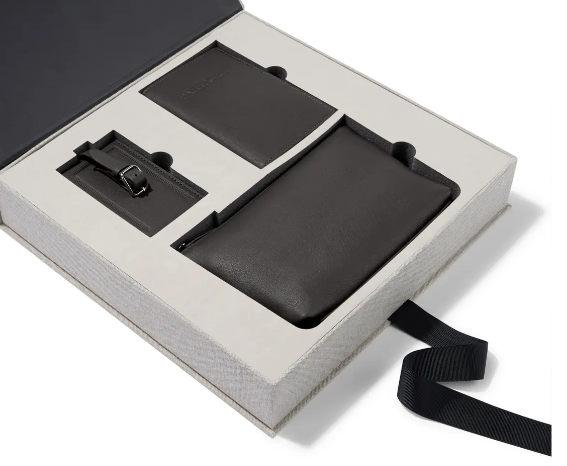 Whether your boss is always on the go for work or for fun, they need this travel gift set to keep all of their essentials organized! With a genuine leather luggage tag and passport holder, they'll always be able to find their passport and checked luggage, even when in a hurry, to make their next flight. The matching leather accessory bag is perfect for holding their toiletries or electronics and keeping them safe inside their luggage. Thanks to your thoughtful Christmas gift, your boss will be ready for anything the next time they fly!
Say Cheers to the Holidays with a Beer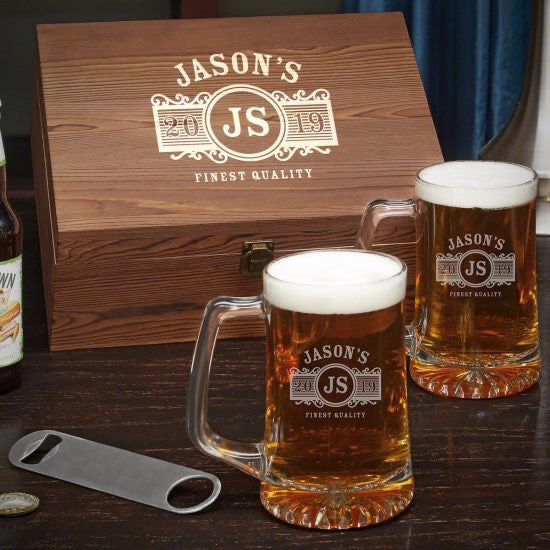 There's nothing like clocking out and heading to the local pub for a drink with your coworkers, and sometimes even your boss joins in on the fun! One of the best Christmas gifts for your boss is their very own pair of custom beer mugs that are just like the ones at the pub, but this set is for their home! Now, they can enjoy a large cold one whenever they want at home instead of just at the occasional trip to the pub.
Display Their Watches In Style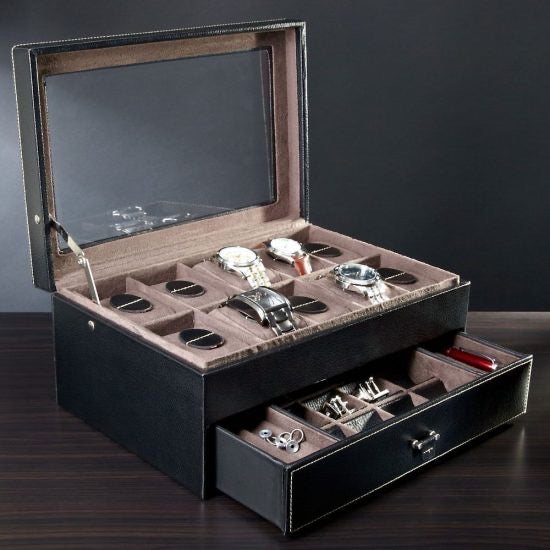 Every manager or CEO has a couple of watches: one for every day, one for special occasions, and perhaps even one for traveling. However, most bosses don't have a place to store all of their watches. For Christmas, your boss will love having a nice watch display case to keep each timepiece organized and displayed in the classiest way! This case is so luxurious that it will be the classiest addition to their home or office, and there's more than enough room for more watches or accessories such as extra watch batteries and links.
The Perfect Decanter for Their Office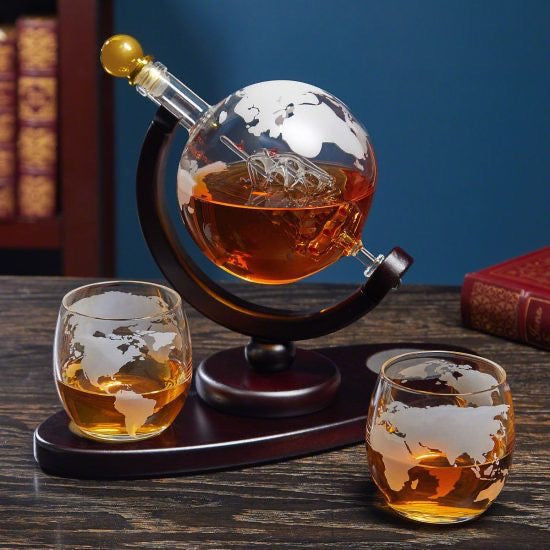 By far one of the best Christmas gifts for boss, this spectacular decanter set will add a touch of luxury to their office! Perfect for keeping on display and enjoying a celebratory drink with clients, this gorgeous decanter will make your boss feel like the coolest person in the office. Make sure you get a bottle of their favorite whiskey or rum as well so that they can fill up the decanter and have a drink from it as soon as they open it at the company Christmas party!
A Fun Gift for the Cigar Smoker
Does your boss enjoy cigars? Give them a way to display their beautiful bands with a custom shadow box for Christmas! They will love watching their collection grow over time as the shadow box fills up with cigar bands from every holiday, celebration, and even just from a relaxing evening. The shadow box also doubles as a unique decoration in their home or office, and anyone who sees it will think your boss is a cigar aficionado for sure!
An Impressive Plant
Your coworkers are probably getting little gifts like mugs and gift cards for your boss for Christmas, but you want to get something even better. How about a beautiful Bird of Paradise plant? Known for being big and having the most gorgeous blooms, this impressive plant will make your boss's office homier. The lovely pot it comes in is also made from recycled plastic, which will impress your boss that you're being extra eco-conscious. The Bird of Paradise certainly makes a statement, and your boss is sure to think of you every time they tend to it!
A Christmas Gift for Boss They'll Enjoy for Years to Come
One of the most thoughtful gifts you can give your boss this Christmas is something that makes it easier for them to relax after a long day at the office: a marble wine chiller! Now, they don't have to wait for the bottle to get cold in the fridge and can enjoy a nice, cool glass of white wine as soon as they walk in the door. Even when it's cold outside, there's nothing quite like a perfectly chilled glass of Moscato to relax with after a long day!
Make Your Boss Feel Like a Million Bucks This Christmas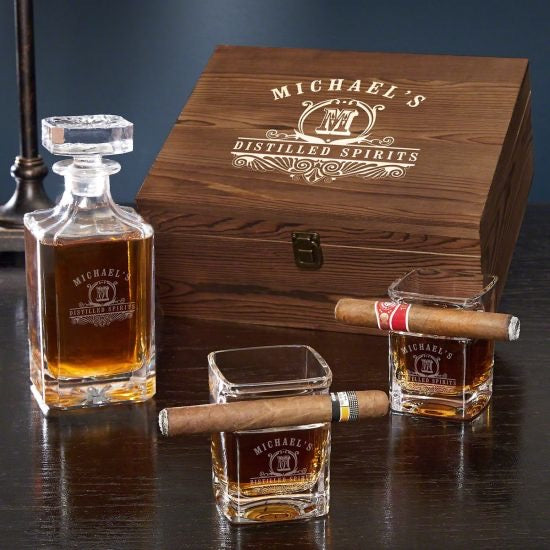 Want to get your fearless leader something truly incredible for the holidays? Look no further than this amazing cigar and whiskey decanter set! With a stunning crystal decanter and two cigar-holding glasses, your boss will feel cooler than James Bond every time they use it. This set is perfect for keeping in their office so they can pour clients or the higher-ups a drink and prepare a stogie when they celebrate a successful deal or the company's anniversary. In fact, your boss might even pour you a drink when you give it to them for Christmas as a thank you! Also, this gift has so much awesomeness that it is a great choice when you and your coworkers want to go in on a gift together to impress your boss!
The Christmas Gift Your Boss Will Never Expect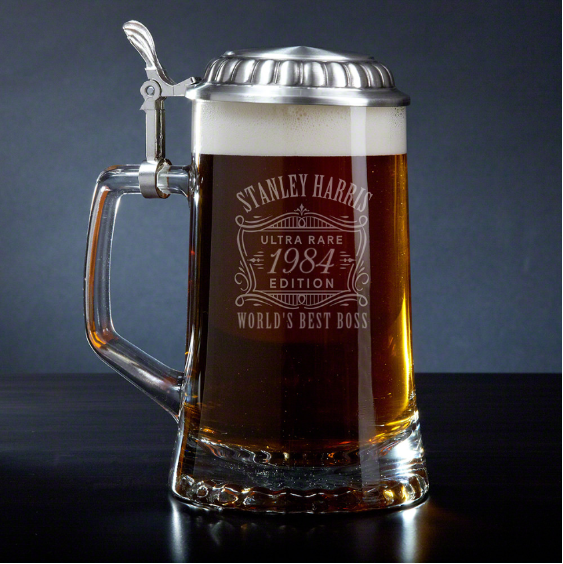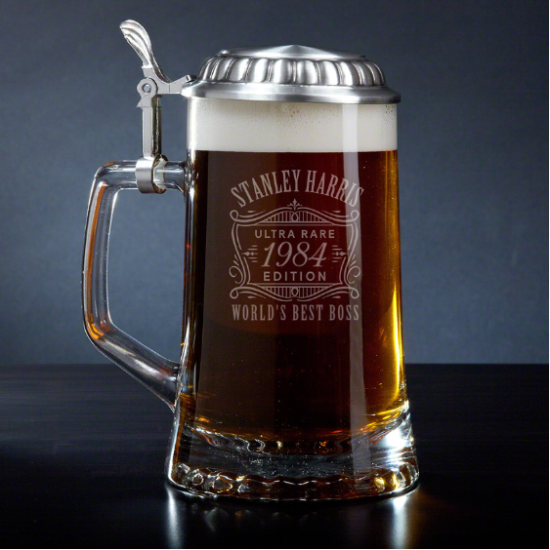 Whether your boss is the kind of person who loves craft beer or just enjoys a cold one on occasion, this custom beer stein is one of the coolest Christmas gifts you can give them! Designed like the vintage steins used in the Fatherland of beer, this cool stein doubles as a unique display piece or it can be used to drink their favorite ale. The fact that you had it custom engraved with this awesome design makes it all the more special!
Make Your Boss a Custom Sign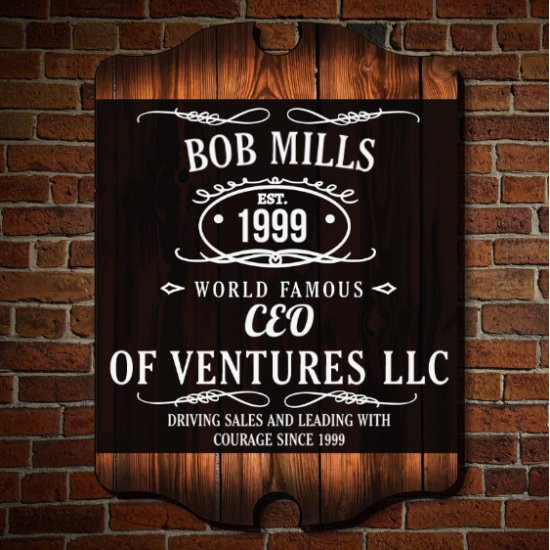 Whether your boss just moved into a bigger office or you want to surprise them with a new addition to their decor, this custom wooden sign is one of the most amazing Christmas gifts for boss! Designed to resemble a popular whiskey label, this sign is fully customizable so that it can be a one-of-a-kind decoration unlike any other in the entire world. Your boss will be so touched by this incredible gift and will be proud to display this sign in their office for all to see!
319+ CUSTOM SIGNS YOUR BOSS WILL LOVE>
Office Organizers Are Always Appreciated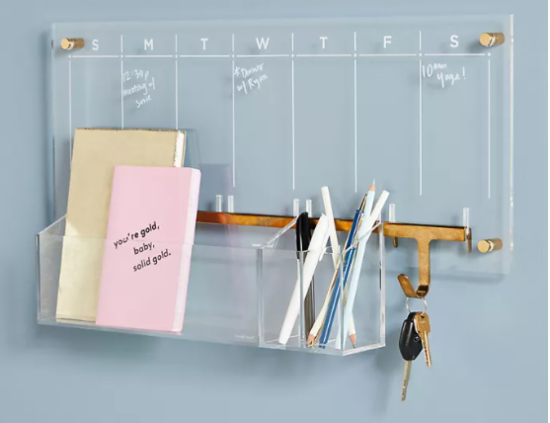 Not sure what to get your boss for the holidays? Every boss loves to be practical and organized, which means any gifts that help them do so are always appreciated. This lovely minimalist organizer set from Anthropologie is guaranteed to please even the boss who has everything! The sleek acrylic and gold accents will look great in their office, and now they'll have extra room to keep their essentials organized. Plus, the dry erase calendar will certainly come in handy when unexpected projects come up or they want to remind themselves about important events during the week.
Executive Decanter Set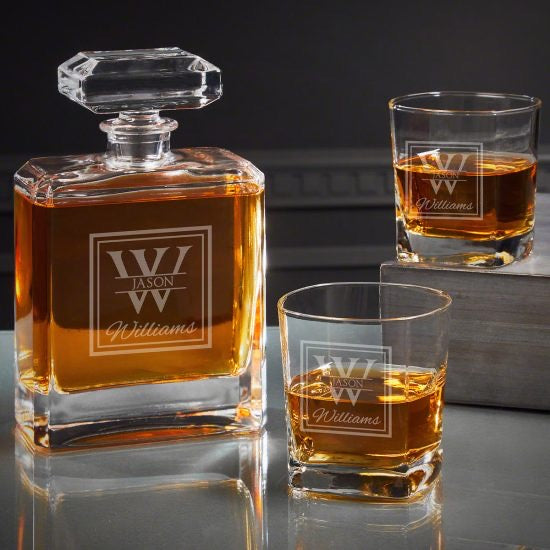 Show your boss that you think the world of them and appreciate how hard they work this Christmas with a beautifully engraved decanter set! This impressive set of glassware will look amazing in their office and will certainly make them feel like a powerful executive every time they see it. The only thing that would make this handsome set a better gift is if you pair it with a fine bottle of whiskey so that your boss can fill up the decanter right away! Who knows? They might even offer you a drink from it to thank you for such an amazing Christmas present.
Only The Finest Christmas Gift for Your Boss
For the boss who enjoys cooking, no Christmas gift is better than this monogrammed butcher block! This super sturdy and gorgeous cutting board will look fantastic in your boss's kitchen when they aren't using it to prep their week's work lunches or making dinner for their family after work. They will especially love the elegant monogram that adds a nice personal touch to their kitchen! This cutting board is built to last for many years to come as it is made of durable acacia wood, and is definitely a Christmas gift for boss that they will never forget!
You Can't Go Wrong With a Nice Bottle of Liquor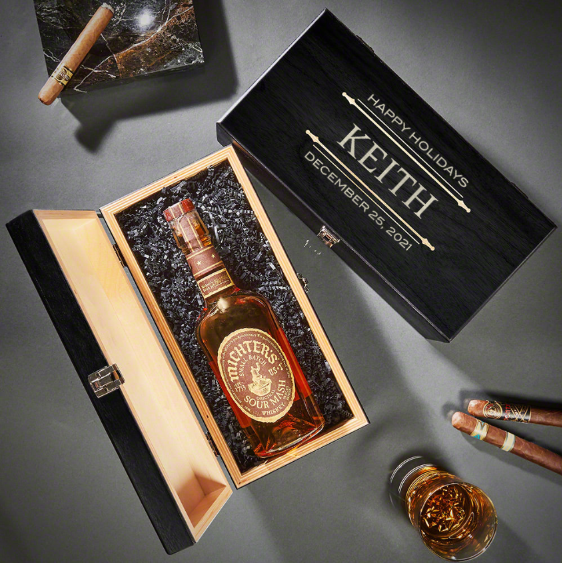 What do you give the boss who has everything? A nice bottle of liquor is always a good idea, especially if you give to them in a beautifully engraved gift box. This handsome box will fit most standard size bottles, and you can customize all three lines of text to make it a professional, funny, or thoughtful gift such as "The Boss's Whiskey" or "World's Best Boss" followed by their name and a date. The box even comes filled with black paper filler so that all you have to do is place the bottle in it and your Christmas gift for boss is ready to go!
A New Office Chair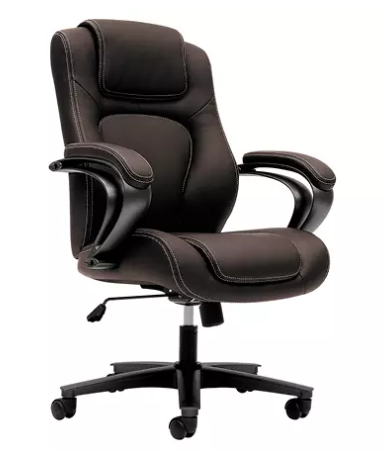 Does your boss's current chair look a little worn or have they had it for as long as you've worked there? Christmas is the perfect time to get them an upgrade! This handsome leather high-back chair will make any boss feel extra important, not to mention comfortable! With its lumbar support and even cushioned armrests, your boss definitely won't be achy after sitting in it all day. You and your coworkers can pitch in and get your boss this gift as a group Christmas gift or you can go all out and become the new favorite employee!
Christmas Gifts for Boss They Will Never Forget
Looking for a Christmas gift for boss that will leave them speechless? Get them this spectacular decanter set! From the elegant curves to the stunning personalization, every element of this three-piece set is nothing short of luxurious. When your boss treats themselves to a nice drink using this set, they will feel like royalty! Best of all, they can use this decanter set in their office at work or in their own home bar and it will become a stunning centerpiece no matter where they put it. In fact, you could give this gorgeous set as a present from you and your department to your awesome boss!
519+ ULTIMATE CHRISTMAS GIFTS FOR BOSS>