Your coworkers are the people you see all day, every day, which means it's expected of you to get them gifts when the occasions come around. Whether it's their birthday, Secret Santa around the office, their work anniversary, or even a promotion, you should get them a nice gift to celebrate! Unique gifts for coworkers should be items that they will enjoy at work or at home, are related to their interests, or their gift can be something you know they need. The people you work with often become longtime friends, so make sure you choose wisely! Don't worry, we've got unique office gifts for coworkers if you want to stick with work-related gifts or you need a gift for a coworker you don't know that well. Rest assured, you'll become known for your thoughtful and awesome gifts around the office!
Relaxing and Unique Gifts for Coworkers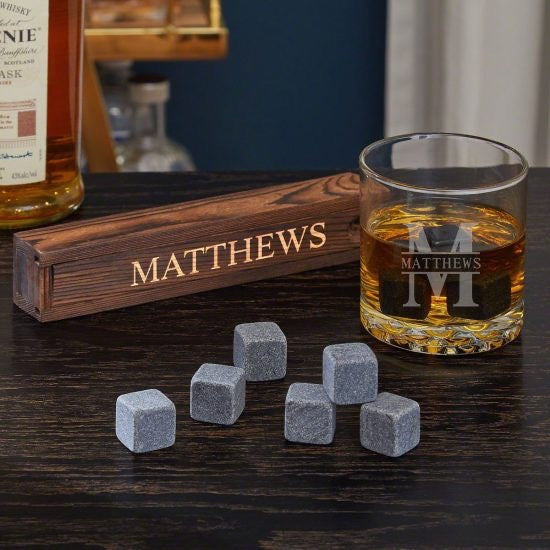 When you get home from a long day at work, all you want is a drink and to relax for the evening. Your coworkers are the same way, which makes this relaxing whiskey gift set one of the best gifts! They will be so touched when they see that you even went so far as to have the glass and whiskey stone box engraved with their name. When they get home with their new gift, they'll want to try out a cocktail or a double scotch on the rocks right away. From now on, this set will become part of their evening relaxation routine thanks to you!
The Perfect Gifts for Coworkers Who Love to Cook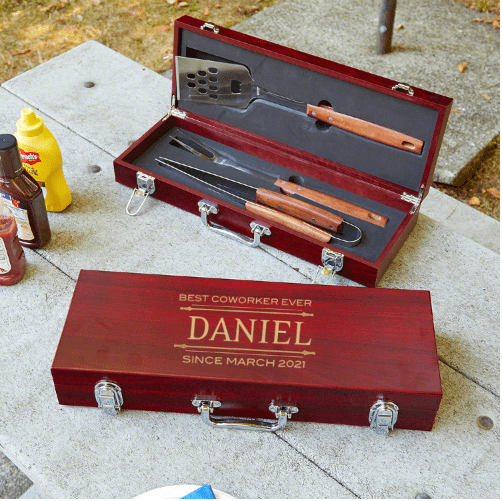 Do you have a coworker who is famous in the office for their incredible cooking skills? Then the best gift for them is this awesome set of personalized grilling tools! They will love using these professional tools to grill up burgers, steaks, or kebabs for everyone at the office. In fact, they might want to host a cookout at their house just to use these amazing tools! Whether it's for their birthday or to celebrate their new promotion, these grilling tools are some of the most unique gifts for coworkers.
The Best Gifts for the Coworker Who Drinks Beer
Everyone has that one coworker who is known for their love of beer. That's what makes this custom beer mug gift set the ideal birthday, holiday, or even retirement gift for them! Your coworker will be so amazed by the large, hefty mug and the thoughtful engraving on it and the gift box. When they get home each day, their awesome new mug will be the first thing they'll reach for because it's the best way to enjoy their favorite brew!
Awesome Gifts for Coworkers Who Love Golf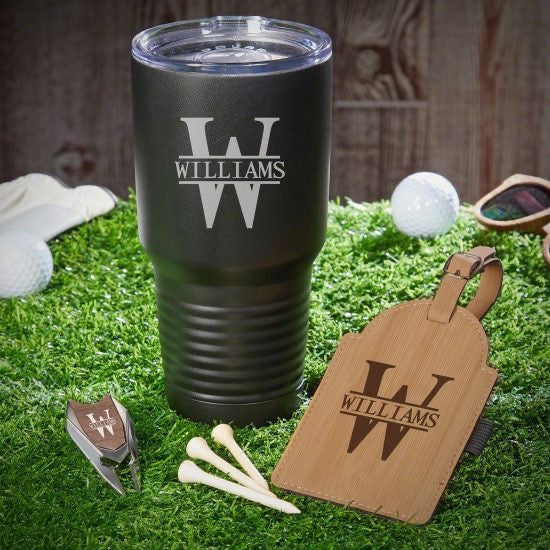 Whether it's your coworkers, your supervisor, or even your boss, there are bound to be a couple of people in the office who enjoy playing golf. Surprise them with this unique set of personalized golf gifts! They will love having a custom golf tag to hang on their bag, and the divot tool is sure to come in handy for each round they play. Their favorite part, however, is going to be the large insulated tumbler that will keep their coffee piping hot all through 18 holes!
Customizable Wine Gift Set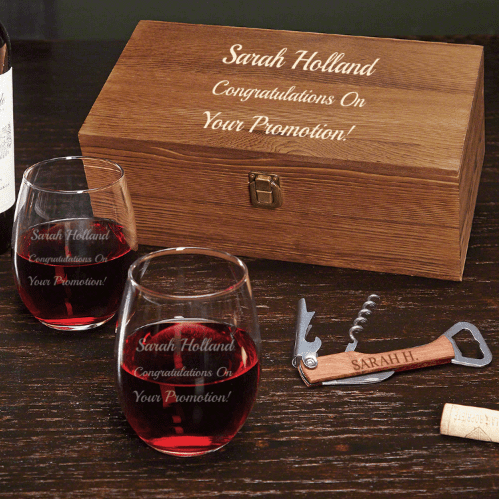 Looking for a unique gift set that would work for a variety of occasions? This gorgeous wine glass set is perfect! You can customize it to be totally unique for the coworker you're giving it to whether they are retiring, just got a promotion, or even if you need something nice to give to them for Christmas. In fact, you could give this set to anyone in the office for any occasion because you can make it unique for any person who receives it.
529+ GIFT SETS YOUR COWORKERS WILL LOVE>
For the Coworker Who Brings Their Lunch in a Paper Bag
Make sure your coworker's lunch stays fresh and organized with this thoughtful gift! Perfect for the coworker who always brings their lunch in a paper bag, they'll love bringing their lunch in this amazing set from now on. They don't even need to keep their lunch bag in the break room fridge because the handy freezer packs will keep their food fresh and chilled! By far one of the most thoughtful and unique office gifts for coworkers, this set is perfect for giving as a holiday or birthday gift for anyone you work with.
A Fun Gift to Share With Everyone at Work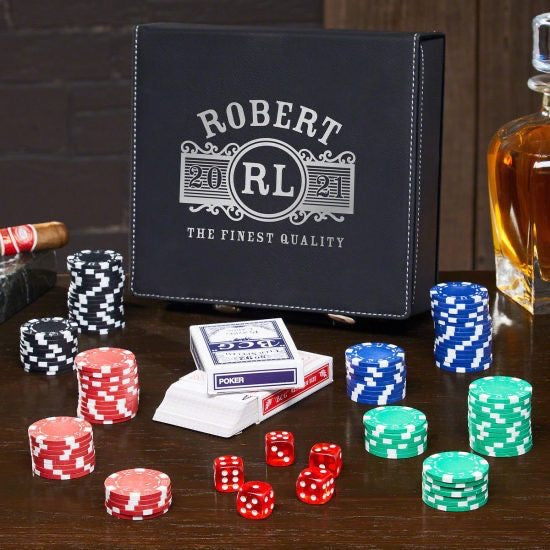 Do you have a coworker who has been wanting to start up a weekly poker night with everyone in the office? Then they need their very own custom poker chip set! Perfect for game nights with friends, family, and all of your coworkers, this versatile poker set can be used to play a variety of card and poker games. Your office mate will especially love that the handsome set comes in a personalized case that they can easily bring anywhere!
Spectacularly Unique Office Gifts for Coworkers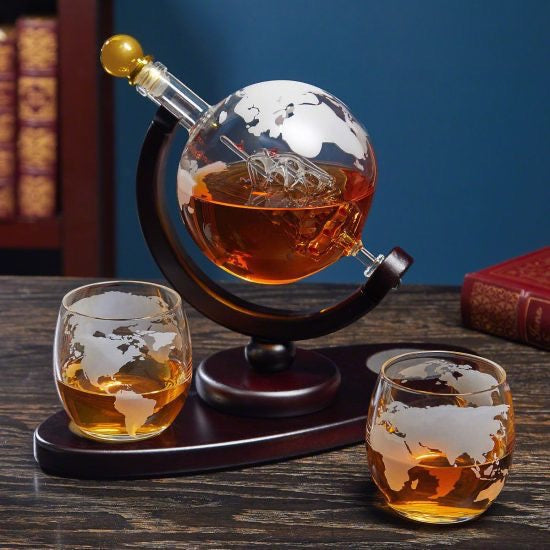 Everyone dreams of being an important, wealthy boss with a fancy office and a luxurious decanter set to display on their desk. That's why this amazing globe decanter set is the perfect gift for your coworker, especially if they're getting a promotion or a new office! They will love having this stunning work of art on display on their desk, especially when they need to celebrate because they can use it to toast to their success! Even your boss will be impressed with this gorgeous addition to your coworker's office, and they might just want one for their own office!
When in Doubt Get Them a Gift Anyone Would Love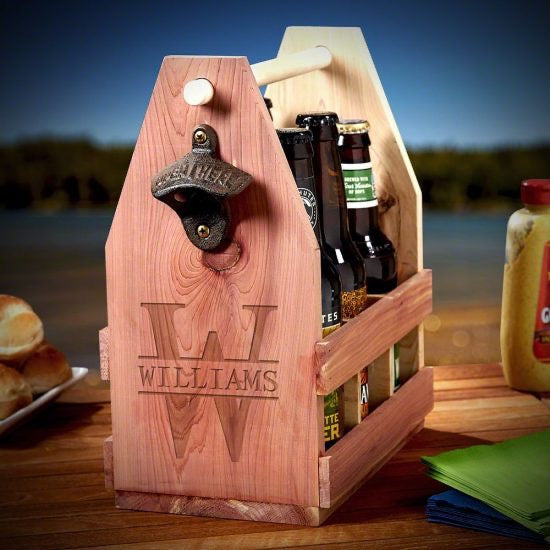 There's nothing like bringing a six-pack of beer to a buddy's house and relaxing with a cold one. That is, until you accidentally knock over the bottle or drop one as you're coming up the stairs. With a beer caddy, your coworkers will never have to cry over a spilt beer ever again! All joking aside, this wooden beer caddy is a fantastic and easy gift that any coworker who drinks beer would appreciate whether you know them very well or not. A caddy is the perfect Christmas, birthday, or even work anniversary gift to give to your coworkers, especially if you fill it up with their favorite beer before giving it to them.
Unique Office Gifts for Coworkers Don't Have to Be Boring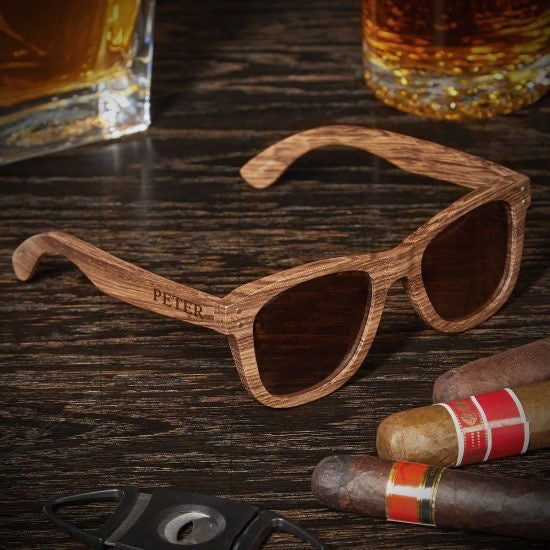 You want to get your coworker something they can enjoy at work and at home, but you're not really sure what they would like. No one could turn down these awesome bamboo sunglasses, especially since they're engraved with your coworker's name! Whether you're giving them for Secret Santa, their birthday, or to welcome them to your team, any coworker would appreciate such unique shades.
Unique Gifts for Coworker They'll Never Forget
Are you looking for a nice gift for your coworker to celebrate their retirement, promotion, or birthday? Get them this elegant whiskey gift set! They'll be in awe of the beautiful glasses and the classy personalization on the handsome wooden gift box. As soon as they open it up, they'll want to pour you a drink as a thank you for such an amazing gift, so make sure you have a bottle of their favorite spirit handy as well!
For the Coworker Who Just Got a Promotion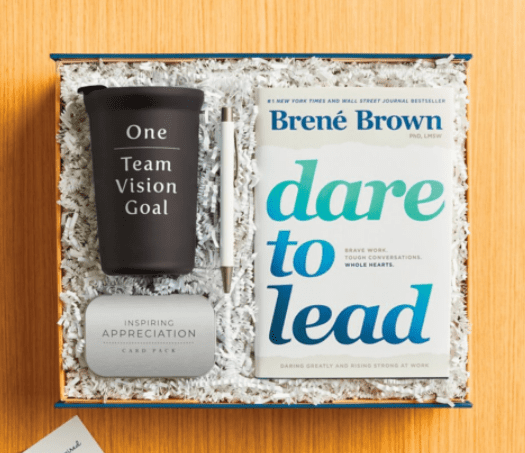 Unique office gifts for coworkers don't always have to be desk organizers or cute sticky notes, they can be a thoughtful gift basket like this one! Complete with an inspirational book, a cute pen cup, and even a pack of appreciation cards. This set is perfect for your coworker who just got promoted to a leadership position or to welcome your new supervisor because it's all about helping them become a great leader for your team!
Coffee Mugs Are Always Great Gifts for Coworkers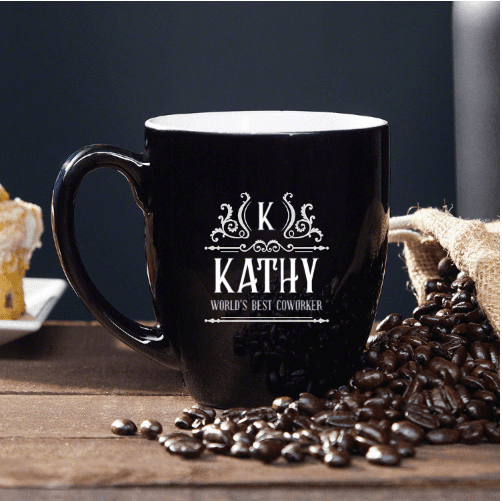 When in doubt, a personalized coffee mug is one of the best and most unique gifts for coworkers you can give! Whether you know them well or not, anyone would appreciate having their very own coffee mug with their name on it so that they don't have to use the sketchy communal office mugs. Plus, a custom coffee mug is the perfect Secret Santa, birthday, or welcome gift! You could even pair it with a pack of coffee or a couple of K-cups to make it even better.
A Unique Gift for Your Coworker's Home or Office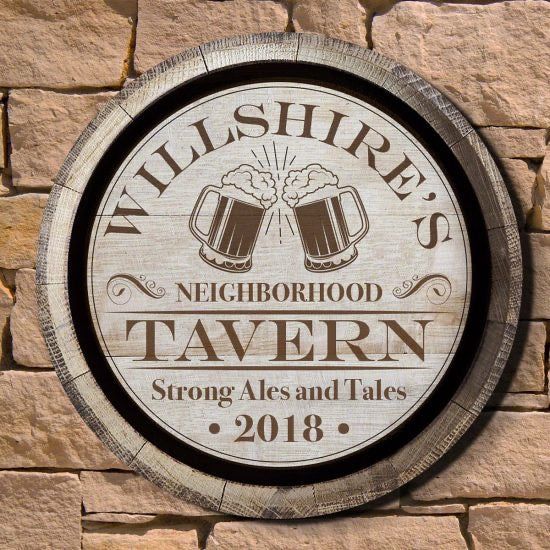 One of the most thoughtful gifts you can give someone you work with is a custom piece of decor like this rustic tavern sign! Because it's personalized uniquely for them, no one else in the world will have a sign exactly like it and that alone makes it a really meaningful gift that they'll treasure forever. This fun sign can be tailored to fit your coworker's home or office, where they will proudly display it for everyone to see.
Stylish and Unique Office Gifts for Coworkers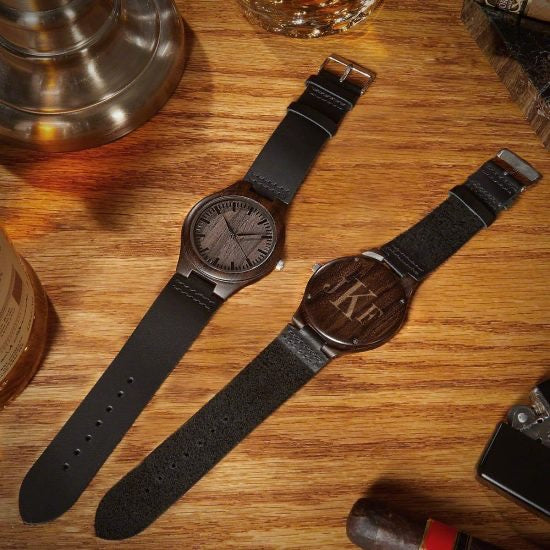 Want to get a cool gift for your coworkers that they can wear to work? Look no further than this monogrammed wooden watch! Yes, this watch is made of wood and has a handsome black leather band. The back of the watch is even engraved with your coworker's initials! No one in the office will have a watch like this, and it goes great with any kind of outfit whether you all have to wear suits or simple T-shirts. This watch is one of the most unique gifts for coworkers for Christmas, their birthday, or even to celebrate a promotion.
Make Sure Your Coworker is Comfortable
Everyone knows that the chairs your office provides aren't usually the most comfortable, and you've noticed that your coworker is struggling with their chair or is experiencing back problems. One of the most helpful and unique office gifts for coworkers is this lumbar cushion! It will provide plenty of support for their entire back, give them an extra cushion for comfort, and will even help them keep a straight posture.
The Ultimate Gift Set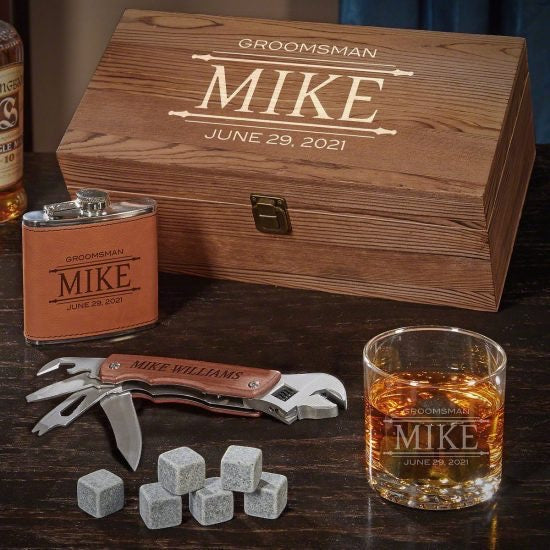 Celebrate your coworker's awesomeness with this incredible gift set! Whether it's for their promotion, retirement, or work anniversary, this amazing whiskey gift set is all about celebrating their accomplishments. While the majority of the set is perfect for enjoying at home after hours, the multi tool will always be at your coworker's desk because it's super handy for when they need to open packages or fix that pesky leak on the water cooler that happens every week. When they come home each day, they will be sure to enjoy a relaxing drink from their new personalized glass and chill it with a few of the helpful whiskey stones.
266+ SURPRISINGLY UNIQUE GIFTS FOR COWORKERS>