You've become close friends over the years working together, so your coworkers mean a lot to you. You need ideas for inexpensive gifts for coworkers to buy them during the holidays and their birthdays. The best coworker gift is something that your coworkers will use often, will show them how much you care about them and appreciate them, and that will help them relax after all the hard work they do. However, it can be difficult to know what to buy them. You don't want to break the bank, so what's something high-quality that isn't too expensive? What specifically makes great and inexpensive Christmas gifts for coworkers? These are all valid questions that will be answered. After reading it, you'll know exactly what to buy those coworkers, and you won't have to spend too much of your hard earned money.
Best Coworker Gift Set
After a long day at work, all you want to do is relax with a nice glass of whiskey, and you know your coworkers feel the same way. Buy them the perfect gift for relaxation with this whiskey chilling stones set. This set includes the essentials: a glass for drinking and whiskey stones for ensuring that your coworkers whiskey stays cold and dilution-free. They will love this set and thank you immensely for helping them enjoy their relaxation time to the fullest extent.
Awesome Inexpensive Christmas Gift for Coworkers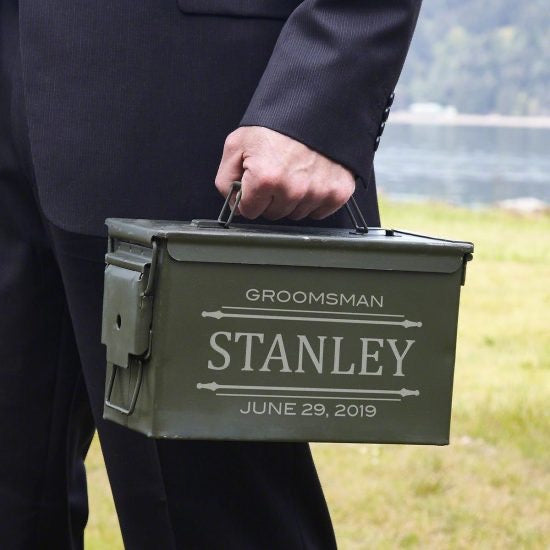 Do your coworkers like awesome things? If they do, this ammo box is a fantastic gift for them! These boxes were used by the U.S. military to store their ammunition, so your coworkers will be shocked that they now belong to them! They can use these to carry anything they want, from fishing tackle to sewing equipment to photographs of family. Regardless of what they decide to use it for, they'll without a doubt show it off to everyone they know!
Flasks for Them
You know your coworkers work hard, because you do too. Reward them for that work by making drinking their favorite liquors easier with a personalized black flask. This classy stainless steel black flask is a simple yet luxurious inexpensive gift for coworkers. This would be a great birthday or Christmas gift for coworkers because it looks expensive, especially with the personalization. Men and women will adore this classy flask.
The Perfect Inexpensive Gift for Coworkers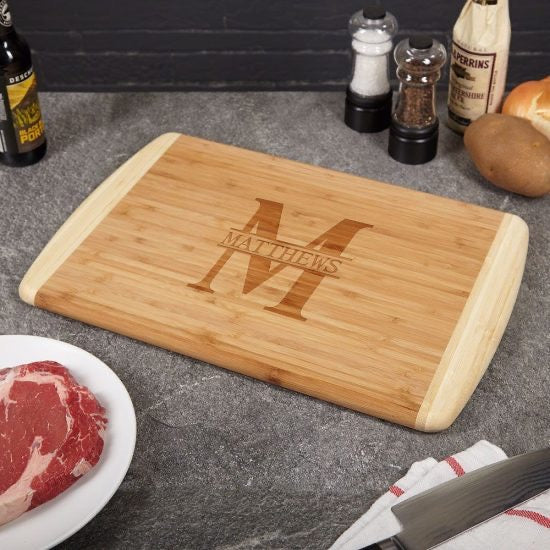 What is a room that everyone has, regardless of where they live? A kitchen! To get a gift that will satisfy even the pickiest of coworkers, get them this handsome cutting board. They will love chopping up various foods on their brand new bamboo board to make more delicious meals than ever before. Even for the coworkers who don't cook much, this board makes a fantastic kitchen decor piece that will greatly impress any guest of theirs. You couldn't go wrong with this gift!
Beer: America's Drink
Help your coworkers accomplish two purposes with one gift: a place to store beer caps and wall decor to hang in their homes. This large beer cap map of the United States is double whammy of a gift. Your coworkers can easily display this sign on the wall with its pre-drilled holes for easy hanging. There are also 81 circle spots for beer caps, so they can display their favorite beers so simply in this sign! It's as easy as popping it into place on the beer cap map. They'll be very thankful to you for helping them decorate their home and begin cultivating a beer cap collection!
292+ ATTRACTIVE PERSONALIZED SIGNS FOR YOUR HOME>
Restore Their Sleep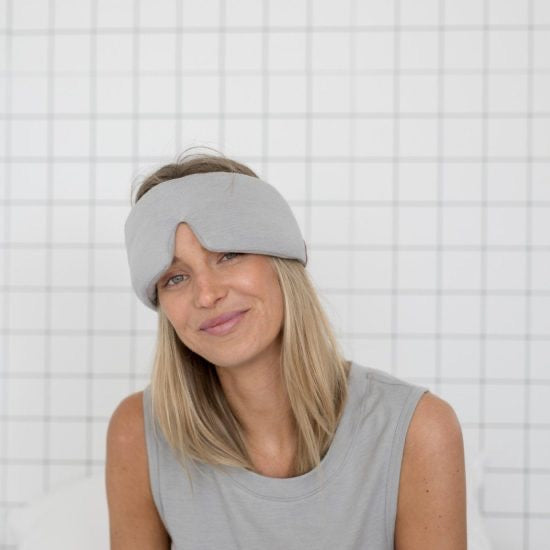 Working day after day is exhausting, so having high-quality sleep is essential for your coworkers. Buy them these sleep masks to ensure that they get the most out of their 8 hours a night. These masks aid in cell regeneration, so they help reduce the appearance of dark circles underneath eyes as well as reduce the appearance of fatigue. This mask is also noise-muffling, so your coworkers can sleep even with loud children or pets. Your coworkers will never be more well-rested – or grateful for you.
Wine Tool Box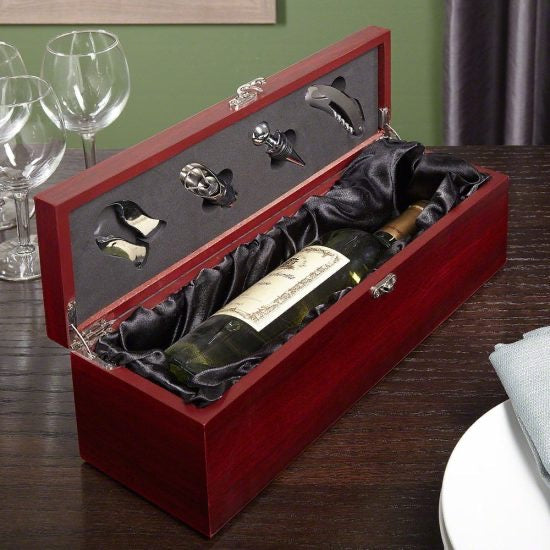 A bottle of wine isn't complete with a wine box and wine tools. Equip your wine-loving coworkers with this wine gift box set. This lovely box is crafted from composite wood that's given a faux rosewood finish, so it will look lovely displayed in the homes of your coworkers. There are four tools tucked into slots inside the lid of the box that make popping open a new bottle so much easier than it ever has been before. After a long work week, your coworkers don't have to have to search all over the house for the proper tools, so help by supplying them with everything they need in this gift set.
Keep Coffee Scorching Hot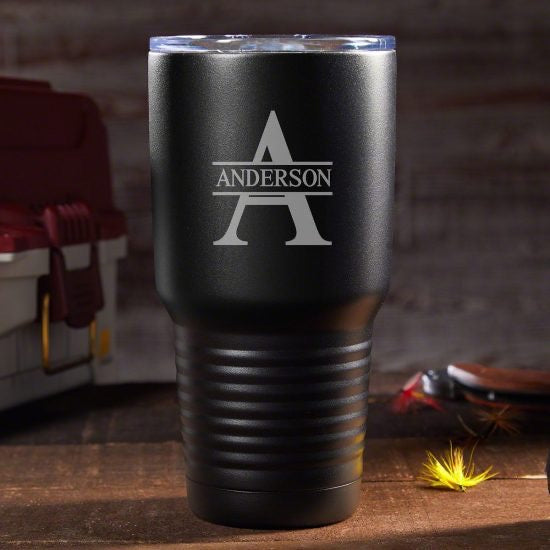 Early mornings call for plenty of coffee, and you and your coworkers go through a lot of joe every morning. Help them keep their coffee piping hot buy getting them these awesome drink tumblers! Their coffee will stay hot in these for six whole hours! That's almost a whole work day. Your coworkers will greatly appreciate receiving these super awesome tumblers.
For the Fancy Coworkers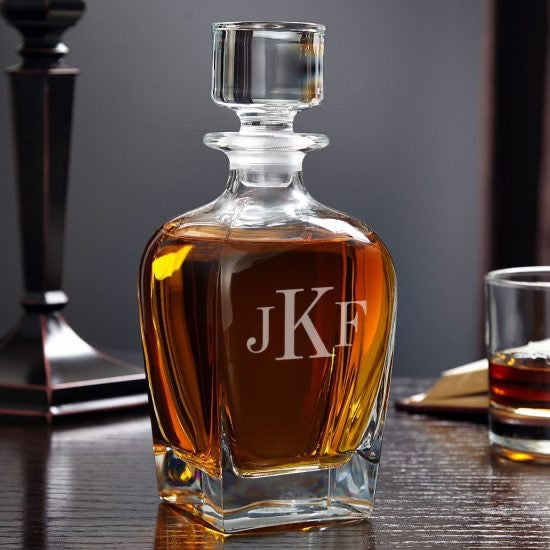 You're all about sophisticated gifts, and you want you coworkers to know that you worked really hard to get them a beautiful gift. This lovely crystal decanter will deliver that message flawlessly. This sturdy, stately decanter will bring awe to anyone who sees it. Whiskey will somehow taste immensely better when poured out of a magnificent decanter such as this one. You coworkers will vote you Employee of the Month for the next couple years after receiving this great inexpensive gift for coworkers.
Cold Brew It
Coffee is an essential in the workplace, but sometimes your coworkers get tired of the typical hot coffee in the break room. Help them enhance their coffee game with this cold brew coffee maker. This cold brew maker isn't too big or bulky, and it makes cold brewing easy. It even includes a flavor mixer so your coworkers can add whatever flavors they want to their delicious cold brew. You can't go wrong with this brilliant inexpensive gift for coworkers.
Cigar Gift for Coworkers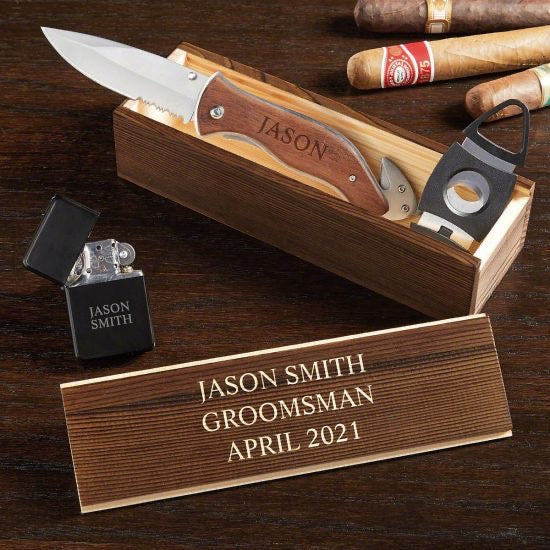 For the coworkers that are into cigars, you can't go wrong with buying them a cigar-related gift. When all they want to do on a Friday night after a long week is enjoy a cigar, this cigar gift set is all they'll ever need to do that. The handsome brown box is excellent for storing cigars inside, after which they'll remove them and use the lighter and cigar cutter to begin enjoying them. Your coworkers will be obsessed with this set and probably invite you over to enjoy your favorite stogies together.
Beautiful Beverage Caddy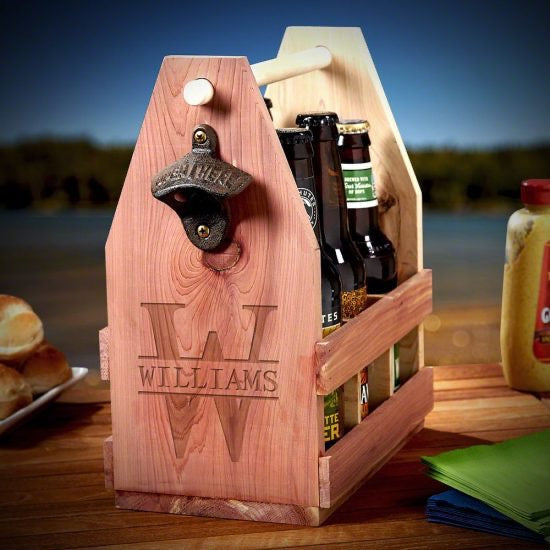 Carrying bottles of beer or other beverages isn't easy. Help your coworkers out with this personalized wooden beer caddy. This beautiful and extremely functional beer caddy is crafted from cedar and can hold up to six beer bottles. It can be personalized with a name and initial into the side to add a classy, personal touch. There's also a bottle opener on the side above the personalization, so your coworkers never have to worry about being without a bottle opener wherever they take their new amazing caddy.
Classy Glasses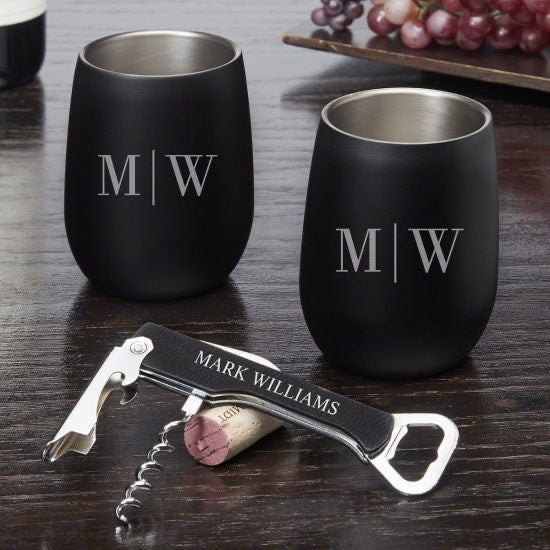 Fantastic-quality glassware can sometimes be hard to come by, and your coworkers will definitely love using these awesome wine tumblers. They are an amazing gift for your coworkers because they will ensure that their after-work Moscato stays nice and chilled inside the double-walled stainless steel. With the super convenient bottle opener and corkscrew, your coworkers won't have to suffer the inconvenience of wanting a glass of wine but not being able to open it.
Ready, Aim, Open
Sometimes, something small and classy makes the best inexpensive Christmas gifts for coworkers. Buy your coworkers a bullet bottle opener for the holidays that they can use all the time to open up their favorite beer. These sleek black bottle openers are a very unique way to open up bottles. These are crafted from real .50 caliber United States Military fired rounds, making this gift extremely unique and cool. They can also be personalized, so your coworkers are certain to greatly appreciate this gift.
A Pint or Two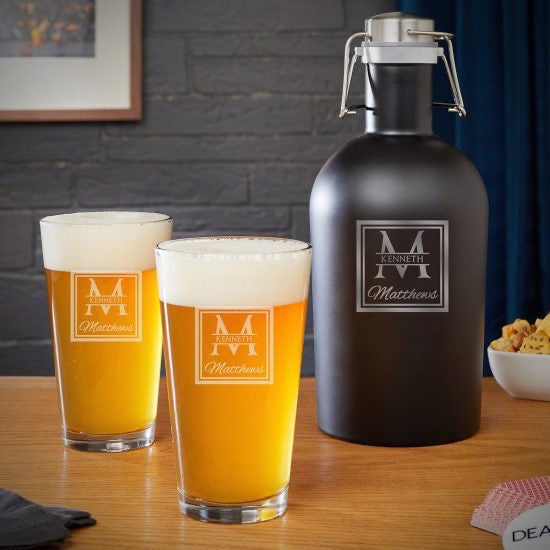 You've spent countless fun times with your coworkers outside of work, having a beer or two and just relaxing and having fun. Buy them their new favorite beer set for an amazing gift that they'll use time and time again. This beer growler is stainless steel, so your work friends will love that they can keep their beer cold for hours as they travel or go camping. The two pint glasses are the perfect glasses for helping your coworkers to sit back and relax for the weekend after working so hard. Your coworkers will greatly appreciate this amazing, thoughtful gift.
306+ BEER GIFTS EVERY PERSON NEEDS>
Sweet Tooth
Few gifts are more appreciated in life than the gift of sweets. Your coworkers will go crazy for this delicious yet simple gift: chocolate covered fruit. This 12-count box of chocolate-covered goodies is the most delicious gift that anyone could give. It contains banana bites covered in white and semisweet chocolate on either side, and the apple wedges and strawberries are covered in semisweet chocolate. This box will make all your coworkers drool immediately upon opening it, so it would make a fantastic inexpensive gift for your coworkers on any big occasion.
Square Glasses Rock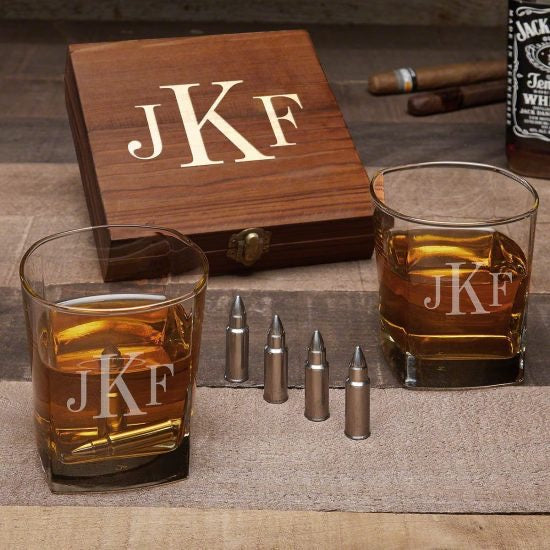 Nothing says refined like enjoying your whiskey out of a classy whiskey glasses. For an inexpensive Christmas gift for coworkers, buy this whiskey gift set. These double old-fashioned glasses feature a square base, which tapers upward into a rounded rim, creating a classy, aesthetically pleasing look. For a unique twist on the typical whiskey stones, these stones are made from stainless steel and shaped like bullets. Your coworkers will love the novelty of these whiskey stones, and they'll greatly enjoy relaxing with their chilled whiskey in their down time.
Useful Inexpensive Gift for Coworkers
Being without a bottle opener or corkscrew is a huge party and mood killer. This leatherette corkscrew multi tool is an amazing inexpensive gift for coworkers because it's useful and personal. This clever contraption contains two different types of bottle openers, a corkscrew, and a small knife to cut the foil. These items will all come in very handy at the next office party, so your coworkers will all be prepared. They will be amazed at the thoughtfulness and creativeness of this very personal gift.
You Get a Mug, and You Get a Mug!
You and your coworkers drink so much coffee while at the office that you often joke that you should each have your very own assigned mug. Buy them their very own personal mugs to make this dream come true! Each of these handsome black mugs can have your coworkers' names engraved right onto them, so there will be no confusion as to whose is whose! They'll be immensely grateful for this brilliant gift!
Out of this World Inexpensive Gift for Your Coworkers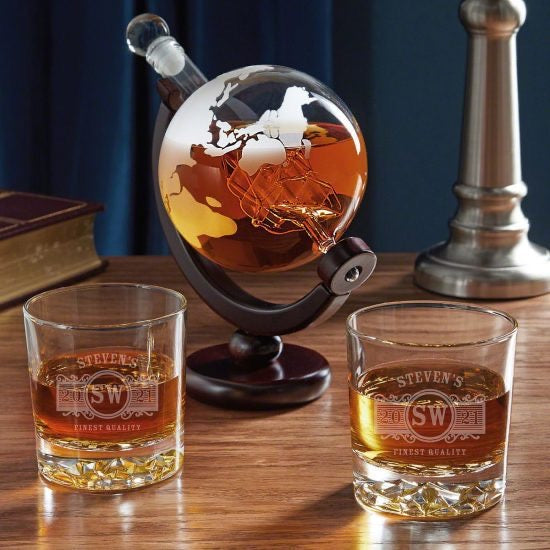 Want to buy your coworkers the most impressive gift they've ever seen? Go with this globe decanter set. They'll love displaying this awesome decanter on their home bar, kitchen counter, or even mantelpiece when it's not being used. It's a beautiful decor piece as well as a functional whiskey decanter, and they'll absolutely love showing off to their guests how gorgeous of a decanter they own. They'll thank you profusely when you give them this awesome set.
Bringing Lunches Made Easy
Eating out every day can get expensive, but bringing your own food from home doesn't always yield good results. Sandwiches get soggy, vegetables start to go bad, and nothing seems to taste as good as it does when you make and eat it at home. Buy your coworkers these plastic storage bowls. The large bowl has a tightly secured lid with a snap-tight silicone strap, keeping all food fresh inside. The BPA-free plastic that this bowl is crafted from is great for using in the microwave. It's also spill-proof, so when your coworkers are eating and working, they don't have to worry about spilling soup on their computer and important documents.
Keep the Wine Chilled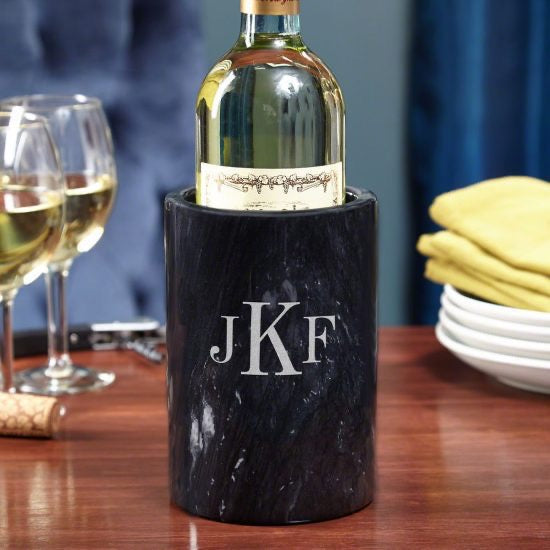 All your coworkers want to do on the weekends is relax with their favorite chilled wine. Having to get up and walk to and from the fridge every time they want a refill is just unacceptable. Put an end to that needless inconvenience with this wine chiller. This lovely marble wine chiller is can sit on any table after it's been in the freezer and place your bottle of wine inside it. It's as easy as that, and then all that walking back and forth suddenly becomes completely unnecessary. Your coworkers – and their feet – will thank you.
Get Them Their Coffee Fix
Your coworkers probably spend a lot of time in the mornings drinking coffee with you. Buy inexpensive Christmas gifts for coworkers in the form of these black coffee mugs and coffee carafe. This carafe is crafted from stainless steel, so it will keep your coworkers' coffee hot for hours. Whether they want a lot of coffee in the office or on a road trip, it will be extremely convenient for them. The mugs are attractive and will come in handy as well, so they can enjoy coffee at work without having to use a communal mug. Your coworkers will be very grateful to have their own carafe and mugs.