Coworkers always seem to leave as fast as they came, whether it is because they got a new job or are retiring. No matter the reason they're leaving the company, the perfect way to show your appreciation to them for being a diligent and kind coworker is through a going away present. The best going away gift for coworker is one that's personal to them so they'll feel important as well as one that's so useful it will make their next phase of life the absolute best it can be. Don't let them say goodbye without giving them one of these phenomenal going away gifts for coworkers we found!
Whiskey Gift Set of Going Away Gifts for Coworkers
After all the hard work they've put into the job since they started, they're definitely owed unlimited ice cold drinks forever! With this personalized whiskey glasses and stones set, they'll be able to enjoy a deliciously chilled beverage with their own custom engraved glasses whenever they want! They'll feel so loved knowing you went to the trouble to find them an amazing present with their name on it that they can use to relax in their down time.
Custom Coffee Carafe Set
At their brand new job, there's no way there's anyone as entertaining as you to keep them company, so they'll definitely be needing some coffee to stay awake. This coffee mug and carafe set is an excellent going away gift for coworker that they'll without a doubt use every day! They'll think the carafe is awesome because it keeps all the coffee they bring from home piping hot all day long. Drinking their beloved coffee from a customized mug will make it even more enjoyable than before!
Most Gorgeous Glasses for Your Coworker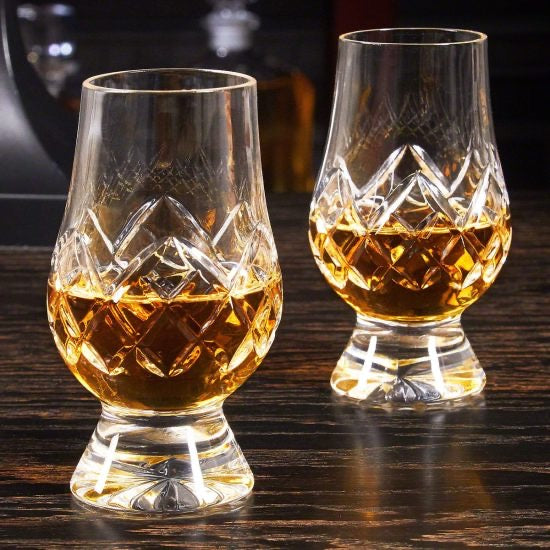 Since they are a one-of-a-kind coworker, give them a gift that really represents that! This set of crystal cut Glencairn glasses is so unique and gorgeous that they'll never want to use any other glasses as long as they live! When they use these glasses to sip on whiskey, they'll really appreciate how they can taste every nuance of the spirit more than they can with any other glasses. They'll think of you each time they use the most gorgeous glassware they own.
A Personalized Symbolic Hatchet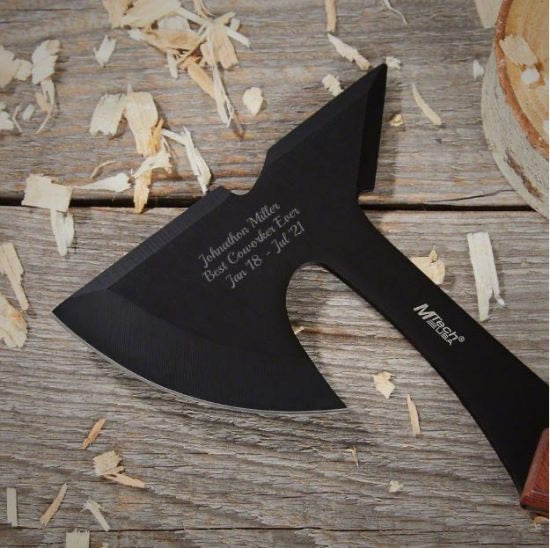 Speaking of symbolic gifts, how about one that symbolizes how much you appreciate all the hard work they put it at the company? This personalized hatchet is one of the most creative going away gifts for coworkers that they'll think is totally awesome. As it sits in their home on the mantle or in the garage on display, they'll look at it often, always bringing a smile to their face remembering how much their old coworkers appreciated the tough work they did!
Gourmet Food Basket is a Great Going Away Gift for Coworker
What better way to thank your coworker for their friendship and dedication to the company than with a gourmet gift basket? This mouth-watering set is an awesome coworker gift because it has a variety of snacks for whatever they're in the mood for, from pomegranate chocolate truffles to red chile peanuts. They'll feel so valued and appreciated by you when they see this amazing present!
One-of-a-Kind Whiskey Box Set
This whiskey gift box set is classy and one-of-a-kind, just like your coworker! This going away gift for coworker will make them feel so fancy when they're using such uniquely-shaped glasses to enjoy a drink when they're home from their new job. It'll help them feel more relaxed and at ease with a chilled drink in their hand to de-stress from their new job. While they do so, they'll love reminiscing on memories from their old coworkers who believed in them and knew they were one-of-a-kind!
Custom Engraved Coaster Set for Coworkers
Very useful and personalized just for them? That's a winning combination for any coworker gift! This set of engraved acacia wood and marble coasters is absolutely incredible, and your coworker will love bringing them home or to their desk at their new job. They'll absolutely love these coasters that will keep condensation off of their coffee table or desk, and they'll be obsessed with the fact that their name and initial are etched onto them. They'll never forget the awesome coworker who gave these to them!
Box for a Bottle
There's nothing they'd love more than a bottle of their favorite liquor, but you want your gift to go above and beyond. This custom liquor bottle gift box plus a bottle of liquor are amazing going away gifts for coworkers. They'll think the box is so special with the personalization, and of course they'll greatly appreciate a bottle of their favorite spirit. You can be sure they will cherish the box forever and always use it to store a nice bottle until they want to enjoy it.
Gift Worth a Thousand Words
There's nothing like a photo to help someone remember you by. This photo canvas is one of the best going away gifts for coworkers because it gives them a way to remember the faces of some of their favorite people they worked with! Whether it's a photo of the two of you, your department, or even the entire company, they'll cherish it forever. You could even have everyone sign the back of it to make it feel even more personal of a gift!
Super Classy Going Away Gift for Coworker
A classy, stainless steel tumbler gift set is the kind of coworker present that they'll absolutely never forget. There's no doubt they won't immediately fall in love with this classy gift box set and use it all the time. They'll love the classiness of the glasses that keep their drink cold until the last drop, which they'll definitely appreciate after a long day at their new job. They'll never forget the coworker that gave them the most sophisticated gift they've ever been given!
A Farewell Leather Watch Case
After working with them for a while, you've noticed a lot about them, including that they enjoy wearing watches. Get them a going away gift that proves you've been listening! This black leather watch case is a fantastic gift idea because it gives them the perfect place to keep their watches when they aren't wearing them. They can even take out the pillows and store other small accessories, like rings, tie clips, or anything else inside of it. They'll definitely appreciate this classy, useful gift and use it for the rest of their life!
A Classy, Celebratory Cigar Gift
Now that they're moving onto bigger and better things, they deserve the proper way to fully celebrate. This monogrammed cigar glass and ashtray set is a fantastic going away gift for coworker that lets them enjoy cigars and whiskey to celebrate the next phase of their life! Seeing their initials engraved on each piece will be absolutely amazing, and they'll love having such a fancy set to use to celebrate what's currently happening in their life as well as future celebrations.
A Useful Gift for Their Next Job
Make sure they're fully prepared with all they need at their next job! This clamp-on desk charging station is a fantastic going away gift for coworker! Now, they can get a full charge, even if they're not near an outlet thanks to this rechargeable charging station. Not only will they really appreciate having a way to charge their smartphone, laptop, and tablet all at the same time, but the design makes it easy for them to transport this wherever they want, so they can use it both at home and at the office.
Poker Set of Going Away Gifts for Coworkers
Make sure that your coworker always has a way to have a fun game night when they want to de-stress from their new job! This personalized poker gift set has everything they need to play poker or any other card game they want, which they'll think is awesome. They can even have their old coworkers over for a game night. It's the perfect way for them to de-stress and have fun!
The Perfect Personalized Glasses for Celebrating
A classy, personalized whiskey gift box set that they can use to enjoy a drink when they want to celebrate their new job or their retirement? Nothing could be better! They'll love using these whiskey stones and personalized glasses when they're having a celebration, especially since they'll remind them of how appreciated they were at their last position.
A Coworker Going Away Present They'll Use in the Kitchen
The best going away gifts for coworkers are those that they can use every single day, like this monogram butcher block! They'll love using this gift every time they're in the kitchen making a meal, whether they're cutting up stubborn raw meat or dicing onions and other veggies. There's no doubt they'll wonder how they ever cooked without this handsome board! When they host you and their other former coworkers for a get-together, this is the perfect surface on which to serve hors d'oeuvres!
Commemorate their Hard Work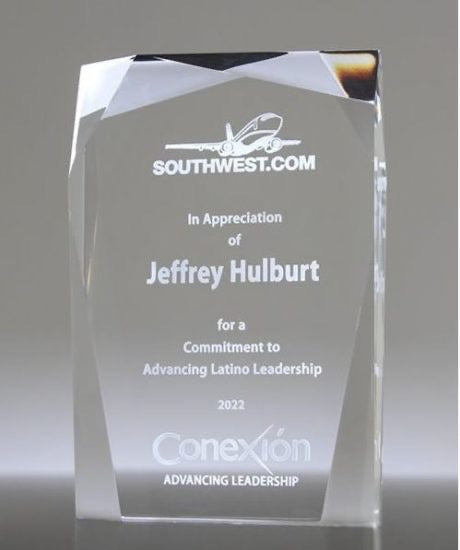 There's no better way to thank your coworkers for all of their hard work than a personalized acrylic award plaque! They'll think it's incredible to have their work commemorated in glass so they feel like the company will remember them forever as they'll remember the company and their time there forever. They'll definitely display this plaque prominently in their home, so proud of the work they did for your company.
Going Away Gift for Coworker for Enjoying Wine Fully
What better way to tell your beloved coworker goodbye than with an amazing wine glasses and tool gift set? They'll feel incredibly cool seeing their monogram on these handsome stemless glasses, and the convenience of having every tool they need to enjoy wine all in one unique miniature barrel is unmatched! They'll thank you profusely for such a terrific going away present and without a doubt will cherish it forever!
Custom Cigar and Whiskey Gift Set They'll Love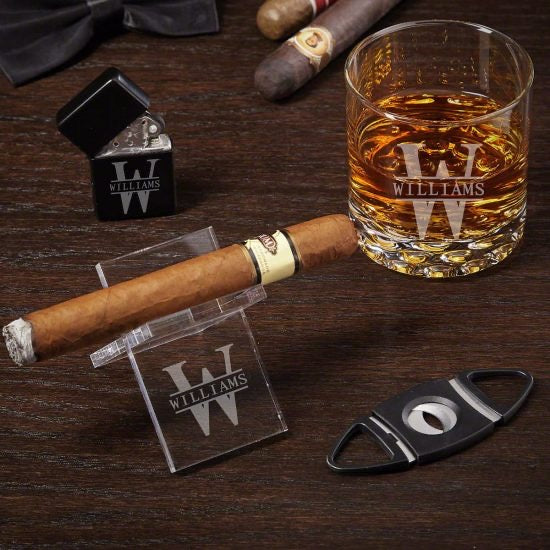 Make them feel like the most classy person of all time with this cigar and whiskey gift set! It's an amazing going away gift for coworker because it's the perfect way for them to celebrate retiring or getting a new job! For every special occasion, they'll really like having such a handsome and sophisticated gift set to use to celebrate, and they'll always remember how their awesome coworker got it for them!
A Second Laptop Screen
A second screen for a laptop is super useful for working, gaming, or doing most other things on a laptop. Get them one so whatever their next venture in life is, they'll be able to do it on two screens as opposed to one! They'll definitely appreciate how useful this gift is and they'll think it's a total game-changer having spreadsheets, more documents, a Zoom call, or anything else on that second screen!
The Best Gift for a Retiring Coworker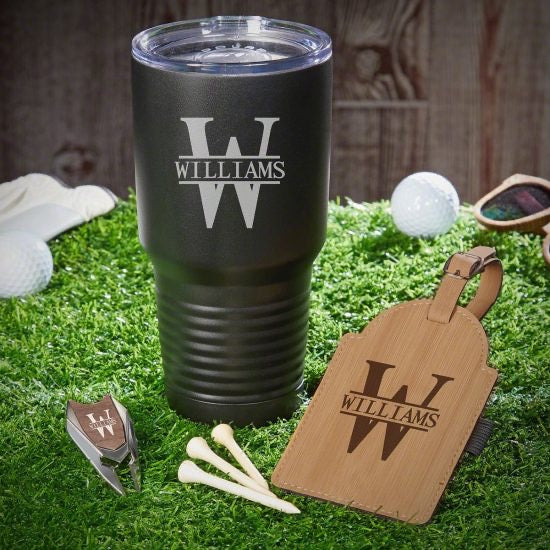 Congratulate your golf loving coworker on their retirement by giving them this golf gift set that they'll now be using all the time! It's a phenomenal going away gift for coworker because they'll love having a personalized, high quality bag tag and divot tool to make them feel like a pro on the golf course. When they work up a thirst, they'll be so grateful for this handsome drink tumbler. Whenever they use them, they'll think of their awesome former coworkers!
175+ MEMORABLE GOING AWAY GIFTS FOR COWORKERS>