So, you're in need of a great gift for your coworkers, then you've come to the perfect place. Whether this is for an office Christmas party or someone's birthday, we've got you covered! We know you want to get a great gift for someone you work with, that is why we've created a memo filled with the best gifts you'll love reading all the way through. Your gifts for coworkers shouldn't be cheap, but don't need to break the bank either, and they should definitely show that you've gotten to know them over months or even years you've worked with them. That way, they'll know that you like working with them! They'll love that your unique gift makes relaxing more fun, time away from work more enjoyable, or even make work more comfortable than they could've ever imagined. To show you these great gifts, we spent some time and rounded up some top-notch gift ideas for coworkers that will show them how much you appreciate them!
A Gift to Unwind From Work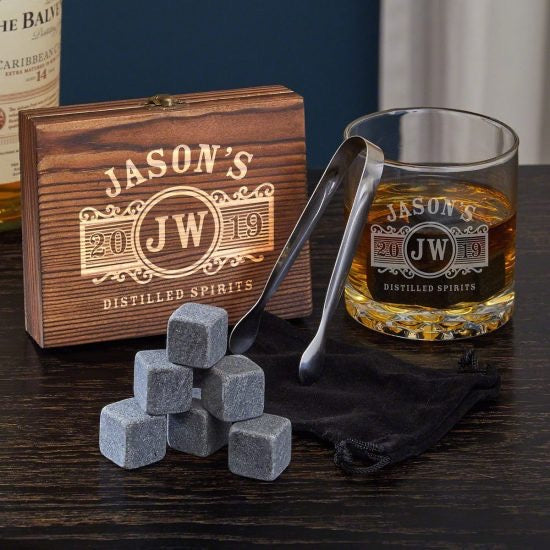 Start things off with a gift you know will make you coworkers will feel special, this personalized whiskey stone set. Nothing shows you care more for someone than when their gift literally has their name on it! That isn't even to mention that after a major promotion or after finishing a huge project that this set is a great way to celebrate!
Contain the Caffeine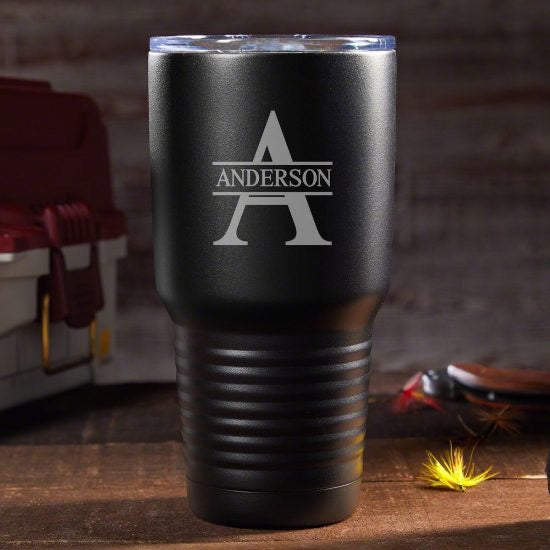 Your coworkers practically have an IV drip to get their coffee fix. Each morning they take countless trips to the coffee maker. Save them a few trips with their own insulated tumbler. Using your gift, their caffeine-rich coffee will stay nice and warm for hours. It'll help them stay awake and alert all day long while they're working, or even when they're on a road trip or hunting trip.
Out of this World Gifts for Coworkers
You know that your coworkers work hard because you do too. Take the edge off of the work week with a decanter set that is to-die-for. When the day is done, they'll love looking at this gorgeous glassware to revisit past vacations or even plan new ones!
For Your Coworkers' Watches and Jewelry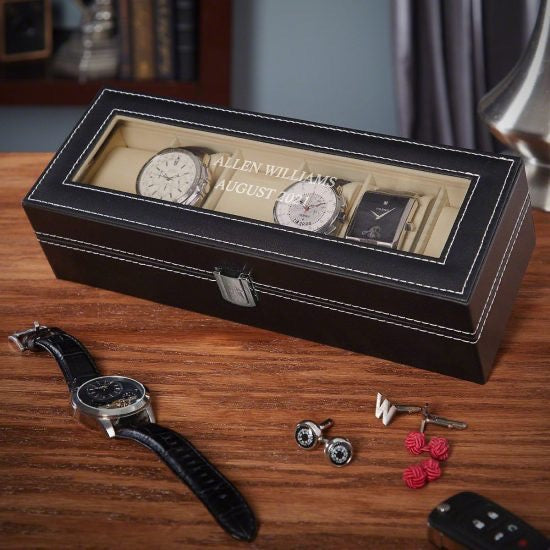 What's simple, classy, and a terrific coworker gift? It's this leather watch case! Your coworkers will love using this case to store their watches, rings, cufflinks, bracelets, or any other related items. They'll love the simple yet beautiful design of these cases and their usefulness will be greatly appreciated too.
Lunch Break Convenience
Lunch is a part of everybody's day, so a gift that makes your coworker's lunch fresher than ever is a phenomenal one! This black lunchbox is one of the best gift ideas for coworkers out there because it's a super high-quality lunch box that includes different components to ensure that your coworker's food stays fresh and delicious. They can even take this lunchbox camping or on a road trip for convenient meals.
Classy & Stemless
Nothing will fill your coworker's heart with more joy than using the most beautiful wine accessories on earth, let alone a set that has their name on them too! They'll feel so valued and appreciated knowing you got them such a personal wine gift set. Even after a long, hard day, they'll feel rejuvenated when they get home and pour deliciously decanted wine into these classy stemless wine glasses. Your coworkers will be extremely thankful for such an amazingly special gift.
153+ BEAUTIFUL PERSONALIZED WINE GLASSES>
Box Up the Bottle
A bottle of liquor always makes a great gift, so you know your coworkers would love to receive a nice bottle of their favorite liquor as a gift. Put it inside this gorgeous wooden gift box to make your bottle of liquor one of the most awesome gifts for coworkers ever! They'll love using the box to store a nice bottle of whiskey or anything else they desire.
Ultimate Kitchen Gift
When you have to go to work every day, you want to make the most of your time at home in the evenings with your family. Help your coworkers enjoy that time even more with a personalized cutting board! It makes an awesome gift for coworkers because they can use it to chop up all kinds of fun foods for a delicious dinner. The customization will make this gift even more priceless to your coworkers!
One-of-a-Kind Coworker Gift
Refuse to settle for a coworker gift that they've gotten before! This personalized ammo can is one of the most awesome gift ideas for coworkers because each can is one-of-a-kind and has been previously used by the US military to carry live rounds of ammunition! With their name on this can, they'll have endless uses for their new gift. They may start bringing their lunches in it or they may even use it as the coolest filing cabinet for their papers in the office!
A Cure for the Munchies
Show your appreciation for your coworkers with the most delicious gift they've ever received! They'll absolutely love this sweet and salty gift box! With so many scrumptious treats in this gift, like peanut butter pretzels and caramel popcorn, their taste buds will be very satisfied, and they'll be so thankful for this amazing gift.
Major Time Off Enjoyment
Although you can't toast your coworkers at the office, you can give them the tools to celebrate a job well done at home! You know it's true that your coworkers work hard, so thank them with a personalized gift set. They won't know how to repay you for such a phenomenal gift!
Keep Caffeinated at Work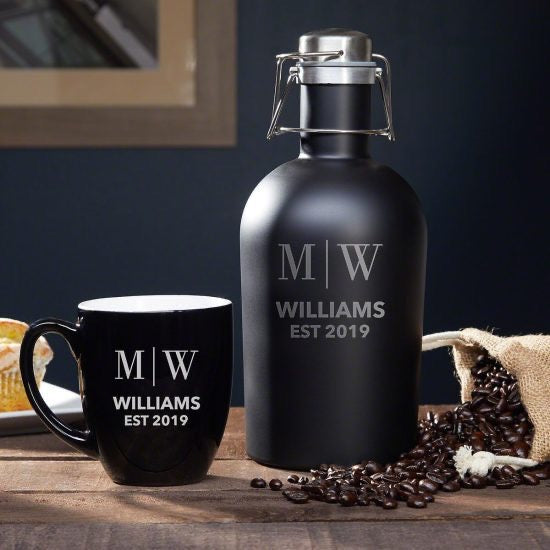 Coffee is an absolute essential to you and your coworkers, so you want to help them out and make sure they never have to be deprived of the hot, caffeine-filled deliciousness. This growler and mug combo is a phenomenal gift that your coworkers will be forever grateful for. They'll love having such a large supply of their preferred coffee (an entire 64 oz!) that stays warm all day, and having their own personal mug will be much better than using a communal one.
Super Fun Gifts for Coworkers
It takes an awesome coworker to buy their peers a board game. Thankfully for your coworkers, you are incredibly awesome! This Beeropoly board game is a phenomenal gift that will provide your coworkers with hours upon hours of fun times with friends and loved ones, or even with their fellow coworkers! They'll have a blast playing this game while enjoying a delicious brew.
Rest Your Feet at Work
Sitting at a desk all day can be rough on your body, which is why really useful and practical gifts for coworkers, like this adjustable footrest make the greatest gifts! When they're working at their computers, rifling through documents, or whatever else their desk work entails, their whole posture will be improved with their feet sitting on this contraption. Their work space will feel so much more comfortable, and they'll thank you for that!
Fully Relax and Unwind
When it comes to gifts that will help your coworkers relax and unwind at home, this wine tumblers gift set is at the top of the list. After a long day or week on the job, they'll love nothing more than to relax on the couch and enjoy some deliciously chilled wine. They'll be so thankful for this awesome, novelty gift set.
Novelty Decanter and Glasses Set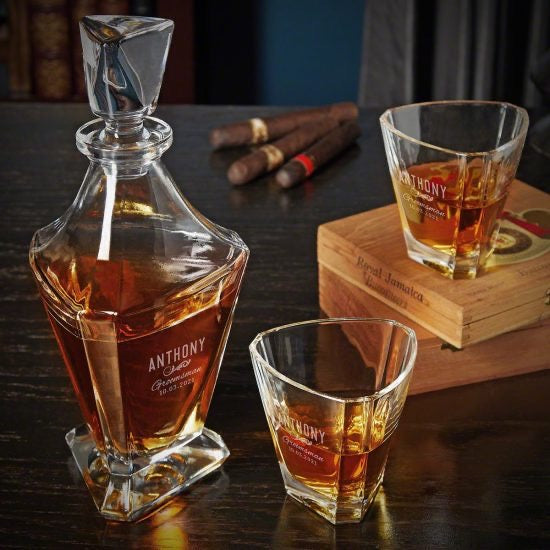 Who wouldn't want a unique gift that's incredible AND personalized? This square decanter set is a fantastic gift for your coworkers that they'll love placing on a table in their home. Whether it's a gift for Christmas, a congratulatory gift, or any other gift-giving occasion, they'll absolutely love it. It's such a lovely item that they'll be extremely grateful to receive as a gift. 
Awesome Beer Gift Set They'll Fall in Love With
There's nothing quite like a hefty glass of delicious cold beer, right? That's why this beer mug box set is a great gift idea for coworkers. They'll love that every part of this gift is personalized. The customization of the set will make their favorite beverage taste better than ever! Also, now they have a sweet keepsake box they can leave at the office or at home for their favorite collectible.
345+ AWESOME BEER GIFTS THEY WILL BE OBSESSED WITH>
Gift Ideas for Coworkers for Transporting Beverages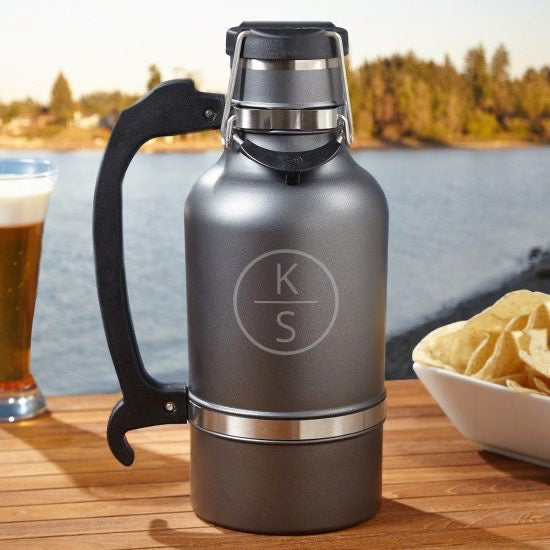 Bringing a beverage with you wherever you're going just makes life better. You want your coworkers to experience this too, so get them their very own insulated growler. Whether it's taking beer to the beach, juice on a road trip, or even coffee or water to work, they'll love having a reliable growler that won't spill and will keep their beverage the same temperature for hours.
Make Their Day Brighter Every Day
A plant brightens up any area like nothing else can. That's why this succulent garden is a fantastic gift that your coworkers will love having on their desks or in their offices! With little maintenance required on succulents, they can simply enjoy having this gift brighten up their work spaces without having to worry about the plants dying.
Full of Memories
Human beings are sentimental by nature, so you know your coworkers would enjoy a gift that helps them capture memories from important times in their lives. This custom shadow box is a fantastic gift that they can use to collect bottle caps, wine corks, photographs, or any other small objects they want to store inside. They'll love this amazing decor item that makes them remember so many good times, and they'll be so thankful that you gave them a gift that lets them do so.
Gifts for Coworkers to Enjoy Their Favorite Liquor
No matter if they prefer whiskey, vodka, rum, tequila, or any other spirit, your coworkers will greatly appreciate a gift that helps them enjoy their preferred liquor. This liquor gift set is a simple yet necessary set for enjoying their favorite drink to the full. After a long day at work, they'll love coming home and pouring themselves a glass of their favorite drink, adding these stones to cool it down, and relaxing on the couch as they sip on their cocktail. They won't know how to repay you for such an awesome gift set!
Chilled Out Wine Gift
You wouldn't wish room-temperature white wine on your worst enemy, so make sure your coworkers don't have to deal with it! This marble wine chiller is one of the best gift ideas for coworkers that they'll really appreciate. Not only is it easy to use and serves an important purpose, but it looks gorgeous as well—especially with the personalization. What an all-around amazing gift!
Home Decor Help
A gift that is appreciated every time, on any occasion, is a beautiful piece of home decor. This customized bar sign is an amazing gift idea that your coworker will love! Coming in four different colors, you can pick the perfect sign that will look phenomenal in your coworker's home, and they'll be so grateful for their new piece of custom home decor!
Keep Caffeinated at Work. . . Without the Coffee
As much as your coworkers love coffee, sometimes, they want to avoid the sugariness that often accompanies a delicious cup of coffee. That's why these Kopiko coffee candies are an amazing, ingenious gift idea for coworkers! These tiny yet delicious candies pack the punch of a whole cup (or two) of coffee in just one cube. Your coworkers will be alert and laser-focused after they eat one of these, and they'll be grateful to you for their increase in productivity!
Delicious Mixed Drinks at Home
As coworkers, you all understand that after a long week, all you want is a cocktail to unwind and have a good time. However, lying on the couch sometimes sounds way better than heading to a busy, loud bar. That's what makes this cocktail shaker such a terrific present! From the comfort of their own home, they can whip up a Mojito or Martini in a split second and then lay on the couch and enjoy it. Everything about this gift is perfect!
Ultimate Wine Gift
A bottle of wine is a classic gift, but you want to take that gift to the next level for your coworkers just to show them how much you care about them. This wine gift box will outshine even the best bottle of their favorite wine, simply because it's just that amazing. The wine tools that come in this set will make enjoying wine so much easier, and the box is simply gorgeous. They simply couldn't imagine a more amazing gift.
Unique On-the-Go Gift Ideas for Coworkers
For coworkers such as yours, having a great way to enjoy their favorite spirit is essential. With this flask set, they'll be able to take their favorite spirit with him when they're on-the-go. The shot glasses will come in handy when they want to take a shot with friends. They'll love this gift and be very grateful for such a unique gift.
Funny Coworker Gift
Who couldn't use a good laugh now and again? A hilarious (but potentially useful) gift for your coworkers is this hilarious book: 100 Tricks to Appear Smart in Meetings. This clever book will make your coworkers laugh while also giving them useful advice that they could use at work! They'll love this book and be very grateful you gave it to them.
Party Every Day
At the end of the day, you care a lot about your coworkers, and you wish them the best. They're the life of the party at work, so as a gift, get them this Great Gatsby custom sign. With their sign hung in their home, every day will feel like a Gatsby-esque party, and they'll have you to thank for that.