Drinking scotch is something that often feels like it is reserved for only the classiest of people. However, it doesn't have to be! Scotch is a delicious drink that anyone should be able to enjoy. Once you've been enjoying your favorite brand of whisky, you may start thinking about a decanter but you're not sure why you would want one. Well, you've come to the right place! A scotch decanter is awesome at elevating your entire drinking experience! They help settle any sediment, oxidize the scotch, and they also make you focus on the drink. By that, we mean you can pour a drink with your guests and only focus on the nuance of flavors and conversation, rather than have them focused on what brand of scotch you prefer. So, whether you want to feel like a Bond villain with an ornate decanter on your desk or feel like a classy gentleman who sips his whisky from only the coolest and best whiskey glasses possible, we have every option you could want!
A New Twist on the Classic Scotch Decanter Set
One of the main expectations people have with a scotch decanter is that it is going to be an old-school design. Now, there is nothing wrong with that, in fact, the classic ones are truly awesome; however, you can't deny just how awesome (in the quite literal meaning of the word) this twist decanter set is! The gorgeous curves in both glasses and decanter make enjoying any drink from the set feel far classier than any scotch could feel coming from a bottle. Make your next drink one of the best feeling in your life with this engraved decanter set!
A Decanter with Classic Crystal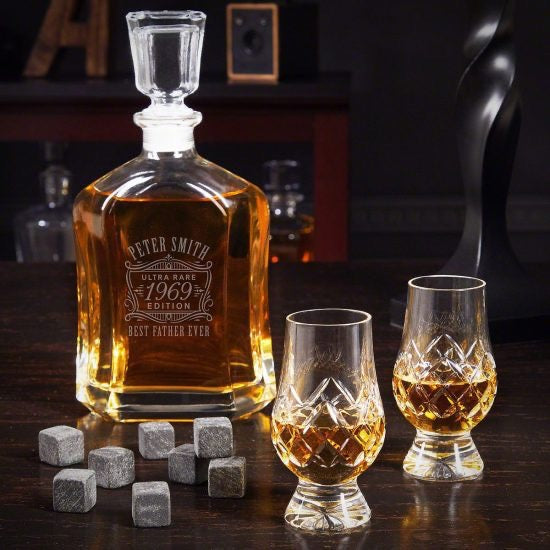 Not up for a modern decanter, then this classically styled set is perfect! The air-tight decanter is one of the best ways to store an entire bottle of scotch. Add in the crystal Glencairn glasses, and this is the ideal way for you to share some subtle flavors during a meeting or when you have company over. For the aspiring scotch connoisseur, you can't do better than this awesome decanter set!
Scotch and Stogies
Sitting out on a back porch, around a bonfire, or even inside with a good friend: these are some of the best times to share one of the most interesting flavor pairings, scotch and stogies! Make your enjoyment of both vices as easy and smooth as the first sip of an old whisky with this personalized scotch decanter and its matching cigar glasses! Designed to hold both your drink and cigar, the glasses make pouring another whisky, high-fiving, or changing the channel with your free hand a breeze!
Make This Scotch Decanter Your World
Whether you love geography or want to have the classiest looking glassware, this globe decanter set is perfect for you! Watching your personal glass ship sail through a sea of Balvenie or Macallan will be one of the coolest things to enjoy when you're unwinding from the week with your favorite drink. Or, this could also make a great gift for that person you know has been slowly working their way into the scotch world, and a decanter is the perfect way to bring them further in!
A Scotch Set for Sharing
Scotch somehow seems to elude certain crowds. Sometimes, it may come off as too classy to dive into or maybe for some people who know much about the drink itself, maybe scared to learn. So, why not be the amazing person you are, and guide your friends and family into the world of scotch while using your own personalized decanter box set! You've got the decanter to not make them feel intimidated by your goto brand and instead, you all get to focus on these awesome scotch lover gifts thanks to the matching glassware set as well as your delicious drinks!
Coolest Crystal Decanter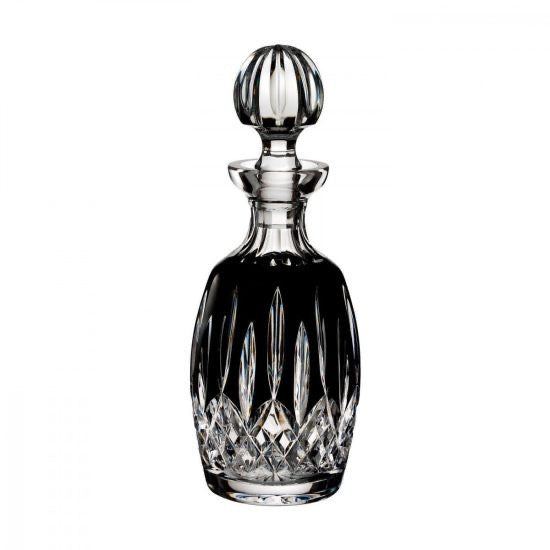 Just because scotch has a reputation of being classy or sophisticated, doesn't feel mean that it isn't warranted. You can feel like the biggest Bond villain (stroke your cat and slowly turn around in your chair if you can) when you've got this scotch decanter on your desk. The crystal has been turned black to create a striking contrast in the crystal, making this one of the most unique decanters that is sure to draw everyone's eye when they see it!
Presenting the Classiest Scotch Decanter Set
Is there anything classier and more awesome looking than a full six-piece set that has your monogram on it? Didn't think so. This presentation set is absolutely one of the best ways to show off that you are a die-hard enthusiast for your smooth whisky. Whether it is for your spouse or a few friends, take this classy set out and everyone's focus in the room will definitely be shifting into just how awesome your scotch and presentation set are!
A Decanter that is A-Head of the Rest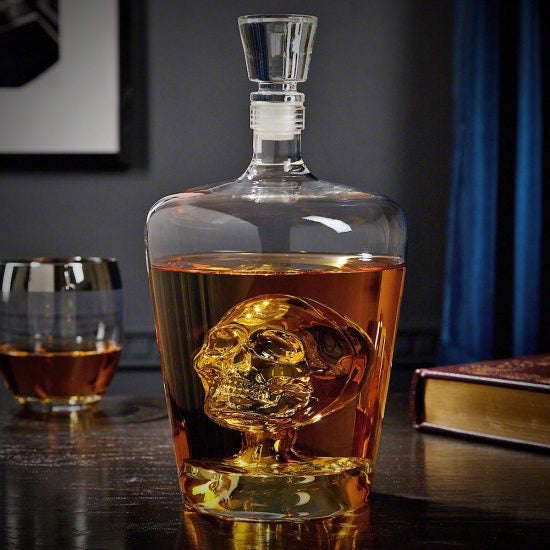 Stand out from any other swanky decanters shown so far by getting one that is sure to be the most unique piece of glassware in any house! It doesn't matter if you get this for a Halloween party or simply because you love to be "a-head," of others when it comes to unique decanters, this one is totally unique! So, fill up your new favorite decanter, grab some glasses, and to really set this off when you first get it, maybe even watch your favorite scary movie!
Personalized Decanter Set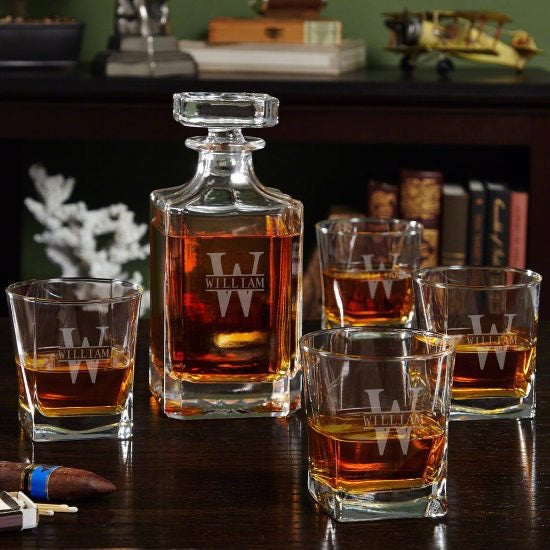 When you want to get a scotch decanter to make a statement, one of the best things you can do is to put it in a full matching set. Few things are as impressive looking as a fully personalized five-piece glassware set. You can be sure that when you sit down for drinks, they'll say, "Wow," before your finest scotch even hits their lips. So, if you're looking for swanky decanter sets, look no further!
As Aged As Your Whiskey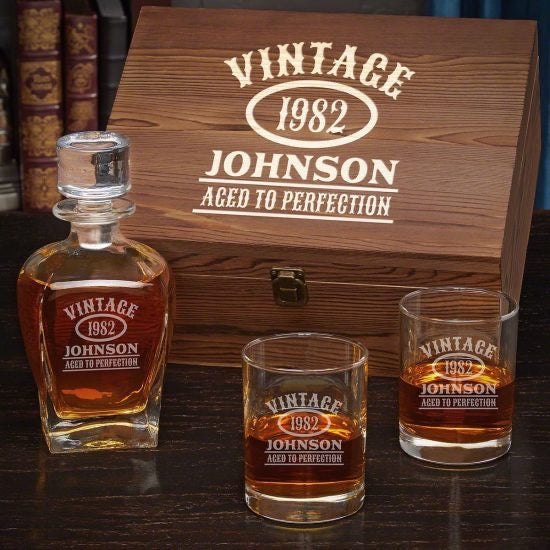 Not every decanter needs to be incredibly serious, some can have a bit of tongue-in-cheek fun! This "Aged to Perfection," gift set is ideal for any enthusiast of whisky. Why? Because not only is your drink aged just right, you have too! You can even make this a classy and fun gift for someone's birthday or an anniversary.
For the Fancy Drinkers
Outclass all the other scotch fiends and aficionados you know with a decanter that is worth more than their entire glassware collection put together! This diamond cut decanter is absolutely gorgeous and is fantastic to use when you've got some big or classy occasions coming up. Make sure your scotch matches the exquisite nature of this decanter, and you'll surely be seen as the biggest fan of scotch out of anyone you know!
A Ship Scotch Decanter Set
It doesn't matter if you've got a massive collection of decanters or you're in search of your very first, this ship spigot decanter makes drinking your favorite whisky as easy as getting water from the tap. Simply open the spigot and let the goodness flow! This set even comes with a set of glasses, making this a perfect gift for a scotch-lover who's looking for a complete, yet unique gift!
Coolest Custom Set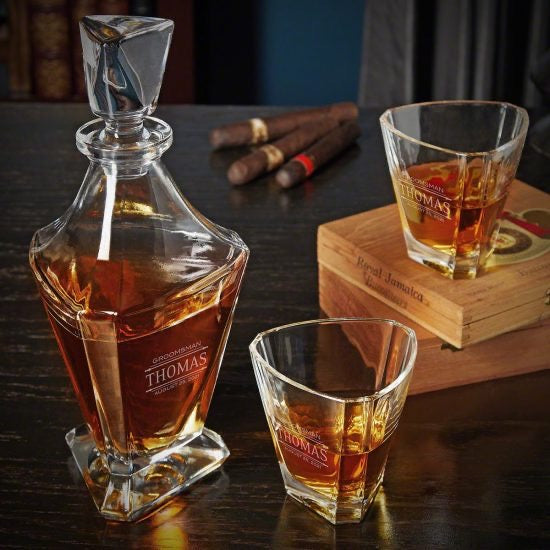 Take a new angle on a decanter set that is ideal for showing off front and center in your home bar or on an end-table in your office. This unique design is a fantastic set that makes unwinding at the end of the week or celebrating with a client a memorable experience each and every time. So, top off your new favorite decanter with a great scotch, and start having some of the best experiences in your life!
A Scotch Decanter Set for Double the Fun
A scotch decanter set shouldn't just come with the decanter and some accessories, it should also have an equally cool set of glasses. Instead of using the standard rocks glass, make your next drink taste even better with a scotch set that utilizes the awesome Canadian Glencairn. Not only will the decanter open up flavors, but the larger than normal glass helps to make the flavors even more apparent. Add in that the set has your initials which gives this set an additional touch of class, and you've just found yourself one of the coolest decanter sets for scotch on the market.
A Unique Scotch Decanter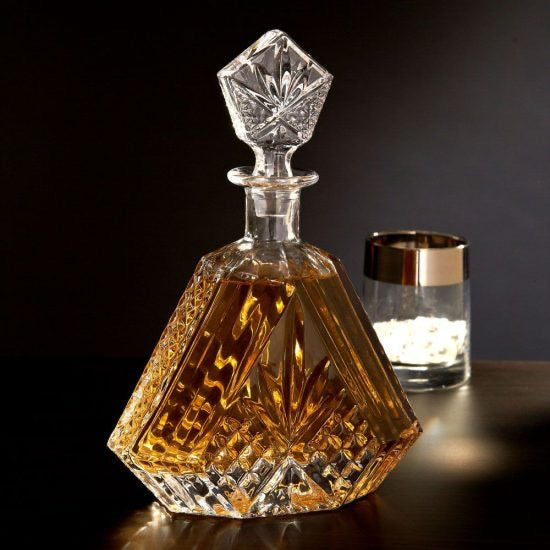 There is nothing quite as cool as going old school. That is why any lover of scotch absolutely must have this classic crystal decanter! The cool triangular design will style and is guaranteed to look like a perfect fit in any style of home or office decor. This way, you can update your office or home bar over the years, but your awesome decanter will always look perfect!
Stag Scotch Decanter
Stand out from your crowd of fellow whisky drinkers with a scotch decanter they definitely have never seen before, but will most definitely be aw-struck by! This stag decanter is one of the most unique designs that is also an incredibly easy pour. Make this a centerpiece in your home bar, end table, or in your home office to have one of the coolest and useful pieces of glassware you could ever ask for!
A Cool Angle on a Monogrammed Set
A good scotch decanter set needs to provide something unique while also looking classy. This amazing set does something incredibly unique, it freezes as an ice wedge, ensuring that when you want to have a perfectly chilled scotch it can happen in seconds! Not only that, but it also doesn't melt nearly as fast as standard ice, meaning you'll never leave your drink for a few minutes only to come back to it ruined from too much water.