Trends in drinking glasses have changed substantially over the past decade. Who would have guessed that the double-wall vacuum flask, first invented in 1892, would suddenly have a resurgence? But one thing that has never fallen out of fashion is the search for the best whiskey glasses. Whether you need them for your dinner party place settings, the office barware set, or just relaxing on the couch at night, having drinkware that matches the occasion is almost as important as the spirits you pour inside. Here is a list of the 18 best whiskey glasses for every occasion, ranging from innovative newcomers to the finest antiques.
Engraved Whiskey Glasses
For centuries, whiskey glasses has been the choice for upscale, high-end barware. These lowball tumblers are a great example of how the color and sheen of this precious element create a striking level of appeal. I love how the marbled base accenuates the whiskey, and perfectly balances with the deep brown of the whiskey in the bottom.
Whisky Glasses with Personalized Leather Wrap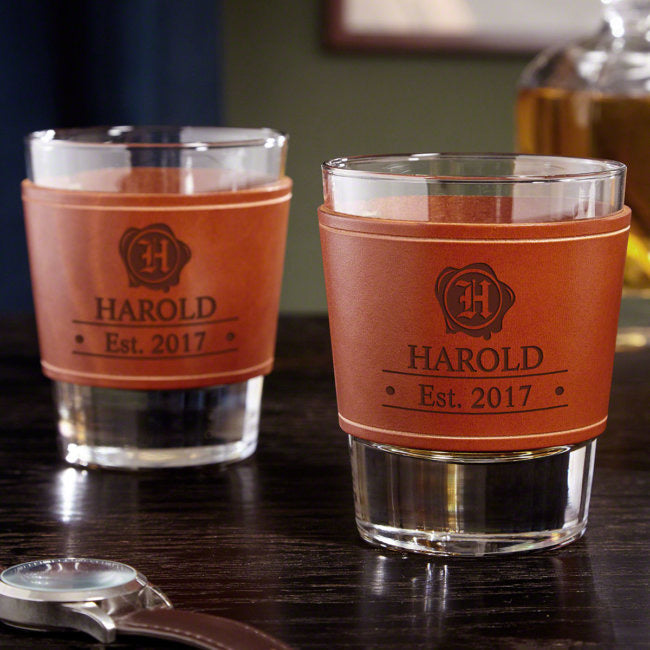 Leather and whisky have been dear companions for who knows how many years. Just think of all those old movies where a cowboy opens his canteen to take a swig of the good stuff while resting high in his saddle, looking over a treacherous canyon. These cool bourbon glasses are wrapped in authentic saddle-brown leather. They look great, and the wrap keeps the heat of your hand from changing the temperature of the drink inside.
Complete Whiskey Glass Set
You might associate boxed sets with movies, but the finest boxed sets out there are going to elevate how you enjoy your whiskey. These classic whiskey glasses are made in the well-known shape for enjoying your drink neat or on the rocks, but the decanter is the real star. You can't be a proper whiskey drinker without having a way to display your beverage of choice. You can even use the expertly crafted wood box to store bottles for later, bar tools, or whatever you need.
The Man The Myth The Legend Whiskey Glass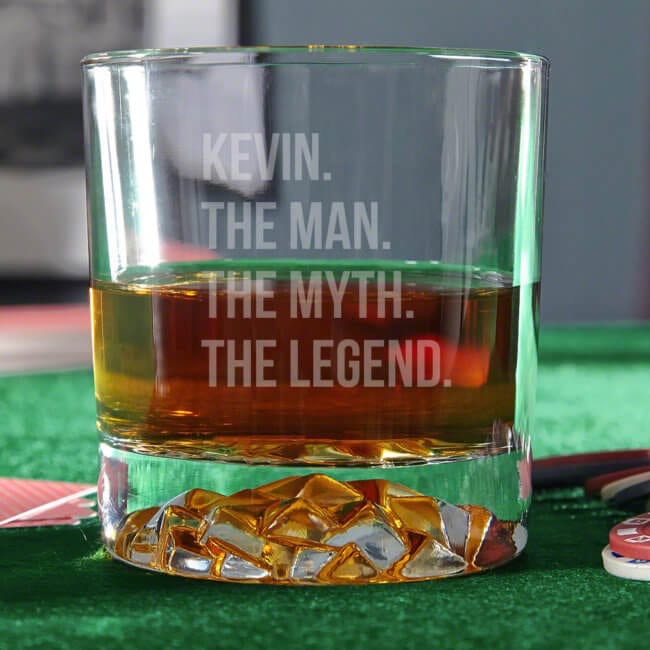 Not all novelty whiskey glasses are made of disposable plastic. This one is sculpted from thick, crystal clear glass, with a base that gives new meaning to "on the rocks." The engraving checks off three well-known components of masculinity, all with the drinkers name personalized at the top.
Twist Whiskey Set
One of my favorite new takes on the classic lowball are these twist glasses. This pair are certainly cool whiskey glasses with their modern take on the traditional glass. They start at the top with a traditional round rim, then moves into curved sides that meet near the bottom for a faceted-diamond-like base. What really makes this set a cut above the rest is the matching decanter. It's a refined look that fits in any home, office, or study.
285+ PERSONALIZED WHISKEY DECANTER SETS >
One of a Kind Whiskey Cigar Glass
Sometimes all it takes is a simple design element to elevate the look of modern barware. The ingenious change on this glass makes it easily one of the best whiskey glasses available. The struggle of trying to enjoy a cigar and a glass of whiskey while trying to do anything else is now a thing of the past. This cool whiskey glass will have your friends dying to know where you found such an awesome piece of barware.
Circa 1890 Hawkes Antique Whiskey Glasses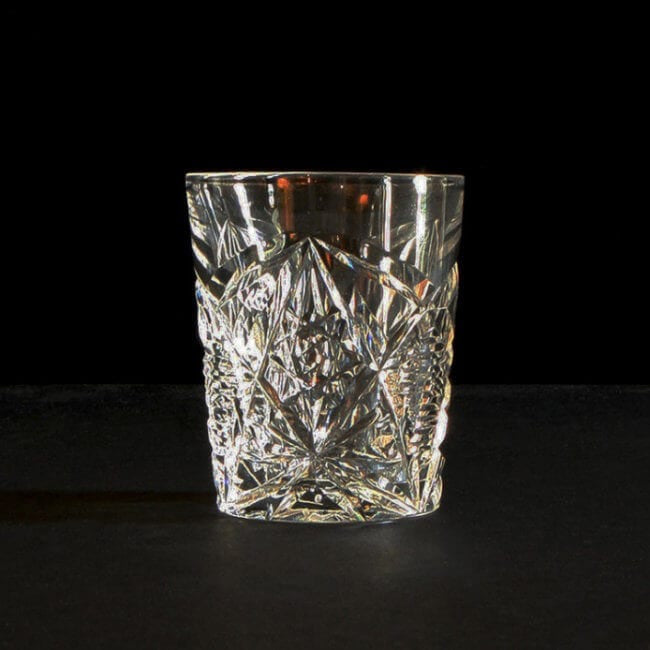 Cut crystal double old fashioned glasses have a look that predates the bourbon boom of mid 20th century America. Found on the tables of everyone from the British upper classes to the crowned heads of Europe. Hawkes Crystal has been around since 1890 and is currently hand-cut in Tiffin, Ohio. This glassware set is one of the earliest examples of the fine craftsmanship implemented by the founder, Thomas Gibbons Hawkes.
Whiskey Enhancing Cognac Glasses
This is cool barware.  Made for cognac enthusiasts, these unique whiskey glasses elevate the aromas of your neat liquor without the dilution of ice. While great for brandy, these glasses excel of bringing a whiskey's full-flavor to the forefront. It's versatile glassware that belongs in any home bar.
Lalique Femmes Antiques Tumblers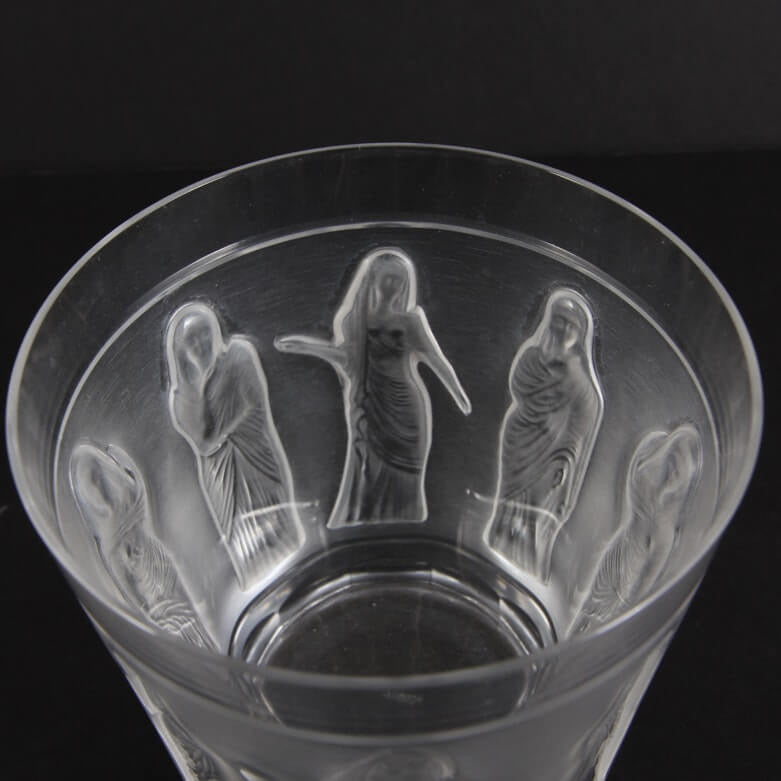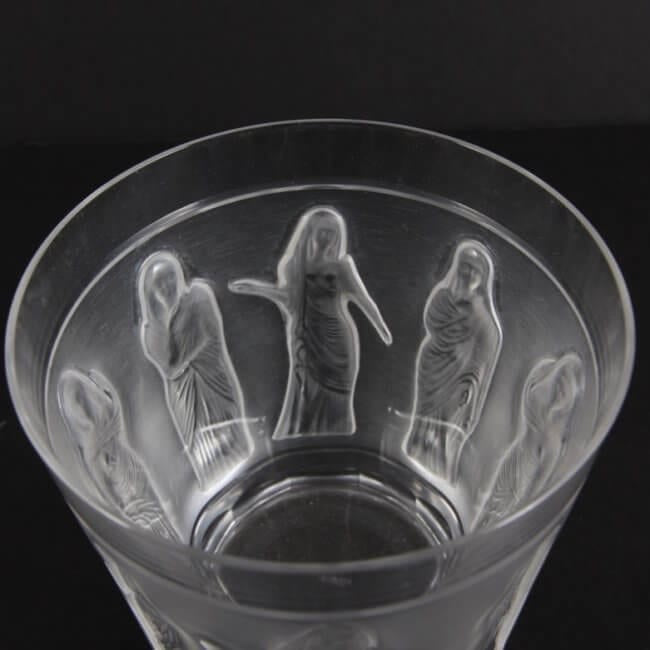 A thing of beauty is a joy forever, and that's certainly true for this etched barware. The walls are cut with the silhouettes of the Grecian female form. A frosted finish gives them a haunting beauty. I know this article is about the best whiskey glasses, but these Greek sirens make me thirsty for ouzo.
Aged to Perfection Double Old Fashioned Glass
For me, the classic flared design of a DOF is the best whiskey glass shape. DOF stands for "double old fashioned," the technical name for these types of whiskey glasses. The name distinguishes it from other shapes, like tulip, snifter, and highball. I really love the words "Aged to Perfection," on this one. It references the fact the age of whiskey is a big determiner of quality and makes it the perfect gift for dads and grandpas celebrating a milestone birthday.
557+ MORE COOL WHISKEY GLASSES >
Neptune Antique Baccarat Crystal
These timeless Baccarat Crystal glasses manage to walk the line between ultra-modern and centuries-old. The small, almost indistinguishable feet provide stability to the round bottom while allowing the design to slope inward at an unrivaled angle. These would be great crystal punch cups too, and there's a matching bowl if you can track one down.
Ceramic Whiskey Tumbler
It's unusual to find stylish whiskey tumblers made out of alternative materials, so I immediately fell in love with these small ceramic cups. Technically they can be used for anything, but they hold a comparable amount to other DOFs. The ceramic provides a layer of insulation if you are drinking warm cocktails in the winter.
Glencairn Whiskey Glass Set
How can anyone consider themselves a whisky connoisseur without Glencairn glasses? This incredible set has four Glencairn glasses that will transform any scotch you drink. These cool whiskey glasses have that definitive slender tulip design that helps previously hidden notes and aromas of your favorite scotch escape to your palette. The depth of flavor with each sip is enormous. You shouldn't be the only experiencing such radiant joy. Thankfully, with a set of 4, you'll be able to share this experience with anyone you choose.
Engraved Presentation Set with Decanter
Nothing says "cultured & refined" quite like a glassware set with a matching decanter. Not only does it provide elegance when serving, you won't have to look at that Knob Creek bottle sitting in the background when someone snaps a photo. This presentation set is filled with drinkware essentials like a serving tray and a stopper for the liquor decanter. The engraving is a nice touch, too.
Black Diamond and Gold Whiskey Glasses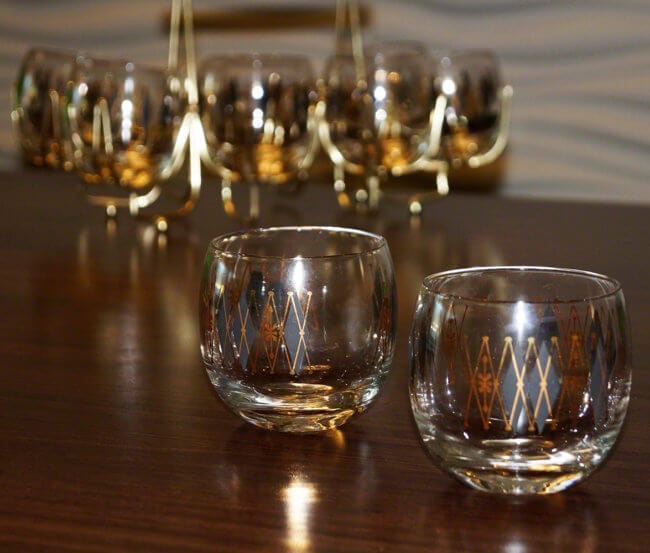 This fine barware comes to us via my personal home collection. A friend found these at an antique store and it took a bit of research to track down the origins. The harlequin design originated in the 1950s and was discontinued in the 70s, made by a company called Federal Glass. From the rounded bowls to the golden carrier, you can just see Mom & Dad heading back to the den for a night of Gin Rummy with the neighbors.
Classic Whiskey Decanter Set
If you know your bourbon, you know that anyone from the great distilleries would look at you with disgust if you weren't drinking your bourbon without the proper glassware. This block monogram decanter set has a set of cool whiskey glasses that will give you and your friends a chance to toast and enjoy some spirits together. Everyone will be impressed the way their drink tastes with this personalized set.
Bronze Rim Rocks Glasses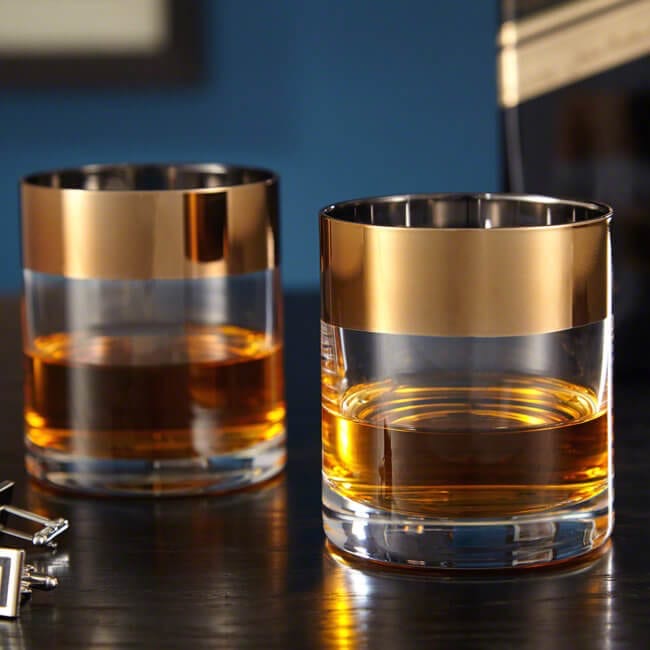 Some bar glasses simply fit the mold, and others are true originals. I've never seen anything like these bronze rim rocks glasses. You almost can't say that these have a bronze rim because the finish takes up nearly half of the glass. Most suitable for private jets, boutique hotel rooms, and binge watching Mad Men over a holiday weekend.
Custom Matterhorn Whiskey Glass
The best glassware options stand out. This Matterhorn glass is a truly unique whiskey glass. This personalized glass mirrors whiskey in its entirety. It's bold, distinct, and unforgettable. With each sip, you'll descend the mountain leaving you with a pleasant reminder of when it's time for a refill.
331+ MORE AWESOME WHISKEY GLASSES >