Glencairn glasses have become the standard for scotch for a reason. Their incredible design enhances the notes and aromas in whisky like no other glass has been able to replicate. But not all Glencairn glasses are the same. Some are meant to enjoy your scotch neat while others are meant to enjoy your spirit on the rocks. We've found the best gifts for whiskey lovers, so they can finally experience their whisky how it was intended. We have great options for beginners, connoisseurs, and for those that want to share their love of scotch with as many people as they can.
Modern Glencairn Set
If you really want to enjoy your scotch, you need to make sure you have the right tools for the job. This scotch gift set is perfect for storing your whisky in a stylish decanter, so it's always available to pour into the two Glencairn glasses. This set is unique because it comes with 9 whiskey stones. Drop one or two in the glasses and experience the sensation of chilled scotch on your palette. You can even use the box to store bar tools or bottles of scotch you're dying to sample down the line.
Canadian Glencairn Glass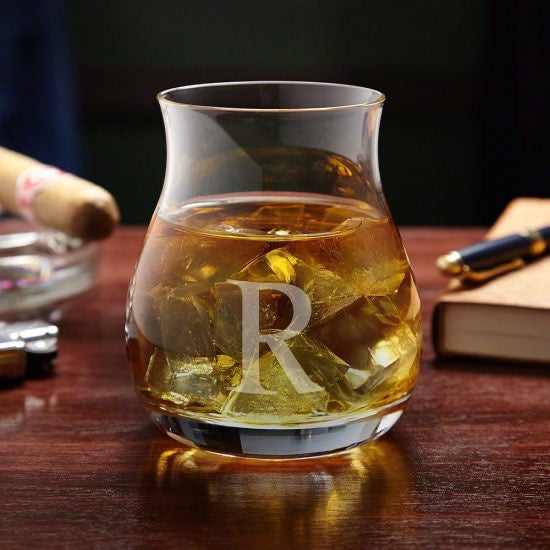 This Glencairn glass is distinct for its wide bowl. While most Glencairn glasses have a slender shape, this one was specifically designed for Canadian whisky. While whiskys like Crown Royal, Pike Creek, and Alberta Premium all taste great in this glass, you can still use any whiskey you prefer to get a premium taste. The wide bowl of this custom whiskey glass allows you to enjoy your whisky on the rocks. In many whiskeys, water opens up a larger flavor profile in the spirit. This is the perfect glass to enjoy new whiskeys or old favorites. It even has a maple leaf engraved on the bottom for that traditional Canadian feel.
Advanced Glencairn Smoking Kit
Even the most dedicated scotch connoisseur will be amazed at what they could do with an advanced smoke box kit. You can take anything from well or top-shelf scotch and transform it into something you didn't even know was possible. You can add different spices, wood chips, and the unmistakable smoky note to any whisky you desire. If you ever wanted to elevate your favorite scotch then this set is a must. It also makes an incredible gift for anyone, no matter where they are on their scotch journey. With four glasses, you'll be able to easily share your creations with your closest friends.
Crystal Cut Glencairn Glass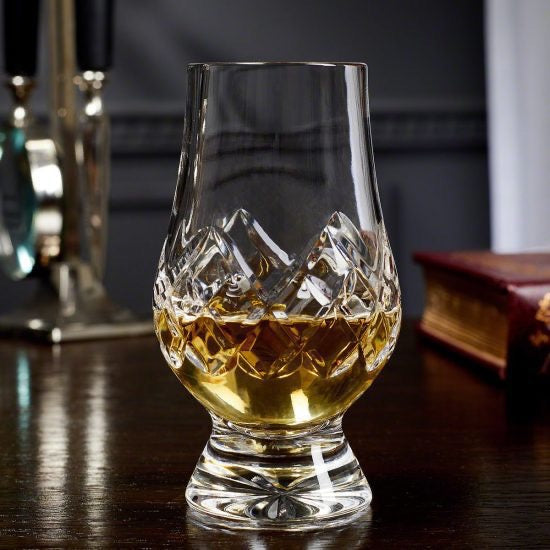 If you want to add a touch of class to your whisky drinking then consider a crystal cut Glencairn glass. It offers the same benefits of a traditional Glencairn glass, but the remarkable crystal cut design makes this glass a centerpiece in any home bar, man cave, or bar cart. It's exactly the kind of gift a die-hard whisky connoisseur would love to add to their collection.
337+ MORE GLENCAIRN AND ROCKS GLASSES>
Monthly Scotch Subscription Service
Once you've found the ideal glass, you're going to need a continuing supply of scotch to fully take advantage. Taster's Club curates premium bottles that can be delivered to your home each month. With this service, you'll become an expert in no time. If you want to learn more about flavor profiles and the impact they have on your palate, this service is a must-have. It also makes a great gift. Whoever turned down a bottle of scotch?
Classic Glencairn Set
When looking for a top-notch Glencairn glass set, it's advisable to get one where the glasses have the standard wide bowl with a slender tulip lip. This forces the aromas to the forefront of your palate, so you get a full aroma just from nosing the glass. With a stylish decanter, engraved with a classic personalized wax seal, this is a simple set that elevates how you enjoy your scotch.
Glencairn Glasses Set – So Everyone Can Enjoy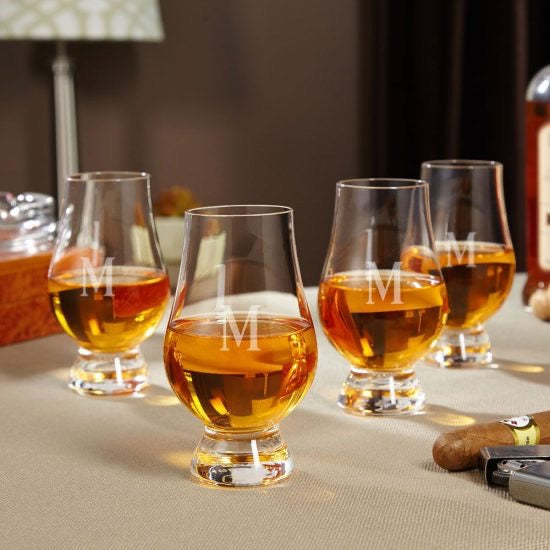 This set of Glencairn glasses has everything you need to enjoy your whisky with friends or family. Show your friends how they should be enjoying their spirits with this set or enjoy taking the journey together. Either way, everyone will quickly learn why these were the first ever glasses endorsed by the Scotch Whisky Association.
High-End Glencairn Glasses for Scotch Lovers
Ever wonder what to look for in a quality Glencairn glass? A slender, but sturdy base is almost as important as the glass's shape. You can hold the glass from the base without having the temperature of your hand impact the taste. This set has the hallmark bases so you and anyone else can enjoy a pour from the matching decanter. The mark of quality is ensured on these glasses. "The Glencairn Glass" is engraved on the base of each one.
Glencairn Serving Tray
Want to have a scotch tasting event? You'll need a Glencairn serving tray. Pour four different whiskeys into each of the Glencairn glasses and judge each one with every sip. This is a great gift idea for any scotch fan. It's perfect to share with friends or trying to discover your new go-to whiskey for each occasion. While Glencairn glasses are ideal for scotch, you can also try different spirits and notice how they impact their flavor profile.
Whisky Tour of Scotland
Want to have a once-in-a-lifetime scotch experience? Rabbies offers guided whisky tours of Scotland. They having everything from a one-day trip to a 17-day excursion that takes you all over Scotland, tasting the finest scotch the world has to offer with experts that can give you insights you wouldn't get anywhere else.
Personalized Canadian Glencairn Glasses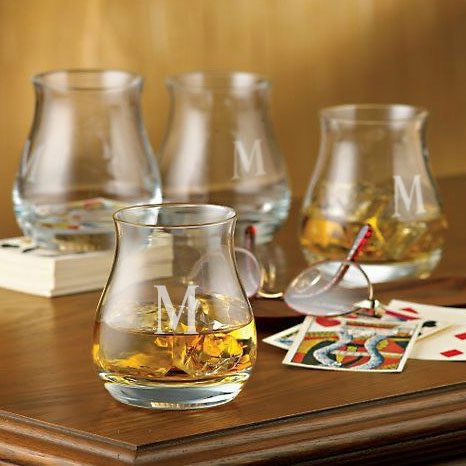 What about enjoying scotch on the rocks? If that's how you prefer your whisky then you'll want to go with the Canadian Glencairn glasses. With a set of 4, you can educate your friends and family to the benefits of a cold glass of scotch. The flavors will alter as the ice melts. Sometimes the differences are subtle and at times they're quite pronounced. Each scotch is different and some are best with a touch of ice.