Scotch fans are not nearly as hard to impress with a gift as you think. Sure, buying them their favorite bottle or that hard to find rare vintage could be a tough gift, but the easy-going nature of the scotch fanatics means that scotch gifts just need to enhance their drinking experience, while keeping the good times going! This profound excitement and love for their favorite drink means they'll be super excited to get any gift that has to do with scotch! You can find unique gifts for scotch lovers right here! Make sure to get the most amazing sophisticated gifts for scotch drinkers and you know that they'll want to use the next time they pour a glass of Lagavulin or Glenlivet!
Sophistication with a Twist
Embrace the stereotype of the refined scotch drinker as you get them these scotch gifts that are sure to make them feel as classy as can be! This engraved twist set will have them feeling like one of the most elegant connoisseurs of scotch around, no matter how many years they have been drinking the spirit. Perfect for their home bar or end table, this gorgeous set will look amazing as it sits on display, full of scotch, and just waiting for the scotch-lover and one of their friends to share a glass.
A Smokey Gift for Their Palate
A fantastic and unique gift for a fan of scotch is this smoke box. They've experimented with flavors before by: adding water, ice cubes, whiskey stones, soda water, other cocktails; however, being able to smoke their whiskey will not only create something fun to do, but will bring a whole new world of palatable flavors to their mouths! This gift for scotch lovers will keep on giving since they can use various woods and herbs to add flavor to their favorite drink!
Scotch Gifts for the Host
Help them be the classy and catering host they've always wanted to be with a matching decanter and tray set! They'll always have this set on display, filled with their favorite color of Johnnie Walker, not just because they hope to share a drink, but because of how great the matching personalized set looks! From now on, they'll be ready to pour a glass on the rocks, neat, or mixed with this awesome gift. They won't be able to wait to use this set and discuss the finer points of their favorite liquor with their guests!
For the Aspiring Connoisseur
This tasting box set is an ideal birthday or anniversary gift for the person you know who is just getting into scotch for the first time. These gifts for scotch drinkers are ideal for aspiring connoisseurs. They haven't quite figured out if they are fans of the Rob Roy, Old Fashioned, on the rocks, or even neat drinks. This set of tasting whisky glasses is a great gift since they will have the perfect glass for every kind of drinking experience they could ever want! Help them find exactly what kind of scotch drinker they are with this awesome box set!
Cigar & Glassware: A Perfect Pair
A great thing to pair scotch with is a cigar. So, it comes as no surprise, that an up and coming scotch fanatic may begin dabbling with cigars. Make their transition into the world of refined vices easy by giving them these unforgettable scotch gifts! This two-part gift makes it a breeze for them to enjoy this present both at home or on the go. At home they'll have this awesome looking cigar glass that lets them smoke and drink with one hand. Now, as they relax, they are free to be one their phone or even read a book. But the gift isn't done yet! When they are on the move, they can carry their cigars anywhere they like thanks to their initialed cigar case!
99+ SOPHISTICATED SCOTCH GLASSES>
Scotch Gifts for Flavor
Make the sophisticated scotch fan take back control over their flavors. Contrary to popular belief, water can be quite beneficial to enhancing the taste and aroma of their drink; however, adding just enough without watering down the flavor can be the issue. Well, not anymore. These whisky droppers allow them to add exact amounts of water to dilute the harsher alcohol notes without fear of losing the signature flavors of their drink. This set comes on a repurpose stave, so they even get part of a barrel to complement their new sophisticated gift!
A Strong Sophisticated Decanter Set
Sophistication doesn't have to come in something that is elegant and dainty; for some, a liquor gift that represents one of the most intimidating and powerful animals on the plant is a perfect way to capture class. This bull decanter set comes will all the gifts for scotch drinkers to feel sophisticated. Make this a powerful gift for someone who just had a major life event like a promotion or a milestone birthday. They'll immediately feel as super class when they set their new gift on their desk and have it topped off with a perfectly aged scotch, ready to be shared and drank at the first cause for celebration!
A Set for All Their Vices
The perfect sophisticated scotch gift will have everything a person could ever want for their vices. They like to have the finer things in life and they want to celebrate in style. Make them the ultimate gift box with these amazing scotch gifts that all come in one gift box! Now, anytime they come home, they can easily have a glass of their finest scotch and smoke a cigar all thanks to this one gift! Their keepsake box will be their favorite place to store bits of memorabilia too! No matter if its cigar bands, caps to old bottles of scotch, or anything else, they'll love keeping their collectables in their own personalized box!
A Sophisticated Scotch Decanter Set
When people think of scotch, a strong flavor tends to come to their mind. Match that thought with a gift that looks just as strong and awesome! This cool looking decanter set will have them feeling like they've been refined and classy scotch drinker for years just by looking at it. Once they start drinking from their personalized set, they'll know they've reached a new level of scotch enthusiasm. No more are they drinking from random mismatched glasses. With this set, they'll finally see themselves to be the refined scotch drinker they've always wanted to be!
A Custom Kick Ass Gift Box
Sophistication doesn't mean something has to be delicate, this fan of scotch loves a gift that looks tough. This ammo can set not only looks tough, but it is tough! This engraved set of gifts for scotch drinkers has everything they'll need to enjoy a nice drink, while also giving them a way to store their accessories or even carry their ammo to the range. You're giving this set as a gift, so you know they'll immediately put the glasses and cigar accessories to use, but you know they'll always have the ammo can on display and holding some of their most valued possessions!
A Subtly Sophisticated Gift for Scotch Drinkers
Give a subtle gift that'll speak volumes to a fan of scotch with this black zirconium scotch barrel ring. They'll be able to always have something to do with their favorite hobby on them at all times thanks to things ring. The wood on the inside is exactly what you think it would be, wood from a scotch barrel! They'll love getting a gift that they can have with them every day that not only looks great, but helps them celebrate their love of their favorite liquor!
Give This Gift Your Best Shot
The ideal way for a scotch-lover to end the day at the range, celebrate a hunt, or even enjoy their love of guns, is with a set that puts their love right into their drink! These engraved scotch gifts also come with novelty whisky stones which are the perfect way for the person who loves scotch to chill their drink. Not only are they functional, but they'll feel like the coolest person in the room when they get to have the most unique way to have an ice-cold glass of scotch!
A Decanter Set for Any Occasion
A great thing about gifts for scotch drinkers is that it is easy to get them a great looking gift! This gorgeous decanter set is so good looking that they'll have a hard time deciding if they want to pour another drink or keep looking at their gorgeous glassware. You know they will always have their new scotch set out on display, in the hopes people notice just how good it looks which gives them the perfect excuse to pour a drink and talk about the finer points of scotch.
Decadent Diamond Decanter Set
Make them feel like a real gem by giving them a set of scotch gifts that'll make them feel classy and kickass at the same time! This whole set is shaped like a diamond, who wouldn't like that? This fantastic looking gift will change the way they look at enjoying scotch. Sure, they've had some fancy glassware before, but now they'll always feel like the boss man or head honcho when they are sharing their favorite blended or single-malt whisky!
A Gift for Gamblin'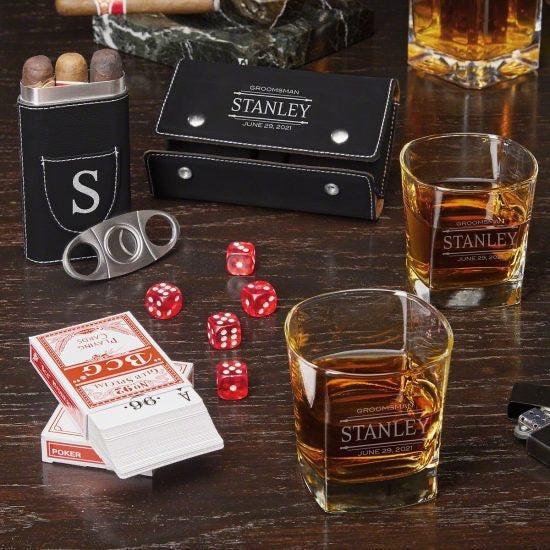 One thing you know about the person you're buying this gift for is they always are up for a game to keep the good times rolling. Give them a gift that will always have them keeping the party busy with this scotch inspired game set! From hearts to craps, they'll be ready to get the games going! Using their new scotch glasses and cigar accessories, you can be sure they'll have a stogie hanging from their mouth, scotch in one hand, cards in the other, looking like the ultimate gambler!
Shots for Everyone
Scotch enthusiasts love to share their passion for their liquor. In fact, if you express the slightest interest in it, they can't wait to have you share a sip or maybe they'll even pour you a glass. When a big occasion is coming on, such as a birthday, get them a celebration kit! Complete with 10 shot glasses and room for their favorite bottle, this kit will have them pouring rounds in excitement as they get to sip and discuss the subtle flavors like of their favorite scotch with friends and family!
A Crystal-Clear Winner of a Gift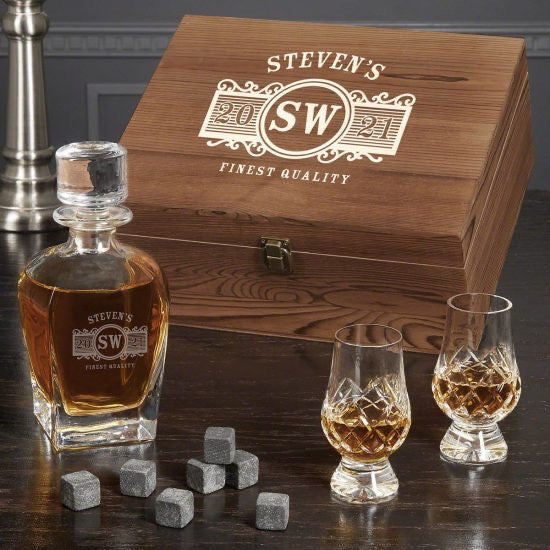 When you need a serious tasting gift for scotch drinkers, look no further than a decanter set with crystal Glencairn glasses. This set makes a fantastic gift because it will change the way they get to experience their drink. The glasses will change how they taste their favorite liquor, while the rest of the set works in tandem to enhance their flavors as much as possible. Even the whisky stones are there so water won't change their beloved drink. This is a set they won't be able to help but have on display, especially since the whole kit comes in a personally engraved keepsake box!