Every year, you dread shopping for the best Christmas gifts for him. Sometimes they're just picky! This year, however, you're going to win Christmas with the most amazing presents this guy has ever seen. The best Christmas gift ideas for him are items that are unique and unlike anything you would normally get for his birthday or other occasion. Christmas is the time of year where you splurge because you want to show everyone how much you love them with amazing gifts. Worried about what kind of Christmas gifts for him are best for the guy who has everything? What is the latest must-have tech gift that a guy would want? What are the best men's Christmas gifts? You're about to have all of your questions answered and more!
The Perfect Christmas Gift for the Cigar Lover
Whether he's your dad, husband, boss, or grandpa, there's a guy in your life who is known as a classy gentleman. He smokes cigars, drinks the finest scotch, and impresses anyone who sees him with his wardrobe alone. It can be pretty intimidating to find a Christmas gift idea for him that is worthy enough. This year, you're going to beat any other luxurious gift he'll get with this simple and thoughtful (but still classy!) cigar and whiskey gift set. The main feature of this set is the awesome whiskey glass that will actually hold his cigar for him so that he sip and puff all in one hand. This frees up the other hand to hold the latest Stephen King book or his poker cards. His Pappy's whiskey will be expertly chilled with the included whiskey stones so that he can taste every nuance of flavor in each $1000 sip. Plus, a guy can never have too many cigar accessories. The added personalization is what really ties this set all together and makes it even more meaningful. Whoever he is, the guy you're giving this incredible Christmas gift to will be awestruck!
A Fun Game for His Friends and Family to Enjoy
Christmas is all about spending time with friends and family. The men in your life look forward to sharing a carton of eggnog with their favorite cousin and bringing the funniest gift to Dirty Santa. One of the best men Christmas gifts you can give is a new holiday tradition! This custom bean bag toss game is a fun, easy game for all ages to enjoy. Everyone will love breaking out this game at Christmas, 4th of July, Thanksgiving, and even Easter. Don't worry, this set is built to last for many years no matter if you play indoors or outdoors. Thanks to your amazing Christmas gift, he can share a fun game with his entire family at every gathering.
A Manly Christmas Gift Idea for Him
The men in your life are strong, masculine, and cool guys that everyone enjoys being around. They enjoy spending time outdoors going on adventures, but they also enjoy relaxing with a glass of whiskey after a long day. The coolest Christmas gift for these guys is this awesome and manly whiskey gift set, which is the perfect combination of their favorite things! The guy who unwraps this phenomenal Christmas present will be overjoyed at the sight of such cool whiskey glasses and cigar accessories, not to mention the custom ammunition box that was actually used in the US military! He will love everything about this set from sharing a glass of scotch and a stogie with a good friend using the glasses and cigar accessories to taking his dad to the shooting range with the ammo box full of rounds to shoot.
A Men's Christmas Gift that Will Make Him Feel Like Jay Gatsby Himself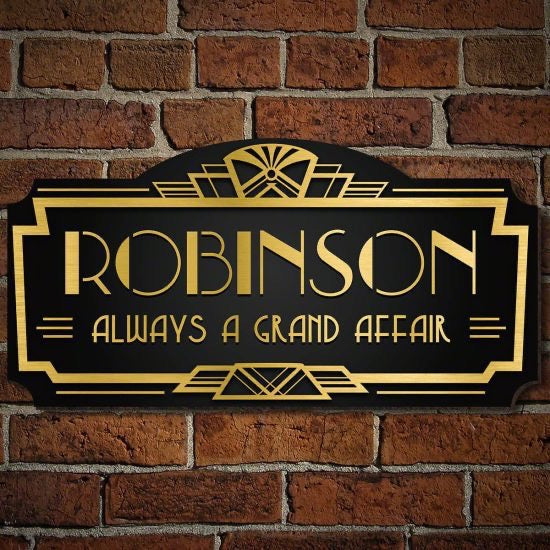 Everyone read The Great Gatsby in high school. You may not have enjoyed it, but your buddy sure did. He loved the character of Jay Gatsby, the cool rich guy who came from nothing and built a mass of wealth for the love of his life. For Christmas, surprise him with a Gatsby-inspired sign that will give his home a little bit of 1920s luxury! He will love the cool art deco style and the fact that you personalized it just for him. Every time he looks at this magnificent piece of decor, he'll be reminded of his favorite high school book and feel a little like Jay Gatsby.
The Perfect Christmas Gift for a Beer Lover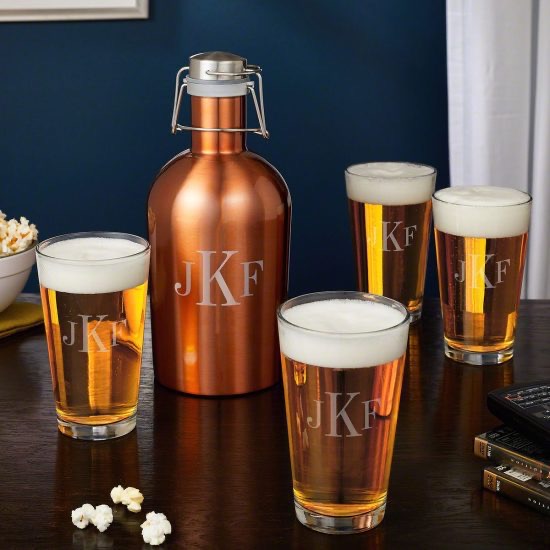 The man in your life is known as the King of Beer in your city. At least, among his friends. He knows all about beer, which craft breweries are best, and what glasses are best for each type. You usually give him a tour of a new brewery or get him a home brewing kit for Christmas, but this year you should get him something even cooler: a complete growler and pint glass set! He will absolutely love the cool copper growler and taking it to his favorite brewery and filling it with plenty of that yummy holiday brew to enjoy at home. A beer guy can never have too many pint glasses, either! Seriously, even the beer snob you know would be over the moon for such an incredible beer gift for Christmas.
301+ CHRISTMAS BEER GIFTS FOR HIM>
The Newest iPad on the Market
Congratulations, you've found the newest and coolest tech gift for your nerdy brother, boyfriend, or best friend. Every year, he always upgrades his phone, computer, and even his speakers so that he always has the best tech possible in every area of his life. He's a busy guy who appreciates tech gifts that can keep up with him, and the new iPad Pro is perfect! This awesome tablet comes packed with the A12X Bionic hardware that is faster than most computers and allows for heavy multitasking so that he can switch between making a new YouTube video for his channel and analyzing his business plan with ease. It also has a 12MP camera, 4K video, facial recognition, USB-C compatibility, and so much more. What are you waiting for? The new iPad Pro is the best Christmas gift idea for him!
An Exquisite Decanter Set for His Home Office
What are good men's Christmas gifts for guys who have everything? Whether he's your dad, husband, or boss, he is never easy to shop for because he claims he has it all. That doesn't stop you though, you're determined to get him an amazing Christmas gift! How about a luxurious decanter set for his office at work or home? He will love the formal presentation of this handsome set, especially since it's as functional as it is decorative. He'll want to serve everyone in the room a glass of his finest bourbon to celebrate Christmas after unwrapping this incredible gift. Whether you're searching for Christmas gifts for your husband, brother, boyfriend, or father, they are sure to love this set!
You've Never Seen a Cooler Beer Lover Christmas Gift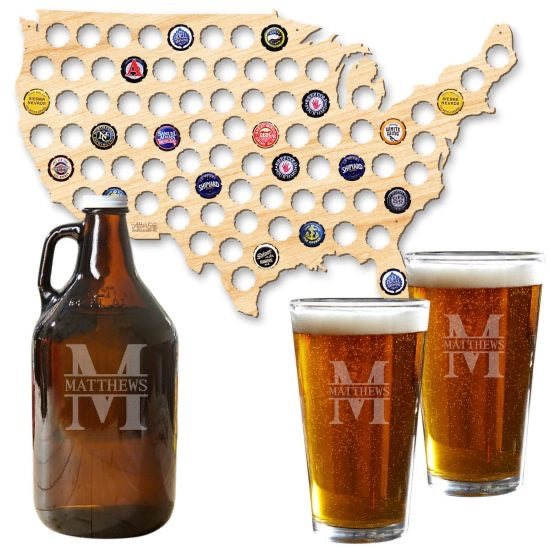 Beer lovers can be easy to shop for, but not your man. He can be a little bit of a beer snob when it comes to giving beer as a gift, so you want to get him something nicer than just a case of his current favorite craft beer. Look no further than this totally awesome beer lover gift set! From the large bottle cap collector sign to the professional glass growler, this set has everything your beer lover could want in a gift. He'll be so excited to get started on his new bottle cap sign that he'll forget about the rest of his Christmas presents that he'll head straight for the kitchen to get a bottle of beer!
A Proper Cutting Board for the Proper Chef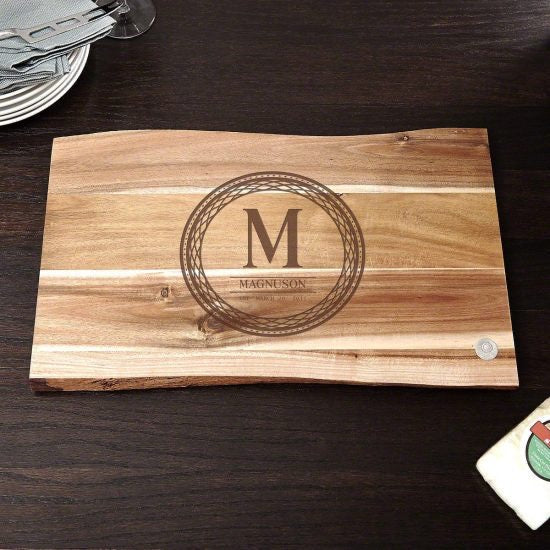 For as long as you can remember, the chef in your family has always been in charge of preparing Christmas dinner. He's a talented cook whether he's a professional chef or just has a knack for flavors. One of the best Christmas gift ideas for him is a new cutting board! He will love the rustic appearance that makes it look like you cut it from a tree in the backyard yourself. This handsome new cutting board is a fantastic tool to use for preparing ingredients, dicing, chopping, and seasoning. He will love having a new cutting board that isn't full of gouges and stains accumulated over the years. The elegant personalization is just the cherry on top of this fantastic gift!
A Christmas Gift with a Little Bit of Everything He Loves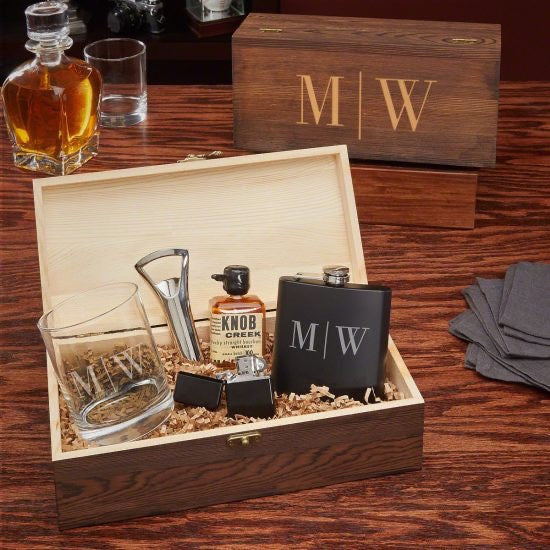 Every year, you struggle to find a Christmas gift good enough for the guy in your life who has a great many interests and hobbies. He's the kind of guy who doesn't really have favorites and enjoys trying new things. How about a gift set that has a little bit of everything? Move over edible beef jerky gift baskets, this awesome box set has all kinds of unique goodies! When he feels like a glass of whiskey and a cigar, his new custom glass and handy lighter will be right there for him. If he wants a cold beer instead, the cool nickel-plated bottle opener will come in handy. On the go, his new flask will always be at his side with a couple of ounces of his liquor of choice. Plus, there's plenty of room inside the box to add some candy, a couple of stogies, or a sample liquor bottle to complete the set! He's sure to love everything about this incredible box set for Christmas!
Be as Prepared as Bear Grylls
Looking for the perfect gift for the outdoorsy man? This is it! Wherever he goes, he will finally be prepared for literally anything thanks to this ultimate survival kit. It comes with so many things, he's bound to need at least one of them every time he goes camping, fishing, hunting, or hiking. This is one of those clever men Christmas gifts that makes a great stocking stuffer for any outdoorsy guy whether he's your brother or coworker!
The Manliest Christmas Gift He's Ever Seen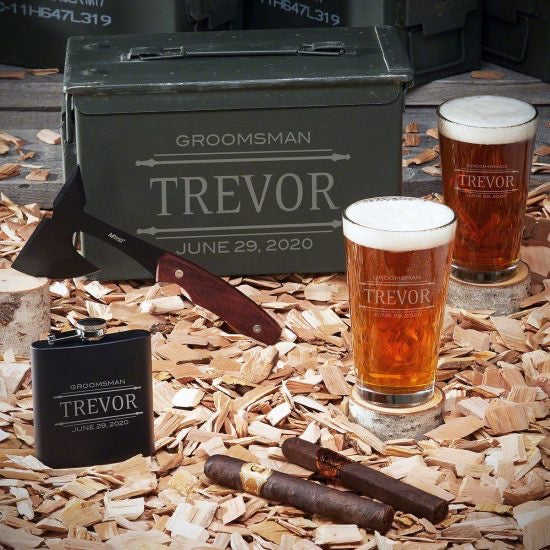 Speaking of an outdoorsy guy, another fantastic Christmas gift idea for him is an ammo can gift set! This awesome set is as many as you can get. He'll love using the ammo box to store tools, rounds, or other gear inside as he takes it camping or fishing. The hatchet and flask will probably go with him too, as they're incredibly useful and handy to have on any outdoor adventure. After he comes back, his custom pint glasses will be waiting to refresh him with ice cold beer. The best part? He can use everything in this set during the winter time too so that he doesn't have to wait until it gets warmer!
A Unique Way to Enjoy Scotch on the Rocks
There's nothing like a glass of Johnnie Walker on the rocks, even in the winter. Guys love whiskey, and even the novice drinkers know that it is best enjoyed when chilled over ice or with whiskey stones. For a scotch drinker in your life, this unique decanter set is one of the best Christmas gift ideas for him. The glasses come with a triangle silicone mold that, when filled with water and placed in the freezer, create a perfect wedge of ice in the glass that will keep his scotch the perfect temperature until the last drop. The wedge melts slower than normal ice cubes so that he can enjoy the fullest flavor possible. He will also love having a decanter to show off his top-shelf scotch and serve with, and the wooden gift box can be re-purposed to be a storage box for anything from photos to bar tending tools.
A Timeless Piece of Decor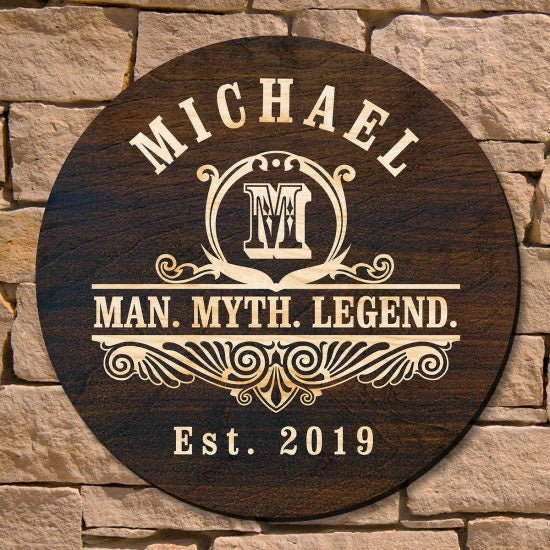 Christmas is a wonderful time of year where you can finally give your loved ones a gift they've always wanted. The guy you're shopping for has a pretty cool home bar or man cave, but it's lacking a little in the decor. Christmas is the perfect time to get him the finishing touch: a personalized sign! This awesome wooden sign is a handsome addition to any room, and you can totally customize it to fit the recipient perfectly. Whether it's your brother's game room, your boyfriend's home bar, or your dad's garage, this sign is the perfect piece of decor to compliment it!
Ultimate Entertaining Set for the Party Host
Do you have a friend who loves to throw parties and get-togethers big and small throughout the year? Naturally, his favorite holiday is Christmas where he throws quite an amazing holiday festival. He loves being the host so much that they could easily rival even Monica Geller or Niles Crane. The most thoughtful men's Christmas gift for a guy like him is something that will make serving guests easier and more efficient, like this leather-wrapped beer glass set! This complete set comes is the perfect way to enjoy a frosted drink with friend because not only does the leather look amazing, it protects their hands from the cold too. He will love using this set for classy beer tastings, New Year's Eve, and even when it's his turn to host poker night.
399+ CHRISTMAS GIFT SETS AND GIFT BASKETS HE WILL LOVE>
The Coolest Coffee Table for Christmas
Some guys can be pretty picky, but most guys can agree on one thing: a foosball coffee table is the coolest thing they can possibly have in their house. How awesome is that? Now they can play a classic game of foosball while also having a convenient place to rest drinks and snacks. His friends will be so jealous when they visit that they'll beg their wives to get them one, too. You're certain to win Christmas this year with this incredible gift!
Christmas = Cognac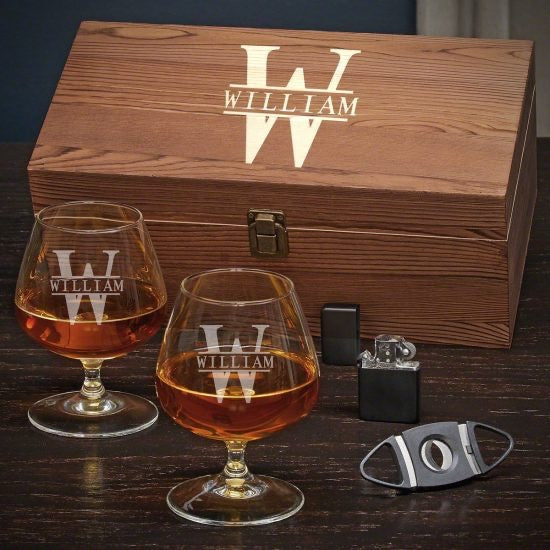 It's that time of year when you and your man can enjoy a warm glass of brandy by the fire on a cold winter night, how romantic! A classic wintertime staple, cognac or brandy is best served in a small snifter. But wait, your husband or boyfriend doesn't have any? Get him this cognac gift set for Christmas so that you two can enjoy a proper warm brandy along with a fresh stogie after Christmas dinner. This set will be his favorite gift he's gotten because it's something you two can enjoy together as a holiday tradition.
A Golf Lover's Dream Gift
Is the guy in your life really into golf? He loves getting Christmas gifts that have anything to do with the sport, but he's got plenty of good golf gear. What should you get him? A custom gift set that will let everyone know of his favorite hobby! He'll get a kick out of the awesome grilling tools shaped like golf clubs and the funny whiskey glasses. The flask with the tee set will come with him on the course every time, and the novelty golf club bottle opener will be waiting for him after a game to open a refreshing cold beer. He will love everything about this incredible golfing gift set!
Make His Holiday Legendary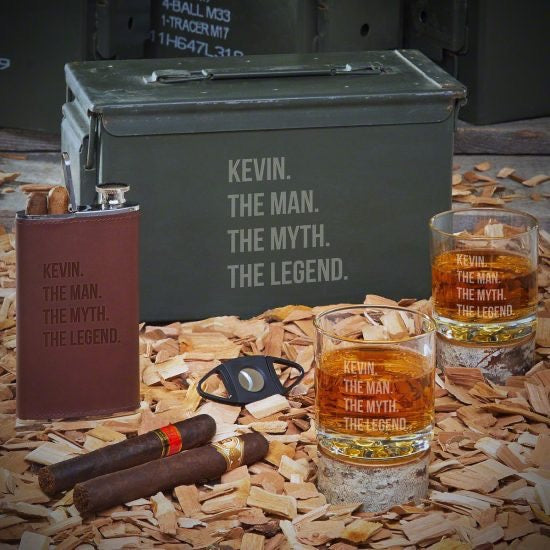 One of the best men Christmas gifts you can possibly give is this incredibly cool whiskey ammo can gift set! One look at the set after unwrapping it and he will feel like the most awesome guy in the world. He will love having an awesome set of two whiskey glasses to share with you or a close friend, especially since they declare him to be cooler than James Bond himself. Anyone who sees him take a sip or a stogie from his flask will know that he is a man to be admired. When he takes his ammo can on an outdoor trip or to the shooting range, everyone who sees him will know that he is the coolest guy around. Thanks to you, your husband or best friend will feel more awesome than the Dos Equis guy everywhere he goes!
Incredible Beer-Loving Men's Christmas Gift
Even in the middle of winter, an ice cold beer is incredibly refreshing. The beer lover in your life prefers a beer with his dinner, and he is usually pretty easy to buy Christmas gifts for. Step it up from a case of his favorite brew to this incredible beer gift set! He will be awestruck by this complete set and won't know which part excites him the most. Now he can finally have an insulated growler to take to a brewery and fill up with plenty of his favorite seasonal brew to enjoy in the comfort of his own home using his very own custom pint glasses! Seriously, you can't get a cooler Christmas gift than this for a beer lover.
Give Him a New Guitar

Looking for the perfect gift for the aspiring rock star? There is literally nothing better than a new electric guitar for Christmas! A classic instrument that everyone wants to learn, the electric guitar is a great Christmas gift idea for him. He will love the handsome sunburst design on the body of this Fender Stratocaster that's inspired by Jimi Hendrix's own guitar. He'll feel like a rockstar and be booking shows in no time thanks to your amazing Christmas gift.
Christmas is the Time for Fine Cigars and Expensive Whiskey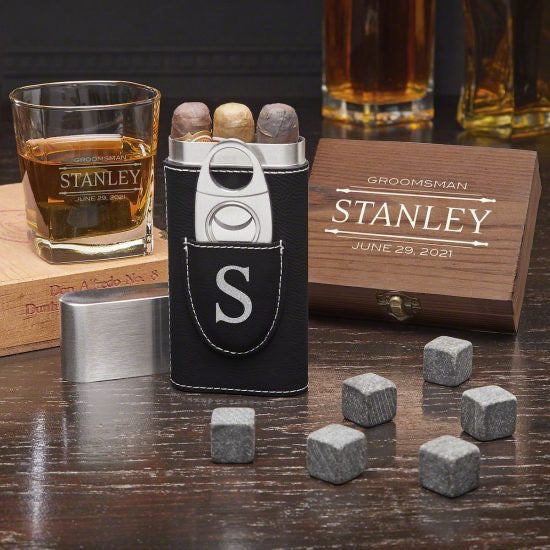 The holiday season is all about indulging in your favorite things. For men, it's about enjoying that special bottle of whiskey that's behind a glass case in the nearest liquor store and having a couple of luxury cigars. After all, it's the most wonderful time of the year, why not enjoy it to the fullest? One of the best Christmas gifts for men who enjoy indulging in fine scotch and stogies is a proper whiskey and cigar gift set like this one! He will love having a proper double old-fashioned glass and a set of whiskey stones to enjoy the Macallan Estate Single Malt that he's been eyeing for a while. The sturdy cigar case will ensure that his Regis Double Corona cigars don't get crushed in his pocket. Whether he's your father, boss, or husband, the man you gift this set to will be forever thankful.
Give Him a New Hobby: Collecting
You want to give a man in your life something nice for Christmas, but you know it's got to be something cool. He can be pretty picky and insists that he doesn't need anything. So what do you do? Give him an experience and a gift all in one! With a shadow box, he can start collecting just about anything he wants such as bottle caps, golf balls, movie tickets, cigar bands, or anything else! The shadow box is the perfect place to store and display a collection. He will love watching the box slowly fill up with his collection over time as a unique piece of decor. From this Christmas to the next, he'll have a fun new hobby to enjoy. Thanks to your amazing Christmas gift idea for him, he'll have something new to do that he's never done before. Who knows? Filling up the shadow box might even become one of his New Year's Resolutions!
Manly Christmas Gift Set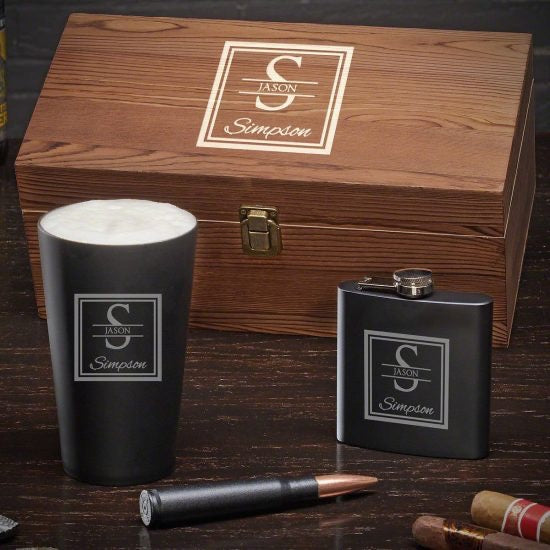 Sometimes, finding a Christmas gift that's manly enough for a guy can be tough. He doesn't want tools, clothes, or anything silly. He's a practical man. How about this nifty set? It's all about manliness and practicality. See the bullet? That's actually a bottle opener made out of a real .50 caliber bullet. How badass is that? The double walled stainless steel pint glass will keep his beer ice cold until the last drop, even if he forgets about it and comes back a few hours later. The handsome black flask will be there for him when he feels like liquor instead. Plus, these three awesome and manly items come in a wooden gift box that he can use to store anything from his watch collection to bar tending tools. This gift set is truly the perfect Christmas gift for any practical and manly guy!
Rustic Decor for His Home Bar
You know what every guy needs in his home? An awesome and rustic piece of decor. For Christmas this year, give him the finishing touch he never knew he needed: a personalized bar sign! He will love this rustic wooden sign that will make his home bar feel like a craft brewery. The sign can be personalized with a name and a year, and will go perfectly with any of his decor.
Try New Hot Sauce All Year Long
Giving subscriptions are great Christmas gift ideas for him, especially for guys that love food. Forget those typical snack boxes and candy subscriptions, get him something unlike anything he's ever seen: a hot sauce subscription! Every quarter, he'll get three full-sized bottles of delicious hot sauce from all over the world. He'll get to try all kinds of new spicy sauces with his favorite foods and discover his new favorites. The best part? This is a Christmas gift that keeps on giving!
The Manliest Christmas Gift Set He's Ever Seen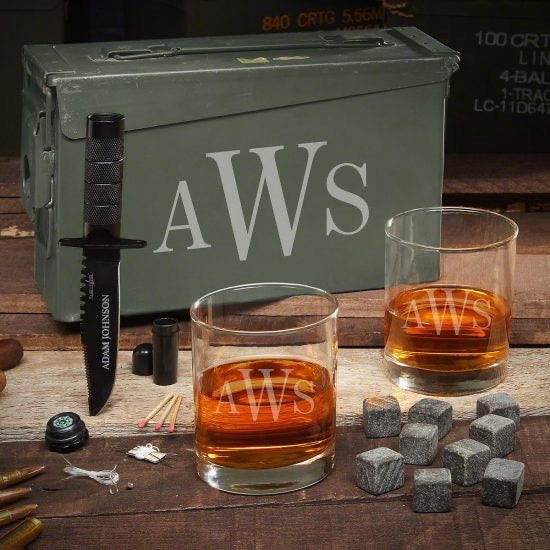 Your guy is an outdoorsy, manly dude who loves spending the weekends in the wilderness and coming home to a glass of scotch with plenty of stories to tell. He doesn't get to spend as much time outside during the winter, so why not give him a Christmas gift that will remind him of his favorite things? This set has the manliest, coolest men's Christmas gifts ever: a tactical survival knife that will come in handy in any and all situations, personalized whiskey glasses, whiskey stones, and even a military ammo box that's been engraved with his initials. He'll love pouring you a drink with the glasses and whiskey stones to tell you all about his latest misadventure in the local mountains as he was hiking. The ammo can is great for him to store anything from ammo to tools, especially since it's incredibly durable and has a watertight seal. Seriously, can a Christmas gift for a guy get any cooler than this? He'll be so excited to take his new knife and ammo can on an adventure as soon as the weather warms up!
Cooking-Themed Christmas Gift Ideas for Him
Whether it's grilling in the backyard or gourmet three-course meals, you've got a chef in the family who loves to cook more than anything. He's known for his excellent dishes, and is always wanting the latest and greatest kitchen gadgets for Christmas. This year, get him a complete set of the best kitchen tools around that any amateur or professional chef should own: a new bamboo cutting board, mini thermometers for steaks and other meats, a grilling rack to cook the perfect chicken wings, and a handy new spatula with a built-in flashlight for nighttime meals. He'll be so excited to use these new gadgets after unwrapping them for Christmas that he might even change up the holiday menu he was planning!
The Best Men's Christmas Gifts for Gun Guys
Gun lovers will always enjoy getting Christmas gifts that are related to their favorite hobby, which makes this unique gift set perfect! Whether he's your sharp shooting brother who competes in professional shooting competitions or your law enforcement boyfriend, either one will enjoy this fun set. At first glance, he won't realize that the stainless steel bullets are not real, but are actually whiskey stones to chill his bourbon! How neat is that? If he's feeling like a beer instead, the awesome bullet bottle opener made from a .50 caliber shell will be close at hand. He'll love freaking out his friends by casually pouring a glass of whiskey and dropping the bullet stones in, they'll think he's either crazy or a total badass at first for chilling his drink with actual bullets. Such a fun holiday gift will be talked about for years to come!