Christmas is right around the corner, and you're determined to find some amazing gifts for those you care about this year. You're tired of getting people boring, unoriginal presents and want to really make sure they'll love their one-of-a-kind gifts. You might be wondering, what kind of gifts would make them really happy? What kind of gifts are set apart from any other gift? What makes a cool Christmas gift set? Really good Christmas gift ideas are one-of-a-kind items that are personal to each person and help them celebrate the holiday and enjoy some of their favorite activities. Still don't have any ideas? Don't worry! We searched through Santa's workshop to pick out perfect Christmas gifts that anyone on your list will absolutely adore.
Best Holiday Gift on Earth
There's no way this globe decanter set isn't their favorite holiday gift they've ever received because of how unique and useful it is! The lucky receiver of this stunning glassware set will be in awe of it as they open it up on Christmas morning, and they'll be so tempted to immediately fill it with their favorite liquor and enjoy a holiday beverage with it. They'll never want to use any other glassware when they're enjoying a drink, and they'll even want to use it as a display piece because of how aesthetically pleasing it is.
Super Handsome Butcher Block Cutting Board
You might think perfect Christmas gifts don't exist, but not after you see this personalized cutting board! This is a terrific gift that will make every grilling and kitchen experience better than ever before. When they're in the kitchen preparing for their New Year's party or a date night in, they'll really appreciate having a handsome cutting board on which to prepare various foods. They can even serve food they've grilled to perfection on this board! A cutting board this good-looking can even be a fantastic Christmas gift for couples!
Vintage Beer Stein
Really good Christmas gift ideas are those that help them enjoy one of their favorite things more than ever before. This custom beer stein is every beer drinker's dream because of its one-of-a-kind appearance! They'll love the vintage aesthetics of this handsome stein and that has been customized just for them. With a beer gift like this for Christmas, they'll never want to drink beer from any other glass for as long as they live!
You Can Bet They'll Love this Good Christmas Gift
You can bet they'll be big fans of this custom poker set! This set is a fantastic gift idea for anyone on Christmas. During the holidays when they have friends and family over, they'll definitely want to use it! They'll feel really awesome seeing the personalization on the handsome leather case and they'll be super thrilled to own their very own poker chips and cards for hosting incredible game nights.
Smart Lamps are Good Christmas Gift Ideas
When you're really stumped on what to get them, you know you can't go wrong with an everyday thing that everyone would use. That's why this Sol Smart Lamp is such a terrific holiday gift idea! They'll feel so fancy with this aesthetically pleasing lamp on their bedside table, in the corner of the living room, or on a shelf in their home office. They'll love using voice control and timers to turn this lamp off and on. They didn't know they could love a lamp so much!
Personalized Wine Cellar Sign
Help them spruce up their home décor this holiday season! This beautiful wine cellar sign will look fantastic hung up in their wine cellar, home bar, or kitchen. The unique and personalized design will make the entire space feel like a fancy new spot in their home. There's no doubt that they'll really enjoy showing off the space to guests because of how beautifully the sign brings it together.
Engraved Box for the Bottle
Get them a personalized holiday gift that also let's them enjoy one of their favorite beverages when celebrating the holiday! This engraved liquor bottle box is one of the most perfect Christmas gifts! It'll It's a great way to give them a bottle of liquor without just tying a bow on it or putting it in a random cardboard box. They can even use the box to store a bottle of liquor for a special occasion!
For Saving All the Memories
Good Christmas gift ideas are gifts that will help them cherish special memories from Christmastime and other memorable experiences with loved ones. This shadow box will help them do just that! They can store any small items in this box, from bottle caps to photographs or anything else, each one representative of an experience shared with loved ones.
Presentation Set of Perfect Christmas Gifts
This stunning monogrammed presentation set is the glassware set they've been missing all of their life! Not only is this gift incredibly classy, but it makes enjoying a drink extremely convenient. They'll especially appreciate being able to sit on the couch and reach for this set, pour themselves a glass, and continue relaxing on the couch. You can be sure they'll have this set out every holiday season so it is ready to share and enjoy drinks with friends and family!
Most Unique Coffee Table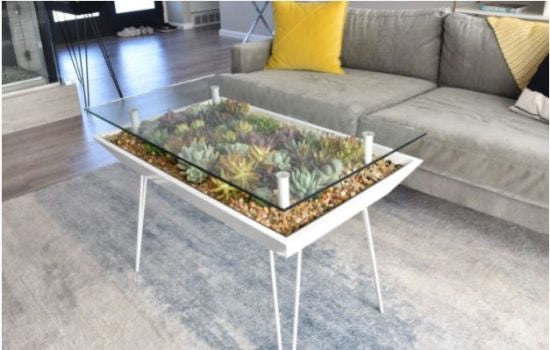 Super unique items make incredible gift ideas! This beautiful plant coffee table will definitely be their favorite piece of furniture in their home! They'll immediately fall in love with this stunning table and work hard to make sure their succulents, herbs, or any other plants are healthy inside this table. It's so much more impressive than any other coffee table they've ever seen! They'll love using this table for drinking coffee, working on their computer, or having a snack each and every day!
Classiest Wine Tumblers Ever
This custom wine tumbler box set is one of the most perfect Christmas gifts that you know anybody will absolutely love! These solid stainless steel tumblers will definitely be their new favorite glasses to use to enjoy a drink during the holidays or on any other special occasion. As soon as they open up this box on Christmas morning, they'll feel like a little kid opening up the gift of their dreams.