There's a man you know that deserves a thank you gift for helping you out or simply for being fantastic, and you want to adequately show your appreciation. Maybe your dad has been helping with your children, or your husband has really been picking up your slack around the house lately. You want to buy the amazing man in your life a gift that properly displays your gratitude. The best men thank you gifts are classy, often personalized, and not too extravagant, so the recipient doesn't then feel indebted to you. You may need help finding the right gift to fit this criteria and that the man you're thankful for will love. What is appropriate for a thank you gift? What will adequately demonstrate your appreciation? Here are some phenomenal thank you gifts for men that will demonstrate your appreciation.
Thank You Gifts for Men Who Love Whiskey
For the man you are thankful for, you want something that's personal and practical. This set of whiskey glasses and stones is a great gift for him. The stones will keep his whiskey cold while he's relaxing in the evenings after a long day at work. The handsome brown box this set comes in as well as the two glasses can be personalized, so this is a personal, amazing thank you present.
Decor for Dudes
Men deserve to be thanked for their hard work with alone time in their man cave. A fantastic gift for him is something that will improve his room of the house. This man cave custom wooden sign is the perfect accent to his space and a great way to say thank you. It comes with pre-drilled mounting holes so putting it up on the wall isn't a hassle. Who doesn't love personalized thank you gifts that ensure you'll have some necessary alone time to chill?
A Thank You for Sacrifices
When someone sacrifices their time for you, they deserve a gift from you to show your appreciation. The perfect gift to express how thankful you are is this cigar gift set. This cigar cutter and lighter are the essentials needed for him to enjoy his stogies, and the flask is just an extra treat for transporting his favorite liquor. It's the perfect personalized thank you gift to say "thank you for your hard work – please enjoy a break."
Cognac = Thanks
For a man that has always been there for you through thick and thin, you need to purchase an amazing gift that will make him feel totally appreciated. This personalized cognac gift set is a fantastic way to convey to him that you are so thankful for everything he's done for you. This set includes a cognac snifter so he can enjoy a warm glass after a long day. Also included are a lighter and cigar cutter so he can add his favorite stogie to the mix for an even better time. This thank you gift for men will show him that you care and appreciate him enough to buy him this very personal gift that he can enjoy for a long time.
Show Thanks with a Decanter
The best man is one who puts others needs before his own, and that's a quality your man possesses. Thank him for being the greatest with a brand new whiskey decanter. This personalized glass decanter will make an amazing touch to your man's bar collection or be the perfect piece to get it started. This decanter is classy and sophisticated, with a thick crystal base and curved sides to make this gift extra unique. Your guy will feel totally appreciated after receiving this splendid personalized thank you gift.
323+ FANTASTIC WHISKEY DECANTER GIFT SETS>
Can't Go Wrong with Chocolate
When a man goes out of his way to make you do something for you, you feel so grateful that you want to give him a gift. You want to get him something that he'll enjoy a lot. This truffle gift box is full of delicious chocolate truffles that will make his mouth water just by looking at them. Packaged in a lovely box with a pre-printed "Thank You" card, this set contains 24 truffles, with four truffles of six different kinds of delectable chocolate. Any man will love this gift box because it will show him that you know he's been going out of his way to make you happy, and he'll be able to tell that you appreciate it.
Flask Thank You Gifts for Men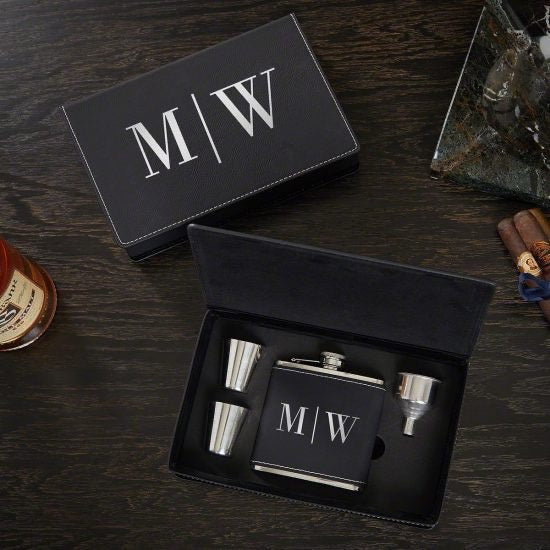 A man has done a lot for you recently, and you're very grateful. As a token of your gratitude, buy him this stainless steel flask set. This classy set not only contains a handsome black leather-wrapped flask for easy drinking on-the-go, but a stainless steel funnel and shot glasses. The funnel makes it so easy to pour from the flask into the shot glasses, so they can take shots to get the party started. These make great thank you gifts for men because they're practical and fun, so any man would be grateful to receive such a gift.
Coolest Thank You Gift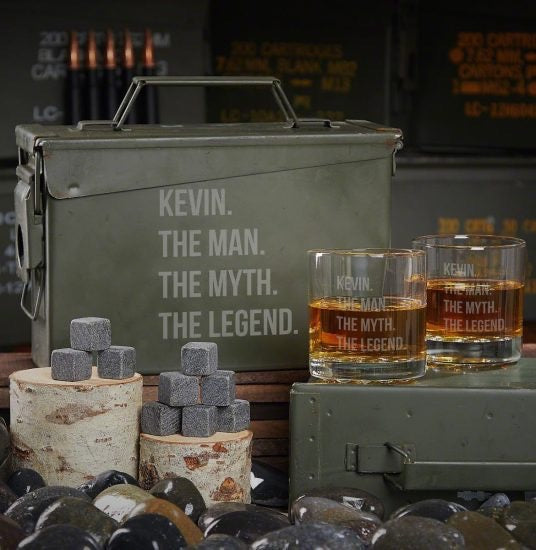 You want to buy a man a great thank-you gift, and you want it to be something really cool. A great gift idea is this ammo can gift set. This can is repurposed from the United States military and then can be personalized specifically for your him. The whiskey stones and glasses will help him enjoy whiskey immensely. This is an amazing gift because it's practical and unique, and it will demonstrate how thankful you are for him.
Best Man in the Country
For the out-of-this-world man you're grateful for, get him something simple that will remind him how appreciative you are of him every time he sees it. This USA beer cap map can hang on his wall anywhere in his house, and he can put caps from his favorite beers in the slots. Cut from American birch wood, it will stand out as a beautiful decor piece in his home. This is a tremendous gift for him because it's aesthetically appealing, functional, and will make all his friends extremely envious.
Dads are the Best
Your dad means so much to you, and you know he would do anything for you and your siblings. Show him your appreciation for everything he's done for you with a personalized thank you gift for men. This customized insulated tumbler is an easy way for your dad to feel appreciated and remember the reasons he works so hard. Your father can use this glass for any hot or cold beverage, from his early morning coffee to a cold beverage on a hot afternoon. Whether it's hot or cold, the beverage will stay the ideal beverage for up to 24 hours. Your dad deserves a practical, sleek-looking tumbler to show him how much you love and appreciate him.
A Healthy, Delicious Thank You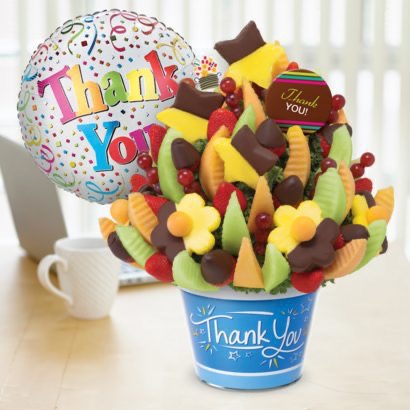 A man has been going out of his way to make your life easier, and you want to show your appreciation with a food basket. You know he likes to eat healthy, so you need a gift for men who enjoy healthier foods. What says "thank you" better than a fruit basket? This basket is created specifically as a thank you gift, so it's perfect. Included in the basket is a variety of melons, grapes, cantaloupes, and strawberries. There are even some pineapple and strawberries dipped in chocolate that are mixed in! He'll know how much you appreciate his help when he sees this extravagant, scrumptious gift.
Game Night Gift
You want to show your appreciation for a man you know that has helped you out recently. This personalized poker set is a fun, fantastic gift to demonstrate your thanks to him. Inside the sleek, black case are two packs of cards, five dice, and four sets of different colored poker chips so all necessary items for poker are right at his fingertips. He will love this personalized thank you gift because it will make game nights easier than ever before. It also makes transporting games easier, so you can invite him over for game night!
You've Got a Friend in Me
Real friends help you out when you need it, right? Show your appreciation to your helpful buddy with this phenomenal beer gift set. It comes in an attractive brown box that any man can display in his home. The four pint glasses will make a great addition to his beer collection as well, and they will make it easy for him to enjoy his favorite beer with three of his friends. This is one of the best personalized thank you gifts, and from it, your friend will know how much you appreciate him.
303+ SUPER COOL BEER GIFTS FOR MEN>
The Best Guys Deserve the Best Whiskey Stones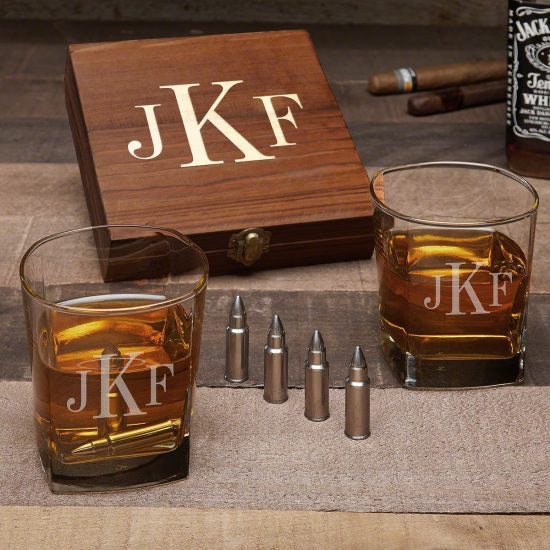 It's amazing how selfless that man in your life is; he is constantly going out of his way to help you out. After all he's done, you want to show your appreciation with a phenomenal gift. These unique bullet whiskey stones will keep his whiskey chilled while he sips it out of his new square whiskey glasses. The whiskey stones come inside a personalized brown box that is great for decoration as well as storing small items. This is such a phenomenal and unique gift that he's sure to love. He will feel very appreciated when he receives this amazing, personal thank you gift for men.
A Salute to You
There are few people on earth more deserving of thanks than veterans. They put their lives on the line, sacrificing so much for the people and country they love. To demonstrate your gratitude to the veteran in your life, buy him this custom whiskey box set, made specifically for American heroes. It comes in a wooden box engraved with a name, title, and date along with an American flag to make it personal to the veteran. Inside the box are nine whiskey stones and a whiskey glass so you can ensure that he always has a way to have nice cold whiskey without having to use ice. A flask is also included, so he has a convenient, discreet way to enjoy his favorite liquor when out and about. This amazing gift set is the perfect way to show the veteran in your life that you appreciate his sacrifice and know he deserves to relax with a nice glass of whiskey.
Man to the Rescue
A man you know is often saving the day for you, and you're very grateful. Show him your appreciation for all he does with a customized Superman bobble head! This unique gift is customized to look exactly like him, with options for choosing eye color, hair color, and skin color, and best of all, you can submit photos so the bobble head is crafted specifically to look like him. He'll love this super special thank you gift, and he'll agree it's the best way to say "thank you!"
Wine Gift for an Amazing Man
Buy the very helpful man that you know this customized wine box and tool kit to show him your appreciation. This sleek, black wine box features cushioned satin lining to keep a wine bottle safe inside, which is something he'll appreciate. On the top, four wine tools are placed in individual slots: a bottle stopper, corkscrew, foil cutter, and aerator, so he'll always be able to enjoy his wine without worrying about not having the proper tools. He will love this fancy gift because it shows him that you recognize his hard work with the perfect personalized thank you gift to unwind.
233+ FANTASTIC GIFTS FOR MEN WHO HAVE EVERYTHING>