Finding a good present for a guy is hard enough, but for a manly man it is even more difficult. You want to get him a nice Christmas gift that he'll appreciate and enjoy, but what would be best? A gift set or gift basket full of his favorite things is your solution. Gift sets and gift baskets are the best kinds of gifts for men who are hard to shop for because they contain a variety of things centered around a specific theme that you know he already enjoys. Is your man a beer drinker? He'll love an incredible beer gift set with a custom pint glass and bottle opener! Does he like coffee? A gift basket full of different kinds of coffee and treats will be the best present ever. Does your manly man love his whiskey? Get him a gift set that comes with a set of glasses and whiskey stones for Christmas! These 30 manly gift sets and gift baskets for men have a little bit of each for the incredible man in your life.
Golf Gift Baskets for Men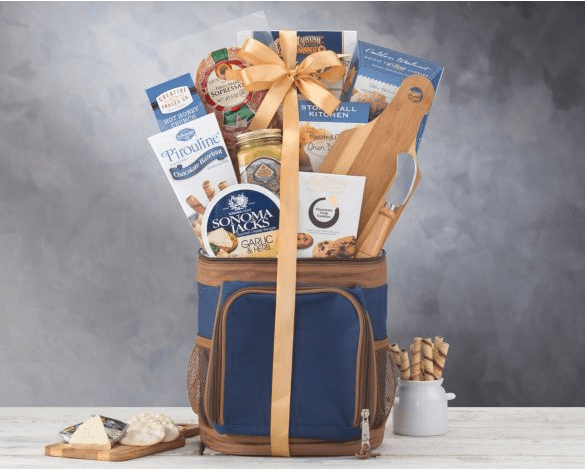 Does the man in your life need less me time and more tee time with his friends? Get him a unique gift basket that is a complete set for golfers or men who enjoy simple pleasures like meats and cheeses. Included is an insulated lunch bag he can take to work, a fun assortment of snacks to chow on after 18 holes, and a cutting board. Your dad, husband, or boss who loves golf will enjoy this gift basket themed around their favorite hobby. Golf is a manly sport that takes time and patience, after all, and he's bound to get hungry!
Whiskey Box Set
Gift baskets are so 2010, get your man an incredible whiskey gift set instead! This set is an awesome gift, especially if they don't yet have the proper glassware and accessories to fully enjoy the experience. The man in your life can pour the two of you or the whole family a couple of drinks to enjoy at dinner with this new gift set for men. Now he'll have plenty of glasses to serve his friends with at guys' night when they're playing poker or watching the game, and they can fully enjoy the flavor without it being watered down thanks to the chillable whiskey stones. He can even repurpose the gift box to store all kinds of things from tools to work gear! This set has the manly gentlemen in mind who appreciate quality drinks, like your father or husband, and would be ideal for Father's Day.
Legendary Beer Gift Set for Men
Feminine gift baskets with bows and fancy treats are not what your guy wants for his birthday or Christmas. Instead, get him the manliest gift set you can find themed around his favorite thing, like this beer gift set! The wooden gift box, pint glass, and beer growler in this set are all engraved with your man's name followed by "The Man. The Myth. The Legend." Now he'll have a growler to bring his favorite beer with him when he goes on trips to the lake, camping, or concerts. He'll want to crack open a cold one with his new bottle opener and use his new pint glass right away, so make sure you have his favorite six pack on hand.
Unique Knife and Shot Glass Gift Basket
Gift baskets for men don't have to be your run-of-the-mill beer bottles in a wicker basket with some snacks. They can be personal and unique, like this gift basket! Made of a cigar box containing a pocket knife and a shot glass, you can customize it to be the perfect gift for your manly guy. There's plenty of room inside for an additional gift, so think about the things he likes. If he really loves beef jerky or has a favorite liquor, put a sampler size inside. Did you get him a small gift such as a piece of jewelry or a gift card? Place it with the gift basket! The options are truly endless for you to make this gift basket one of the best gifts he will ever receive.
All Around the World Beer Gift Basket for Men
This gift set is for the beer lovers out there. With beers and snacks from all around the world, it's every beer lover's dream gift. With twelve different beers and eight snacks, your man is set for his evening drink after work and a delicious snack to go with it for a couple of days. This gift basket for men would make an impressive birthday or holiday gift set for the beer lover in your life.
Manly Ammo Can Box Set
Looking for gift sets for men who like beer, guns, and all things manly? This is it! This awesome box set is ideal for all kinds of men, such as law enforcement, military, first responders, beer aficionados, hunters, outdoorsy types, and lumberjacks. This set is the ultimate manly gift and will be the best present he's ever received. Don't worry about finding several small gifts or one big gift, this set has you covered! Includes a personalized genuine military .30 caliber ammunition box, a knife, a genuine .50 caliber shell that has been turned into a super cool bottle opener, and two custom beer glasses. Any guy would seriously love this manly gift set.
The Manliest of Gift Sets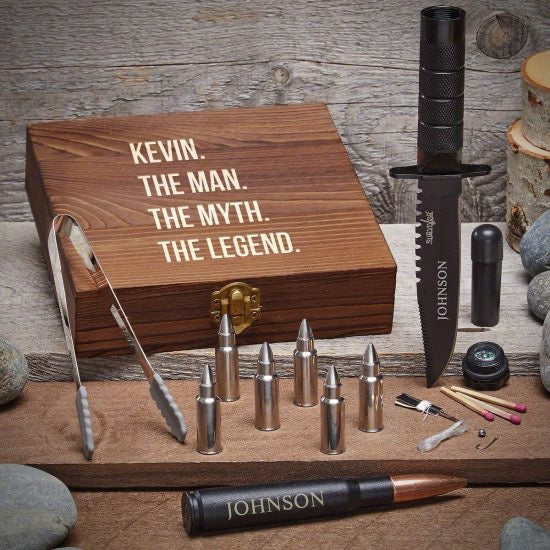 You thought you'd seen plenty of manly gift sets and gift baskets for men huh? You're just getting started! This incredibly awesome gift set is about as manly as possible with the custom engraving, bullet whiskey stones, survival knife, and a bottle opener made from a real bullet. Your brother, boyfriend, or best bro will love using the bullet whiskey stones to chill his bourbon after a long day. When he shows them off to his friends, they'll think he's using actual bullets and is just that badass! Any guy would love to receive this gnarly gift set for their birthday, a promotion, or for a graduation.
Beef Jerky Crate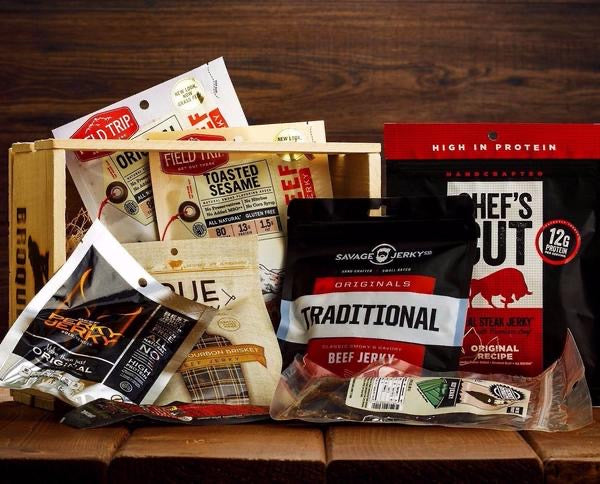 Do you have a man in your life who just can't get enough of beef jerky? This gift basket for men is full of beef jerky in all kinds of varieties. This is a fantastic gift basket for any occasion that the manly guys in your life will love and never want any other present again! You can give it to him every year on his birthday or at Christmas as an annual gift that he'll look forward to. Now he'll be set with a couple of gourmet versions of his favorite snack at home, work, or on the go.
He Drinks and He Knows Things
The guy in your life is a suave gentleman who enjoys drinking scotch and smoking a stogie to relax after work. He doesn't have a proper cigar case and tends to carry them around in his pocket in a Ziploc bag, and always has to borrow a lighter from a friend because his is always out of lighter fluid. This manly gift set will solve all of his problems! The durable stainless steel cigar case is wrapped with a faux leather case that conveniently holds a cigar cutter and up to three stogies. He'll have a handy new lighter as well, and the Game of Thrones glass is the perfect complement to this set whether he's a fan of the show or not. You could surprise him with this set as a "just because" gift or it would make a great anniversary present.
Ultimate Beer Tasting Gift Sets for Men
Your bro is a self-proclaimed beer snob and could go on about beer for hours. He knows the many different styles, tastes, and even the various glasses that accompany each one. For his birthday or Christmas this year, you should get him a phenomenal gift that he'll love showing off to the rest of your friends: the ultimate beer tasting set! It comes with the four most popular types of beer glasses, a bottle opener, and a gift box to store it all in. He will be so excited to try his favorite IPAs, craft brews, imports, and pilsners with this incredible gift set!
Hot Sauce Gift Baskets for Men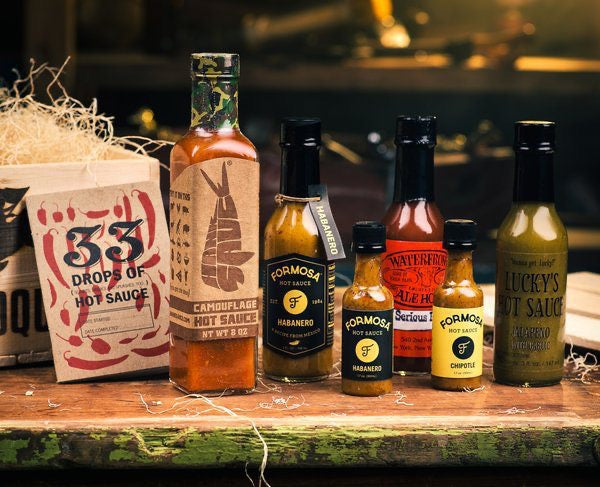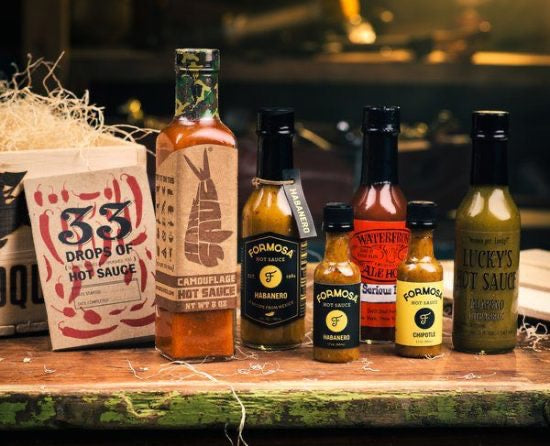 Does your man absolutely love all things spicy? He'll go nuts over this hot sauce gift basket for men! He can sample a variety of sauces to give his favorite foods and new recipes a unique kick. This is a great gift for professional chefs, guys who like to grill, foodies, and men who enjoy experimenting when cooking. Hot sauce is a totally manly food, and guys often like to test the limits of their taste buds with it. This would make a great birthday gift for any spicy guy in your life.
Brawny Decanter Set for a Brawny Man
There are no animals manlier than bulls, which is why this bull decanter set is such a perfect gift set for men whose strength and brawn remind you of a burly bull. His whiskey will look awesome inside this decanter. He'll greatly enjoy pouring it into his new glasses, placing the cold whiskey stones inside, and relaxing with a deliciously cold glass of whiskey. As he sips joyfully, he'll look at his bull decanter, thinking about how it reminds him of his own ruggedness.
Beer, Cigars, and All Things Manly Gift Set
When it comes to his favorite hobbies and pastimes, what are his top three? Drinking beer, going hunting or fishing, and smoking cigars? Well there's a gift set made just for him! Your husband or boyfriend will be so surprised to get a totally cool gift set with all of his favorite things. He'll love sharing a pint with you in his new personalized beer glasses and taking you along on the next hunting trip so that he can use the ammo can and survival knife you got him. You'll surely get something equally amazing in return when you give him this incredibly awesome manly gift basket!
Bacon Gift Basket for Men Who Love Bacon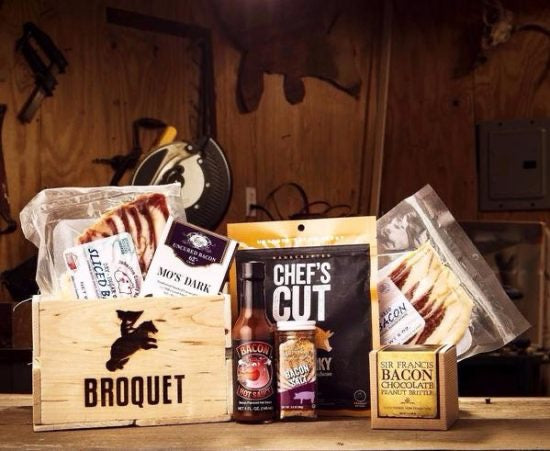 This is the gift basket for men who love bacon. It features bacon treats six different ways! This set would make an incredible birthday or Christmas present for any man in your life who can't get enough of the candy equivalent of meats. He'll love the unique snacks and sweets, such as the bacon brittle and the dark chocolate bacon bar. He won't want any other present from now on! Thanks to this delicious gift basket for men, your presents are covered and gift-buying stresses are over.
Classy Whiskey and Cigar Gift Set
Smoking cigars and drinking whiskey isn't just classy and sophisticated, it's also very manly. It takes a certain kind of gentleman to enjoy both properly, and the man in your life is that kind of guy. He's the kind of guy who has it all and never wants anything for Christmas or his birthday. You should get him a gift that he'll actually use, like this manly gift set that will make his favorite hobbies even better. He'll love having a unique set of whiskey stones to chill his Macallan whiskey in his new rocks glass. On the go, his 2-in-1 cigar holder and flask will be on hand whenever he feels like a smoke or a drink. All around, this gift set will make him even more sophisticated!
Manly Shaving Kit
Military and uniformed men who constantly have to keep a clean shaven face will really appreciate this ultimate shaving kit. This gift basket for men has everything he needs to have a smooth shave: soap, face wash, a quality lathering brush, and an old-fashioned straight razor that will give him the closest shave he's ever had. Your husband or boyfriend will never have an itchy face or razor burn thanks to this quality grooming set! You could give this set to him on his birthday or for Christmas every year so that he has a constant supply.
Best Birthday Gift Baskets for Men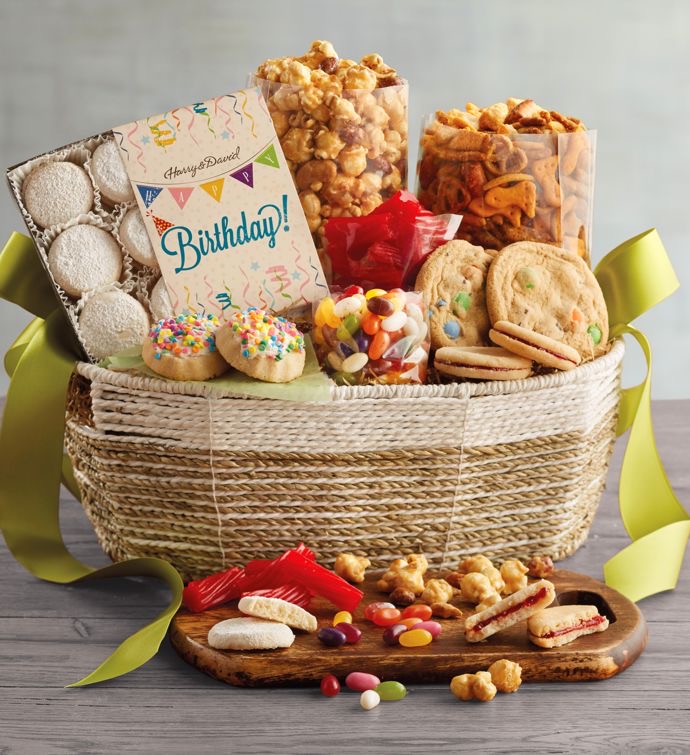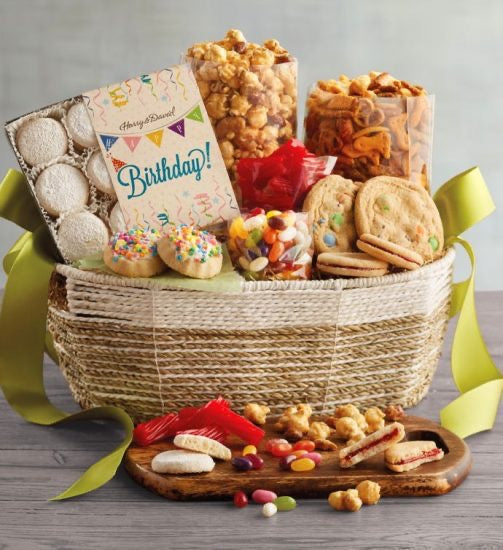 Looking for birthday gift baskets for men? This one's got all kinds of popcorn, candy, and cookies for your man with a sweet tooth to enjoy. After all, the best way to a man's heart is through his stomach! Your boyfriend or brother who boast about their manliness but have a soft spot for sweets are the perfect people to give this basket to. 
The Personal Liquor Essentials Gift Set for Men
He prefers to consume his favorite liquors in his own masculine manner, and what true manly man wouldn't? The flask in this handsome set is rugged and awesome, fitting right in his pocket as he's out camping or chopping tree trunks so he can always enjoy a few sips. When he comes inside, he'll love using the bottle opener to conveniently pop open a bottle of liquor and pour it into this glass, relaxing after his hard, manly work. Add a bottle of his favorite liquor to this, and it'll be the best gift he's ever been given by a long shot.
Totally Awesome Whiskey Gift Basket for Men
What's manlier than whiskey and cigars? The answer is nothing, which makes this awesome ammo can set the best gift set for a manly man. He'll love nothing more than taking his classic whiskey glass out of this rad ammo can and filling it up with delicious whiskey. With the cigar flask, he can store cigars and whiskey in the same place, making him possibly the coolest guy to ever live. He'll love that the items in this set come together to bring ultimate relaxation.
Gift Basket for Men Who Fish
Manly men like to fish and hunt, so why not a gift basket to make his annual trips to the lake even better? This set has everything from a wild boar bacon bar to delicious beef jerky to snack on while waiting for something to bite. Dads and husbands will love this cool gift basket for men for their birthday, Christmas, or anniversary. You could even throw in a new fishing pole or a set of bait and tackle to make a whole fishing-themed present!
Most Stunning Whiskey Glassware Set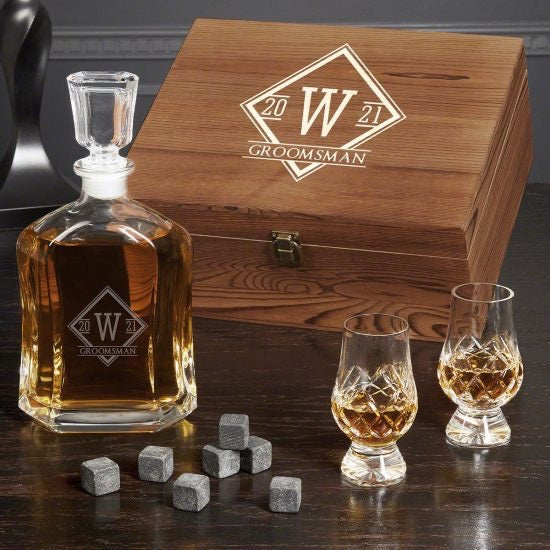 He loves impressing his guests with awesome glassware, so this is the perfect gift set for him. The crystal cut Glencairn glasses are not only amazing for whiskey tasting because of their distinct shape, but they're absolutely breathtaking. The decanter will keep his Jack Daniels or Jim Beam whiskey fresh inside, and it will look awesome displayed on his home bar. You can't go wrong with this phenomenal whiskey gift set for men!
Ammo Can Gift Set
This gift set is for military, law enforcement, and guys who like guns. Your manly man will love all of the cool things included in this set: two custom pint glasses for sharing a cold one with you or a buddy, a neat knife for everyday use or outdoor adventures, a .50 caliber bullet-turned-bottle opener, and an amazing custom ammunition box. He can store his favorite tools or plenty of ammo in the genuine military-grade ammo can for duty or just a fun day at the range. Afterward, he can relax with a fresh, cold beer. While a gift basket all about guns or food would be cool, this gift set for men has variety and practicality that you just can't beat.
Coffee Basket
Men often refer to coffee as their lifeblood, so give your coffee lover this ultimate gift basket! Included are three different kinds of ground coffee as well as an assortment of delicious treats to go with them. Now your man can enjoy a gourmet cup of Joe in the mornings before work and bring a yummy snack along for his second cup before lunch. After all, high quality coffee beats Starbucks any day.
Whiskey Box Set for Cowboys
Looking for a unique gift for the cowboy in your life? This cool set has everything he needs to enjoy his liquor. Engraved with a gnarly bull skull and crossed rifles, the gift box and rocks glass also bear his name and a year. Also included are a set of whiskey stones and a leather wrapped flask that can be engraved to match. He can bring his favorite spirit with him out on the ranch to round up the cattle or bale hay thanks to the cool flask. Cowboys are super manly, rugged men who enjoy harder liquors such as tequila, bourbon, and absinthe, which are all perfect for drinking in the cool glass. Plus, his drinks will never be watered down from ice again thanks to the chillable whiskey stones! Your cowboy can even use the wooden gift box to store his revolver, boot spurs, or chewing tobacco.
Game Night Gift Set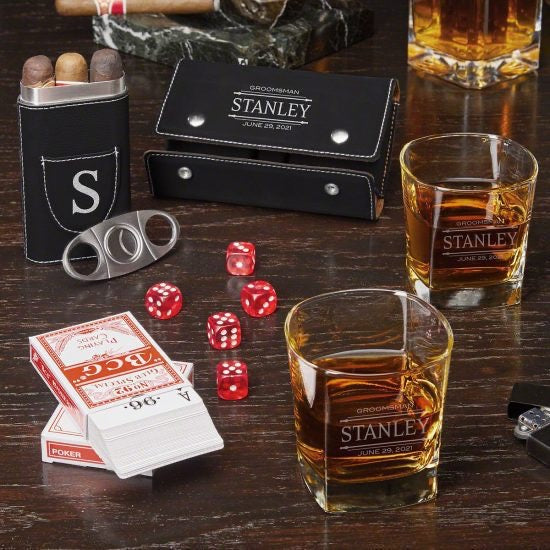 Your dad loves to play poker and card games whether it's with his friends or the rest of the family. He always has a glass of whiskey in one hand, a cigar in his mouth, and his cards in the other hand! Father's Day or his birthday is the perfect time to get him this perfectly cool and manly gift set. He'll love having his own custom whiskey glass and a proper cigar case for his must-haves for game night, as well as an easily portable game set to bring with him everywhere! Now he'll be prepared for a game whether he's visiting you or one of his friends out of town.
Microbrew Gift Basket
Speaking of beer, micro brewing is more popular than ever right now! This gift basket for men is ideal for those who enjoy craft beers. Included are six different brews as well as two kinds of popcorn, two kinds of nuts, and a box of beef jerky. This set would make an awesome birthday, holiday, or retirement gift. Now he can sit back, relax, and enjoy some of the best beers and snacks in the country with this gift basket for men.
Whiskey and Axe Gift Set for Men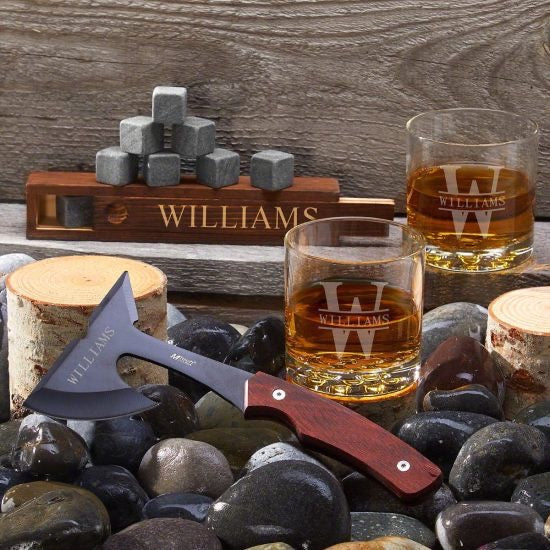 What gift set is manlier than a set of rocks glasses, whiskey stones, and an axe? Seriously, it doesn't get manlier than this. This incredibly awesome set has it all: personalization, quality drinkware, a high quality new tool, and cool new drinking accessories. Your man's name is engraved on each piece in this set so that everyone knows who these incredible items belong to. The two whiskey glasses are ideal for sharing a cold glass of whiskey with some whiskey stones with you or a friend. The stones will make sure that his drinks are chilled, but not watered down. The axe is a must-have item in every man's toolbelt, as he can use for chopping firewood in winter or clearing brush in the summer. This would be a gnarly Father's Day, birthday, anniversary, or holiday present for the manly dude in your life.
Presentation Set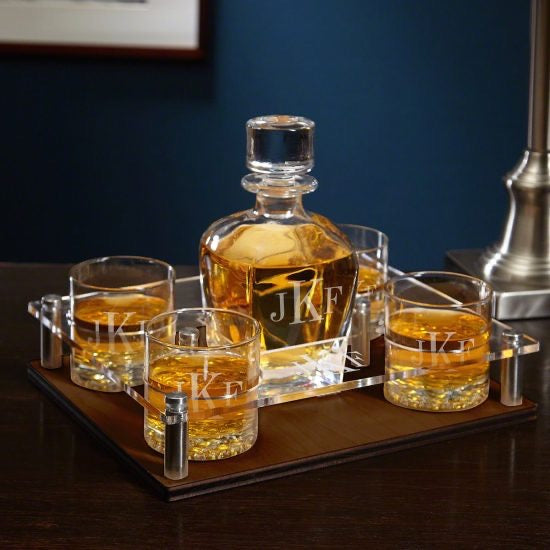 This set is a little bit different than the rest as it is both a handsome gift set and a gorgeous piece of decor! Your whiskey-loving man can display this in his home bar, home office, or dining room to add a touch of luxury. A set such as this one is quite different from a gift basket full of a guy's favorite things, yes, but as long as he enjoys whiskey (or even other liquors!) then he will appreciate such a fine gift. This would be perfect for Father's Day, a promotion, retirement, or birthday gift for the sophisticated guy in your life. Now he'll have a proper drinking set to entertain with!
A Manly Gift Basket with All of His Favorite Things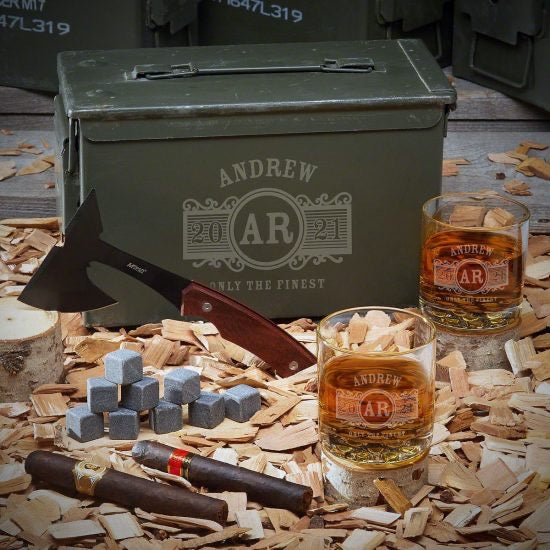 You love how manly your husband is. He loves doing yard work, going on outdoor adventures, drinking beer, smoking cigars, the works. He is the definition of a manly man. The thing is, you struggle to find a gift that's worthy enough for him. You can stop looking for his birthday gift this year, you've found the perfect gift! Packed with a few of his favorite things such as a custom ammo can for his hunting trips, a hatchet for camping, and a set of whiskey stones and whiskey glasses for those after-dinner drinks you love to share together. He'll love that this set is so perfect for him, and especially that you had it custom engraved to be a one-of-a-kind gift.
Ultimate Whiskey Tasting Gift Sets for Men
The manly guy you're shopping for is a bonafide whiskey connoisseur, and makes sure that everyone knows it. He could go on for hours about whiskey is a man's drink and why, the most expensive bottles of scotch he's tried, and the differences between bourbon and scotch. He's got an assortment of a few rocks glasses, but he's been wanting a whiskey tasting set for a while. After all, what's more manly than an official whiskey tasting set for him to show off his knowledge? A personalized one! His friends will be so jealous when they see this amazing whiskey set. Comprised of five glasses, whiskey stones, and a matching customized gift box to store his precious tasting set in, he'll be over the moon with excitement to try it out!