When it comes to your friends, you want to give them the most awesome gifts for their birthday, Christmas, housewarming, job promotion, and even just because! Your friends mean the world to you and they deserve something nice now and then, but what are good gifts for friends? They should be cool, meaningful items that are a reflection of who they are to you, and perhaps even something they've always wanted. Surprising your friends with a gift is always a good idea, so don't be afraid to get them a care package just because you see something you think they would like! A gift for friend can be small and simple, or something bigger and more luxurious. It really depends on the friend you're giving to and for what occasion, but don't worry, they'll love your gift no matter what it is because it came from you!
For the Friend Who Has Many Watches
Everyone has that one friend who has a different watch for every day of the week. Instead of a boring watch repair kit for his birthday, get him a custom watch case instead! He will finally have a place to keep all of his timepieces instead of having them scattered all over the house or his bedside table. The fact that you had the glass lid engraved just for him shows that you really care about him and his passion for watches, and he's sure to keep such a thoughtful gift forever. Plus, the case helps prevent dust and can even hold other items like the extra links or batteries!
The Perfect Gift for Friend Who Likes to Grill
Do you have a bro who loves to grill and barbecue? This custom set of bamboo grilling tools are the best gifts for the friends who grill! He will be psyched about the engraved case, and be amazed at how lightweight and professional each tool is! Thanks to you, he can bring his trusty new tools to your house, the lake, his family reunion, and more so that he's always prepared to grill up tasty food for everyone.
Brewery-Quality Mugs They'll Love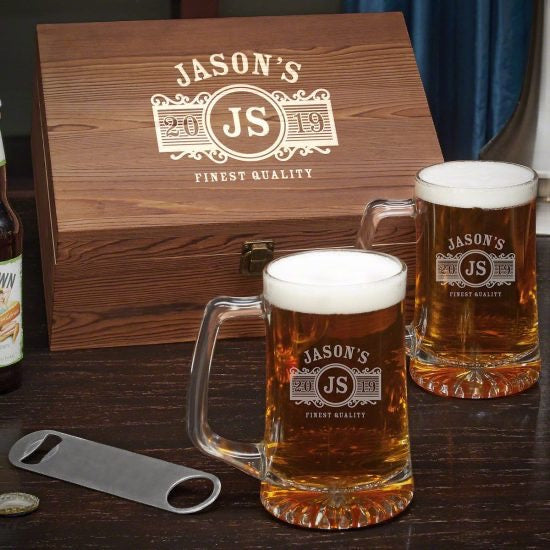 Kick back with a cold one and your best bud with these custom beer mugs! Your friend will love having their very own mugs to enjoy at home that are just like the ones in the usual pub you meet up at. Now, you two can chill at their place and watch the football game or play video games all while enjoying your favorite brews. This set of beer mugs is a great gift for friend on their birthday, for housewarming, or even for the holidays.
Make Their Bar Rules Official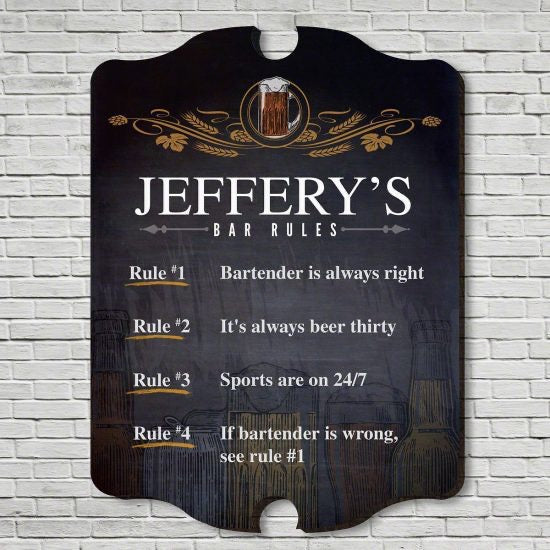 Everyone has that one friend who has many rules when it comes to hanging out at their place, and it's amazing that they haven't had a sign made that lists them all because they're impossible to remember! Surprise your buddy with this awesome personalized sign listing of their top four rules, or make up your own, and they'll proudly display it in their home for all to see. You can be really creative with each rule so that it's funny, serious, or just plain silly, and your friend will love how much effort you put into it!
Luxurious Crystal Decanter Set
Make sure your friend's home or office is better than everyone else's by going all out and getting them this stunning crystal decanter set! They will be in awe of the luxurious crystal and handsome engraving on this set, so much so that the entire three piece set will become the new centerpiece so that everyone can admire it! Your buddy will love being able to offer their clients and friends a drink with class like a suave celebrity, and they'll make sure the decanter is always filled with the best quality scotch they can find. They'll certainly want to pour you a drink as soon as you give it to them on their birthday, for their promotion, or housewarming!
Go on New Adventures With Your Friends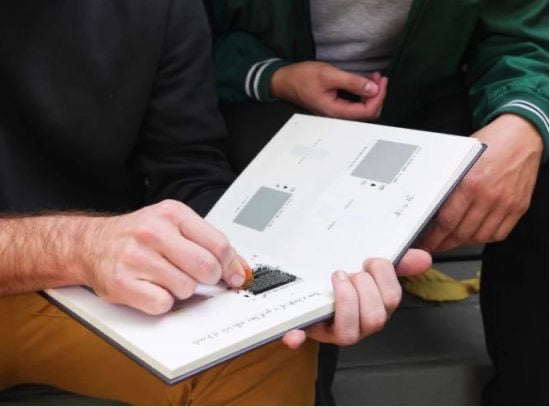 This unique book is a fun scratch and reveal style that gives you and your friends fun new adventures to enjoy together! Full of challenges like blindfolded jenga, marshmallow wars, scavenger hunts, and more, this incredible book is sure to bring you and your friends closer together and make new memories. This book is one of the most unique gifts for friends on their birthday, Christmas, or even for your friendversary!
The Most Awesome Beer Gifts You Can Give
Is one of your best friends a big beer fan? Forget that run-of-the-mill bottle opener you were looking at for their birthday, get them this complete set of beer tasting glasses! This set comes with the four most popular types of beer glasses that are specifically designed to deliver the most flavorful experience, which means your friend will become an aficionado in no time. They will be amazed at how different their favorite brews taste in each unique glass, and will surely pour you a glass as a thank you for such an incredible gift!
Fun Gift for Friend
Whether your buddy enjoys a regular poker night with the rest of the group or has always wanted to start one up, they would love to have their very own custom poker set! Perfect for a variety of games from Seven Card Stud with the guys to the basic Go Fish for family night, this set is great for playing at home or anywhere, even on the go! The portable leather carrying case is handsomely engraved with their name, which is the cherry on top of this awesome gift that's perfect for Christmas, housewarming, or retirement!
The Simplest and Best Gift for Your Friend
Are you looking for a unique gift for a friend who has everything? They're always impossible to buy gifts for and you usually end up going with a gift card to their favorite restaurant, but not this time! Surprise them with a simple but thoughtful gift they'll never expect: a personalized whiskey glass that comes with chilling stones! They will be amazed by such a creative and practical gift that they will enjoy using for a classic Jack on the Rocks or a tasty Whiskey Sour. In fact, they'll never use any other glass or even ice for their drinks from now on thanks to your amazing gift!
A Cool Beer Gift
Everyone has that friend who likes to bring their own beer when they come over, but it ruins everyone's day when one of the bottles gets broken! Make sure your friend always has a proper place for his beer with this sturdy wooden beer caddy! The convenient handle allows him to easily bring an entire six-pack everywhere with ease and not have to worry about his precious brew being spilled, and it even has a built-in bottle opener! He will love bringing this beer caddy everywhere he goes from the lake to your house.
Surprise Them with Pictures
Thanks to the modern age of technology, you can virtually upload pictures to your friend's Wi-Fi connected picture frame and surprise them with new photos no matter where they are in the world! Perfect for long distance friendships, this thoughtful high-tech picture frame is one of the coolest gifts you can give. Great for a going away present or to send to them for the holidays, this amazing gift is something they'll treasure forever! They can enjoy getting pictures from you and all of their other friends and family thanks to this amazing gift.
Modern Gifts for Friends
Everyone has at least one friend that's a wino, and they're usually pretty easy to buy gifts for as long as it includes a bottle of wine. Go the extra mile this year and get them this amazing modern wine tumbler gift set! The insulated tumblers make sure that their favorite wine will never get warm, and they can take the tumblers anywhere they want because they're virtually indestructible and super lightweight. Now they can have wine at the lake, on vacation at the beach, by the pool, or even at your house with these unique wine tumblers.
The Ultimate Gifts for Friends Who Drink Whiskey
There's nothing like hanging out with your friend at your favorite bar, catching up and having a good time with your favorite drinks. You've noticed that your buddy is really into whiskey, but the last time you were at their house they didn't really have any rocks glasses. Why not surprise them with this complete set of whiskey tasting glasses? Your friend will be absolutely speechless when you give them this set for their birthday or Christmas and will want to try out every single unique glass right away! Before you know it, they'll be hosting whiskey tasting parties and thanking you with a really nice bottle of scotch for making them a connoisseur with your incredible gift!
The Gift That Keeps Giving
It's one thing to give a friend a cool gift, but it's another thing entirely when you give them a gift that keeps on giving! A shadow box is one of the most versatile gifts you can give because your friend can use it to start a collection of just about any items they want, display artwork, show off a preserved flower bouquet, or even to keep small priceless antiques secure. They will love using the shadow box for years to come!
The Manliest Gift for A Friend
It's never easy trying to find a manly gift for the tough dude in your life, especially when it comes to his birthday or the holidays. This whiskey gift set is all about doing work outside or going on adventures in the great outdoors, then coming home for a cool glass of American bourbon! He will love each and every piece of this gnarly gift set, and it will certainly become his new favorite way to relax after spending hours at the gym or being outside in the heat working on a new home improvement project.
The One Where You Binge Watch Friends Together, Again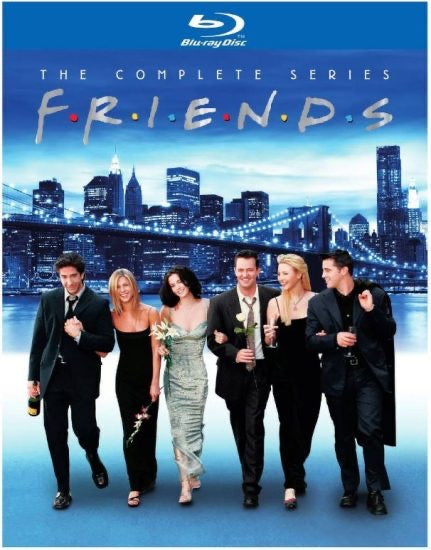 You should've expected a Friends joke in here at least once, and after all, who doesn't love the classic TV show? You and your fellow Friends fan can re-watch the entire series in glorious HD with this Blu-ray set! The perfect gift for a friend who is stuck at home, they will love having you over keeping them company and enjoying a cheerful show with them. Of course, any friend of yours who loves the show would adore such a thoughtful gift for the birthday or the holidays as well!
The Coolest Gifts for Guy Friends
Surprise your bro with the coolest gift set ever for his birthday, Christmas, or housewarming! This badass beer gift set is sure to be the coolest gift he's ever been given from the engraved ammo box to the bottle opener made from a .50 caliber bullet! He will immediately want to crack open a cold one for the two of you to enjoy after you give him the gift set so that he can try out the awesome bottle opener and glasses, and he'll never leave the house without his trusty new pocket knife!
Make Their Red Wine Better Than Ever
Are you looking for anniversary gifts for friends? You can't go wrong with this stunning, romantic wine decanter set! Your friends will be so touched that you got them a gift to help them celebrate their anniversary, and they will be absolutely amazed at how much better their favorite red wine tastes thanks to the decanter! Once they try it out, they'll indulge in a glass of wine for every date night, celebratory occasion, or even just after work!
Unique Interactive Decoration
How awesome is this beer bottle cap sign? Your friend can hang this patriotic sign in their man cave, home bar, kitchen, dining room, and add a bottle cap to it every time they enjoy a cold one! Whether they're really into trying new brews or stick with their favorite, they will love filling up the sign over time to create a truly unique work of art. These signs come in individual states as well if you want to send one to a long distance friend of their home state so they have a fun reminder of where they come from!
Stunning Decanter Set
What do you give a friend to congratulate them on a new job, promotion, housewarming, or even retirement? A custom decanter set! Everyone dreams of having a fancy decanter set in their home or office so that they can casually offer a top-shelf drink to a guest in the classiest way like the rich CEOS do in the movies, after all. This gorgeous decanter set is one of the most impressive gifts for friends, and any of them would appreciate such a beautiful and personalized gift!
Bring Back Their Favorite Console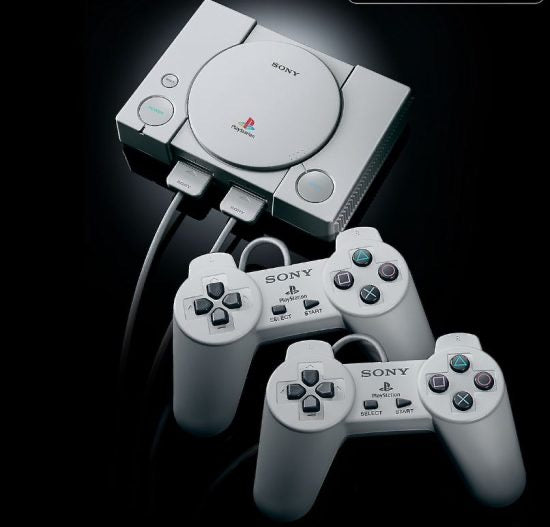 Remember the good old days of going to your friend's house after school and you two would play Metal Gear Solid or Final Fantasy? Bring back those childhood memories by surprising your friend with a blast from the past: the Playstation Classic! The modern version of the original console, this nostalgic gift will make your buddy feel like a kid all over again. You two can relive your favorite games, too, as it comes with 20 built-in games like Grand Theft Auto, Final Fantasy VI, Tekken 3, and more! This awesome gift is the perfect birthday or holiday gift for any gamer friend of yours!
Unique Care Package of Gifts for Friends
Do you like sending care packages to your long distance friends? Whether it's small gifts that you picked up that reminded you of them or a box of baked goods, no care package compares to this one! The entire monogrammed box set is full of awesome gifts and there's even room inside to add more of your own like their favorite candy, snacks, or some cocktail mixers. They will be in awe of such thoughtful gifts when they get it that the next care package they send to you in return will be just as awesome.
Their Own Personalized Sign for the Home
The best housewarming or wedding gifts for friends is a custom sign for their home! This beautiful stained wood sign will make any house feel like their home with your friend's and their significant other's names and a special date engraved on it. They certainly won't have a sign like this already as it is truly one of a kind, and it's something they'll treasure for the rest of their lives together.
You Can't Go Wrong with a Bottle of Wine
You're still stuck on what to get as a gift for your friend? You can't go wrong with a nice bottle of wine, especially if you give it in this beautifully personalized wine gift box! It even comes with all of the essential tools to enjoy the wine, making it the best gift for a housewarming, wedding, anniversary, or even just a simple house party. They will love that you got them such a unique and practical gift, even if they're the kind of friend who has everything!
Cool and Classy Gifts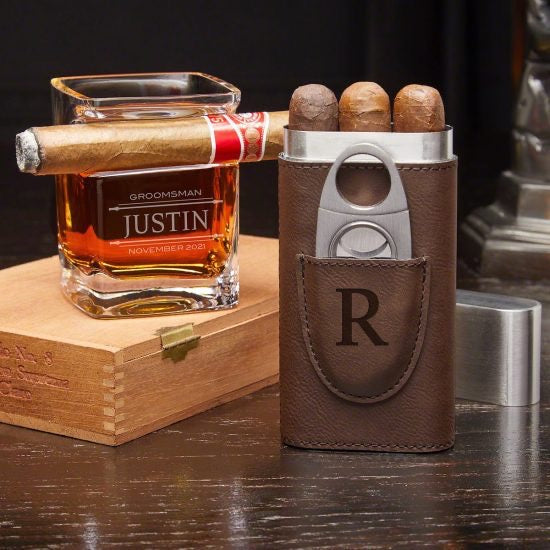 Some occasions call for a drink and a cigar, like celebrating a promotion, a new job, New Year's Eve, or even retirement. For the friend you know who has something to celebrate, get them this awesome whiskey and cigar gift set! Ideal for relaxing or celebrating in style, they will love the unique rocks glass that holds their cigar for them and the handsome cigar case that keeps their stogies safe. Make sure you fill up the cigar case with a couple of their favorite stogies so that they can enjoy the set right away!
Sweet Gift Basket Any Friend Will Adore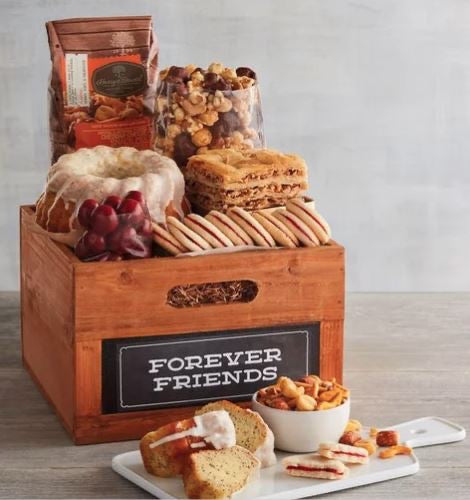 It doesn't matter what the occasion is or even if you just want to get something nice because you feel like it, any friend will be over the moon for a gift basket of tasty goodies! This friend-themed basket is full of sweet, savory, and scrumptious foods that they can enjoy with you or their significant other. Perfect for a friendversary, housewarming, or the holidays, your friend will enjoy every amazing gourmet treat inside.
Romantic Anniversary Gifts for Friends
Is your friend's anniversary coming up? Help them celebrate this special day with their significant other with a romantic gift they can enjoy together! They will adore the monogrammed wine glasses and the cute little wine barrel that holds the essential wine tools. This set is perfect for enjoying on their anniversary, every date night, or even when you come over to hang out with your friends! Such a thoughtful gift for a friend and their spouse will be greatly appreciated no matter how many years they've been together. It also makes a great wedding or engagement gift!
Cutting Boards Are Always Great Gifts
Looking for a gift that works for any and every occasion that your friends would all love? This beautiful hardwood cutting board you can personalize with their name and initial is it! Not only does it make a great place to do all kinds of food prep, but even when they're not using it the cutting board is a lovely decoration for the kitchen. Designed to last for many years, this simple but thoughtful gift is sure to be treasured by every friend you give it to!
A Gift They Can Share
When in doubt, a custom flask is a fun gift for friend that works great for a variety of occasions: Christmas, their birthday, going away or long distance, and even for friends who are in your wedding party. They will love the handsome matte black flask that's engraved with their name, but the fact that this gift set comes with handy little shot glasses makes it perfect for parties and hanging out with friends so that they can enjoy shots with all of their buddies! Sure to be part of many future gatherings with all of your friends, this flask gift set is one you can't go wrong with. Everyone needs a flask, after all!