Coming up with amazing gift ideas for guys can be way more difficult than it sounds. You need to buy that special guy in your life something insanely awesome, not something that will make him smile for a second and then toss to the side, forgotten and unused. The best gifts for guys are things that are related to their interests or make their lives easier in some way. They are gifts that your special man will look back on and remember how much is meant to them. That can be easier said than done sometimes, though, to think of items that fall into those important categories. When there's pressure to give someone a gift that will blow their mind, you want to give them the best gift they've ever been given. Whether it be your husband, boyfriend, father, or son, the man in your life deserves an insanely awesome gift, so here are some incredibly amazing gift ideas that even the most difficult guys to buy for will love and remember.
Classy Man Gift Set
One of the best gift ideas for guys is something that has several parts to it. Maybe he plays poker with his buddies once a week, but he doesn't have a set of his own. That's why the monogrammed poker chip case gift set with a cigar glass is such a rad gift. For the father or grandfather who likes poker, whiskey, and cigars, this set will be irresistible. The case and cigar glass can be engraved with his initials, making the whole thing that much more unique and special. If you know a man that likes to look classy in front of his friends, he needs this gift set in his life.
The Best Gifts for Guys Come in Boxes
This is so cool! For the man in your life that's a big whiskey fan, this gift is a must-buy for him. This smoke box system has likely only been seen by your husband and his friends in their dreams, and now they can see it in your house. It's easy to use, too – simply place a glass of whiskey or a mixed drink inside the luxurious stainless steel box, then use the smoking gun and wood chips to infuse your drink with a smoky flavor that is so rich, it will make the man in your life cry tears of happiness.
Multi-functional Flask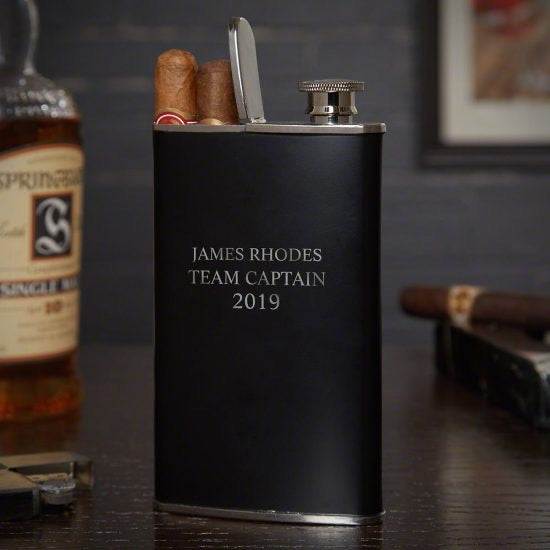 Maybe you can't have your cake and eat it too, but your man can have his flask and cigars together with this special gift for guys! The 2-in-1 cigar holder and flask pairs a classic combo of liquor and cigars together in one easy stainless steel flask that is a stunning sleek black color. This multi-functional gift can be engraved to make this gift very personal for the special man in your life. His friends will all be envious when they see him carrying it around – who wouldn't be?
Grilling on the Green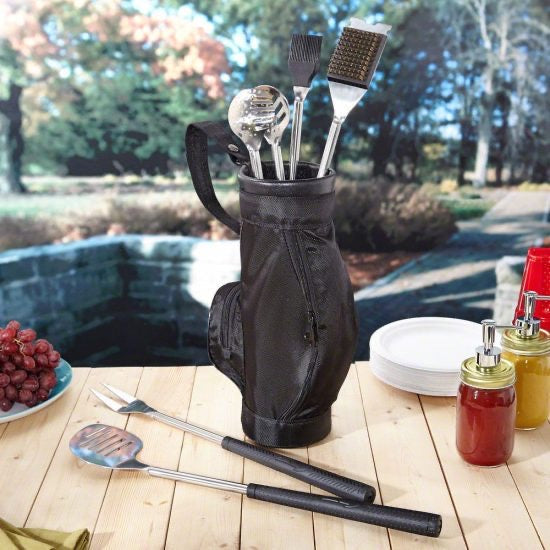 Golfing and grilling: if those two words make you think of your father, or boyfriend, or any man, then these insanely awesome golfer grilling tools are perfect for him. The set, which is stored in a mini golf bag, contains a golf club shaped spatula, golf ball shaped and dimpled round tongs, a turning fork, silicone basting brush and a combination scraper and grill brush. All tools have a black rubber hand grip that looks identical to real golf clubs. You can't go wrong with this awesome gift idea!
What's On the Outside Also Counts
The best gifts for guys make the guy in your life feel like the greatest, most awesome guy in the world. A gift guaranteed to make his coolness skyrocket is a personalized 30 caliber ammo can gift set. The set contains a beautiful pint glass for his beer drinking pleasure, a bottle opener he can have his name engraved on, and a high-quality knife. Not to mention the ridiculously sweet ammo box it all comes in, which can be personalized with three lines of text. Everything about this ammo can set makes it one of the coolest, manliest gifts you can get a guy.
For the Music Fan
Married to a music addict? Does your uncle listen to music all day at work? Is your brother constantly head bopping around the house to his favorite tunes? A great gift idea for guys who love music are awesome headphones. Not only is the sound of the highest quality, but these headphones are lightweight with comfortable ear pads, so the man in your life doesn't have to worry about them hurting his ears. Best of all, they have an extremely sleek, rad look – so the man in your life can enjoy his music in style.
Help Him Show Off to Guests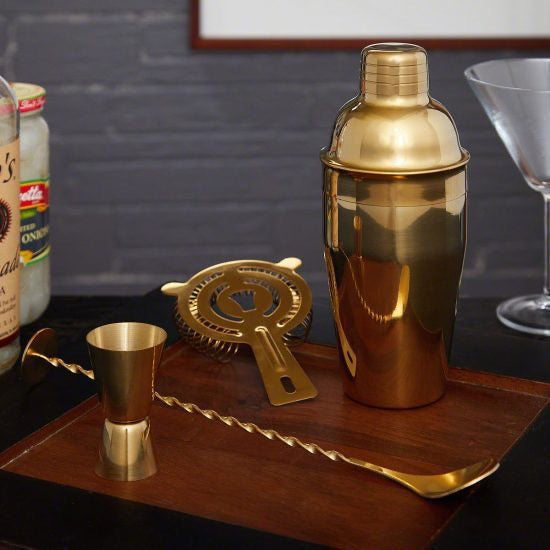 Chances are, if your man has a bar in his home, he loves showing off his bartending skills to his guests. But a man is only as good as his tools, so he needs the coolest tools around to really make a lasting impression. With this gold bar tool set, he'll receive a cocktail shaker, strainer, jigger, and a bar spoon that doubles as a muddler, all crafted from gold-tone finished stainless steel. This stunning set will be all his guests can talk about for weeks to come.
Ultimate Beer Gift Idea for Guys
Most men really like beer; other men LOVE beer. This is a gift idea for guys when all they ever even think of drinking is beer. This beer gift set for men contains an IPA glass, a classic craft beer snifter, a unique pub glass, and a tall pilsner – all of which are personalized – and a bottle opener. These five items are all encased in a beautifully crafted wooden box that can be personalized to match the glasses. Any guy would go crazy for this awesome set and feel like the coolest person in the world.
His Personal Space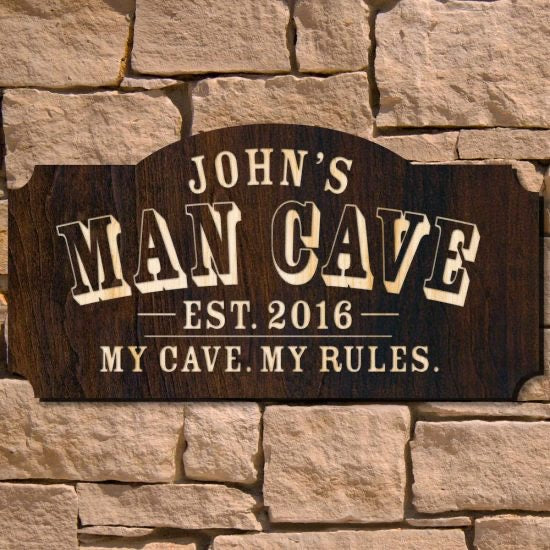 A man needs his own space, and he wants others to know that it's his space. A man cave custom wooden sign would add a fantastic touch to any man's personal man cave in his home, making his space feel even more his own. Guests would ooh and ahh over its custom wooden design with your husband's name plastered at the top of it. His friends would be jealous of not only his trendy sign, but his snazzy wife that got it for him.
The Best Gift for Guys who Love Wine
Few things in life are better than a nice glass of wine in the evenings. If that's how your dad likes to relax, he needs some high quality engraved stemless wine glasses in his life. With this set of four, he can pour a glass for his family and friends as well, who will all be very impressed by the classiness of the wine glasses engraved with his last name and initial.
For the Traveler
If the guy in your life travels a lot, make sure he's traveling in style. This travel kit is not only extremely modern but extremely functional and will make transporting his toiletries way more convenient. The bag is water resistant and contains five TSA-approved toiletry bottles to avoid any confusion when at the airport. It is lined with antimicrobial silver ion lining, so all of his products will stay clean and dry, making for a no-hassle trip. What's cooler than that?
Keep His Whiskey Cold
What's cooler than cool? Bullet whiskey stones! The greatest gift idea for guys is a bullet whiskey stones set. The set comes in a beautiful wooden box that guys can store anything they want in. The bullet whiskey stones are amazing for keeping any guy's whiskey cold in his brand new whiskey glass that also comes with the set. When your man's friends catch a glimpse of this eye-catching set, they'll want one of their own.
Awesome and Functional Decor
The most insanely awesome decor you could give as a gift to your legendary boyfriend is a custom shadow box. Your husband or father would love a way to show off their favorite beers to their friends and family, so why not do it with this aesthetically pleasing shadow box? It's engraved in big bold letters with a name, followed by the phrase "The Man. The Myth. The Legend." It's sleek, and it's functional, and it's impressive – it's the perfect gift for guys who love cultivating a collection of bottle caps or anything else he may want to collect.
Organization is Important
Is your boyfriend constantly misplacing his possessions? It may be because he doesn't have a good place to put them. For his cigars, get him the most amazing gifts he could ever want: a cigar box and a cigar case. These gifts are the perfect places to store his cigars that are also visually appealing. Thanks to you, he will never have to worry about misplacing his cigars ever again!
'Merica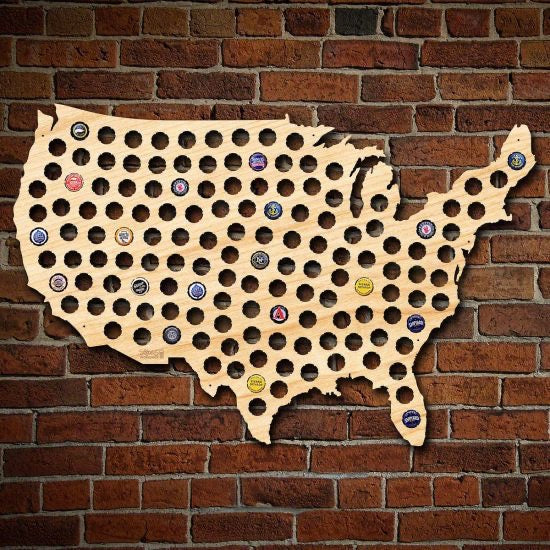 There are only two questions to ask when deciding whether or not to buy this gift for the man in your life: Does he love beer? Does he love America? If you answered yes twice, then this is the best gift for your guy! The giant XL USA beer cap map is the perfect way for your husband, father, or any other man to show off his favorite beers to your guests. The huge map is crafted from natural Birch plywood with secure beer cap slots, making it very easy to place your man's favorite caps onto the map.
158+ BEER CAP HOLDERS THAT WILL IMPRESS YOUR GUESTS>
Go Back in Time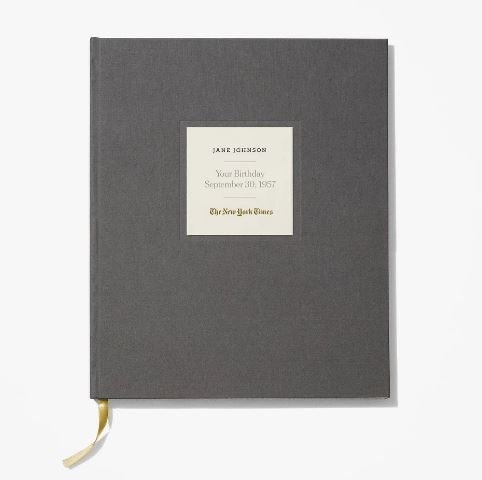 When it comes time for the birthday of a man in your life, it can be tough to think of the perfect gift idea for your guy. So why not get him a gift that encompasses every birthday he's ever had? The ultimate birthday book from the New York Times contains pages from the day he was born and every birthday after that, along with an array of famous Times front pages. Whether he reads the newspaper religiously or not, this gift would be incredibly awesome for any guy.
One Beer is Never Enough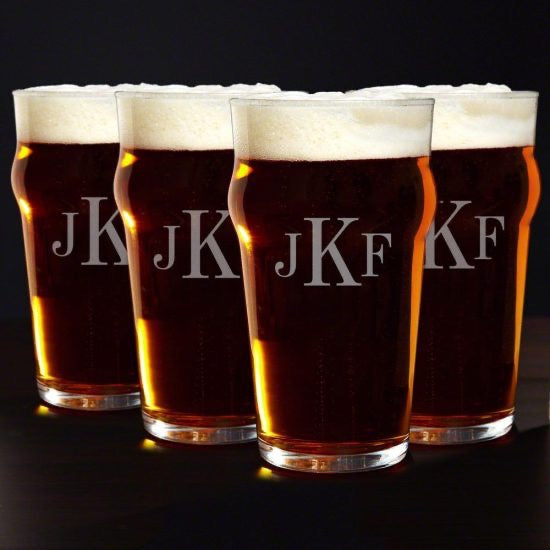 Help your man to be transported, across the pond, to the place where pubs originated back during the arrival of the Roman Empire in the British Isles with these English pub beer glasses. He can enjoy a hearty brew after high tea with these classic glasses, and he'll feel like an Englishman of old. This set of four is the perfect way for him to throw back a few with his chaps, and he'll be extremely grateful you bought him such a brilliant gift.
A Hole in One Gift
Is your co-worker constantly pretending he's on a golf course while he's in the office? One of the best gifts for those guys who just can't get enough golf in their lives is this golf putting set. This set is easily transportable and contains a travel putter, wooden practice hole, and two golf balls all in a beautiful wood travel case. A name plate can be added to the case, too – any golf fan would be ecstatic to receive such a gift.
Help Him Smell Amazing
Men love receiving compliments, and one of the best you can hear is "you smell good!" Help the man in your life smell great with a Davidoff 4-piece Coolwater Blockbuster cologne set. Not only does the set come with a standard bottle of the cologne, but it also includes aftershave balm, shower gel, deodorant stick and a mini travel size cologne. Why should your man settle for looking sharp and being amazing when he could add smelling exceptional to that list?
He's Fancy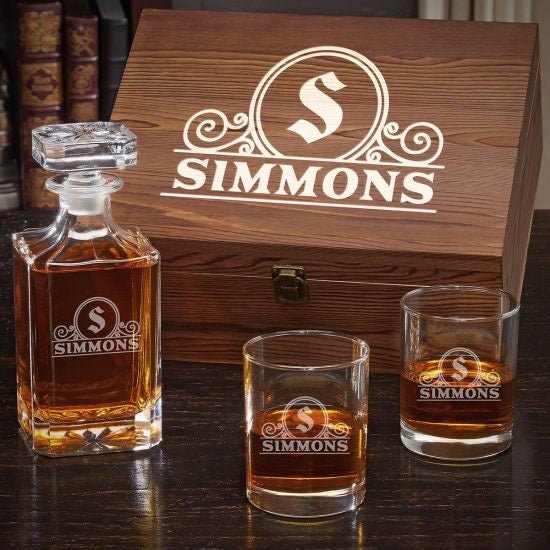 Is there anything fancier than pouring whiskey out of a crystal decanter? It's the best gift for guys who love feeling classy and love drinking whiskey: a whiskey decanter set. The thick, premium glass of this decanter will keep whiskey delicious inside. The wooden box is great for storing mementos or anything else he may desire. The highlight of your man's day every day will be pouring himself a glass of whiskey in his brand new whiskey glasses from his beautiful decanter set that you were kind enough to purchase for him.
Bond. James Bond.
Is your husband constantly pretending he's James Bond? This is one of the best gifts for guys who can't get enough of the secret agent world. Your man can carry a secret stash in his very own secret agent briefcase – the stash being beer, of course! The durable aluminum and steel case has heavy duty foam inside with slots for six standard sized beer bottles. On the outside is a combination lock that he can set with his own secret combination to ensure the safety and confidentiality of his precious stash of beer.