Secret Santa is always a go-to game for holiday parties. It's a lot of fun to have a friend, family member, or coworker randomly selected that you need to buy for, but it can cause some stress if you have no idea what to get him. The basic traits of the perfect Secret Santa gift ideas for guys are creative, uncomplicated gifts that are easy to enjoy no matter what hobbies he's into. You might be asking yourself, "What kind of gifts will be good for him?" This question is even harder if you don't know him that well. That is where we come in! To make sure you give a gift as good as the jolly, bearded-man himself, we searched Santa's sleigh to find the greatest Secret Santa gifts for men that will ensure any guy will be completely thrilled with his gift.
Make His Face Light Up
Imagine the look on his face when he opens up his mystery gift and sees this whiskey gift set! He'll be overjoyed with the classy personalization that shows you went above and beyond the call of Secret Santa duty. No matter what kind of beverage he likes to drink, this glass and stone combo is perfect for keeping it cold for hours. Everyone in the circle of coworkers, friends, or family will be stunned with how handsome and amazing this gift set is, and the recipient will feel incredibly lucky!
Putting Around the Christmas Tree
All men love competition of all kinds. That's what makes this golf putting set one of the greatest Secret Santa gifts for men! Whether he's been golfing once or a thousand times, he'll absolutely love taking this putting set out when he's at the office or at home, challenging his coworkers or family members to a putt-off! He'll love improving his golf game with a gift as fun as this, and he'll be very thankful you drew his name for Secret Santa.
Best of Santa's Secret Stuff
When you're really unsure of what somebody would like, you simply can't go wrong with the coolest drinking vessel anybody has ever seen! This traditional German beer stein is an incredibly cool gift because it's so stately and unique. Whether it's beer or any other drink, this stein is sure to make drinking it a fun experience.
Most Sophisticated Santa Set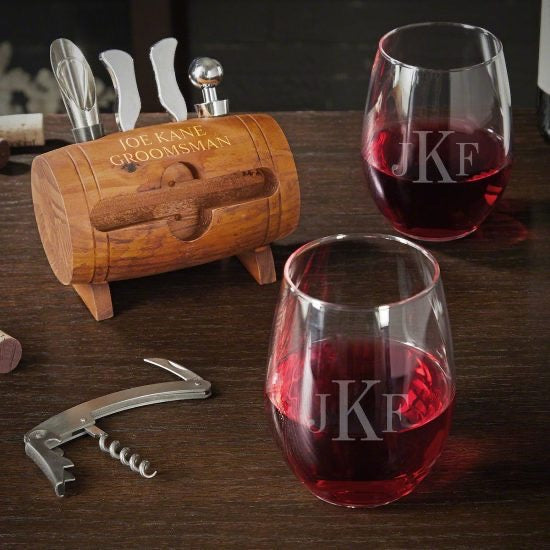 Some of the best Secret Santa gift ideas for guys are classy, sophisticated gift sets like this monogrammed wine tools set! Any man will feel completely awesome seeing his initials on these wine glasses as he sips his favorite red or white. Plus, he'll definitely appreciate the convenience of having all the tools he'll ever need at his disposal in this handsome personalized wine barrel.
Secret Santa Gifts for Men Who Love Games
Super novelty gifts make awesome Secret Santa gifts. That's why this miniature arcade game is a creative, unique present that he'll no doubt absolutely love! He'll appreciate that this game is small enough that he can use it on road trips, at the office, or really anywhere he wants, and he'll have such a fun time playing games on it.
Raise a Stone-Filled Glass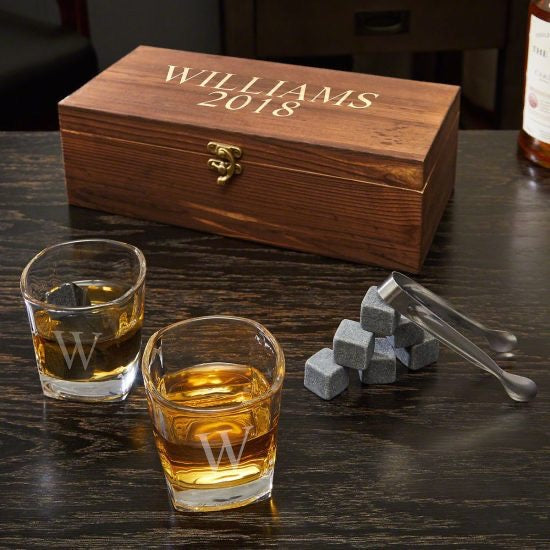 He may like this Secret Santa gift more than any other gift he finds under the tree! This whiskey glass and stone set is a simple yet incredible gift he won't be able to stop talking about and showing off to everyone at the party! He'll feel so special that you had the glasses and box personalized just for him, and he'll love using them to celebrate Christmas with a drink.
More than Just a Flask
You can't go wrong with a good old fashioned flask, but don't just pick any random flask. Go with this awesome engraved flask set with shot glasses! He'll greatly appreciate the personalization on the flask and the super classy red box, and he'll definitely love having these cool shot glasses for when it's time to party!
Set for Adventurers
Men are adventurers at heart, so you know you want to get a gift that will help them on their next adventure. This set of old-fashioned instruments is one of the most unique Secret Santa gifts for men that he'll be crazy about. Whether he needs the compass to navigate his way through the wilderness, the telescope to see something in the sky, or the magnifying glass to be able to see something extremely well, he'll have a blast using these useful and awesome tools no matter where he's going or what he's doing.
Coolest Whiskey Stones Ever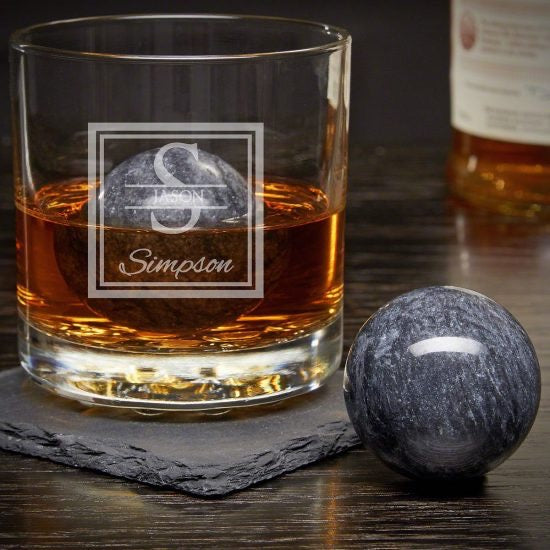 Some games of Secret Santa have low price limits, so go with a gift that's inexpensive but insanely awesome! These spherical whiskey stones and glass will definitely be the coolest gift opened at the holiday party. He won't be able to wait to use these unique whiskey stones to chill his favorite drinks, and he'll be completely stunned by the personalization. Talk about a hit!
133+ COMPLETELY AWESOME WHISKEY STONE SETS>
Useful and Classy Gift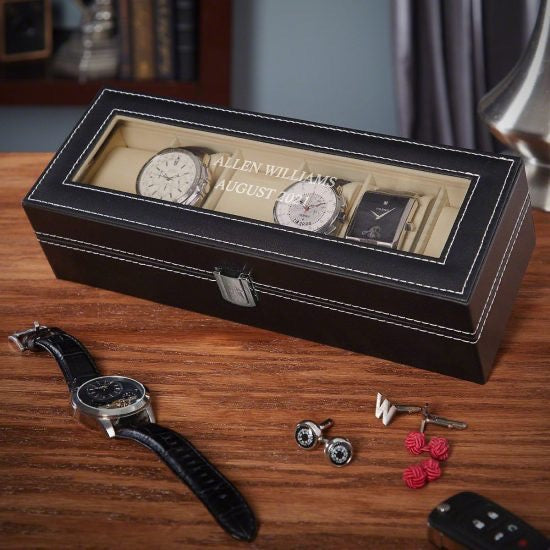 Some men are all about useful gifts, so it's a safe bet to go with something you know they'll use. This leather watch case is one of the greatest Secret Santa gift ideas for guys because it can sit on his dresser or bedside table, keeping his watches, tie clips, cufflinks, rings, or any other jewelry and accessories safe. He'll love having this useful item and be really grateful you got it for him!
Secret Santa Gift Ideas for Guys for Their Beverages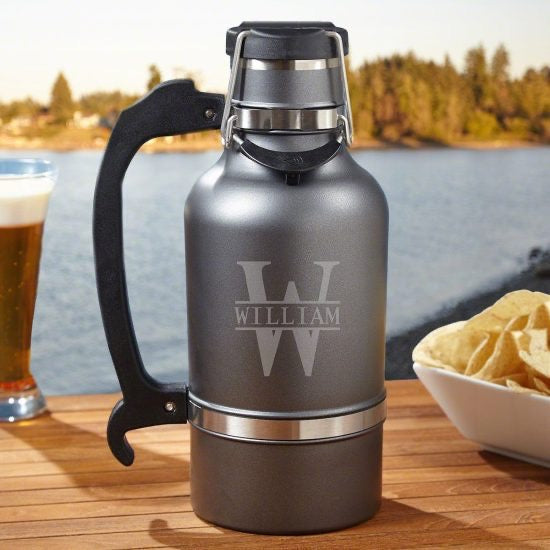 When all else fails and you aren't sure what they would like or use, go with this gunmetal growler! Whether it is water, beer, juice, tea, coffee, cocktails, milk, or any other beverage they could ever want to consume, it'll stay the perfect temperature inside this cool personalized growler, and they'll be glad they have it!
Most Convenient Secret Santa Gift
This gift will win the award for "Most Useful Secret Santa Gift Ever." This unique docking station lets him charge all his high-tech accessories in the easiest way ever! All the different chords and charging blocks can get all tangled and confusing, so he'll really appreciate this gift that makes charging and organizing all his tech items so convenient.
Manly Man Gift Set
The ultimate manly gift set is always a great gift for a guy, no matter if occasion is informal, like Secret . He'll be thrilled when he opens up his Secret Santa gift and sees this cigar gift set! Bringing cigars with him to a cigar lounge or buddy's house will be so much easier with this handsome cigar case, and he'll feel like a true gentleman using the cigar glass to enjoy whiskey and a stogie with ease.
Keep His Drinks Cold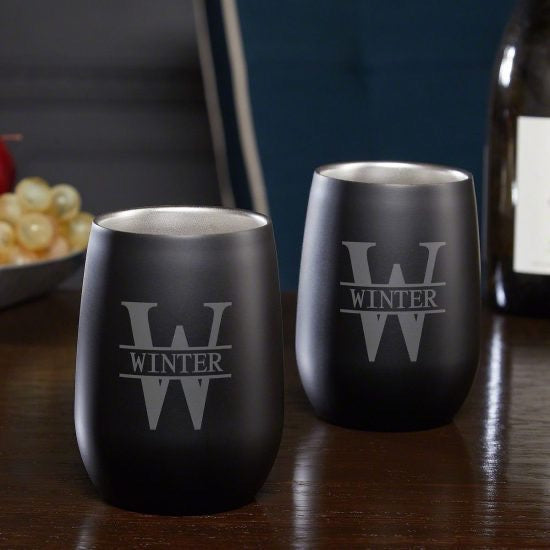 Sometimes, it's the little conveniences in life that make something way better, like not having a watered-down drink. That's why one of the most creative and unique Secret Santa gift ideas for guys is this set of stainless steel tumblers! With these cool, personalized glasses, all of his drinks will stay ice-cold until the very last drop. He will quickly become so appreciative of the super cold drinks these glasses let him enjoy, and he'll never want to use another glass again!
Ultimate Relaxation Gift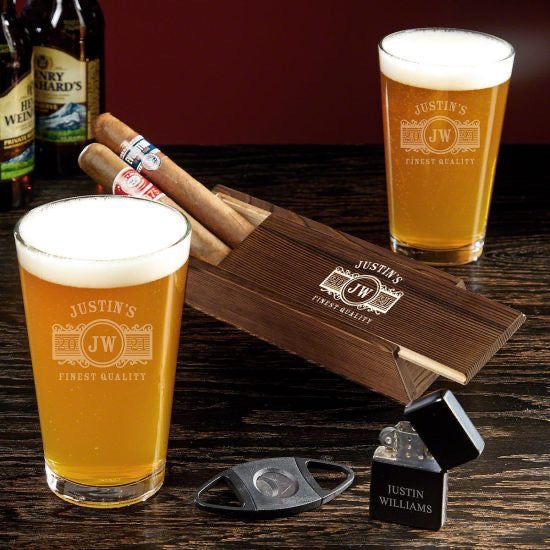 The best Secret Santa gifts for men give him an excuse to relax and chill! This pint glass and cigar box set is an incredible gift because he'll absolutely love drinking beer from the personalized pint glasses while enjoying a stogie he took from his custom box. Not only is this gift perfect to use when he wants to relax, but celebrating Christmas will be better than ever using this gift set!
Random but Awesome Secret Santa Gifts for Men
If there's ever a great time to get someone a gift that's out of left field, it's for Secret Santa! This miniature waffle maker is super random, but it's also so cool that any man will truly be excited to receive and use it! He'll have so much fun making different kinds of waffles with this creative gift, and he'll be really grateful for it!
A Traveler's Dream Present
Many men love to travel, so they certainly appreciate gifts that make those travels better! This personalized travel set is the perfect gift for Secret Santa because any man will use it, no matter where they're going or what they're doing. When they want a sip of coffee on a brisk morning or of their favorite liquor after a victorious hike, this travel gift set has them covered! They will use this awesome gift for the rest of their lives and always remember that you were the best Secret Santa ever!