Every time a holiday or special occasion comes around, you're always stumped on what gifts to get for the men in your life! You want to get them something awesome, but they're just so hard to shop for. Thanks to this ultimate gift guide for him, you have plenty of fantastic gift ideas for all of the special guys in your life! This gift guide for men has the coolest, most practical, and thoughtful gifts for every guy and every occasion you're looking for. Worried about what to get your dad for Father's Day? Stumped on what to give your husband for your wedding anniversary? Are you totally lost on what to give your brother for his birthday? We took out all of the guesswork and made your shopping easier than ever with these awesome gifts for men!
You Can't Have a Gift Guide for Him Without a Beer Gift Set
With custom pint glasses, cigar accessories, and a tactical knife, this beer set is both incredibly manly and practical. The beer-loving guy you give this to will thoroughly enjoy using his badass new ammo box to store tools or ammunition and bringing it with him on hunting trips so that he can show it off. He'll never go outside without his trusty new survival knife, which will make sure he's prepared for anything. After a long day in the sun, he'll love coming home to a refreshing cold beer in his custom glasses and a fresh stogie. Such a badass set belongs in every gift guide for him not only because it's awesome, but also because any guy you know would love to get it!
Must-Have Whiskey Set
You've probably seen this classy whiskey gift set in a gift guide for men before, but only because it's a bestseller and a fantastic gift! This set comes with everything a man needs for the perfect glass of whiskey, and even another glass so that he can share a drink with his significant other or a friend. The best part, however, is the customizable wooden gift box. You can have it engraved with just about anything to fit the occasion, and he will proudly display it in his home for all to see whether he uses the box to store the set or for storing keepsakes.
The Perfect Gift for Men Who Love Movies
When his birthday or the holidays come around, you normally give the movie buff in your life a copy of one of the latest movies as his gift. He'll watch just about anything, but getting movies as gifts every year for every occasion gets old. Change it up a little and get him something you know he'll love: his own custom movie theater sign! The retro marquee style will remind him of going to the movies as a kid when he thought the visual effects in Jurassic Park were futuristic. This custom sign is a truly impressive and memorable gift that he will enjoy having in his own home theater!
A Gift Guide for Men Should Have a Little Bit of Everything
This isn't your typical gift guide for him. It has a ton of variety and unique gifts for every man, even the one who has everything! For example, this unique gift set containing all of his favorite things is perfect for any man in your life. Every guy could use a new bottle opener to replace an old one that often goes missing, as well as a lighter for stogies and flaming cocktails. Anytime he feels like a Jack and Coke, he'll want to enjoy it from his cool new monogrammed rocks glass. On the go, his trusty new flask will be there for him. Plus, this set comes with a cool personalized box so that he can store a collection or his watches in style.
479+ GIFT BOXES AND GIFT SETS FOR MEN>
Custom Grilling Tools
Fact: men love grilling. You know a man who loves to spend all spring and summer behind the grill, but you've noticed that his trusty tools are looking a little worn. Surprise him with this brand new custom set of grilling tools! The lightweight wooden tools are professional, comfortable to hold, and even heat-resistant. He'll especially enjoy the personalized carrying case the tools in, which makes it easy for him to bring his trusty tools to the park, campground, or even the family reunion so that he can bring his master grilling skills anywhere. There's a reason you see grilling tools in most gift guides but none are quite as awesome as this set!
Every Gift Guide for Him Has a Watch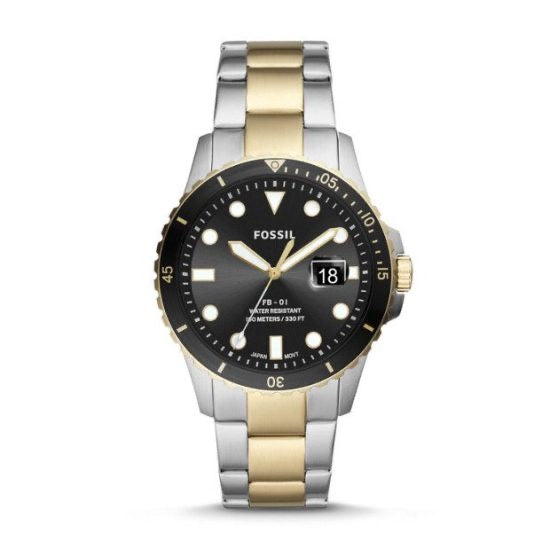 While every gift guide for men has a watch or two, most of them are pretty boring and not very manly. Fossil has plenty of unique colors and styles for men, like this gold and silver watch that goes with everything! The attractive black face makes it easy to read and adds a unique touch that will complement his attire. He can wear this watch every single day for years, and might even nickname it "Old Reliable!" Men's watches should fit their style and not be too flashy or big, and this one is absolutely perfect for any man in your life.
Luxurious Decanter Set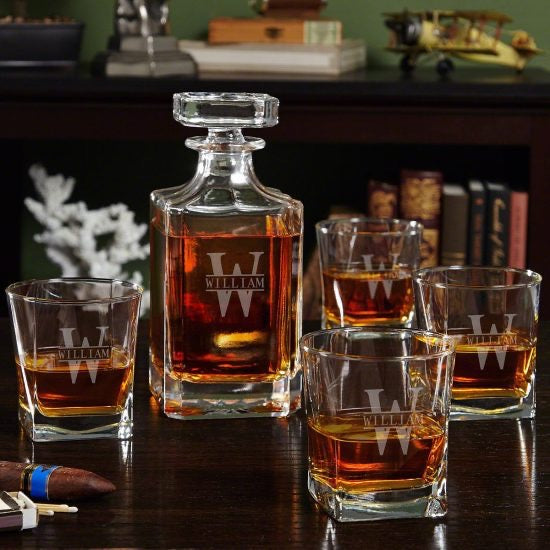 You've seen decanter sets in other gift guides for him, but have you ever seen one as badass as this? One look at this set on display in his home bar and you know that he's a cool, classy guy with excellent taste. This exquisite decanter set is perfect for keeping in his office to greet clients with a luxurious drink or for his home so that he can offer his friends a classy cocktail in style. When he's not using it to serve drinks, it is a rather impressive display set! This kind of gift is perfect for celebrating special occasions such as a promotion, milestone birthday or anniversary, or even retirement.
Unique Beer Gifts for Him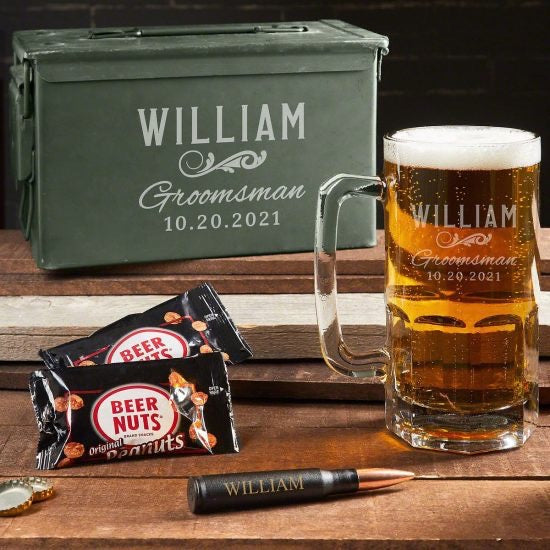 You're here for a comprehensive gift guide for him, and what would this guide be without an awesome gift set like this one? Who wouldn't be ecstatic to have this gigantic beer mug which holds an entire liter of beer! The bullet you see is a bottle opener made from an actual .50 caliber bullet, and the accompanying 50 cal ammo box is great for keeping his range gear organized. Plus, who doesn't love beer peanuts? Any guy you give this incredible ammo box set will love it all and is certain to brag about its many awesome parts to all of his bros.
His Own Custom Bar Sign
The impossible to shop for guy in your life insists that he doesn't need anything, but you know for certain that he doesn't have his very own custom bar sign! This awesome wooden sign is a unique piece of decor that's perfect for any guy's home bar or man cave. The classy style will go with any of his decor, even if he has a theme. As soon as he unwraps this sign, he'll hang it up immediately and call all of his buddies over to his place for drinks so that he can brag about his new "official" home bar.
Hefty Whiskey Gifts Any Man Would Love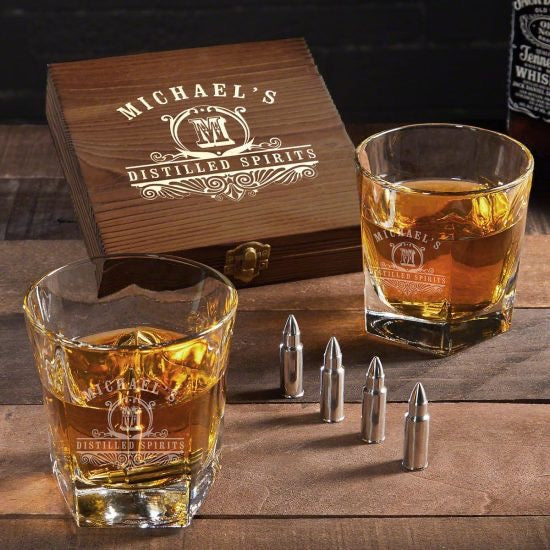 Believe it or not, men actually really enjoy getting novelty gifts. There's just something about having exaggerated, quirky versions of everyday items that are more enjoyable than the normal ones. Take this whiskey gift set, for example: these glasses are huge! Such hefty glasses make a man feel manly and strong, even if they're drinking a fruity cocktail out of it! They'll really enjoy using the bullet whiskey stones to chill their drinks, mostly because anyone who sees him using them will think he's using actual bullets. This fun, unique set is one of the coolest gifts in this gift guide for men!
Must-Have Heated Shaving Set
It wouldn't be a proper gift guide without a shaving set, but this is no ordinary kit! The razor is heated, providing a more soothing and relaxing shaving experience. He'll also have everything he needs for a perfect shave: pre-shave oil, shaving cream, after-shave balm, and even extra razor blades! This top-notch kit will ensure that he has a perfectly smooth, healthy face. By the time he needs more product, another gift-giving occasion will be near so that you don't have to stress about what to get him in the future either!
The Coolest Beer Mug Gift Set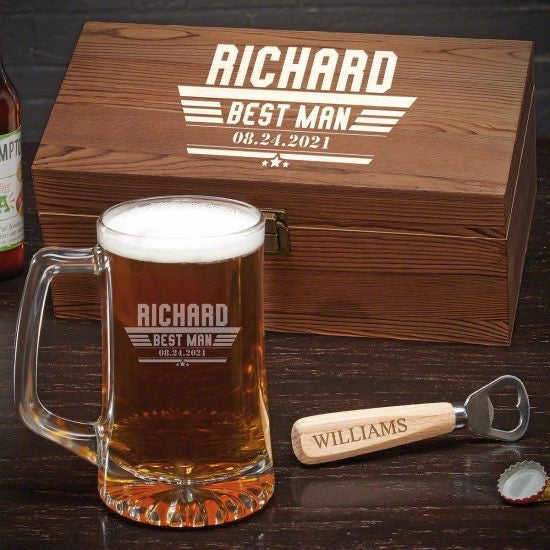 Top Gun: Maverick comes out this year, and the guy you're shopping for is totally psyched for it! One of the best gifts for him is this Top Gun-inspired beer mug set, which is the perfect way to get him prepared for the upcoming movie. He'll love having a large custom beer mug that's just like the ones he uses at his favorite brewery because it's hefty, holds more beer than a standard pint, and it's just downright cool.
The Manliest Gifts for Men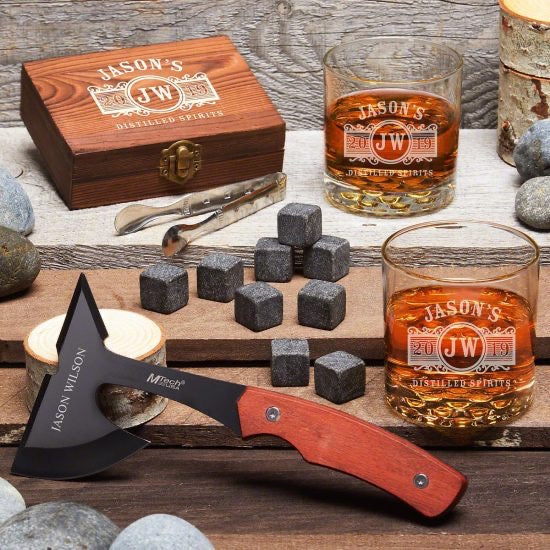 The best gifts for men are those that make them feel manly. Every man wants to be strong and cool, after all. So, why not give a gift that helps him out? Look no further than this kick ass whiskey gift set! The cool custom rocks glasses are perfect for a double scotch on the rocks or an Old Fashioned cocktail, and the whiskey stones eliminate the need for ice. He will especially enjoy the hatchet, which will come in handy for yard work or to take on an outdoor trip. One look at the man wielding a hatchet or these rocks glasses and no one will question his manliness!
The Ultimate Gifts for Beer Lovers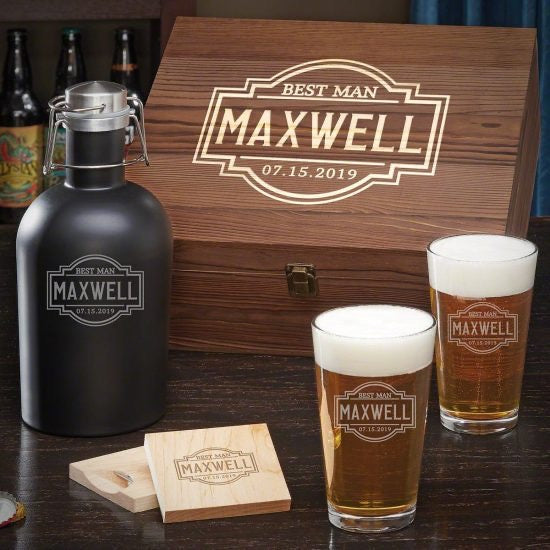 You've seen some pretty badass beer gifts for men so far, but none as amazing as this set. When he opens up this incredible set, he'll be so in awe at every awesome piece that he'll be speechless. This set is great for him to enjoy a brewski with his best bro or a drink with his significant other! When he wants to take some beer on the go, his insulated growler will ensure that it stays ice cold all day long. He'll love everything about this impressive gift set, which he'll enjoy and brag about for years to come!
Classy Gift Guide for Him Ideas
For the classy, sophisticated guy in your life who enjoys a glass of top-shelf bourbon and a stogie, this is the perfect gift for him. He will love having his own custom old-fashioned glass and a handy set of whiskey stones to keep his drink perfectly chilled without the hassle of melting ice. He'll finally have a proper place for his cigars as the stainless steel case will keep them fresh and secure, not to mention the convenient cigar cutter it comes with! Thanks to your fantastic gift, his relaxation routine will be more enjoyable than ever.
Every Man Needs a Duffel Bag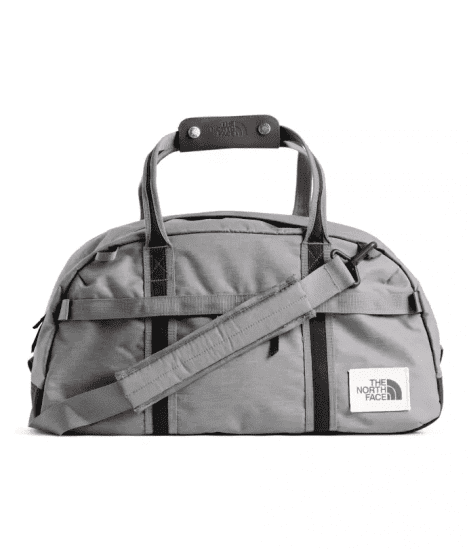 Another classic guy gift that you see in every gift guide for men is a duffel bag, and it's no wonder why! Men love using these bags to store gym clothes, work gear, camping equipment, you name it. Duffel bags are the perfect size to transport all kinds of things, and they're even carry-on sized for planes. Make sure the man in your life is prepared to go anywhere with his own North Face duffel bag! This durable bag will soon become his new favorite traveling accessory with its endless amount of pockets, comfortable carrying straps, and roomy interior. Whether he's going on a romantic weekend getaway with his sweetheart or a quick hunting trip with the bros, he'll be using this duffel bag.
Your Go-to Gift for Men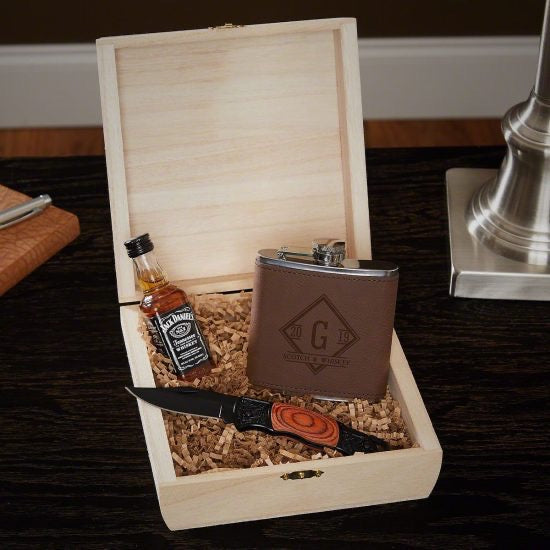 It isn't a proper gift guide for men without an easy go-to gift that any man would love! This awesome flask gift set comes with a handsome pocket knife, a custom wooden gift box, and plenty of room inside for an additional small gift like his favorite candy. Even the guy who wants nothing would love this cool gift set! Bonus: the custom wooden gift box is actually a cigar box to keep all of his stogies in! You can give this awesome set for any occasion to any man in your life.