It's hard enough finding a gift for one person, but when you're trying to find a great gift for a group of people it's next to impossible! That is, until now. Good group gift ideas are unique items that anyone can enjoy and that also work for a variety of occasions from Christmas gifts for your coworkers to thank you gifts for your groomsmen. Don't just get something super cheap, you want to show them that you really care about each and every person in the group. The best way to do so is by getting personalized group gifts where everyone receives their own uniquely personalized gift! Relax, we've made it super easy to find the right gifts for all of the groups of people in your life no matter the occasion.
The Coolest Group Gift Ideas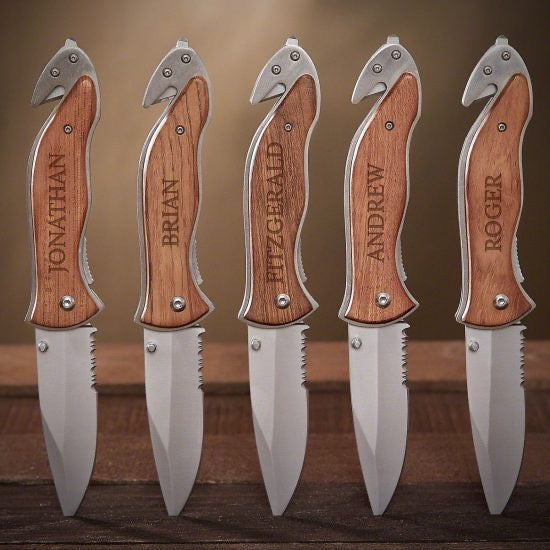 How badass are these knives? Perfect for thanking groomsmen, celebrating the platoon's graduation from basic training, or even for showing appreciation for your employees, these serrated knives are ideal group gift ideas for just about anyone. Each person gets their own custom knife that's engraved with their name, and they'll definitely want to keep it on them or in their car every day because of its many handy features. From a glass breaker to a super sharp serrated edge, this knife makes sure the entire group is prepared for anything.
Sophisticated Group Gifts Are Always a Good Idea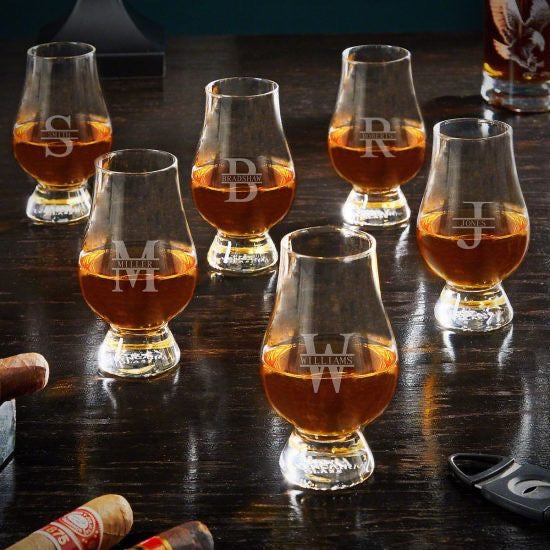 It doesn't matter if you're in search of a set of glasses for your whiskey club or you just want to surprise your whiskey-drinking family members for Christmas, this awesome set of custom Glencairn glasses is just too incredible to beat! Each person you give a personalized glass will be so excited to try out their favorite whiskey in it because Glencairns are specially designed to deliver the most flavorful experience possible. In fact, it'll be like they're tasting their go-to brand for the first time all over again! These thoughtful and sophisticated group gifts are great for all kinds of people and occasions, and might just become your go-to gifts from now on because they're guaranteed to please anyone who enjoys whiskey.
Badass Bullet Bottle Openers for Everyone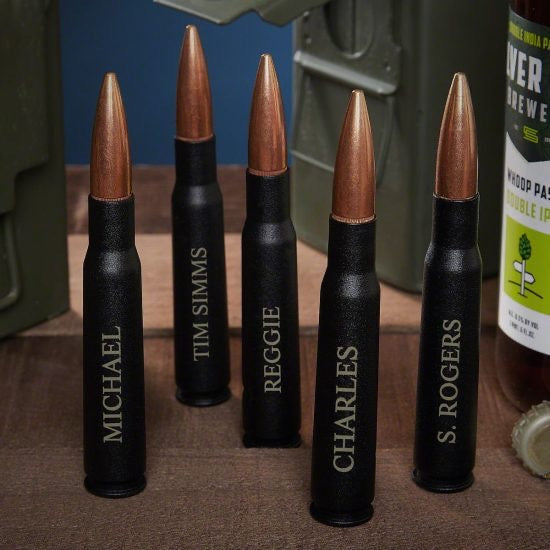 Yes, these bottle openers are really made from genuine .50 caliber bullets! How awesome is that? Such simple but totally cool gifts are perfect to give as graduation gifts for your squadron, reunion gifts for your entire family, or even as holiday gifts for your best buds. Seriously, who wouldn't love such an awesome and unique gift? Anyone you give these bottle openers will be sure to use them all the time!
Give Everyone Their Own Wine Gift Set
Looking for something cool that all of your clients or friends would enjoy? You can't go wrong with a custom wine tumbler gift set for everyone! Whether they drink wine on the regular or just have the occasional glass for special occasions, they'll want to use their custom wine glasses you got them for their Moscato or Merlot. The corkscrew multi tool and gift box will be especially helpful because they have everything they need to enjoy a bottle of wine as well as keep the set stored in between uses.
Unique Group Gift Ideas
Are you in search of celebratory gifts for a group? Toast to any special occasion in style with these unique beer and cigar gifts! There's nothing like a nice cold beer and a fresh stogie to celebrate, after all, and this set has everything they need to enjoy the festivities. Just make sure you grab a bottle or can of beer for each person as well as a pack of stogies to go around and you'll be set to celebrate as soon as you give them their cool gifts.
259+ BESTSELLING GIFTS EVERYONE WOULD LOVE>
When In Doubt, Go with Food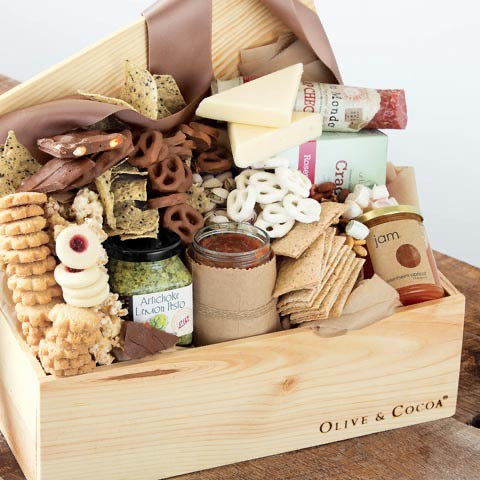 One of the best universal and fail-safe gifts is a gift basket full of tasty food! This large gift basket from Olive and Cocoa is even designed to have a variety of tastes for everyone so that even the pickiest of eaters can find something delicious to enjoy. This gift basket is great for sharing with friends, family, coworkers, and more on any kind of occasion! Fair warning, this gift basket is so delicious that the group will want to get it for every holiday or special occasion from now on.
A Whiskey Gift Set for Each Person
It doesn't matter if there are people in the group who don't drink whiskey because this stunning rocks glass and whiskey stone set is great for any kind of beverage, even non-alcoholic! The chilling stones will make sure their drinks are perfectly chilled until the last drop whether they're having a scotch on the rocks or just a glass of Coca-Cola. The beautiful detailed base and delicate engraving of their name makes this lovely glass a truly special gift, but that doesn't mean you have to give it to the entire group only for really important occasions. In fact, your friends and family would love to get these whiskey gift sets for Christmas or to commemorate a family reunion! As far as group gift ideas go, this nifty set is one of the best ones to give.
Go All Out for Your Group Gifts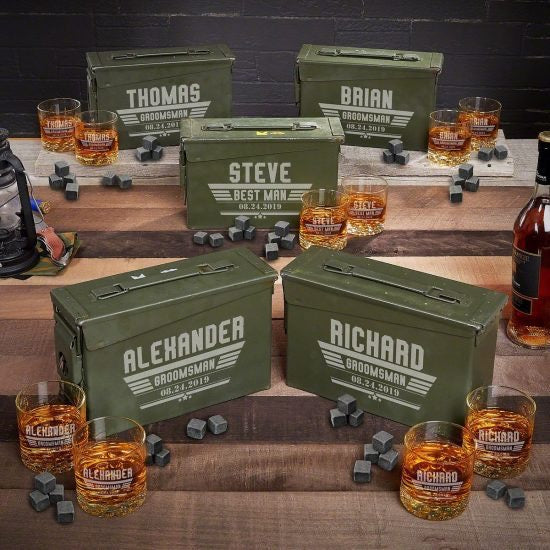 You're here in search of awesome gifts for everyone in your group, but you probably didn't expect to find such an incredible set as this! Each and every person will be speechless when they open up their personalized ammo can to find matching custom glasses and even a set of whiskey stones inside. They'll all want to toast to you and your generosity for giving them such amazing gifts with their new custom glasses, so make sure you have plenty of whiskey to go around as soon as you give them their ammo can sets! Whether they're for your groomsmen or your clients, you're guaranteed to be remembered for giving impressive gifts like these.
A Gift Everyone Can Share
Group gifts don't always have to be matching items for every person, sometimes it can be one thing that the entire group can enjoy together! This cornhole set is ideal for a group of friends or family to share, and would be ideal to give at a holiday party or family reunion. As soon as you show up with this set and tell everyone that it's a gift for them all, they'll want to play a few rounds right away. This unique gift is something that's sure to be a part of many future gatherings and fun memories with the whole group!
Everyone Deserves Their Own Beer Mug
The best way to drink beer is out of a hefty mug, and most people just don't get to enjoy that experience from home. Make sure the whole group will feel like they're in their favorite pub where everyone knows their names by giving them these custom beer mugs! Each person will be amazed at how much more enjoyable their favorite beer is in these awesome mugs and will never want to drink straight from the can or bottle ever again.
For the Group Who Wants to Stay Together
Whether your group is known for constantly getting separated in crowds or you just want to get them something practical, they need these Tile Mates! This set of four is perfect for splitting up among friends going to a festival or to keep the wandering family members from getting lost on your annual trip to go river rafting. They're also great for locating frequently misplaced items such as keys and cell phones, which means these gifts are extra practical!
The Best Gifts for the Whole Group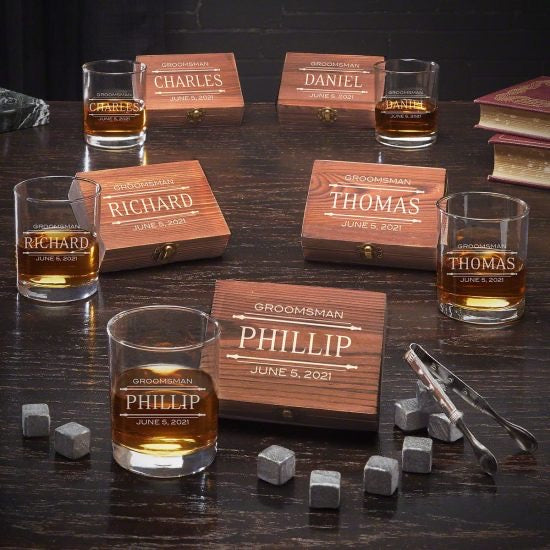 Want to get everyone something nice without breaking the bank? These whiskey gift sets are perfect! Each person gets their own custom whiskey glass and a box set of whiskey stones so that they can enjoy their favorite scotch at the perfect chilled temperature without the hassle of a watered-down flavor from ice. The whole group will love feeling like whiskey connoisseurs thanks to your thoughtful gifts!
Everyone Loves Coffee Tumblers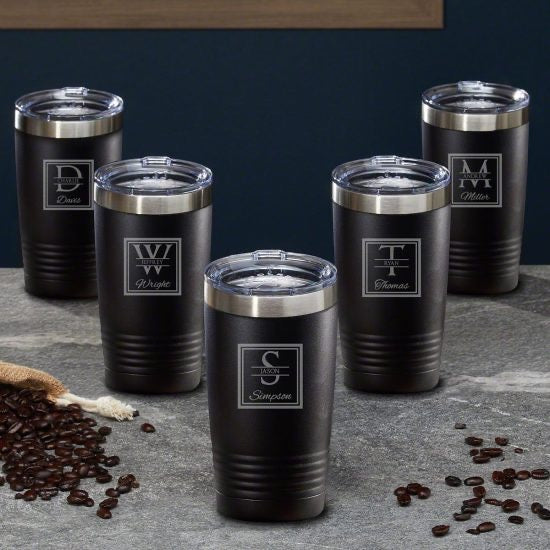 Whether they drink coffee or not, everyone could use an insulated tumbler to bring their favorite beverages on the go! This classic gift is great for giving clients, employees, friends, family, coworkers, just about anyone because it's something anyone will enjoy and actually use. The fact that they're even personalized with their names makes it an extra thoughtful gift, and if you pair each tumbler with a package of coffee you've got an even better set of group gift ideas!