The holidays are finally here, and it's time to start shopping! Our holiday gift guide has everything from unique Christmas gifts for your entire family to personalized presents all of your friends will adore. There's something for everyone in this guide from grilling gifts for the cook in your life to a new gaming console for the gamer you know and even some ideas on your upcoming Secret Santa at work. These unique holiday gift ideas are guaranteed to impress anyone, including those who insist that they don't need or want anything for Christmas! You'd better grab your credit card before you start scrolling because you'll be finding the perfect gifts for everyone you know!
The Perfect Go-To Christmas Gift
The best kinds of holiday gifts are those that you can give to each of your one of your friends and family because they're gifts that anyone would like! This custom whiskey gift set is definitely one of the best go-to holiday gifts for anyone because you can make it a unique personalized gift to anyone you give it to, and it's great for holiday drinks on the rocks or their usual cocktail of choice. Whether you're stumped on what to get your dad who doesn't want anything or for your work's Secret Santa exchange, this whiskey set is one of the top holiday gift guide must-haves.
The Bigger The Gift, The Better
No matter who you give this giant mug to, the first thing they're going to say when they unwrap your present is "Wow!" This huge mug is the biggest glass they've ever seen and it holds an entire liter of beer, which is plenty to drink throughout their annual Christmas Day movie without needing to get up for a refill. Every beer fan you know will certainly want this awesome personalized mug, so make sure you get one for each of them this holiday season!
Holiday Gift Ideas The Whole Family Can Enjoy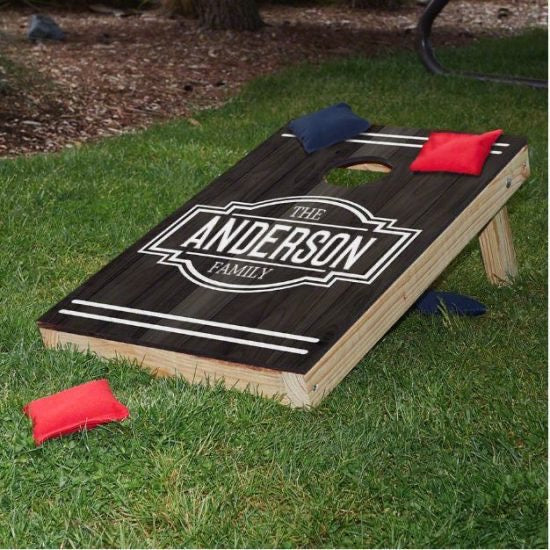 The holidays are all about spending time with your family and enjoying traditions like building gingerbread houses, playing games, and going to see Christmas light displays. One of the best gifts you can give your family is a whole new tradition to enjoy together: playing cornhole! Starting this holiday season, your entire family can play this fun and easy game together. They will all love that you got a personalized set that can be played indoors or outdoors so that they can play it at Christmas, Easter, the summer family reunion, and more.
It's Not a Holiday Gift Guide Without a Decanter Set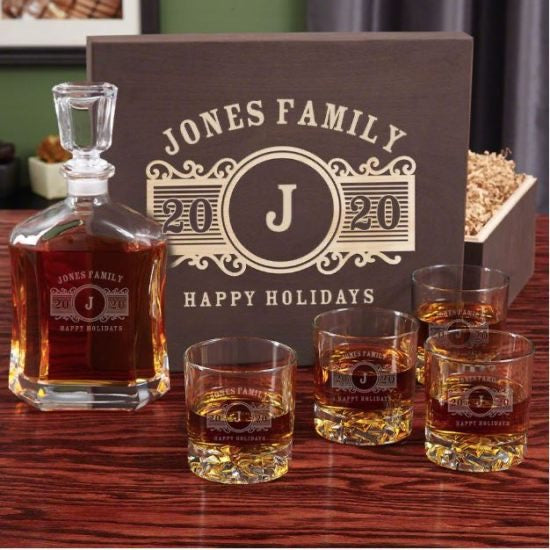 Everyone needs a complete decanter set in their home, and this stunning six-piece set is entirely personalized! This set is perfect for sharing holiday cocktails with friends or family, and it makes a spectacular centerpiece when on display. From the glacier-like base of the glasses to the handsome walnut stained gift box, each piece in this amazing decanter set is impressive! This set is certainly one of the most luxurious holiday gift ideas you can give.
A Custom Bar Sign 
Who wouldn't love getting their very own personalized bar sign for Christmas? This handsome wooden bar sign is one of the most unique presents you'll find on a holiday gift guide! It can be displayed on a wall or tabletop in any room they choose such as their actual home bar, or if they don't have one it looks great in a dining room or man cave! Such a unique gift will be proudly displayed for years to come, and they'll never forget that it was you who got them this incredible gift!
319+ CUSTOM SIGNS FOR THEIR HOME>
Get Into the Holiday Spirit with Bourbon
Giving a bottle of whiskey is never a bad idea, especially for the holidays! From a Hot Toddy to a Christmas Old Fashioned, the options are endless when it comes to using whiskey in holiday cocktails. Rabbit Hole's Heigold Bourbon Whiskey is one of the top-rated bourbons around with its complex, malted flavors that pair perfectly with a variety of holiday flavors! Since it's made in small batches, the bottle they sample will be entirely unique compared to a bottle you give someone else. Of course, don't forget to wrap up this beautiful bottle in a custom wooden gift box before you give it a Christmas present!
Must-Have Beer Box Set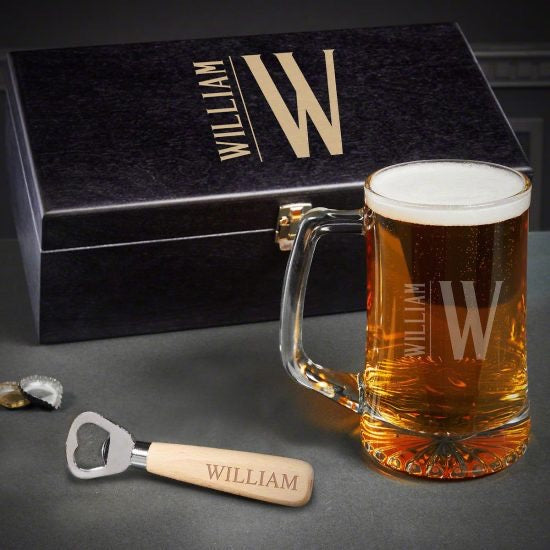 For the beer drinkers in your life, their usual Christmas presents are a case or two of their favorite brew. This year, however, surprise them with this awesome personalized beer mug box set! They will be over the moon now that they have a pub-style beer mug to enjoy in their own home, and the wooden bottle opener is the perfect addition to their collection. They can even use the black wooden gift box to store their many bottle openers, bottle caps, or other keepsakes!
The Coolest Present on a Holiday Gift Guide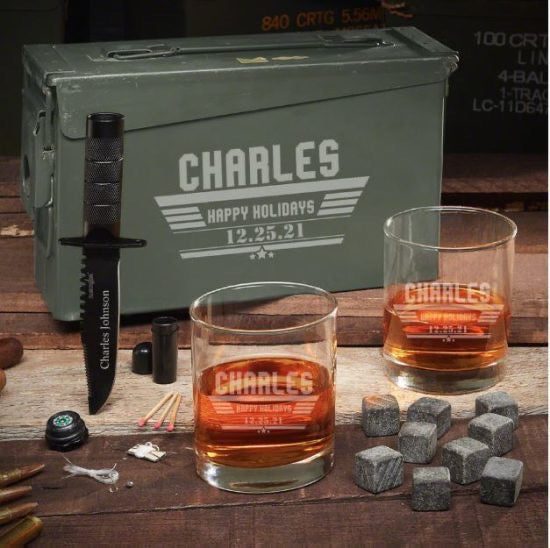 Talk about a badass holiday gift! This ammo can whiskey set is one of the coolest holiday gift ideas you can give, literally! The chilling stones will make sure that any drink whether it's a Cinnamon Maple Whiskey Sour or a classic Jack Daniels on the Rocks is just the right temperature, even down to the last drop. The custom glasses and ammo can are even customizable so that you can make it a funny, awesome, or even a sweet gift for that special someone. Even the person who wants nothing couldn't say no to such an awesome Christmas present!
A Fun Holiday Gift Anyone Would Love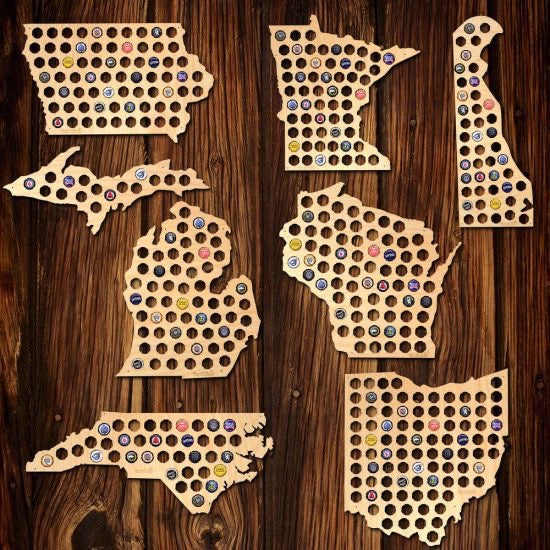 Looking for Christmas gift ideas that anyone would enjoy? Get them a bottle cap collector sign that's shaped like their home state! They will love filling up the unique sign with bottle caps over time, creating a one-of-a-kind decoration for their home. It'll be a fun interactive experience they'll forward to every time they crack open a cold one for sure! You can get one of these signs for each of your friends and family members this holiday season and see if they can fill it up by next Christmas!
Holiday Gift Ideas for Wine Lovers
The holidays are the perfect time of year to enjoy a nice mulled wine with your significant other by the fire. This year, give your partner or a couple you know this lovely wine decanter set so that they can enjoy their favorite holiday wine to the fullest! The decanter will smooth the tannins and reveal the hidden flavors so that by the time their wine is poured into the matching personalized glasses, it'll be the perfect glass of wine. Any wine lover your know needs this stunning three-piece set for Christmas!
The Newest Xbox Console
The latest gaming console is here: The Xbox Series X. Any gamer you know from your husband to your cousin will be wanting this incredible console for Christmas! With its 4K video quality, 120 frames per second graphics, and 3D spatial sound, this Xbox guarantees a super fast and immersive gaming experience like no other. The latest games for this amazing console are so realistic that anyone playing them will feel like they're really there!
Personalized Poker Set Anyone Would Enjoy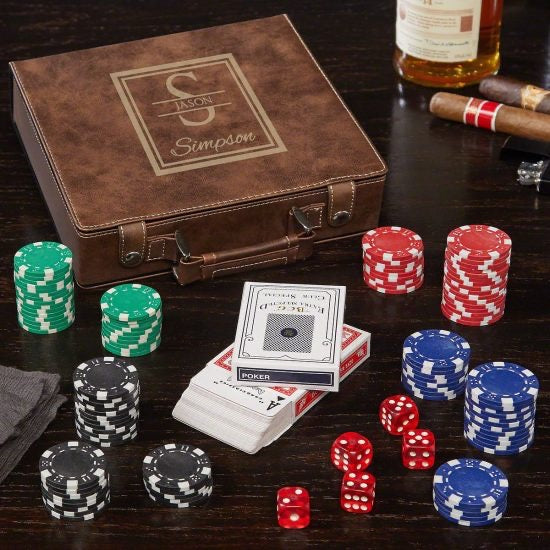 There's nothing like a friendly game of poker to get into the holiday spirit! Making this personalized poker set is a must-have for any holiday gift guide because it's a great gift for pretty much anyone! It doesn't matter if they only play poker on family game nights or have a weekly game with their buddies, this handsome poker set is sure to be enjoyed for many years to come. Plus, it's not just for poker as the set comes with cards and dice so that other games such as Go Fish and Farkle can be played, too!
The Ultimate Cigar and Whiskey Gift Set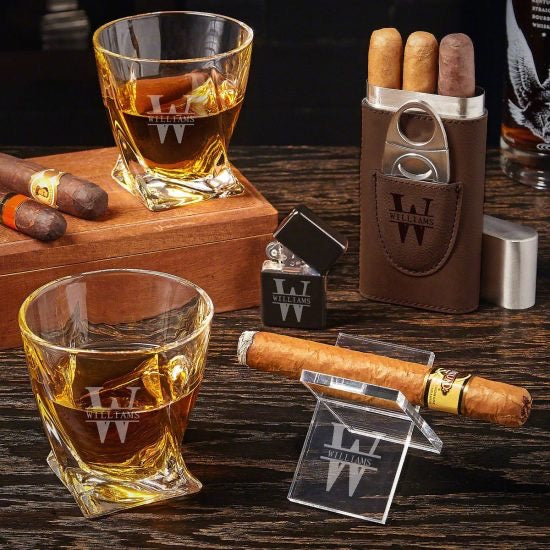 Make sure your loved ones are celebrating the holidays in style with this awesome cigar and whiskey gift set! With everything they need to have a proper stogie and a nice glass of scotch, this set is perfect for toasting to Christmas Day and New Year's. They will love that the entire set is personalized just for them, and the fact that there's enough items to share with a friend! As far as holiday gift ideas go, this unique set is one of the best.
The Perfect Golf Gifts for Christmas
Do you know someone who plays golf? Get them this golf gift set for the holidays! This personalized three-piece set is a must-have for any golfer. Their bag will certainly stand out with the new custom golf tag, and they will finally have a sturdy divot tool and custom ball marker all in one tool! For every hole-in-one they make, their new flask will be there for a victory drink or a toast to a successful game with their buddies. This gift set certainly beats giving yet another golf polo or club cover for Christmas!
The Ultimate Beer Gift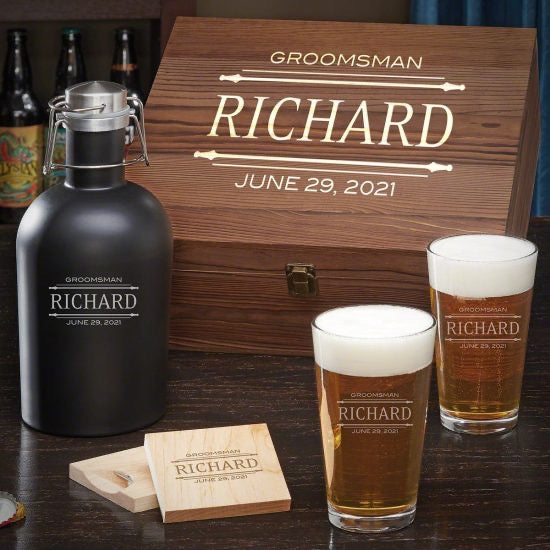 Beer drinkers are usually pretty easy to buy gifts for, but this year don't just settle on another gift card to a brewery tour or a large case of their favorite beer. Instead, get them this ultimate beer growler glass set! With two pint glasses and a matching growler, they'll be able to enjoy their favorite brews all holiday season long without. They can even use the growler and extra pint glass to share a craft beer with their favorite relative this year, as an extra-special holiday treat!
519+ AMAZING CHRISTMAS GIFT SETS>
A Cool Coffee Table Book
Looking for a unique Christmas gift that even the person who has everything would enjoy? This coffee table book called History As They Saw It: Iconic Moments From the Past in Color by Wolfgang Wild and Jordan Lloyd is one of the top-rated books of 2022! Using old black and white photos, the authors added color and enhanced their quality to make them appear more like pictures from today. This unique look into the past is a fun way to relive history from images of the Titanic to the construction of the iconic Golden Gate Bridge!
The Coolest Decanter Set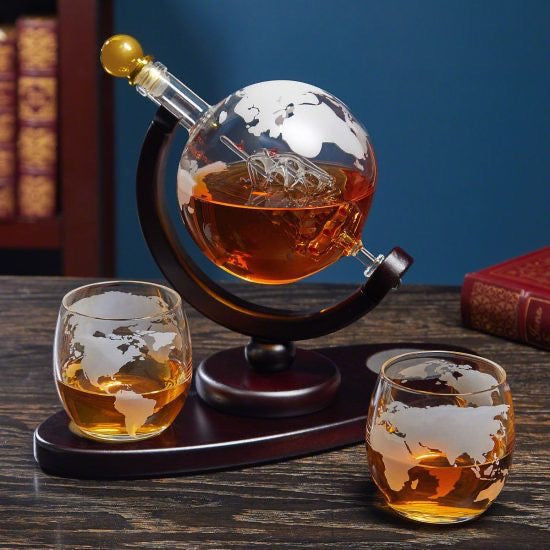 Are you in search of an impressive Christmas gift? Look no further than this stunning globe decanter set! From the delicate etched details on each glass to the glass-blown ship inside the decanter, everything about this three-piece set is nothing short of luxurious. No matter where it's displayed, this decanter set will always be the center of attention in the room because it's so beautiful! Even the pickiest person you know would be over the moon to receive such a spectacular Christmas gift.
A New Cutting Board is Never a Bad Idea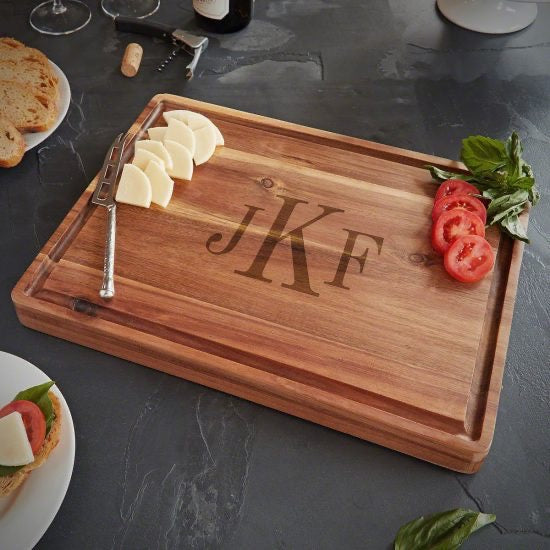 For someone who enjoys cooking, this beautiful acacia butcher block is one of the best holiday gift ideas! This lovely monogrammed cutting board is built to withstand anything from heavy chopping to precise dicing, and it can even be used as a charcuterie board. Versatile, beautiful, and unique, this cutting board also looks lovely in the kitchen when it's not being used. Anyone from your mom to your boss will love this practical and personal Christmas gift!
The Coolest Way to Drink Beer
Get in touch with your inner Viking this Christmas by giving all of your beer-drinking friends and family their own custom beer steins! Designed to resemble the traditional lidded steins, this custom glass stein with a pewter lid is the coolest beer glass anyone you know will own. They will all enjoy drinking their favorite lagers and ales from their new steins, and when they aren't using them they can display them because these steins look like priceless antiques! By far the coolest way to drink beer, you'll want to get a stein for yourself once you see everyone else enjoying their awesome new beer glass on Christmas Day.
Classy Christmas Gifts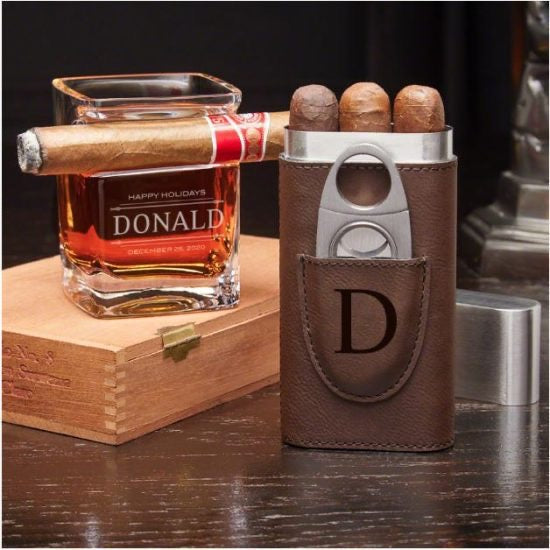 The holidays are all about celebrating and ringing in the new year, and what's a better way to celebrate than with a cigar and nice glass of scotch? Make sure your loved ones are celebrating in style with this custom cigar and whiskey gift set! Perfect for enjoying on Christmas Day and New Year's Eve, this pair of gifts is only the best way to toast to the holidays. Of course, don't forget to include a few stogies inside the cigar case before you give them your gift so that they can light one up and try out their new cigar-holding glass right away!
Holiday Treats and Sweets
What do you give someone who insists they don't need or want anything for Christmas? A gift basket full of gourmet goodies, of course! Perfect for neighbors, coworkers, and your impossible-to-buy-for grandparents, this lovely gift basket from Olive & Cocoa is full of holiday treats: snowman truffles, marshmallow snowflakes, white chocolate-covered caramel pretzels, and more! Even the grinch in your life can't help but feel the holiday spirit with this thoughtful gift basket.
The Best Golf Gift for a Holiday Gift Guide
Forget the usual holiday golf gifts like custom golf balls or a new club bag, get the golf lover in your life what they really want: a custom golf sign! Designated as the 19th hole, this fun sign makes their home bar the official last stop after a day of golfing with their friends. As soon as they unwrap this awesome gift on Christmas Day, they'll want to hang it up right away and invite all of their golfing buddies over to see it!
Holiday Wine Gifts for Two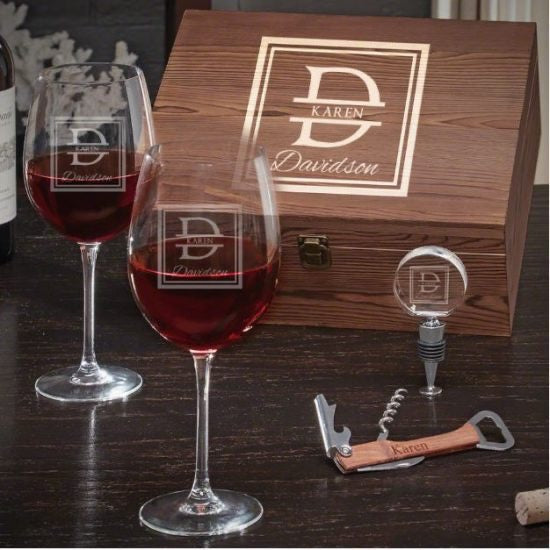 Are you in search of a holiday gift for a couple? Get them this romantic wine gift basket! With two custom stemmed glasses, a matching wine stopper, and even a corkscrew multi tool, this lovely set has everything they need to enjoy a nice bottle of wine together. The lovebirds will without a doubt want to try out the set right away when they open it on Christmas, so make sure you get them a bottle of holiday wine to go with it!
Create Their Own Whiskey Label
Who doesn't look at a bottle of Jack Daniels and think, "I wonder what my own whiskey label would look like?" Well, now you and anyone else you know don't have to wonder any longer because this custom whiskey label decanter set is a dream come true! Seriously, anyone you know who enjoys whiskey will be so excited to get such an incredible and unique gift for Christmas. Best of all, no matter who you give the set to, their decanter set will be one-of-a-kind because the design is completely customizable. As far as holiday gift ideas go, this amazing whiskey label decanter set is one of the all-time best gifts you can give in 2022!
Customizable Beer Gifts Every Holiday Gift Guide Should Have
This holiday season, you're going to give the most awesome and memorable gift to the beer lover in your life: this customizable beer set! With matching pint glasses, an ammo box, and even a cool bottle opener, this gift set is totally badass. Anyone from your brother to your best friend would love this set because they'll feel cooler than the Dos Equis guy as they enjoy a nice cold beer with their new Christmas gifts!
The Gift That Keeps On Giving
Do you know someone who enjoys cooking or a person who loves plants? Either one will adore this cute herb garden kit! Once they get their garden going in the new year, they'll never have to go to the store for more parsley or thyme because they'll have some fresh herbs growing right in their home. This thoughtful and unique holiday gift just keeps on giving, and you might inspire them to grow more of their own food besides herbs!
The Most Awesome Christmas Gift
It doesn't matter who you're shopping for because anyone would be stoked about getting this incredibly cool decanter as a Christmas gift! The delicate glass-blown ship sailing through their liquor of choice adds a touch of luxury and adventure to any room this decanter is in. Perfect for having celebratory shots or nightcaps with a loved one, this amazing decanter is something that will be treasured and used often for many years.
A Perfect Gift for a Movie Fan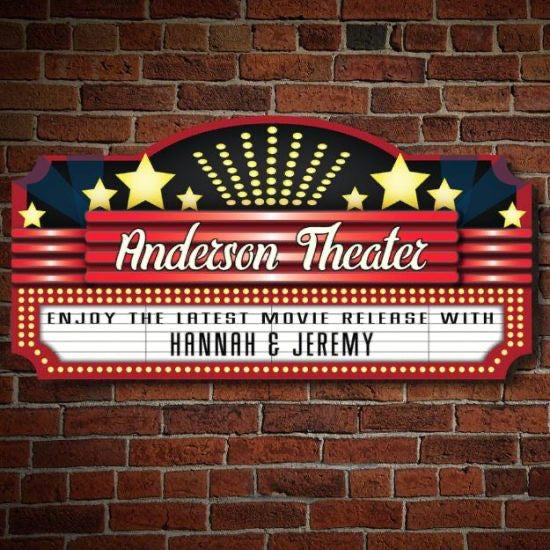 Whether you have a friend who's a huge movie buff or your cousin and his family are all about the latest films, this custom movie theater sign is one of the best holiday gift ideas! They will love having this classic movie marquee-style hanging up in their home theater or living room as it will make them feel like they're really at the movies! As soon as they hang it up, they'll definitely want to take a holiday family picture in front of it before they put on their traditional Christmas Day movie.
Must-Have Wine Tumbler Set
The best way to enjoy the holidays is with a warm glass of mulled wine by the fire, and you can give the gift of that wonderful experience with this tumbler set! The stainless steel tumblers are perfect for warm or cold wine and will ensure that their drink stays the perfect temperature down to the last drop. Wine tumblers should be on every holiday gift guide because they're so versatile and basically impossible to break, which makes them far superior to regular old wine glasses. Besides, this set even comes with a handy little corkscrew multi tool so that anyone you give this set will have everything they need to enjoy some holiday wine!
Practical Whiskey Gifts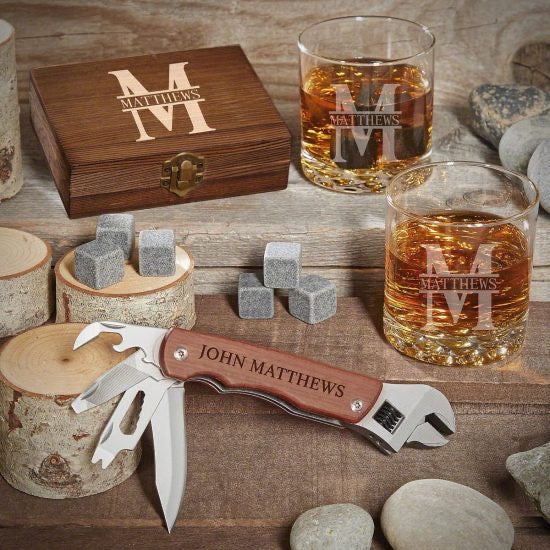 It's never easy finding a gift for someone who is all about practicality because they only appreciate gifts that are useful in some way. At least, until now! This practical whiskey gift set is perfect for the impossible-to-buy-for dads and friends in your life because no one could turn down such an awesome gift! From the incredibly useful wrench multi-tool to the versatile personalized rocks glasses, each and every piece in this gift set has more than one purpose. In fact, they'll want to use it to pour themselves a nice scotch on the rocks to celebrate such a great gift and a wonderful holiday!
An Experience Gift Unlike Any Other
Stuck on what to give someone who has everything? Instead of a regular materialistic gift, get them an experience! The Adventure Challenge is a unique and fun scratch-off activity book that prompts them to go out and do something new like go Geocaching or have a marshmallow fight with their friends. It comes with a camera so that they can document each activity and all of the amazing memories that go with it. This incredible gift is more fun with friends and family, so you might get to join in on the fun after you give them your gift!
Custom Watch Case
Everyone has a friend or family member that has a watch for every occasion and day of the week, but they probably don't have a watch case to keep all of their timepieces in. This Christmas, get the watch lover in your life their own custom watch case so that they can keep each watch secure, organized, and most importantly, clean! This handy little case fits perfectly on their nightstand or dresser and will ensure that each watch stays dust-free and never lost in between wears.
The Best Gift Set for Every Holiday Gift Guide
There's nothing like a warm glass of cognac on a cold winter day. With this cognac gift set, anyone can enjoy this classic holiday drink to the fullest! The unique custom snifters that absorb the warmth from their palms to heat the cognac will unlock the exotic flavors in a way that a regular rocks glass just can't do, and they can enjoy a stogie with their drink as well thanks to the included cigar accessories. This incredible cognac gift set will be enjoyed all winter long, that's for sure!