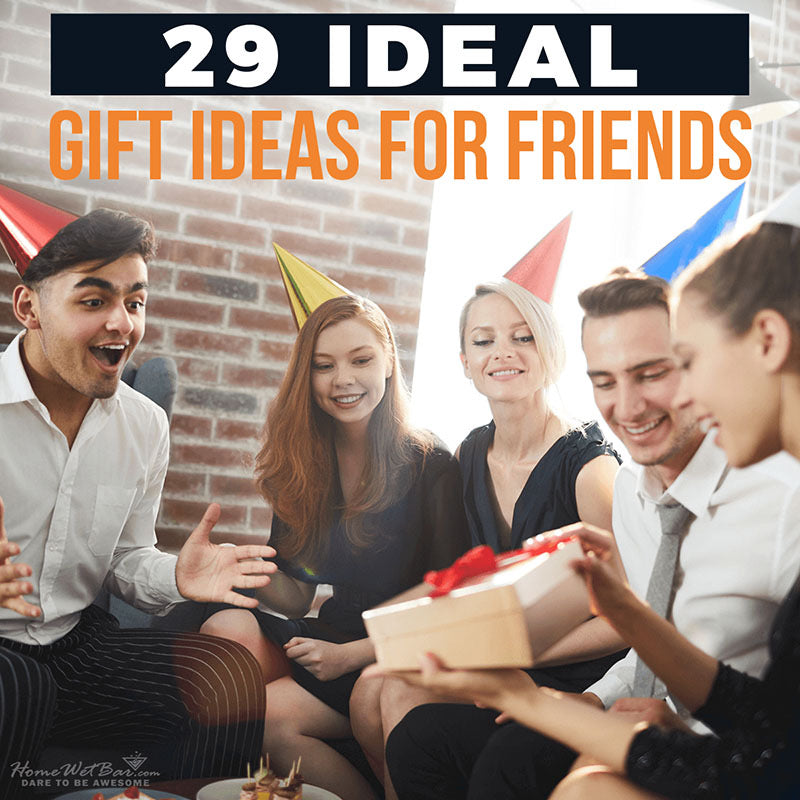 29 Ideal Gift Ideas for Friends
You feel so lucky to have phenomenal friends, but when it comes to getting them gifts, it can be tough to think of the perfect idea. You know your friends well, so you know some of their likes and dislikes, but it can still be tough finding the subtle hints to get a good idea of what they want. When you're looking for gift ideas for friends, you should consider what kind of gift will show them how much you care about them and appreciate their individual traits and favorite things because you've known them for so long. We have weeded through countless gifts to find the absolute greatest, most awesome gift ideas for best friends, new friends, old friends, or any friend you can think of!
Their Favorite Personalized Gift
When it comes to no-brainer gifts, this whiskey gift set is at the top of the list! Your friend will be stunned when they see this gift that's so simple yet so incredibly awesome. Nothing will blow them away more than getting a sweet gift that quite literally has their name all over it! They'll have a blast using this gift set to enjoy their whiskey, and chilling it with these high-quality stones will make the experience even better.
Ultimate Alcohol Gift
Since the two of you have been friends, you've experienced a lot of things together. However, for this gift, you want to get them something unlike anything either of you have ever done before, so look no further than this alcohol vaporizer. This is the perfect gift for any occasion too! It'll be a great way for them to celebrate their birthday or even Christmas with you in style. Make enjoying their favorite spirit a unique experience each and every time with this phenomenal gift idea for your friend!
Make Enjoying Whiskey Incredibly Convenient
Why search for the perfect gift box when you can give an amazing gift that includes the box too? This box set filled whiskey stones and glasses gift sets is a to-die-for gift. They'll feel incredibly special when they see their name engraved on the lid and can only wonder what will be inside. Once they flip open the latch, they'll be so excited to see a set of unique glasses that have their initial on them. Such a personalized gift will be something they remember for years to come. Also, who knows, if you pair a bottle of their favorite liquor with this gift set too, they may just embrace you in a toast for your great gift!
Track Their Fitness
Maybe they just want to count their steps or maybe they're looking to get back into shape. However, even if they just want to check the time this Fitbit Activity Tracker is perfect. These fitness watches always are perfect gift ideas for friends. No matter if they go for a daily walk or are a fitness freak, they'll love having this gift in their lives!
Larger Than Life Beer Mug
Try going with something larger than life in your search for great gift ideas for your friends. Your good friend will love a gift that's so unique and different from anything they've ever been given. That's why there's no gift like an XL beer mug to knock your friend's socks off! They'll be so impressed by this unique gift, and they'll love the way this large mug looks and how heavy it is when it's full of their favorite brew.
Customized Sign Gift Ideas for Friends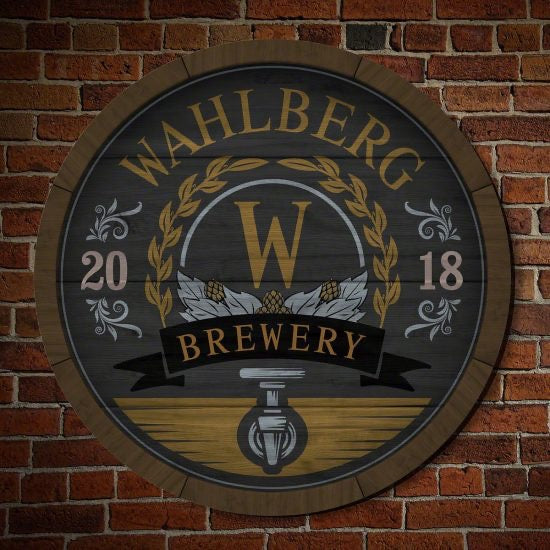 You want to buy gifts for friends that you know, without a doubt, that they'll love. There's not a gift on earth your friends will love more than this personalized brewery sign! It's a phenomenal gift that is perfect for lighting up any space they hang it in. Any friend will love seeing their name engraved on this personalized sign as they hang out near wherever it is displayed; from their home bar to the kitchen, the locations this sign is ideal for is endless!
Two Glasses and a Box
When you think about your dear friend, you think about how deserving they are of a perfect gift this year. No matter the occasion, you know their very own personalized whiskey stone gift set will be perfect. They'll love seeing their name on each piece of this set. Plus, it is the perfect way to sit down, hang out with your best bud, and enjoy a chilled drink with them!
Best Sleep of Their Life
Get your close friend the most amazing gift that will make their life better every single day—a weighted blanket! This special blanket is one of the most awesome gift ideas for best friends because it will make their sleep better than ever. They'll feel so warm and snuggled up underneath this blanket that they will sleep like a baby every single night.
DeCan't Believe How Cool This Is
This handsome whiskey decanter is the kind of gift that your friend will love receiving and using. It'll make them feel so loved that you went to the trouble to find such a stunning gift that ALSO has their name on it! Your buddy will feel so cool pouring themselves a glass of delicious whiskey from this amazing decanter that has their name on it, and they'll definitely proudly display it in their home.
661+ TOTALLY AWESOME WHISKEY RELATED GIFTS>
Customized Can Gift Idea for Friends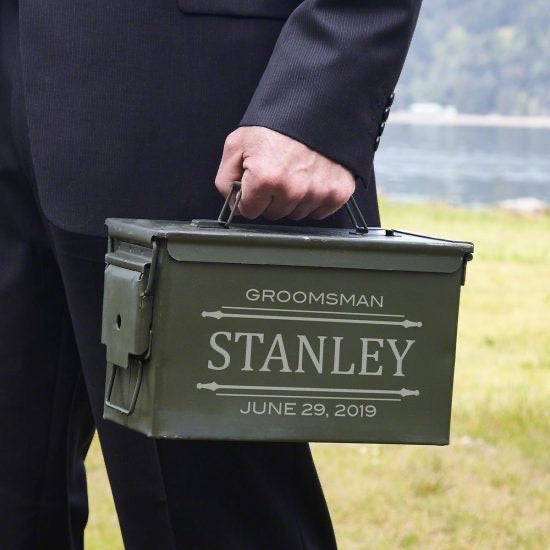 Want to get a gift for your friends that is super unique and special? This customized ammo can is a shoe-in! Considering this can is repurposed from the US military, your friends will be utterly stunned to see their name on such a significant item. This is the perfect gift for them to use to store their most prized possessions, such as photographs, memory-filled bottle caps, or anything else, and show it off to anyone who will listen!
A Wireless Music Experience
Friends love receiving gifts that show how much you care about them and that also make their lives just a little easier! Gifts like some good, high-quality wireless headphones are the perfect gift ideas for friends because it allows them to listen to music with ease while they're exercising, working, or even just relaxing. They'll love receiving such a creative, high-tech gift from you that helps them out!
Impressive Whiskey Gift
When you're looking for a gift for a friend, getting something that you know your friend will like, no matter what, is a great choice. There's no way your friend won't adore this whiskey box set because with its unique glasses and engraving, it is simply the most perfect gift set! The handsome box with their name on it will make this gift feel really special to them. They'll greatly appreciate the novelty of these glasses, and they'll have a phenomenal time using them to enjoy their favorite chilled drink.
Caps on the Wall
You'll never go wrong with a gift that lets people have fun! These US beer cap maps make perfect gift ideas for friends! They will love having a fun, interactive map hanging on their wall that's special to them because it's in the shape of their home state. They'll have such a great time trying different beers and holding the caps in their beer cap maps on the wall.
Sleek, Stylish Gift Ideas for Best Friends
When it comes to gifts that show you pay attention, this one is at the top of the list. Your friends will quickly become obsessed with these stainless steel wine tumblers in this gift set because they're functional, unique, and attractive—the great gift trifecta! These glasses will keep their wine chilled so much longer than normal wine glasses, which they will greatly appreciate. They'll feel so stylish using these sleek, personalized wine glasses to enjoy their favorite red or white. They won't ever want to drink out of any other glasses for as long as they live.
Diffuse the Scents
Ensure your friend always comes home to a house that smells wonderful with this scent diffuser as a gift! Your friend will love having this sleek, understated diffuser in their home for a subtle, fragrant aroma that they'll love. Any friend will really appreciate such a unique, practical gift in their home.
Most Pleasing Cigar Gift Set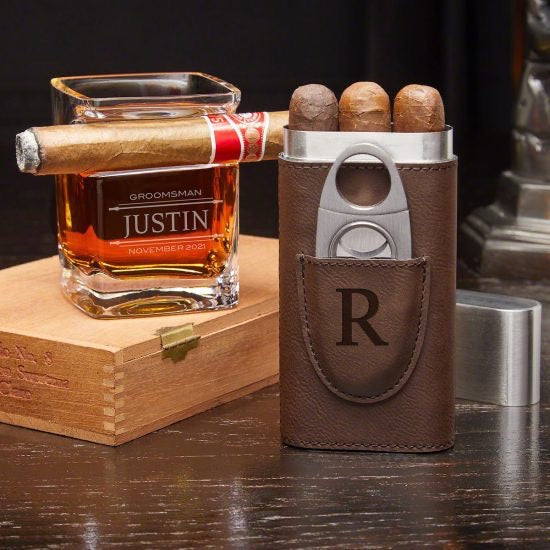 Your close friends are just the best people out there, so they deserve to feel awesome and important. No gift ideas for best friends will please them more and make them feel cooler than this cigar glass gift set. They'll feel super fancy and important sipping whiskey and smoking a cigar using this fancy glass that's personalized just for them. With their initial on the cigar case, they'll feel even cooler!
Chop On Gift Ideas for Friends
When your friend opens up their gift, you want it to cause a positive reaction right away. This cutting board will immediately bring a smile to your friend's face as soon as they see it! They'll feel really special using such an amazing, custom board while in the kitchen. They will love it so much that they'll have it displayed in their home, even when they aren't using it.
It's Stein Time
This stunning German beer stein is the kind of gift that your friend will never forget. It's so unique, especially with their name on the crest, and they'll love drinking their favorite beer out of it. This is a fantastic gift idea for best friends because you know they'll cherish it forever. You and your friend could even share a toast to a promotion at work or any other occasion using this great gift.
Keep Them At 100 Percent
When you don't know what kind of gift to buy a friend, you can't go wrong with a practical gift. Get your friends an extremely pragmatic gift with this portable charger. This practical charger will really help them out when the battery on their smartphone or laptop is about to die. They'll really appreciate such a different, useful gift, and they'll wonder how they ever lived without it!
Hang this Gift Up
It's a fact: people love seeing their name on things. That's why there's nothing like a personalized bar sign that makes an awesome gift idea for friends! Your buddy will feel like the coolest guy ever with this handsome sign hanging up on his wall in his bar, man cave, bedroom, or anywhere else. He'll really enjoy how it brightens up the entire room.
Wow Your Friends
You know you've found an awesome gift when your friend is pleasantly surprised when they open it. When your friend sees this set with whiskey stones and a glass, there's only one word that will initially come to mind: wow! The personalization is the icing on the cake, making this gift the best they've ever gotten! They'll love using this gift to celebrate a special occasion, when they're hanging with their closest friend, or simply when they're relaxing at home.
Hole-in-One Gift
When your friend's favorite activity can only be done once in a while, get them a gift that lets them do it as often as they want! Bring the fun of the golf course to your friend's office, living room, or anywhere they choose with this golf putting set. They'll have so much fun working on their short game whenever they have a little bit of free time, and they'll greatly appreciate such a fun, unique gift!
Gift Ideas for Best Friends Cherishing Memories
The best friendships are full of sweet memories. Help your friends treasure all the best moments in their lives with this shadow box! Whether it's wine corks, beer caps, photographs, or any other trinkets, they'll really like having a unique way to cherish their favorite memories.
Shade Their Eyes
Want your friends to look cool and protect their eyes from the sun? Say no more! These polarized blackout sunglasses are the best choice gift that will have your friend feeling cool and protected from UV rays. They'll be very thankful for a gift that is so important for their eyes. Plus, this gift is a no brainer, because who doesn't love a good pair of sunglasses?
Perfect Box Set Present
When it comes to the greatest gift ideas for friends, this gift set tops the list because of how versatile and awesome it is. This customized box set provides your friend ways to enjoy their favorite spirit both at home and on-the-go, and they will love just how much of this set has been engraved just for them. In fact, they'll use this gift set so much they will be able to use the gift box itself to store their collections, photos, drinking accessories, or anything else!
Indulge With Ease
A gift that your friend will love is one that lets them enjoy their favorite things in the easiest way possible. Your friend will also really appreciate the presentation of this gift. From the faux cherry wood box to the personalized engraving, they'll be blown away at how classy their gift makes them feel. That's why the perfect gift idea for best friends is this flask set! Make them feel classy on the go or at home with this gift! They can enjoy a sip or shot of their favorite liquor whenever they want thanks to you!
Feed Your Friends
No one dislikes a food-related gift, of course, but your friends will absolutely LOVE this fruit arrangement! With the various fruits and chocolate making up this gift, your friend will be extremely happy, and they'll remember that you bought them the greatest gift ever for a long time.
Two is Better Than One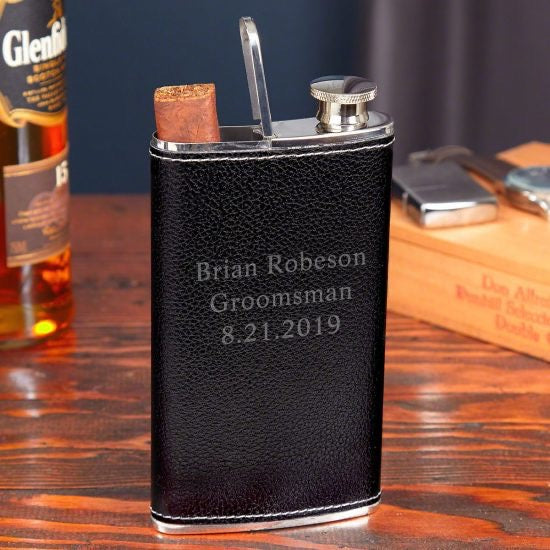 Why buy a gift limited to one thing when a more versatile one exists? This engraved leather flask and cigar holder is the combo your friend never knew they needed in a gift! They'll love receiving this gift on a special occasion or even as a "just because" gift to show them how important they are to you! With a spirit in one side and their favorite stogie in the other, they'll feel incredibly cool carrying around this unique flask.
Best Wine Gift Ideas for Friends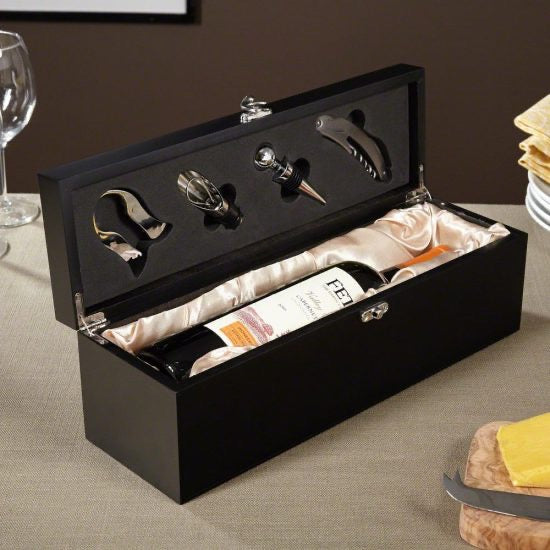 Don't be boring and buy your friend a bottle of wine on its own. Pair it with something awesome! You can't go wrong with getting your friend this wine box and tool kit because it has all they need to indulge in their favorite wine. The beautiful box is great for storing a nice bottle of wine for a special occasion. Include a bottle of their favorite red or white inside the box when you gift it, and they'll be so thrilled!
247+ IDEAL GIFT IDEAS FOR FRIENDS>