Some of your favorite childhood memories were spent at the movie theater with your friends. You were in awe of the giant movie posters, joyfully overwhelmed by the smell of buttery popcorn, and full of glee as you sat in your comfy seat, ready to watch the drama unfold on the big screen. You can bring that same excited, thrilled feeling right to your home theater—you just need the right movie theater sign to create that ambiance! Signs are the best way to do that because they're big and often the first thing people see when they come into the room. The best sign for your home theater has a clear subject: movies and popcorn. Not all signs are the same, but many often remind people of that amazing cinema experience, either with vintage looks or more modern movie theater looks. Either way, the sign has to be eye-catching and get people in the mood to watch a movie. But what counts as an eye-catching sign that fits the movie vibe? What kind of signs truly convey the film-watching theme? How important is personalization for these signs? These cool home movie theater and popcorn signs are the absolute greatest signs that you need in your home theater.
Actual Theater or Just a Home Movie Theater Sign?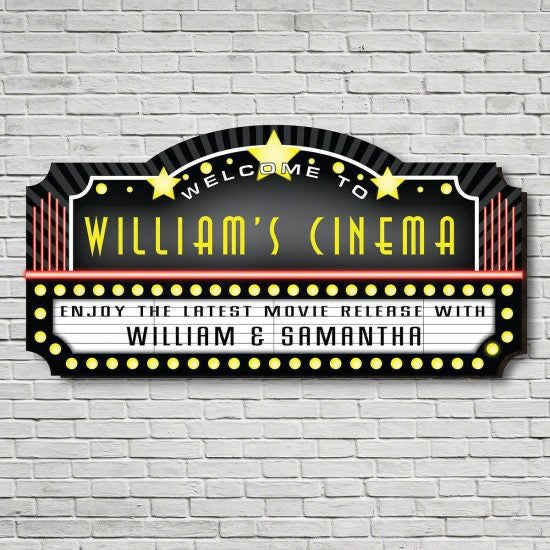 You might accidentally trick yourself into thinking you're at the movie theater when you look at this stunning sign. It pays homage to the classic theater marquee, full of bright colors and bold lettering. This is the perfect sign to hang on the wall in your home theater to improve the ambiance of the room tremendously. Watching movies at home will never be more fun than when this sign is hanging up. You'll never want to leave the room!
Masterpieces Only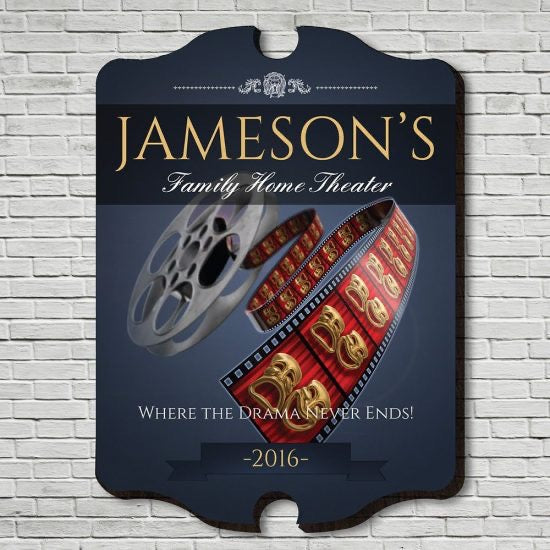 You want those who come into your home theater to have the most fun experience possible and be astounded by the decor. They will not be able to look away from this amazing home movie theater sign. It's a deep, rich blue color that stands out from across the room. It gives an air of real drama with the tape reel with comedy and tragedy masks on it. The origin of these masks traces back to Greek theater, so your guests will be ready to experience a masterpiece.
Blockbuster Movie Theater Sign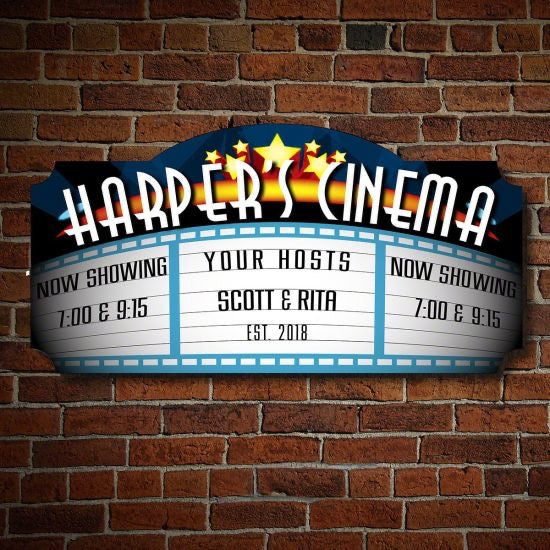 Only the greatest movies deserve to be shown on the big screen, and sometimes, that big screen is right within the walls of your home. This Blockbuster home theater sign will get your family ready to watch an amazing movie. With the four lines of personalization offered, you can customize this sign completely to your likeness to perfectly capture the essence of what you want your family's movie-watching experience to be.
294+ PERSONALIZED SIGNS PERFECT FOR YOUR HOME>
Fresh Popcorn Sign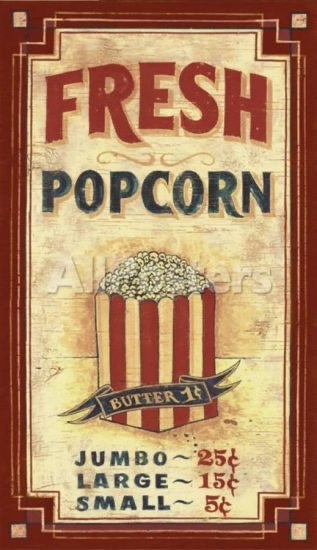 For some people, it's all about those vintage looks in their homes, and you are no different. You've fully embraced the vintage trend and made it your own, and you want to bring that look into your home theater. Look no further than this vintage popcorn poster. These signs are crafted from wood that other manufacturers typically discard, so it's truly distressed and unique to each sign, perfecting that vintage feel. It will make everyone hungry for popcorn and ready for film viewing!
Snacks, Please!
Make them feel extra-special with your sign as a gift when they notice you've put their name in lights! Movie night with a spouse or a few friends will never feel as cool as it does when it feels like they're the star of the newest blockbuster or of their favorite classic film. Whether they're big into action flicks, rom-coms, or dramatic period pieces, this sign will look great hanging where ever they enjoy watching movies the most!
Extravagant Movie Night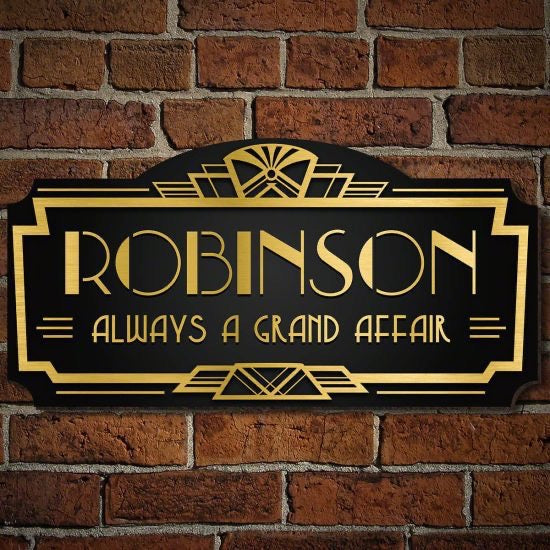 You dream of throwing a party like Jay Gatsby does in F. Scott Fitzgerald's classic novel. While that level of extravagance is hard to match, you can at least throw a movie-viewing party to that caliber with this awesome sign! Bright and golden, all your guests will ooh and ahh when they see this sign on your wall. They'll feel instantly transported to the 1920's during the time Gatsby would throw his extravagant parties. Get ready for them to suggest watching—you guessed it—The Great Gatsby as their first movie choice.
Awesome LED Sign
Neon signs rose to popularity in the 1920s and will absolutely never go out of style. This LED popcorn sign is an amazing sign to have near your TV when it is movie watching time! It will create a vintage vibe that is unmatched in your home movie theater. With the bright colors and cute popcorn bucket, everyone who sees this sign will be jealous and want one for their own home theater.
Time-Honored Tradition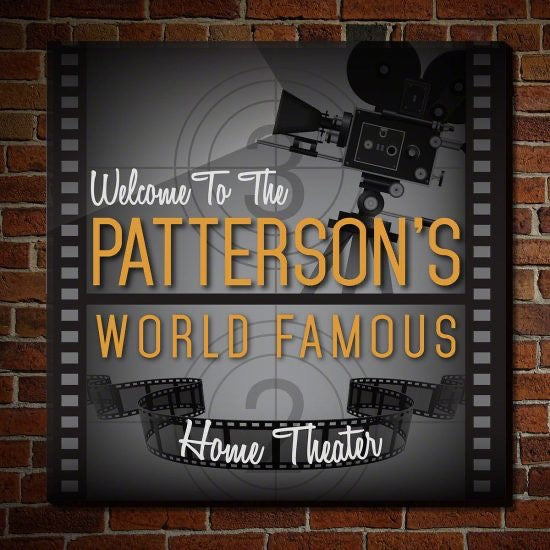 The tradition of family movie night is an ancient one, passed down through generations, your family included. Take them back to the movie watching days of old with this classic wooden sign. It's large and prominent and will surely be the first thing your guests notice when they enter into your movie room in your home. They will immediately become jealous of the old-timey look of the sign and want one for themselves to celebrate and fully appreciate the time-honored tradition.
Cool Vintage Look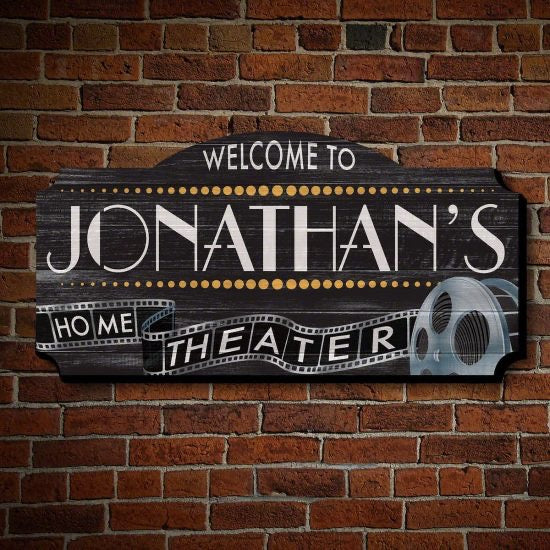 Vintage signs are all the rage, especially for movie theaters. Bring that vintage feel to your home theater with this amazing sign. It has a retro filmstrip roll on the bottom for a reminder of how movies used to be viewed. The best part of this sign is that your name can be engraved in giant letters across the sign, so people know whose home theater they have entered. You'll never want to stop watching movies with this movie theater sign in the room.
Cute Popcorn Box
How cute! This adorable popcorn sign is the perfect addition to your home movie theater. It's bright and colorful so it will stand out, but it also has a very vintage look to it. It will definitely fit the ambiance you've created in your movie room. It will also make everyone who looks at it very hungry for popcorn, so make sure your popcorn machine is fired up and ready to pop!
You're a Star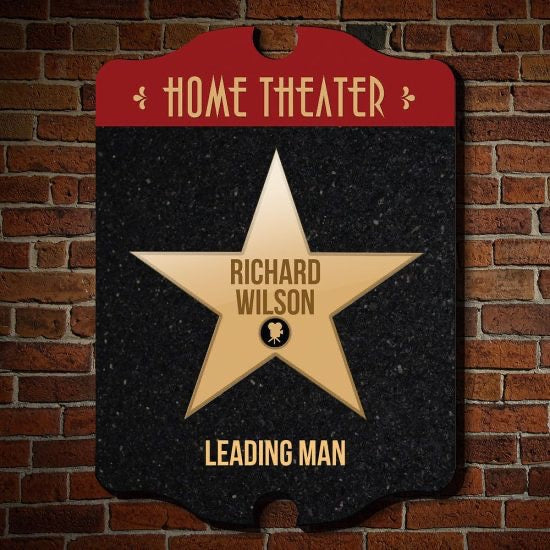 You've always dreamed of having a star on the Hollywood Walk of Fame, because how amazing would that be? You now can accomplish this amazing feat, kind of, with this stunning home theater sign. It has a big bright golden star right in the center where your name can go, so you'll always feel like a movie star when you look at it. All your guests will be extremely jealous of your sudden fame.