Need to make your home stand out more? Want to give it a sense of decor that fits your personality? The easiest way to do so is with home decor signs! These are fantastic items that you can hang, put on display, or lean on mantles to show off just what you're into! From signs that show off how proud you are of your family to how much you love billiards, there are tons of custom made signs out there for you! Let's get you started on having that personal touch to your home you've always wanted with one of these custom signs for your home!
Home Decor Signs Make Game Rooms Official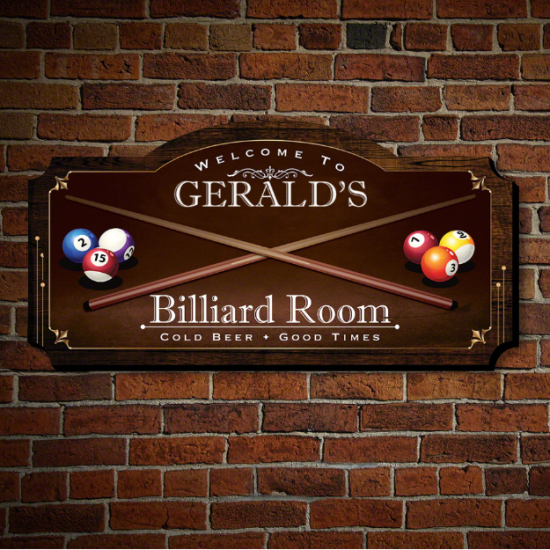 Whether you're a dead-eye with a cue stick or simply enjoy a good time in your home bar, game room, or man cave, this personalized billiard sign is the ideal way to get your custom home decor game on! Now, when you bring your spouse or friends and family into your favorite room, they can be sure they're going to be in for a great game and maybe even a few brews!
For the Ultimate Home Bar
Is your home the place everyone always comes to for a few good brews when the bars are closed? Do you enjoy hosting others and acting like everyone's favorite bartender? Then you simply must get this custom made tavern sign for your home! It is the perfect way to make your home bar look as official as everyone's favorite watering hole, it doesn't matter if you simply have a few glasses and some good drinks or even a fully-stocked bar, this sign is the best way to become the official neighborhood bar.
Custom Made Signs are Great for Couples
Home decor signs don't always need to be for one person's needs, sometimes, they are great for a couple. This unique couples home sign lets each half know that no matter where their partner is, or wherever in the country they move to, their home will always be defined as where they come home together.
Personalized Art Deco Home Decor
The roaring twenties are finally back and swinging, and there is no more fitting way to add some style to your living room or favorite hangout spot than with this retro Art Deco style sign. When you've got guests over with a few drinks and the right tunes, don't be surprised to see them trying to bring back the Charleston!
A Golf Sign Fore Your Home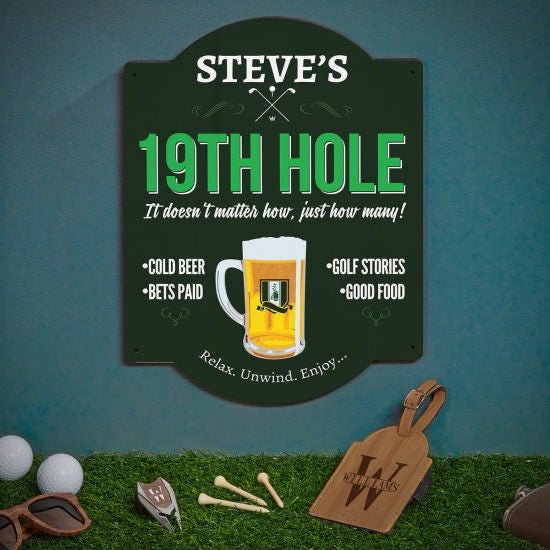 Custom made signs work fantastically as gifts, especially when they are made up of multiple parts. Take this custom golf sign, for example, it comes with a personalized divot tool and matching bag tag as well. Surprise the golf-lover in your life with one of the coolest ways for them to decorate their home as well as having a kickass gift they get to use each time they go to the course!
An Easy and Classy Home Sign
Who says home decor signs can only be inside the house? These fantastic wooden plank signs are a great and easy way to give the outside of your home a bit of style without having to do any work! Simply find the welcome sign that best fits your style and viola, all you have to do is lean it by your door and you're done. That has to be the easiest home decorating ever.
Signs They Are Still a Fun Couple
Check out this awesome sign that is fantastic for the couple who still enjoys having a bit of fun together. No one said the party was over when they got together, so for that couple who didn't hear no bell, this custom rustic drinking sign is perfect! While other custom made signs sing the praise of being together and family, this one helps them enjoy clicking their pint, wine, or shot glasses together as their preferred way of hanging out!
A Movie Magic Sign
Feel like your home theater has been missing that finishing touch? This movie sign was what you needed all along! Perfect for inside the room, or outside as a traditional marquee, you'll feel like you're entering your own personal cinema each time you go to watch Casablanca, Shawshank Redemption, or the newest Hollywood blockbuster release.
Home Decor Signs are Must-Haves
This wooden sign for couples is the best way to help them decorate the home they just moved into together. Aside from having their names, it also has the date which is a fantastic reminder for them to see every day of just how long they've been living together or in a relationship. Plus, thanks to the durable wood, this sign can be used outside by their front door just as easily as indoors, how cool is that?
Classy Your Home Pub with a Personalized Sign
Everyone has had a dream of owning a pub. There is simply something fun about the idea of being able to hang out with only your best friends, with the best tunes, and for as late as you want as well. With this unique pub sign, you can make that dream a reality! That is the power custom made signs have! You can take your dining room, man cave, or even your existing home bar and make it the pub you've always wanted.
Where's the Beef?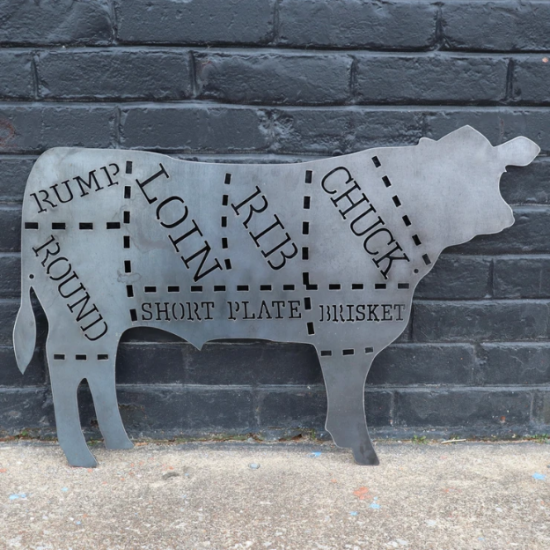 Got a love for the culinary arts? Maybe just beef? Then this is the perfect sign to make your home a reflection of your passion! When you're out in the back smoking up some brisket, you can have this metal cow sign hanging out back with you, so you can show off just where this tasty piece of food came from.
Custom Made Signs Make Hangout Spots Awesome
In need of a gift to make a friend's house be the standout hangout spot it has been for years? Help them decorate their walls with the most fitting gift ever, this ornate, custom English style pub sign! They already know they have the place where everyone comes for the after-party to enjoy a few more pints and maybe a stogie or two, so there is nothing more that they'll love than seeing your gift to acknowledge how awesome of a hang they are!
A Steel of a Garage Sign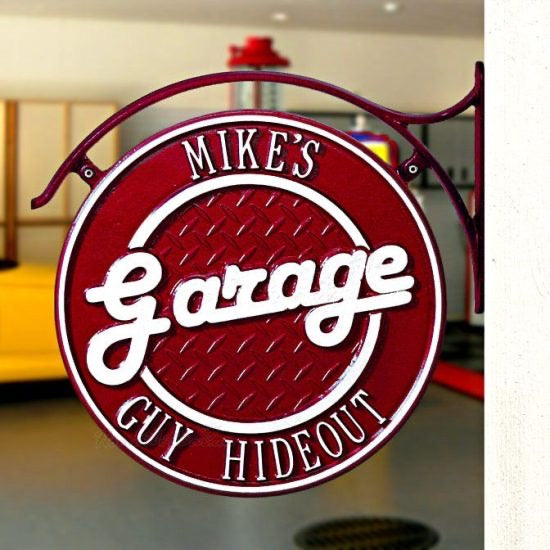 There are few spots in the house more appreciated by someone who works with their hands quite like the garage. While other home decor signs may be cool looking, none can hold a candle to how great it will feel finishing up that oil change or cut on the bandsaw, and to look up and see that you have your own personal hideout! This personalized metal sign is the perfect gift for the person who can't get enough time in the garage, and unlike other signs, it is double-sided which means they can enjoy it from any spot in their hideout.
For the Cigar Lover
Do you always have a reason for everything? Know the most random of facts? While you sit back and enjoy your go-to stogie, nothing will be more satisfying as you puff than kicking back and looking at your unique cigar lounge sign. However, if you're giving this as a gift, all you have to do to make it the perfect gift set is to add a few Cohibas and you'll be golden!
Home Decor Signs for Their Bar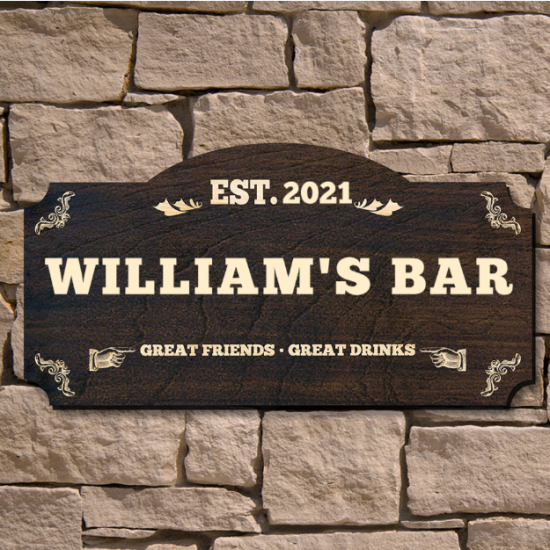 Give your home bar that final piece of decor you know you've been missing for years with this personalized sign! It is a great way to finally make your favorite spot to sling brews official! Just don't be surprised when your friends and family now prefer coming to your place instead of their favorite dive!
187+ SIGNS FOR THEIR HOME BAR>
A Sign With a Warm Welcome
One thing that always makes people feel like they belong is a warm, loving home. Thanks to this wall sign, each time they walk in the door or sit down for a family dinner, they'll always feel welcomed! Plus, who doesn't want a sign to make their home feel more welcoming? While this sign certainly works for every home, it is an especially good gift for newlyweds or couples on their anniversary.
Make Each Home Feel Like a Winery
Home decor signs are far more powerful than people give them credit for. They can take a space that feels somewhat defined, and turn it into a spot that it owns! Take this custom wine cellar sign for example. Sure, you may have a few bottles of wine and glasses out, but once you put this epic sign on display, everyone will feel like you are the biggest sommelier they've ever known!
Custom Made Signs to Make Home a Coffee Bar
Make even the sleepiest mornings at home feel like you're able to sit and enjoy your favorite brew at your go-to coffee shop with this unique coffee bar sign, perfect for any coffee lover's home! Place this on your mantle, in the kitchen, or right on your breakfast nook and you can be sure each cup of Joe will be so much more enjoyable than before your home felt like the best coffee shop in town.
Personalized Sign for Dad
Your dad has been in his home for years and very few things on the walls are for him. Change that with one of the most personalized gifts he has ever gotten with this engraved dad sign! Perfect for his office, the man cave, or his garage, he'll love being able to see all the people who mean the most to him in one place. This sign is so good, it might just bring a tear to his eye. What other home decor signs can do that, huh?
Signs for the Whole Kitchen
One room of the house that always seemed to get neglected with unique decor is always the kitchen. Sure there are unique gadgets and cool looking utensils, but where is the touch of personality? Don't let your kitchen fall into this trap! This set of three home decor signs is the easiest way to make your kitchen feel more like home, especially because you don't even have to hang them up. Since they're plaques, you can easily arrange them and stand them up whenever it suits you best.
A Sign for His Space
Every man needs his hideout. So, whether this is a self-buy to act like a flag to plant to claim your own space or you are getting this man cave sign for the guy who has been building his own unique zen garden, you can be sure everyone will respect his favorite hangout spot as soon as this is upon the walls. Cooler still is the date on the sign, so not only will they see his name, but they'll know just how long he has had this awesome setup!