It's one thing to buy a cute, rustic sign from a home decor store, but a custom wood sign adds a personal touch to your home unlike any other. With a custom sign, you can create something totally unique for your home that no one else in the world will have. How awesome is that? Two of the best things about wooden signs is that they can be personalized in many different ways so that you can be creative and that they are built to last for several years. Do you have a nice home theater that's missing something? Does your new lake house need something a little more personal to make it a home? How can you make your home bar official? Don't worry, there's a sign for it!
Classic Home Bar Sign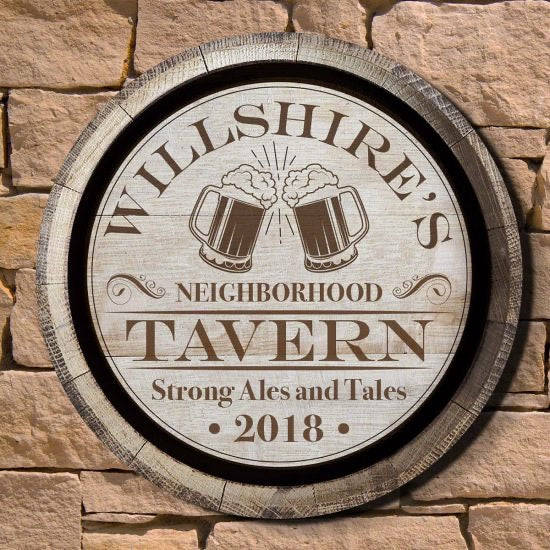 You've got a pretty cool home bar that you enjoy showing off to your guests. However, it's missing something. You have bar stools, tap handles, plenty of liquor…What about the decor? You need a personalized bar sign! This rustic tavern-style sign is perfect. The classic design will fit in perfectly with the rest of your decor, and you can personalize almost all of the text! This way, you can create the perfect home bar sign that matches your style. No sign from Hobby Lobby or Pottery Barn could compete with a cool custom wood sign!
The Perfect Billiard Room Wood Sign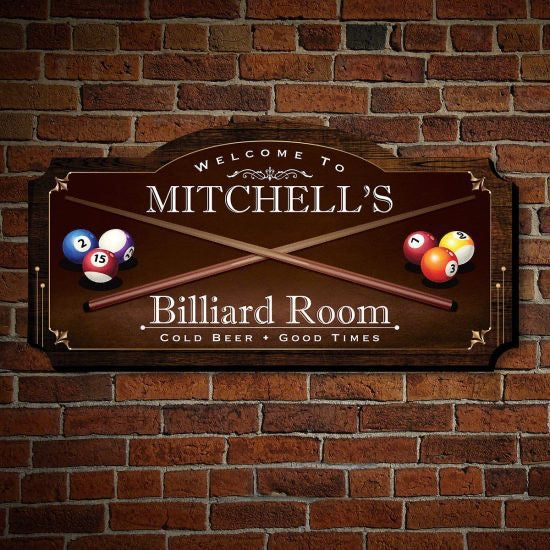 Do you have a sweet pool table in a game room or home bar that you spend a great deal of time in? You might have even designed the rest of the room around your awesome billiard table. Such a fun room deserves its own custom sign! This colorful wood sign is the perfect piece of decor for your billiard room. You can hang it above the door, at the center of the wall closest to the pool table, or just about anywhere! No matter the placement, everyone who enters the room will be immediately drawn to it.
Funny Custom Wood Sign for Lake Lovers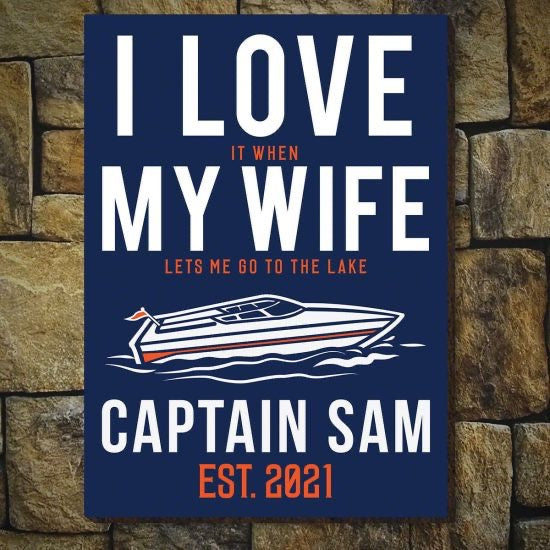 Whether you're always at the local lake or you have a lake house of your own, you need this fun wooden sign in your life! The quirky, colorful design is certainly to become a conversation piece. From a distance, the sign looks like it reads "I Love My Wife." Anyone who gets closer to the sign can't help but chuckle when they read the actual message. This funny sign is the perfect custom decor for people who love to go to the lake!
Welcome People Into Your Home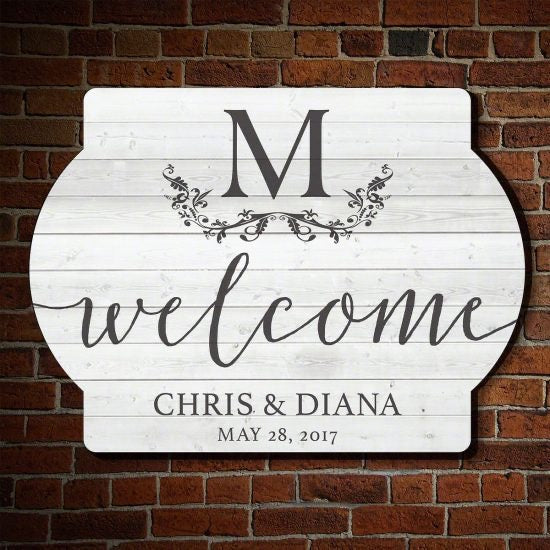 Having a personalized sign to greet you as you walk in the door is sure to brighten your day every time you come home! This gorgeous whitewashed sign is a refreshing piece of decor that will add a lovely, homey feel to your house. It's best hung in the entryway so that it's the first thing you see when you open the door, and your guests will feel right at home once they see it. You could also use this sign to welcome guests into a wedding reception or other special event.
Nothing Is Cooler Than an Irish Pub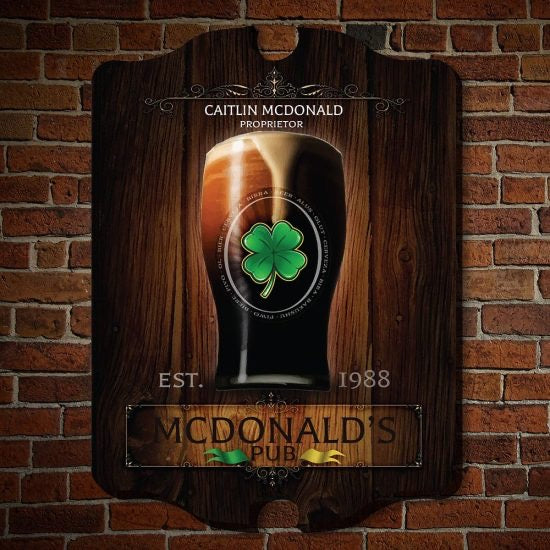 You're the kind of person who celebrates St. Patrick's Day every day with plenty of beer and Irish pride. Your home bar should boast your heritage, too! With a custom Irish pub sign, everyone will know that you're serious about beer. The design of this wooden sign is just Irish enough without being too much, and will make your home bar so much cooler, not to mention official!
Make Your Name Into a Sign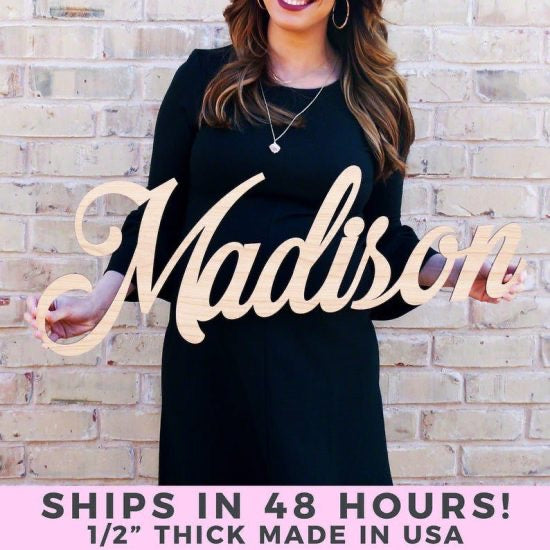 Custom wood signs are so much more than just pieces of wood with a unique design printed on it! With a name sign, you can add a truly personal touch to any room in your home. These simple but elegant pieces of decor are quite popular, especially for children's rooms. Kids love seeing their names on the wall! You could get multiple name signs and create a cute collage of them in the living room to represent each member of the family, or get one for yourself and your significant other as cute his-and-hers signs. These super cute signs also come in several colors and fonts to make them even more unique. The options are endless!
A Must-Have Kitchen Sign for Coffee Lovers
People who are really into coffee are all about showing off their love for the caffeinated beverage. It keeps them going every day, after all! A beautiful coffee bar sign is the perfect kitchen decor for coffee lovers. The chalkboard-like design is whimsical and fun, but don't worry, it'll match the rest of your kitchen perfectly! You can customize the two outer lines of text and the initial on the coffee cup in the center to make it even more unique for your home.
Classy Custom Wood Sign for Bars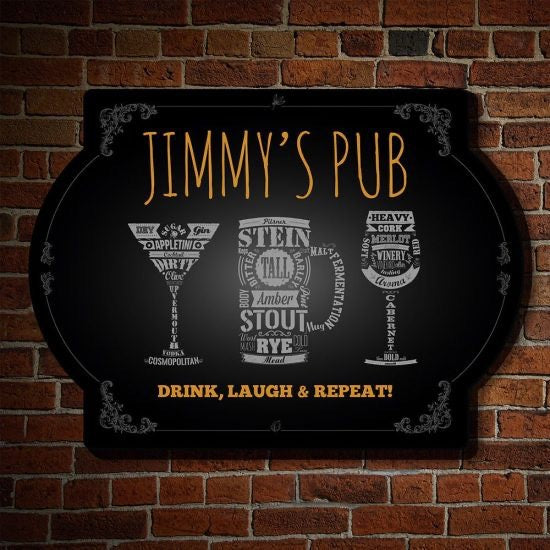 Are you the kind of person who is into liquor, beer, and wine? Your home bar doesn't discriminate, and you love being able to accommodate all of your guests' needs when they want a drink. This cool sign is the perfect decor for your home bar! The modern graphics show a martini, beer mug, and a wine glass all made up of popular cocktails, types of beer, and wine terms.
A Cute Piece of Decor for a Couple
Aww, how cute is this custom wood sign? From the cupid's arrow going through two hearts to the unique design of the couple's names, everything about this sign is positively adorable. Newlyweds will especially love this sign, and it would make a fantastic wedding or housewarming gift! Couples like having their names and the date they were married on decor as it is a personal token of their relationship. This gorgeous sign is built to last for years so that they can treasure it forever!
Vintage Inspired Movie Marquee Sign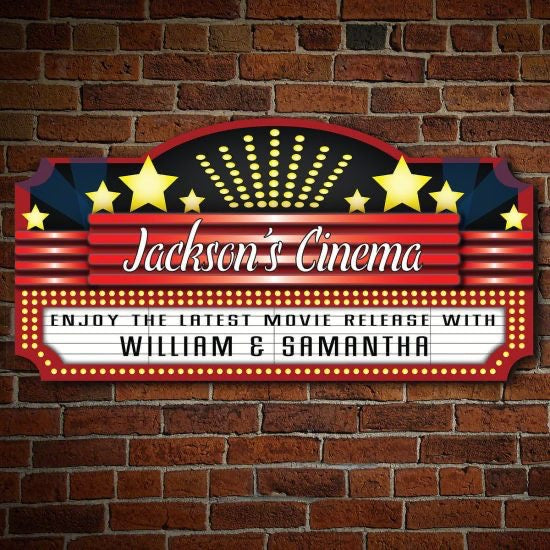 Make your home theater official with a vintage-inspired marquee sign! Designed to look like the classic marquee signs that used to be on the outside of theaters all over the world, this awesome sign is the ideal decor for a movie buff. You can customize the text on the marquee part to be your favorite movies "Now Showing" or a fun phrase of your choosing. The bright red will add a fun pop of color to the room. You could even outline it with a set of string lights to really make it stand out, even when the lights are out and the movie is on!
Make Your Home Stand Out with a Custom Address Sign
While most custom wood signs are meant to be indoor decorations, you can have one outside too! This incredibly durable and sturdy wood sign is a lovely way to display your house number and street to set your home apart from your neighbors. No one else will have one like it! Once you have this displayed, your visitors will never have trouble looking for your house in the neighborhood again. Just tell them to look out for the wood sign!
The Perfect Rustic Decor for Your Wine Cellar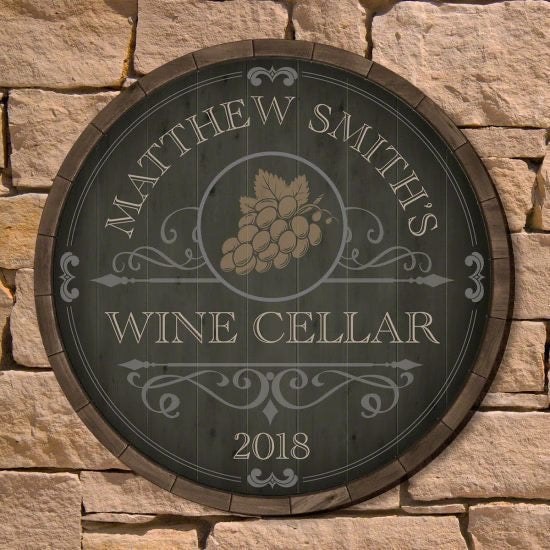 Anyone into wine dreams of having their own wine cellar. A giant room dedicated to storing all different kinds of wine? Yes please! Whether you have your own actual wine cellar or just have a nice little wine bar, you need this rustic wooden sign. Not only can you customize the name and year, but you can choose between two color schemes too! The green one shown is lovely, but the white and red version is also quite pretty. Whichever one you choose, you will love having your own official wine cellar decor as it makes you feel like a true sommelier.
You Can Finally Have a Tiki Bar
Whether you live on a tropical island or your home is all about the beach, you will love this fun tiki bar sign! Even if you don't have an actual tiki and just have a nice patio area where you often entertain guests, this sign is perfect. Every time you look at it, you'll feel like having a tiki party with the signature torches and fruity drinks with umbrellas.
Make Your Home Theater Official
Not digging the bright, vintage movie theater sign? Try this one! The black and white design is reminiscent of old-timey silent films. No matter what kind of decor or color scheme you have going on in your home theater or family room, this minimalist sign will fit in quite nicely. The cool distressed look makes it appear as if you picked up this custom wood sign in an antique store! You could even tell your friends that it just "happens" to have your name on it for a laugh, they might just believe you.
A Lovely Family Name Sign for Your Home
Want to give your home a more personal touch? You've got photos and keepsakes a plenty, but they just don't quite cut it. Give your house a beautiful sign featuring you and your love's names and wedding date! The perfect wedding or housewarming gift, this simply gorgeous sign is the perfect decor to make a house feel like a home. The handsome wooden color scheme makes it ideal to go in any room, such as your entryway or living room.
135+ LOVELY SIGNS FOR THE HOME>
Upload Your Own Photo On Wood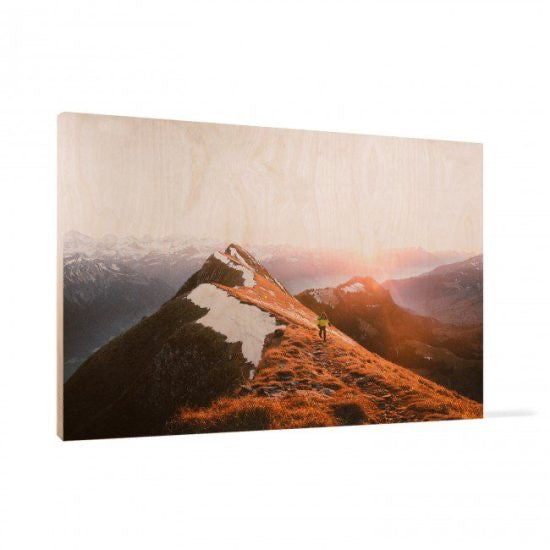 Thanks to modern technology, you can now have the best photo you've ever taken printed on a wood sign! Forget canvas, a custom wood sign of a photograph is where it's at. Whether it's your favorite wedding photo, a gorgeous landscape from a family vacation, or a portrait of your pet, you get to choose what the sign displays. How awesome is that? Now you can have a personal piece of decor that's so much cooler than just regular old pictures in frames.
A Fun Sign for a Golfer
After 18 holes of golf, there's nothing better than a cold refreshing beer. You and your friends often come to your house for a drink after a couple of hours on the green, so why not make your home bar the official 19th hole? This fun wooden sign is all about beer and golfing. You can personalize the name on the sign as the rest of the design says it all!
Is This Really Wood?
This incredibly cool sign sure doesn't look like it's made of wood, does it? The 3D-like design looks more like metal! Such a unique piece of nautical decor will look so awesome in your home whether it's a sign for your home bar or a personal Naval sign with your rank and name on it. Anyone in the US Navy or a fan of the sea will love having this custom sign in their home.
Classic Man Cave Custom Wood Sign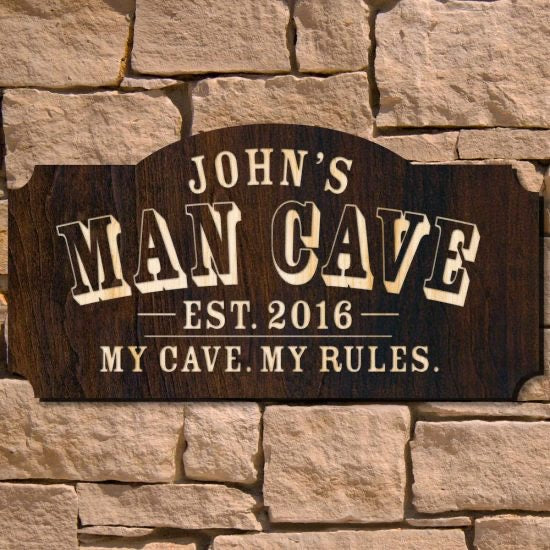 Make sure everyone stays out of your man cave with an official wooden sign! You can hang it right above the door into your man cave or have it as a cool piece on the bar. Everyone who sees it will know that it's your man cave, and your rules are to be followed. You might even get another sign of your rules to display, too!
You Decide the Rules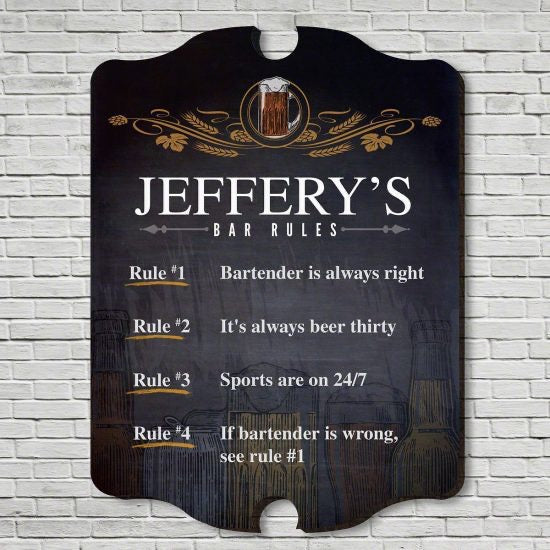 Speaking of rules, make sure everyone follows the dos and don'ts in your home bar with this customizable sign. You can personalize each bar rule and the name at the top of the sign so that it is truly unique for your home bar. No one else in the world is likely to have the same one! You can have your bar rules say something like "Rule #1: What happens in the bar stays in the bar" or "Rule #2: No custom drink orders." The choice is yours! This cool custom wood sign is by far one of the best because you can get really creative with it.
A Keepsake Unlike Any Other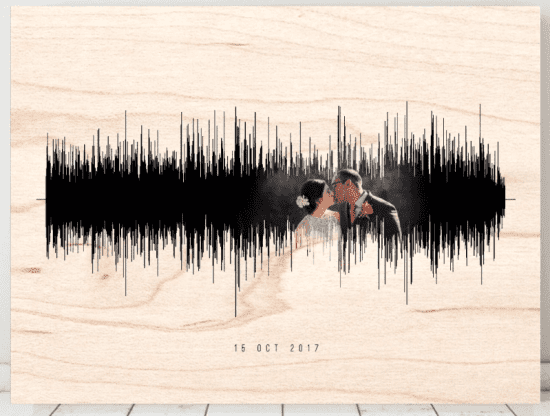 Turn a song, quote, your wedding vows, or a personal saying into art with a soundwave print! This unique work of art is way too cool, eye-catching, and sure to spark conversation. A soundwave sign is a really unique way to memorialize a special occasion such as a wedding, anniversary, birth of a child, and more. Best of all, you can customize the sign with a photo and text to make it even more personal!
Bring Some Color Into Your Brewery
Your home brewery is pretty impressive. You cleared out a shed in the backyard specifically to pursue your hobby, but it can be kind of dark and dreary. Bring some color in your home brewery with a custom sign! This beautiful red sign is the perfect pop of color in the shed to break up the all-wood or all-metal interior. This lovely brewery sign will make your brewery official, and you will love showing it off. You can customize the initial, name, and year on this awesome sign.
A Cute Sign That Never Gets Old
Sure, you could have a stereotypical "Live, Laugh, Love" sign on the wall, or you could have something a little more fun and personal like this sign! The perfect piece of decor for your kitchen, home bar, or dining area, this lovely sign is a great addition to your home. Every time you see it, you can't help but smile. You and your sweetheart might even toast to it whenever you share a bottle of wine or enjoy some homemade cocktails. This cute custom wood sign would make a fabulous wedding, anniversary, or housewarming gift, too!
Time to Bring Back the 20s
Just about everyone is required to read The Great Gatsby in school, and it really resonated with you. Ever since, you've been all about embracing the culture of the 1920's and you can't wait until 2020 so that it can come back! Give your home a little bit of Gatsby with this awesome art deco sign! Inspired by vintage 20's decor, you can customize the text on the sign to be just about anything you want. The eclectic design draws the eye, so you want to have it displayed somewhere prominent. Everyone who sees your gorgeous custom sign will be jealous!
For the Football Fan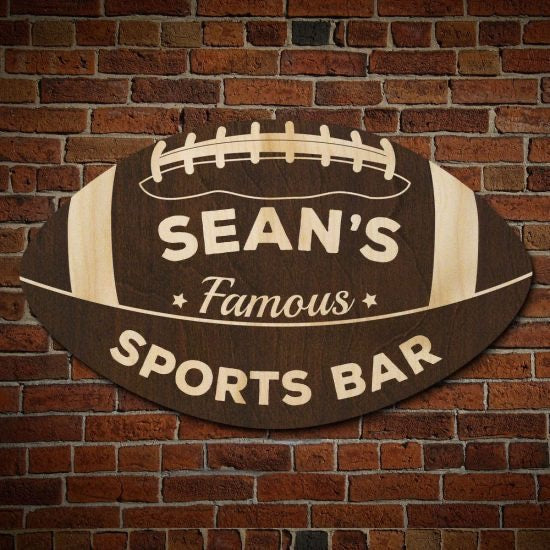 Football fans are pretty serious about their love of the sport. They have season passes to their local NFL team, have tons of merchandise, and even their home bar is themed around the sport. Add the finishing touch with a wood sign shaped like a football! Any fan would love this awesome sign, especially since it's personalized just for them. Nothing shows off team pride like a custom sign!
3D Custom Wood Sign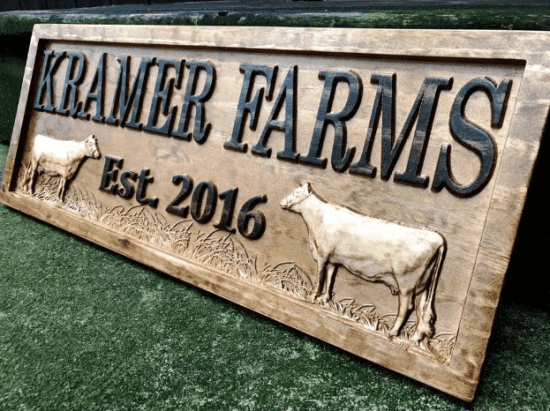 You've seen some pretty unique wood signs so far, but nothing quite 3D yet. This adorable farm-themed sign is totally 3D, and adds a lovely simplicity to your home. You could hang it in the kitchen to go with your collection of cow figurines or use it as a welcome sign in the entryway. Whichever you choose, everyone who sees it will feel right at home in your comfy little country house.
A Decorative Way to Collect Bottle Caps or Wine Corks
Did you know that you could use a sign to show off a collection? Whether you're into beer or wine, you can get a collector map shaped like your home state to display all of your favorite alcoholic beverages! These unique and fun signs are perfect for people who are proud of where they were born and love showing off their home state. You will love filling up the sign with the wine corks or bottle caps of your favorite evening drinks. Who knows? Collecting them might even become a new hobby!
The Perfect Decor for the Garage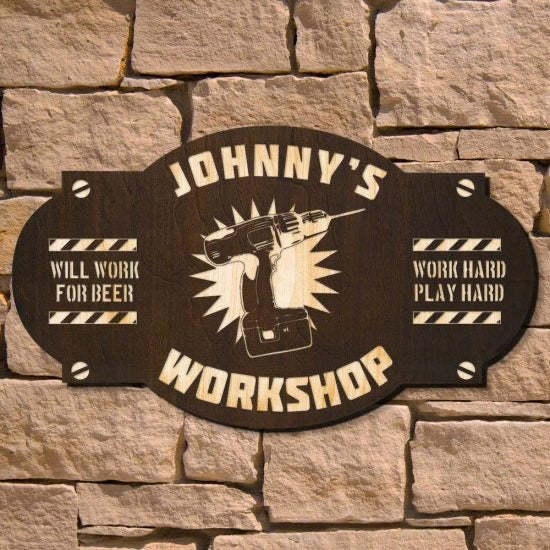 Are you a mechanic or you just like to work out in the garage in your free time? Whether it's fixing up cars, repairing things around the house, or building furniture from scratch, everyone knows where to find you: the garage. Affectionately called "The Workshop," it's your favorite place. You need this awesome sign to make your place official! This cool sign is the perfect decor for a garage or workshop whether it's at home or your work. Everyone will know that it belongs to you!
Cute Picturesque Sign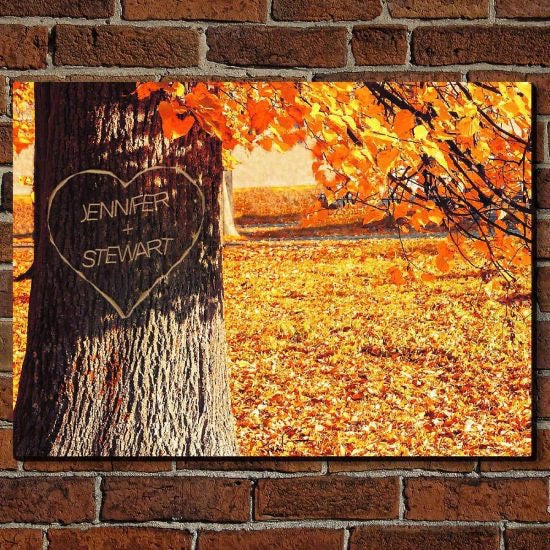 You've seen a photograph printed on wood, but have you seen a personalized one? Now you have! This adorable scene depicts two lovers' names carved into the wood of a tree on a gorgeous fall day. You and your sweetheart have probably done this at some point, and this super cute sign is a lovely piece to forever remind you of that sweet memory. You just can't help but go "Aww!" whenever you see this lovely wooden sign.
Your Love Story on a Sign
Another adorable way to commemorate special moments in your relationship is with this unique sign that creates a timeline of major moments! You can customize it to detail when you met, your first date, your first kiss, when you two were engaged, and more special moments. How cute is that? You will love seeing this lovely work of art, and you're sure to treasure it for many years. Wood signs are supposed to be durable and sturdy, after all, you want them to be something that lasts a lifetime! This cute wooden sign is a simple and minimalist way to display the special moments in your life that photographs can't always convey.
Unique Wood Cut Out Sign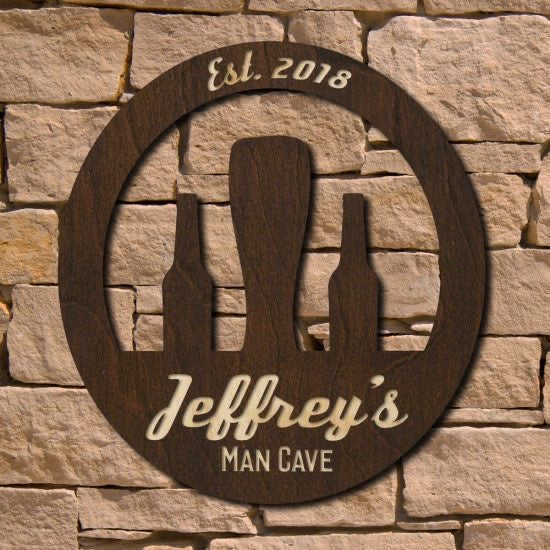 Give your man cave a unique, personal touch that makes your favorite room official with your own wood sign! This cool cutout is a subtle way to tell your bros that you're all about beer, and you'll always have a constant supply of it. The rustic style is sure to fit in perfectly with the rest of your decor whether you have a sports-themed man cave or a more simple layout. You'll want this sign displayed font-and-center, such as close to the door, above the bar, or above the TV. This way, everyone you invite will be able to see it and admire your awesome, official man cave.