Is your home missing a personal touch? Then you need a custom sign! Whether it's engraved with your name, features a cool design you can customize, or displays a photo, custom signs are the perfect way to add a personal touch to your house and make it feel more like home. Signs can come in all shapes, sizes, materials, and styles so that you can find the perfect one for each room in your home! Personalized signs don't have to just have your name on them, they can be fun designs you can add customization to, display photos, and more. We picked out the most unique and customizable signs we could find that would work in every room of your home!
Personalized Signs for The Home Bar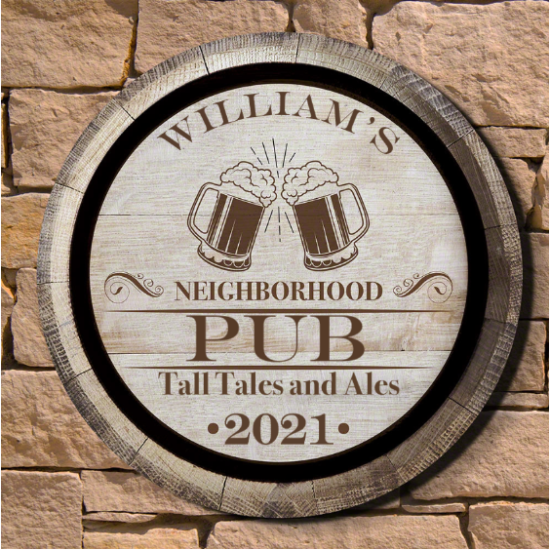 Whether you've got a home bar or you're just looking for something to tie your dining room together, this customizable wooden tavern sign is perfect! With its classic rustic style and fun design, you can get really creative with the personalization to make it especially unique for your home. This unique decor is a bestseller, and it's no wonder why because it's one of the most versatile custom signs you can get!
A Cute Sign Everyone Would Adore in the Entry or Living Room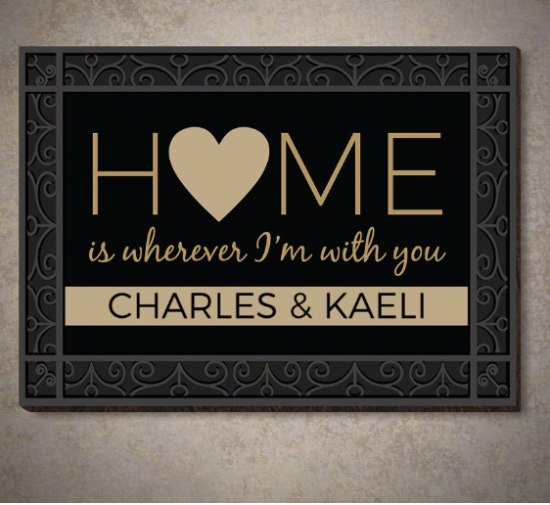 Anyone who sees this sign can't help but say, "Aww!" because it's just too cute! Whether you and your partner are newlyweds or have been together for decades, the sweet design on this sign rings true no matter what and will make you smile every time you see it. This adorable wood sign is one of the best personalized signs to hang in your entryway, living room, or your bedroom.
The Best Billiard Room Sign
Do you have a game room with a pool table or a dedicated billiard room? Then you need this sign! Now, your game room will be official and everyone who comes over for a game of pool will be impressed by how this sign makes the room feel more like a billiard room at their favorite pool bar.
For Dad's Favorite Room
Does your husband or dad spend most of his free time in the garage? From tinkering with cars to working on DIY projects, he always has something to do. He will love nothing more than to have this awesome dual-sided metal garage sign hanging in his favorite space! Best of all, it's personalized just for him and makes his garage feel more like a workshop.
A Different Kind of Bar Sign
Are you looking for custom signs that have more options for customization than just text? This cool bar sign comes in four unique color schemes so that it matches your home bar or brewery perfectly! The rustic barrel look of this cool wooden sign will instantly add a touch of vintage appeal to the room, and the fact that it's personalized makes your home bar feel more like your own pub.
Decorate Your Front Door With a Sign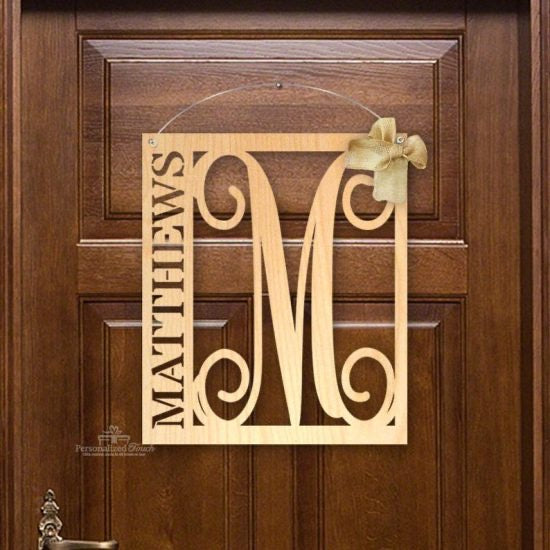 Not every sign has to be displayed indoors, and with that in mind check out this lovely door sign! Displaying your name and initial, everyone will know which house is yours right away. Being welcomed home by this beautiful sign will put a smile on your face every day and all of your guests will be begging you to know where you got such a cute addition to your home. You could even give this lovely door hanger as a wedding or anniversary gift to anyone you know!
The Perfect Personalized Signs for Whiskey Lovers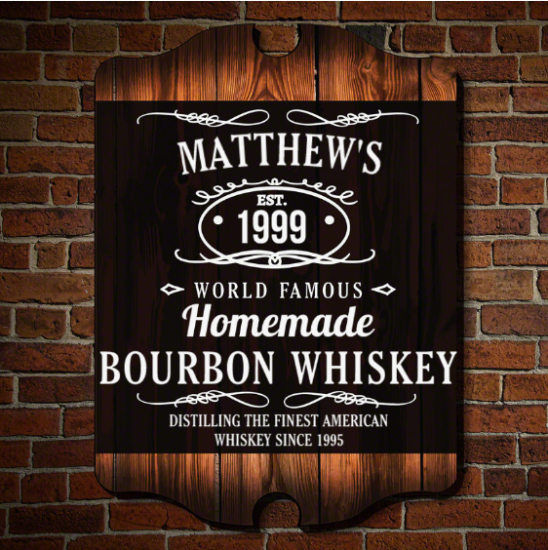 Anyone who drinks whiskey such as Jack Daniels or Jim Beam has fantasized about what their own namesake label would look like. Now, you can make it a reality! With this awesome sign, you can design your own signature whiskey label and display it anywhere in your home from your office to the kitchen. By far one of the coolest personalized signs ever, this is something every whiskey lover needs in their home!
A Fun Addition to Your Cigar Lounge
It doesn't matter if you have a cigar lounge or you just enjoy them in your office, you need this hilarious sign! You'll feel like a badass every time you have a stogie now because of this sign, especially when you have friends over because you're the cool, all-knowing, cigar-smoking legend now.
Custom Signs For The Wine Cellar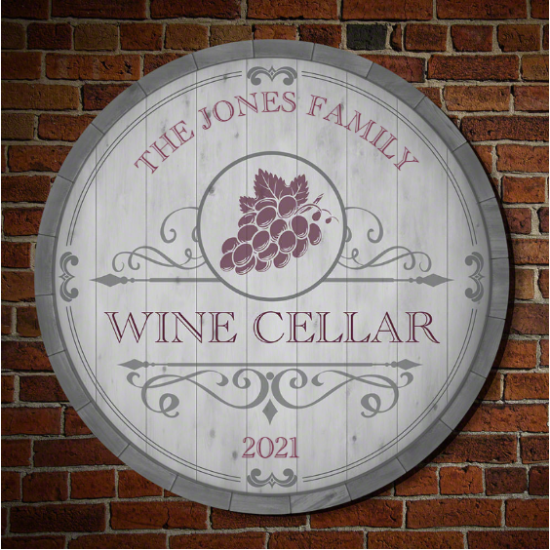 Looking for some lovely wine decor? This beautiful sign will make any room feel like a real wine cellar! With two different color schemes and a customizable name and year, you can personalize this elegant sign to make it unique just for your home. No one else will have a sign quite like this one, and it will make you feel like a true sommelier as you sip on your favorite wine and admire your new sign.
Personalized Signs For Couples
How cute is this sign? Perfect for newlyweds but still accurate for couples who have been together for many years, this adorable wooden sign is a must-have! It looks great on display in the kitchen or dining room and is sure to be the site of many anniversary toasts together. The elegant look of the stained wood makes this lovely sign blend in seamlessly with any decor you have.
A Metal Sign to Display Outside
Give your house number a personal touch with this custom metal sign! Not only will this bold sign make your house number easier to see for visitors and delivery drivers, but it also makes your home stand out among the rest of the neighborhood. Get ready for all of your neighbors to be asking where you got such a cool house number sign!
Feel Right At Home With These Custom Signs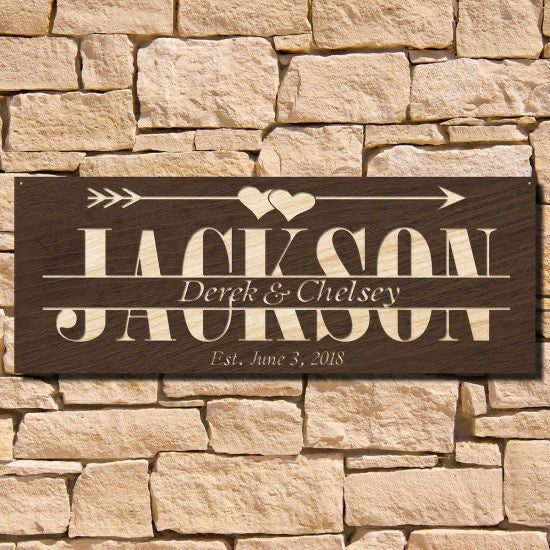 Make your house feel more like home with custom signs! This adorable one, in particular, is perfect for a couple who just got married or just moved into a new home together. It can be displayed in the entryway, living room, bedroom, or just about anywhere! This charming sign is sure to be a part of your home for years to come.
Vintage-Inspired Whiskey Sign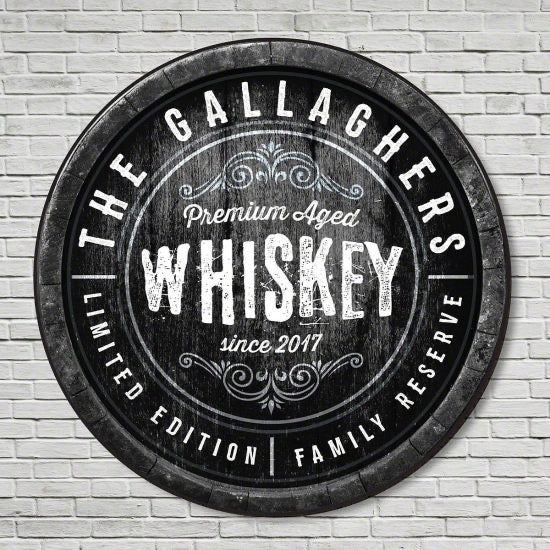 Looking for a sign with a vintage feel? This cool whiskey barrel sign is all about the rustic, vintage style. In fact, it looks so much like a genuine whiskey barrel that anyone who sees it won't realize at first that it's your name on it! This unique sign is great for hanging up in your home bar, dining room, or even your office!
Manly Man Cave Decor
You can't have a man cave without an official man cave sign! This awesome sign is best displayed above the door to your man cave or above your TV so that anyone you let into your favorite room will know you mean business with your rules. Of course, you can customize it with any name, text, and year that you want so that it fits your man cave perfectly.
Turn Your Living Room Into a Home Theater
Do you have a home theater or want to have one someday? Then you need this movie theater sign! By far one of the best personalized signs for anyone who loves movies and theatre, this awesome sign will transform any ordinary living room into your own personal cinema as soon as you hang it up.
Your Own Neon Sign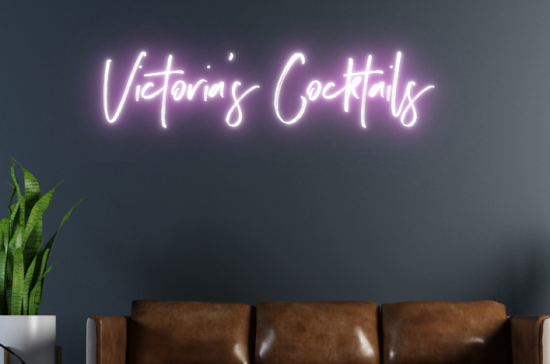 You see neon signs in most bars, restaurants, and the occasional barber shop, but what about in people's homes? There's no reason you can't have a neon sign in your house, especially a personalized one! Custom Neon allows you to create a one-of-a-kind neon sign of any text, logo, or imagery you want to give a bright pop of color and illumination to your home. You can put it in your kitchen, home bar, office, or anywhere you want to make a cool statement!
This Sign Works Anywhere In Your Home
How gorgeous is this wine-themed sign? You can get super creative with this beautiful wooden sign as you get to customize all of the text and even choose from three different color schemes to make your unique sign. The elegant, classy style of this stunning statement piece makes it ideal for displaying anywhere in your home as it adds a touch of luxury wherever it is.
Make Your Bar Rules Official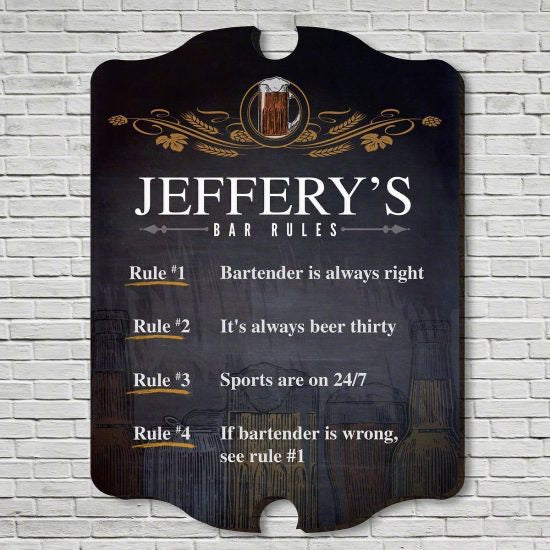 Do you have a set of rules for your home bar that aren't always followed? Set them in stone (or in this case, wood) by putting them on a sign! This awesome and fully customizable sign is one of the coolest personalized signs you can get for your home bar. With this on display, your friends and family will all be able to see the do's and don'ts of your bar. Plus, it just makes it feel more like a real bar!
If Your Kitchen's Bar is a Coffee Bar
For those of you who love coffee more than anything, your kitchen obviously needs a custom coffee bar sign! This cute chalkboard-inspired round sign will look great in your kitchen or dining room as a testament to your love of coffee. If you've already got a coffee bar or are in the process of styling your kitchen's bar to become one, this sign is the perfect finishing touch!
Must-Have Grilling Sign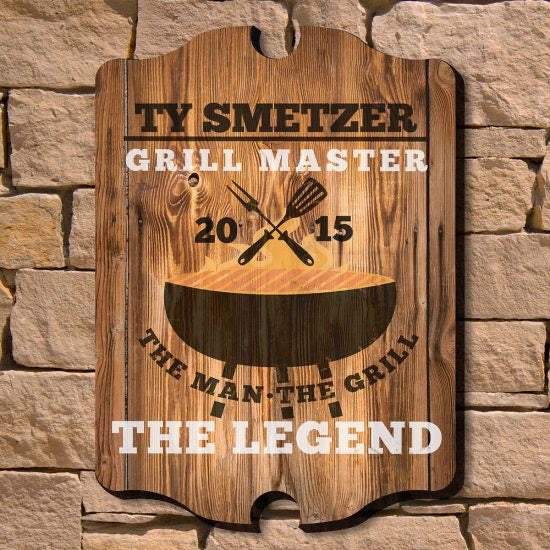 Are you the grill master of the house? Then you should make it official by getting a custom sign to display in your kitchen or on your patio! This awesome sign makes sure that everyone who sees it knows that you are the king of the grill and your BBQ is the best around.
Custom Photo Canvas
Custom signs don't always have to be made of metal or wood, they can be canvas too! You can design your own work of art on a canvas using Zazzle where you can play around with borders, endless types of text, and use your own photos. This one is themed around love, and will look great in your bedroom or living room as a touching reminder of your partner!
Make Your Patio a Tiki Bar With This Sign
Transport yourself from your patio to a tropical island paradise with this fun tiki bar sign! With a couple of tiki torches and a hot tub along with it, your patio will become your backyard getaway in no time. Of course, this playful sign belongs front-and-center whether you hang it above your back door or display it on the bar with a sign stand.
The Best Custom Signs Cover All Your Bases
How cute is this sign? Perfect for your dining room, home bar, kitchen, or even your breakfast nook, this adorable décor reminds you to enjoy the moments in between your favorite beverages. The two lines of text at the bottom are customizable, which means your sign could say something like "Hannah's Life Motto" or "Anderson Family Espresso & Wine Bar."
Personalized Signs That Work for Any Room Are the Best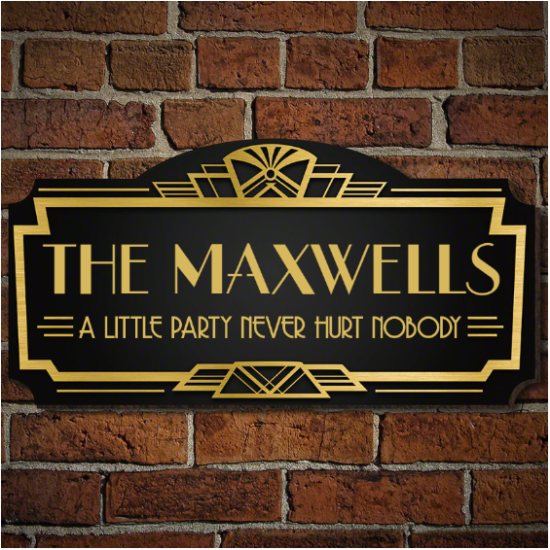 Are you in search of custom signs that you have the freedom to personalize? This art deco sign and its simply elegant two lines of text is ideal! Whether you need it for your business, a Roaring 20s themed party, or something cool to hang on your mantle, this sign is the one you need. Wherever you choose to display it, this cool sign instantly becomes the centerpiece of the room!
An Interactive Sign Every Beer Lover Needs In Their Home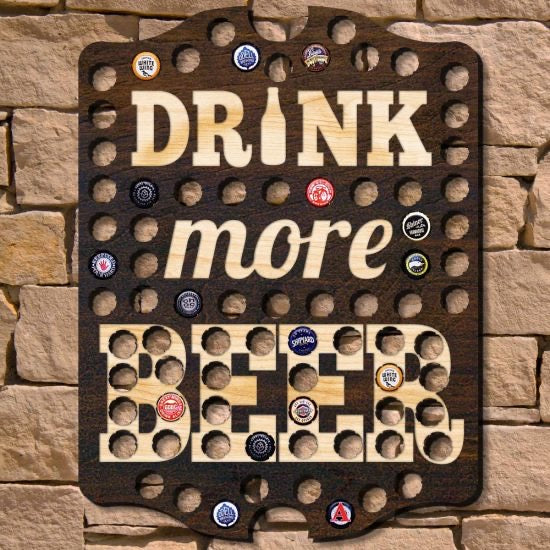 Get a load of this hybrid sign! Both a bottle cap collector and a neat sign, this unique decoration is a must-have for anyone who loves beer. It would look especially great in a home bar or dining room, and the fact that you can both customize the text on the sign and fill it up with any bottle caps of your choosing means that no one else in the whole world will have the exact same one.
Create Your Own Glass Plaque
Yes, signs can be made of glass too! This modern sign is completely customizable because you can choose a variety of colors, sizes, shapes, add text, create logos, or even upload your own photos. The possibilities are literally endless, making this cool sign one of the all-time most versatile custom signs you can get.
Something Personal For the Hunting Lodge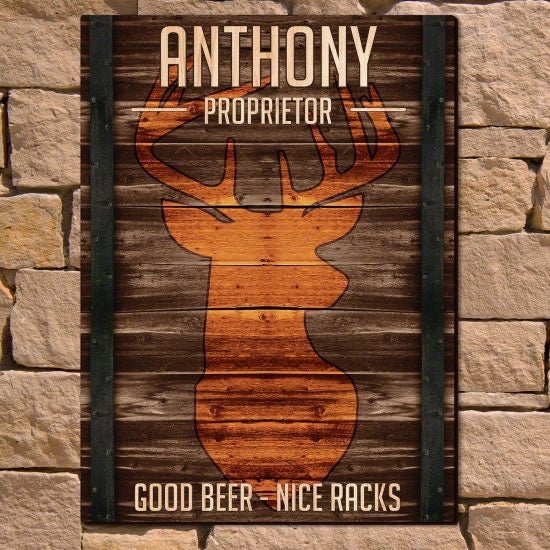 Are you in need of personalized signs to make your hunting lodge or cabin a little more homey? This fun deer sign is sure to be your new favorite piece of decor! The best part about this sign is the customizable text so that you can make it funny, classy, cool, or sentimental. No matter what you choose to personalize it with, it's a one-of-a-kind sign that is sure to make your place feel more like home!