There is no better way to let someone know that you're grateful for them than by getting them a fantastic thank you gift. When a person in your life has been helping you out a lot recently, you want to show gratitude to them. Whether it's an awesome friend, someone at work has been a huge help to you, or a family member who's been assisting you a lot, a good gift is the best way to show that! Good thank you gifts aren't complicated; they're simply useful and personal presents that will make them feel special and appreciated! We looked high and low to find great thank you gifts that anyone in your life will love and will make them feel much appreciated.
Personalized, Great Thank You Gifts They'll Adore
Show them how thankful you are for their support in your life with this amazing whiskey gift set! They'll absolutely love this unique gift, especially when they see the engravings on the box and glass! It'll make them feel so good seeing "Jason, Thank You So Much" or "Max, I Appreciate You," engraved on the set just for them. Whenever they want to enjoy a cold drink, they'll use this phenomenal gift set and think of the great way you used it to show your gratitude!
Every Wine Tool They Will Ever Need
Nice bottles of wine make great thank you gifts, but you want to go above and beyond with your appreciation present. That's where this wine gift box set comes in! This stunning gift is fantastic because it gives you a super handsome box to present their bottle of wine to them with, but also, the box includes all the wine tools that they need to pop open their bottle of wine and enjoy it! Your helpful neighbor or understanding boss will feel so appreciated when they see this amazing present and will be so excited to use it!
Thank Them with a Stein
When you've been super busy with work or family and someone jumps in to help lighten your load, they deserve an awesome thank you gift. This personalized German beer stein is a fantastic choice! They'll be so impressed with the quality of this stein and how incredibly unique it is, especially when they see it has their name on it too! The vintage aesthetic especially will make them feel really cool because no one they know has anything like it. They'll definitely see how thankful you are for their help after being given this gift, and they can relax after their hard work with a drink!
A Fun Thank You Gift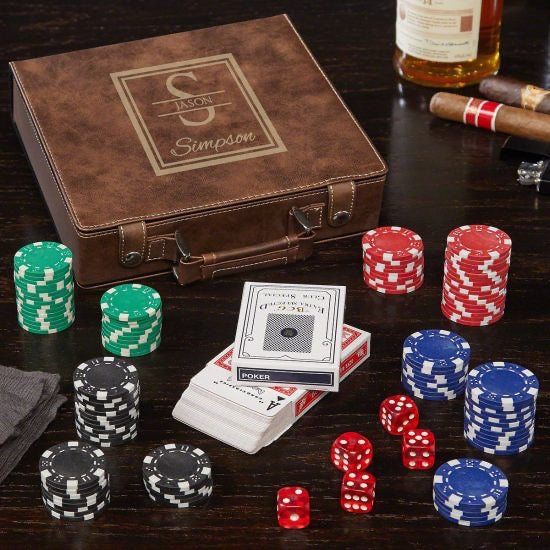 Presents that encourage them to relax and have fun always make good thank you gifts. That's why this customized poker gift set is such a phenomenal thank you present! They'll immediately fall in love with this awesome gift and will definitely be able to sense your deep gratitude knowing you went to the trouble to personalize such an incredible present! It'll be a blast when they invite friends over for a game night and use this set for poker and other fun card games. Whether it's for a very helpful buddy or a family member who's been by your side, they'll definitely feel appreciated!
Beer Carriers Make Good Thank You Gifts
Show your appreciation for them in the best way you know how—with a gift that you know will come in handy all the time! This engraved wooden beer tote is a unique and useful present that they'll immediately be obsessed with. When they're headed to a family get-together or backyard barbecue with friends, they'll love bringing this along filled with beers. They'll be really impressed by how rare of a gift it is, and knowing you took the trouble to not only find a unique gift but also one that's been customized just for them will definitely send the message that you're so thankful for them!
Sweet and Savory Thank You Present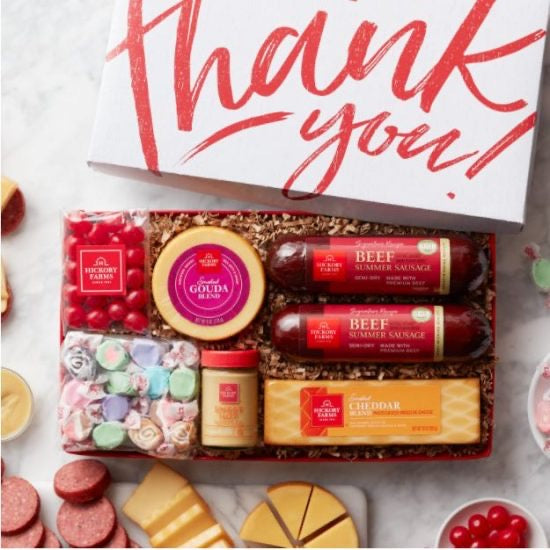 There's nothing like a delicious sweet and savory gift basket to let someone know you're extremely thankful for them! They'll feel so appreciated as they snack on these summer sausages, saltwater taffies, and a few other scrumptious treats. After all, they're sure to have worked up an appetite with all they've been helping you out with recently! They'll have no doubt that you're very grateful to have them in your life!
A Wine Set They'll Love
Nothing says: "Thank you," like modern wine glasses with their monogram on them! That's what makes this wine tool gift set a phenomenal thank you present. After all, great thank you gifts let them enjoy their favorite drink without having to put in too much effort! With this gift set, they'll have everything they need to enjoy their favorite wine whenever they want. There's no doubt that they'll always remember how thankful you were!
Coolest Gift to Say "Thanks!"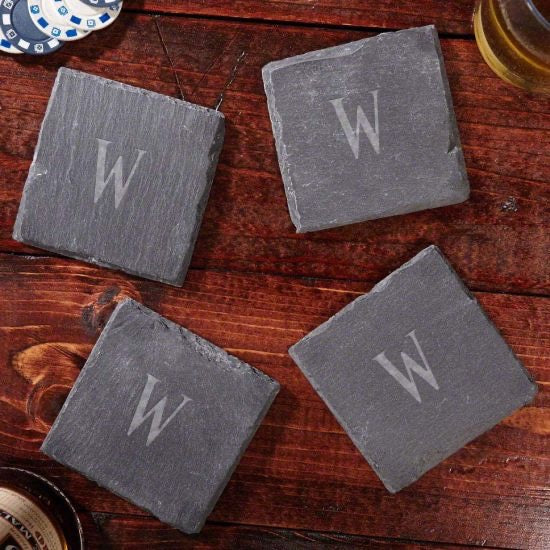 You might feel like you need to know a lot about the person to find good thank you gifts, but the truth is, you don't! For this set of custom slate coasters, all you need to know is that they like to enjoy a drink sometimes! They'll love being thanked with a unique, personal present that they can use all the time!
Gift Box Set of Great Thank You Gifts
A classy gift box can go a long way in showing tons of gratitude, such as this twisted whiskey glass box set. It's an incredible thank you gift that will stun them because of how thoughtful of a present it is. Whether they've helped you with your children recently, assisted you on a work project, or been a help to you in any way at all, they'll definitely sense your gratitude when you hand them this spectacular box set.
525+ AWESOME THANK YOU GIFT BOX SETS>
For Their Favorite Liquor
When you really can't think of any good thank you gifts, just go with something you know they like—liquor and knives! With this personalized flask set, they can enjoy their favorite liquor at home or on-the-go out of a handsomely engraved leather flask. They'll love having a useful pocket knife that they can have with them in case someone needs their help cutting something. They'll be thankful for this gift that shows your thankfulness, too!
Brighten Up Their Day
They've helped you out and brightened your day many times. Repay them with a gift that will make each and every day better—this succulent garden! These gorgeous plants will look fantastic on their desk at work, window sill in the kitchen, or anywhere else they want to keep them where they know they could use a mood booster from time to time. They'll love this thoughtful, unique gift that shows your gratitude!
Keep Their Wine Chilled
A sophisticated, handsome marble wine chiller is a fantastic thank you gift idea! That's because no matter what kind of day or evening they're having—be that a date night in, dinner party, or night to themselves—they'll want to use this gift to keep their wine chilled for as long as they want to keep the bottle out! It's the kind of gift that's not a necessity at first, but after they've had it, they'll wonder how they ever lived without it!
They'll Never Lose Their Watch Again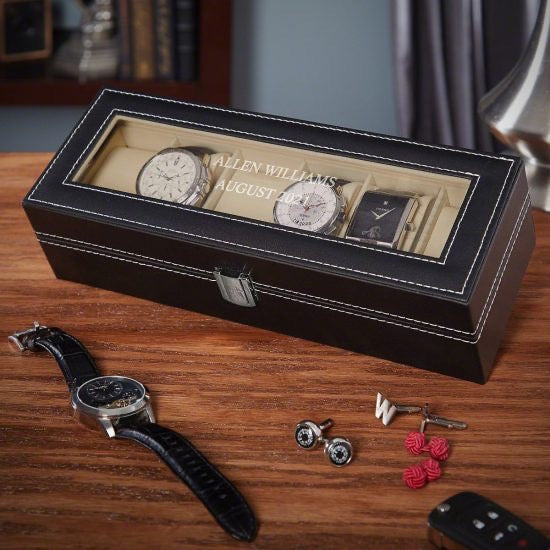 When someone's helped you out big time, helpful presents make great thank you gifts for them! This attractive leather watch case is extremely helpful because it helps them keep track of their watches or even their tie clips, cufflinks, rings, or any other small accessories inside it! They'll love how useful this gift is to ensure that their possessions stay safe and sound.
Grilling Tools are Great Thank You Gifts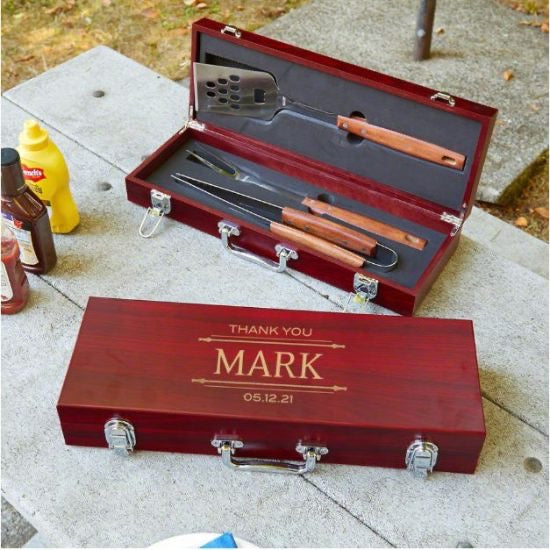 When considering a thank you gift, think about one of their hobbies. For the person who likes to grill up some delicious food, whether that be once in a blue moon or every weekend, this grilling tool set is the way to go! They'll be thrilled to have their own handsome grilling tools that go inside a case that's customized just for them. They'll definitely know how thankful you are for them and will want to grill you some food as a thank you for the gift!
A Thank You Clock
Sometimes, good thank you gifts are those that have personalization that really gets the message of your gratitude across. This personalized leather clock is fantastic because it can sit on their desk, mantle, bedside table, or anywhere else and remind them of your thankfulness no matter what time of day it is!
Classy Gift Set They'll Never Forget
They're glad to have helped you move to a new house or always be your shoulder to cry on, so there's no way they'd expect a super nice thank you present from you. Wow them with this stunning whiskey and cigar gift set! They'll be so grateful for a personalized present that helps celebrate a job well done with a stogie or two, and you'll be so happy having thanked them with such an incredible present.
Multipurpose Thank You Present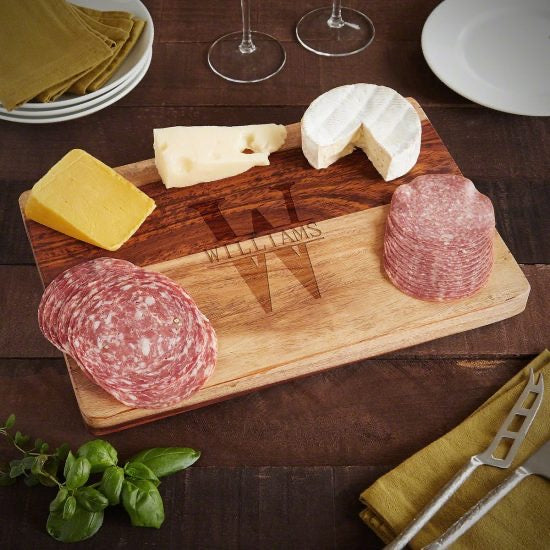 You're torn between good thank you gifts that are useful and ones that are aesthetically pleasing. Get the best of both worlds with this personalized charcuterie board! This board is a life-saver in the kitchen when they're chopping up various foods for a personal meal or get-together with friends. When they want to serve hors d'oeuvres to their guests, it's a phenomenal serving tray. However, it is also so beautiful that it makes a fantastic kitchen or dining room decor piece too!
Chocolate Chip and Sugar Good Thank You Gifts
After you give them this gift when they help you out, they'll be tempted to help you out a million times over! This Mrs. Fields cookie tin is an amazing gift because, of course, it's full of cookies! Everyone loves cookies, so you know you can't go wrong with this gift. Their mouth will water as soon as they see this gift, and they'll be so excited to try the various kinds of miniature cookies in this set.
Customized Gift Box for a Bottle
When all else fails, some of their favorite things inside an incredibly handsome wooden box will never fail you! They'll know you're incredibly thankful for them when they see the handsomely engraved box with their name on it! With a couple bottles of their favorite spirit, some delicious snacks, and other items inside it, they'll definitely know how grateful you are.