There are many reasons to say, "Thank you." Maybe someone helped you land your dream job, assisted you financially, or even simply has always been there for you when you want to talk. Regardless of the reason, a proper thanks isn't complete without an awesome gift that will really convey your gratitude. Thoughtful thank you gift ideas should be unique, special, and personal gifts that show just how grateful you are for their help! Your gratitude will mean a lot to them when you give them one of the best thank you gifts around that we've tracked down!
Stunning Glassware to Say Thanks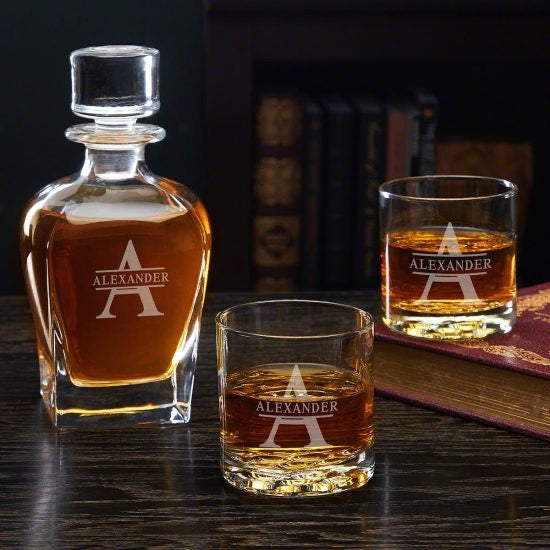 Want a gift that will demonstrate how thankful you are for someone's help, advice, or friendship without having to say a word? Look no further than one of the most thoughtful thank you gift ideas—this handsome whiskey decanter set! It's so stunning that they'll immediately know how grateful you are just by looking at it. The customization makes this gorgeous glassware absolutely priceless and the perfect thank you present.
Go Above and Beyond
You want to go with a gift that's out of the ordinary for a friend or relative that's extraordinarily helpful. That's why this BBQ tool set is one of the best thank you gifts out there! Your thanks will be felt in full because of how unique and cool this gift is. They'll feel incredibly special seeing the personalization on the gorgeous bamboo case and feel like the king of the grill with their own set of tools!
Sign Full of Gratitude
They've been helping you around the house, maybe fixing appliances or redecorating. No matter how they've been assisting you, return the favor with a gift that will make their home better, too! This personalized wine cellar sign will look incredible no matter where it's hung up in their home, and they'll feel your gratitude every time they pass by it.
Unbelievably Awesome Gift Set
They've helped you out in ways you never could have imagined, so make sure their thank you gift is just as unbelievable! This ammo can gift set is one of the best thank you gifts because it's both personalized just for them and incredibly versatile. They can store ammo, drinking accessories, fishing tackle, mementos or anything they desire inside this cool can, and the pint glasses are perfect for enjoying a drink after working hard.
Show Your Gratitude with a Whiskey Gift Set
When you want your gratitude to be fully and completely demonstrated, you can't go wrong with giving one of the most special and memorable gifts out there! This whiskey box set is personalized just for them, and they'll love enjoying a sip of their favorite spirit using their initialed glasses. They'll definitely feel your gratitude through this amazing gift set that you picked out just for them!
For Someone You May Not Know Well
You don't know them quite well enough to get them anything super personal, but you still want the gift to be a fantastic one. This plant basket is one of those thoughtful thank you gift ideas that anyone would adore! It'll brighten up their office or living room in a fabulous way that will remind them of your gratitude every time they see it.
Mugs Make the Best Thank You Gifts
When you don't know how to put your thankfulness into words, let the gift do all the talking for you! This beer mug box set will immediately tell them that you're very appreciative of them so you decided to get them the coolest gift out there! It's a terrific gift idea because having a drink from these awesome, hefty mugs will make their down time better than ever. Add a six pack of their favorite brew to the gift and they'll definitely consider it the most amazing gift ever.
Tumbler Thoughtful Thank You Gift Ideas
Their reaction when they see this thank you gift will let you know immediately you made the right choice! This amazing wine tumblers gift set is just the kind of gift that anyone will love instantly because of how attractive and unique they are. They'll be a big fan of seeing their initial and name on these glasses, and they'll really like how they keep their drink cold until the last drop!
Best Thank You Gifts on Earth
They are the type of friend that absolutely means the world to you. Show them that with this globe decanter set! Few things convey deep gratitude better than this gift set because it's one of the most gorgeous sets out there, and they can use it to help them relax whenever they want. The fact that you went to the trouble to get such a unique, special gift will make them feel so appreciated and loved!
A Scrumptious Gift
Is there a better way to thank someone than by going through their stomach? Oh, how about if you know they have a sweet tooth too? Look no further than these delicious chocolate covered strawberries! It's one of the best thank you gifts that they'll absolutely be thrilled to receive. The cute "thank you," is a huge bonus; however, you can be sure they'll be chowing down on these in no time!
Take Their Stogies Everywhere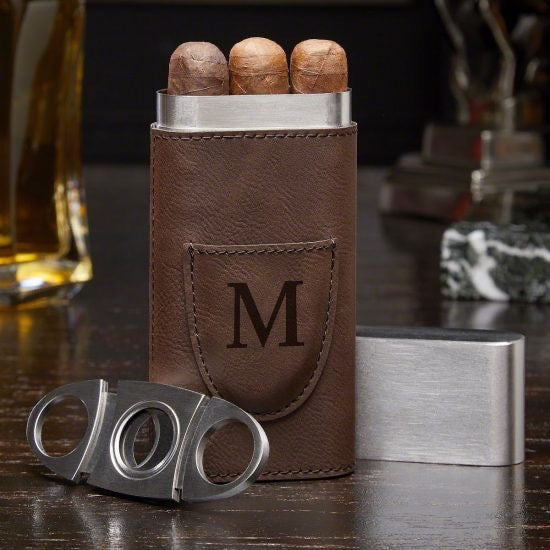 You never want them to forget how thankful you are, so a thank you gift they'll want to carry with them wherever they go is always a good choice. This travel cigar case is the perfect example of one! They can simply tuck this into a jacket or messenger bag pocket, and every time they go for a stogie, they'll remember just how grateful you were for their help!
The Perfect Gift to Take a Break With
Recently, they've been working so hard helping you out. Make sure they have the perfect excuse to take a break and head to the golf course with this golf gift set! This unique present is the perfect way to say thanks because it provides them with awesome golfing accessories and a way to have a nice cold drink as he golfs as well.
A Message on a Messenger Bag
Send the proper message of just how thankful you are with an engraved messenger bag! This is one of the best thank you gifts because they can use all the time! Need to take important papers or electronics to work, travel, school, or anything else, this bag has them covered! With the inscription on the front, they'll always remember your gratitude!
A Kitchen Kind of Thanks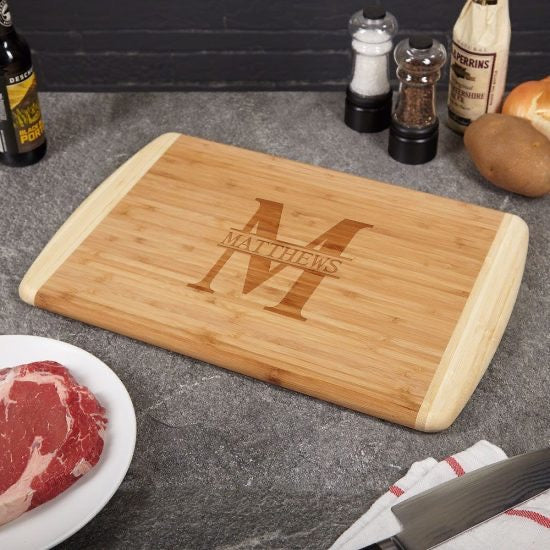 Maybe they've been giving you cooking tips, or helping you fix your refrigerator, or helped you in literally any other way. This custom bamboo cutting board is the perfect gift to show your gratitude because you know they'll use it and it'll help them out too! It makes cooking so much easier with an easy surface on which to chop veggies and meats, and it also functions as a gorgeous piece of decor in their kitchen.
Because They Deserve It
Give someone a gift that lets them know that you think they deserve a drink with this custom whiskey stone gift set! This gift is one of the most thoughtful thank you gift ideas because it will help them enjoy their favorite vices. They'll love having their own personalized glass and flask to enjoy a nice chilled drink whenever they want with the most high-quality items. They'll know how much you appreciate having them in your life with this set!
499+ INCREDIBLE GIFT BOX SETS>
Mouth-Watering Thank You Present
They're more of a traditional person, and you know they'd love a traditional snack gift basket as a thank you gift. Take that a step further with this gorgeous and delicious food gift tower! This sweet, salty, and fruity array of foods will make their mouth water! They'll definitely recognize how grateful you are when they see the extravagance of this gifting!
A Big Thanks
They helped you out in a BIG way, so thank them with a BIG gift! They'll get a kick out of this huge beer mug, especially with the personalization. They'll know that a gift this unique and awesome could only mean that you're incredibly grateful for them, and they'll enjoy feeling that gratitude as they drink beer from their new incredible mug.
The Most Fun Thank You Gift
They're a busy person, but taking extra time to help you out means they deserve to take an awesome, fun-filled break! This bean bag toss game is one of the most thoughtful thank you gift ideas that they can make the most of their much-needed break! Not only will they have a blast playing this game with loved ones, but seeing their personalization on the boards will show them how truly thankful you are for them sacrificing their time for you.
A Set for the Outdoors
They've taught you how to survive in the great outdoors, and you want to return the favor with a gift that will make their outdoor adventures better than ever before. This ammo can tool set is the perfect gift for anyone who prefers being outside any day. They'll love using the can to store camping or fishing essentials, and the items inside will definitely come in handy too!
Totally Useful and Thoughtful Thank You Gift Ideas
Before they came along, you wouldn't have considered yourself an organized person. But thanks to them, you are now! Since they helped you, help them organize one aspect of theirs with this awesome tech kit! Their most important electronics, like their hard drive, chargers, earphones, and others can fit perfectly inside this handsome case so they never have to worry about losing them. No more wires getting tangled up inside the bottom of their drawer or backpack!
The Perfect Way to Thank a Friend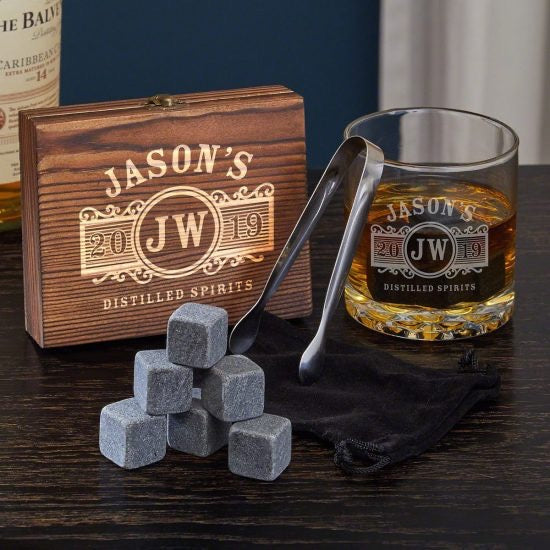 When you've had an amazing friend for a long time, you want to thank them for their valuable friendship with an awesome present. This whiskey gift set is one of the best thank you gifts you can buy for a friend because it's specially customized just for them and gives them an excuse to relax and have a nice cold drink! They'll think of your beautiful friendship every time they have a drink of their Ezra Brooks from these glasses.
Total Relaxation
They've been such a big help in your life that you feel like they deserve to have their own spa in their home. With this soothing charcoal spa basket, they'll feel like they do have their very own spa! The body scrub, sheet mask, and other items will have them feeling more relaxed than they have in years!
Next-Level Wine Thank You Present
A bottle of wine is one of the most classic thoughtful thank you gift ideas. Because they've helped you out more than you could ever imagine, go above and beyond with a wine gift box set along with a bottle of their favorite wine! Using the tools and keeping their bottle in this beautiful red box will make their wine experiences better than ever. They'll be so surprised that this thank you gift is actually one of the greatest gifts they've ever gotten!