You've worked with them for years, maybe even decades and the time has finally come for them to retire. They've paid their dues and they get to take the rest of their life easy. However, before they go, make sure you get the absolute best retirement gift ideas for coworker! These thoughtful gifts are a great way to thank them for being a great office mate, wish them well, or give them a kick start on their relaxation. Although you've been working with them for years, you may be asking yourself, "What makes a good gift for retirement?" Don't feel bad about this. Finding the perfect retirement gift for coworker can be hard. To make finding a gift easier than ever, we've curated a list that'll make picking out the perfect gift as relaxing as their first day of retirement!
A Personalized Gift Box for Your Coworker
When you're searching for the ideal retirement gift ideas for coworker, you want to start with something everyone loves, a gift box! That isn't to say it will be a regular gift box though, after all, they are only going to retire once. Make sure this is a personalized box set that ensures they can begin retirement in the most relaxed state possible. They'll love having personalized cocktail glasses, and if you add in a few small bottles of their favorite liquor, you can be sure they'll be thanking you for such a great gift on their first day retired!
Badass Retirement Gift Ideas for Coworker
Everyone has that office mate who was always just a little bit different than the rest. They were always just that much cooler than most people. Instead of a run-of-the-mill gift, you know this retiree deserves a gift that is so unique that even the people at the retirement party will wish they had it, that is exactly what this ammo can gift set will do! This is the perfect gift that stores all their retirement relaxation necessities while also being the perfect place for them to store their fishing gear, mementos from the office, or even bullets for the range!
A Sign That it is Time to Retire
Now that they have all the time in the world on their hands, they can finally get to all those projects around the house they have been putting off: fixing that faucet, cleaning out the gutters, and oh yeah, finally building their home bar! Ensure they can make their home watering hole official with a custom home bar sign they'll be proud to have hanging over the bar!
When Their Work is Wine-ing Down
A great way to spend the rest of their days not working is with friends. An even better way to spend time with friends is when they're having a delicious glass of wine as they unwind and talk about anything. Make sure that in retirement they always have the best tasting drink possible with a matching wine decanter set that is guaranteed to improve the flavor of any wine! Good wine and good times, what could be better than that?
All-in-One Retirement Gift for Coworker
There is something sweet about getting an all-in-one gift set. People love not having to get any of the extra pieces or anything additional that they may need to enjoy their gift. Use this engraved cigar whiskey box set as a one-stop-shop when you're looking to score a unique gift that needs nothing else! Well, to be fair, you could throw in some stogies and a bottle of whiskey to make it the most complete retirement gift for coworker ever!
493+ AMAZING RETIREMENT GIFTS FOR BOXES>
For a Life of Adventure
There is no need to be squeamish about age. Now that they are retiring, it is a fair bet that they are in the later stages of their life; however, that doesn't mean they can't still go out and experience some of the coolest things. Make sure they take charge of their retirement and make the most out of it by giving them a bucket list book! This way, they'll always have something fun and exciting to do!
A Personalized Memory Box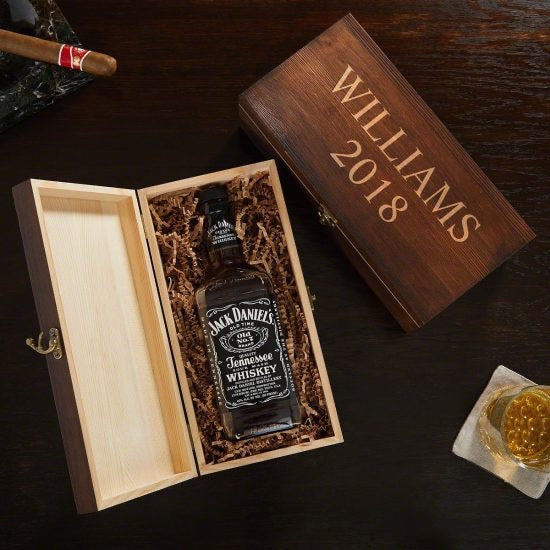 Want to make your gift feel truly personal? Why not get a custom gift box and fill it with some of their favorite things? Sure, a bottle of their favorite booze is always welcome, getting saucy the first night of retirement is almost a must. However, you could fill this engraved box with their favorite treats, cards from everyone in the office, or really anything! The possibilities are endless, making this a super unique retirement gift ideas for coworker!
Start The Retirement Celebration Now
A lot of retirement gifts are meant to be used at home, and while that is still a great quality, sometimes a gift that can be used at their retirement party is exactly what they need! When they need to celebrate and say goodbye at the same time, look no further than this engraved beer and cigar set! There is nothing like enjoying a stogie and a cold pint of beer when they're being sent off to enjoy retirement to the fullest!
A Classy Gift for a Retired Friend
If you have a coworker you always liked working with and are truly sad to see them go, you may want to consider getting a gift set that truly shows just how much you care. Instead of a smaller gift, check out this awesome set of retirement gift ideas for coworker. No one in the office will have ever seen such a classy and unique gift as this decanter set. A perfect gift that they can leave out on the home bar or coffee table, you know they'll love putting this set to use when they have company over or even for their nightcaps!
Great Grillin' Gifts for Retired Coworkers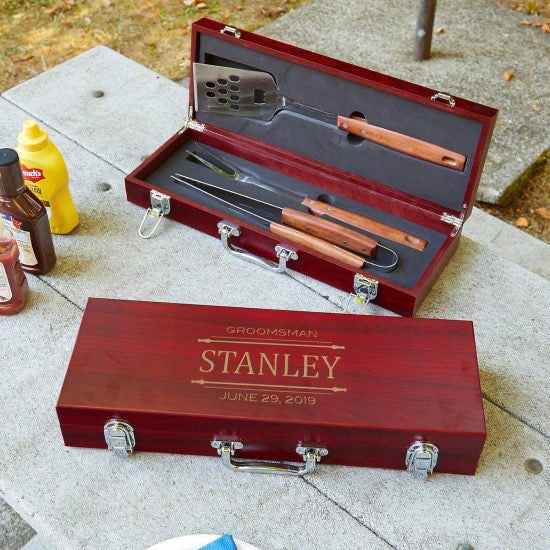 Now that they're not at work, they're going to need to spend their days doing something. No one wants to sit inside all day instead of enjoying the great outdoors. Make sure that they always have a fun hobby with this great grilling toolset. Grilling is a great hobby that anyone can fall in love with. Beef, pork, chicken, veggies, they can sear any kind of delicious food they want, thanks to this awesome set!
Retirement is the Season
The grill is sure to be a spot that will become their new desk in retirement which makes a quality set of spices the perfect retirement gift for coworker. After a few months off the job and at the grill, you can bet your bottom dollar they'll become a true pitmaster when they're using these seasonings!
Mugs are Ideal Retirement Gift Ideas for Coworker
Help them toast to the rest of their life of leisure the best way mankind knows how, with a set of beer mugs! The mugs are a perfect way to toast to another day in paradise when they realize they don't have to go to work in the morning. However, you can make the gift even more sentimental by filling the custom keepsake box with thank you cards, photos, or other mementos for them to remember their coworkers by!
The Perfect Age to Retire
Just because your coworker is retiring doesn't mean that you can't have a little fun with them still. They'll love seeing the subtle jab at their age each time they go to have a glass of wine or their favorite cocktail when they see that they've been, "Aged to Perfection." However, that isn't all. You and your coworkers can even add some best wishes and happy retirement cards inside the unique keepsake too!
The Best Travel Set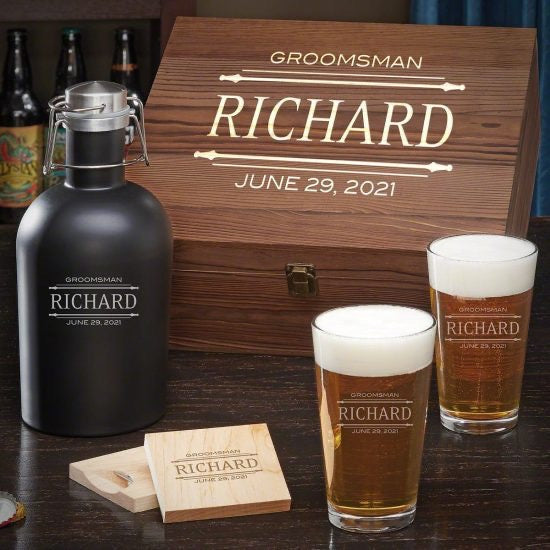 Not all retirement gifts are for people who like to relax at home. Some, like this growler gift set, ensure that they can keep their adventurous life going and enjoy a drink at home too! Whether they plan on taking the RV across the country, camping, or even just sitting back in their recliner, this retirement gift for coworker has them covered! The growler is the ideal way for them to bring their favorite drink anywhere they go, and who doesn't want to enjoy their go-to drink out of a matching glassware and coaster set?
Decor When They Work No More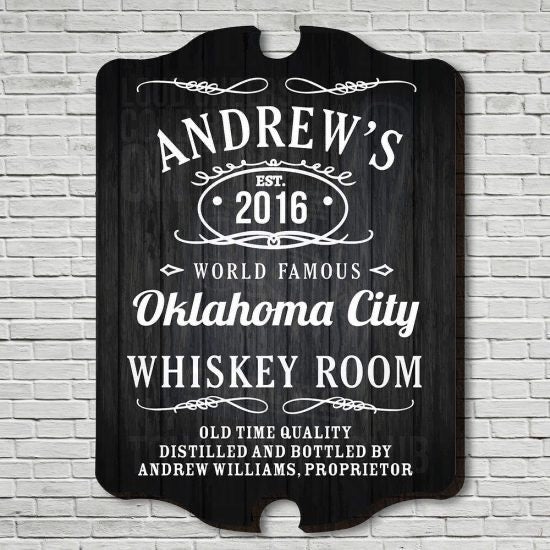 Give them a classy send off into retirement with a personalized sign that will become the crowning feature of any room they put it in! They'll love that you found a gift that will quite literally have their name all over it. The rustic wood and gorgeous cut make it perfect for living rooms, kitchens, home bars, and garages alike! Make your retirement gift for coworker one you know they will love for years with this custom sign!
Personalized Golf Ball Retirement Gift for Coworker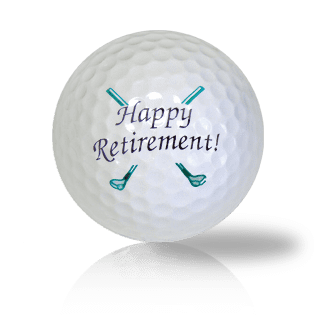 Everyone knows that retirement is a time many spend golfing. After all, they have all the time in the world to improve their stroke and their short game. So, when your coworker heads off to the green, make sure that they're equipped with a set of golf balls that will always bring a smile to their face with this personalized golf ball!
A Legendary Gift for Their Last Day
Give the legend a proper send-off with the most fitting gift they'll get at the office retirement party! This whiskey stone box set is the perfect gift to give while the two of you recall old times and good stories through the years that made them the legend you know them as!