When searching for the perfect gift for a young man in your life, you may not know where to start. After all, you have to consider what young men are into these days, what kind of gifts they find useful, and what a particular man will like based on their personality and interests. The most awesome gift ideas for young men are gifts that are hip, cool, useful, and personally chosen for the young man in question. The best gifts for young men will also boost his confidence and make him feel awesome. We searched long and hard to find gifts for men that will do just that! Any younger guy will be incredibly impressed with these amazing gift ideas.
Badass Mug Set of Gift Ideas for Young Men
Make the young guy you are getting a gift for feel like he can take the world on all by himself as soon as he opens up your awesome gift set for him. This personalized beer mug box set will feel like Excalibur in his hand when he gets a hold of the hefty mug handle. This is a perfect gift for any young man. Now, he can easily enjoy his favorite brew at home while still feeling like he is hanging with the boys at the bar. Better still, he can flex this gift on all his bros the next time he has them over to watch the game or for a BBQ.
Custom Bar Sign for His Own Bar
He's worked hard in his life and deserves to have his very own space in his house that's just for him. This home bar sign is one of the best gifts for young men that'll look so awesome hung up in his home bar or bar area in his home! He'll love the way this handsome sign makes him feel like he's the owner of the coolest bar on the block, and he'll be very grateful for such a unique and personalized present!
Awesome Ammo Can Beer Set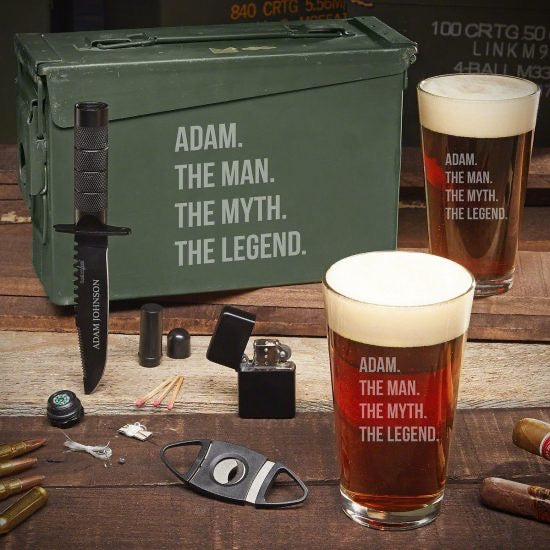 Everyone knows he's an absolute legend, so you know he's deserving of a gift as fantastic as this ammo can gift set! He'll feel like the coolest man ever when he sees his name customized on each piece of this set calling him, "The Man, The Myth, The Legend!" You can even fill the ammo can with other awesome items, like a six-pack of his favorite beer or accessories for a favorite hobby of his to make the gift basket for men even more incredible!
Most Fun Game for Young Men
What could make better gift ideas for young men than those that let them have competitive fun with friends? This custom bean bag toss board set is a fantastic gift idea because he'll think it's so much fun to bring it to a tailgate, play with family for a backyard barbecue, or bring out at any other event. He'll feel awesome with his customization on the front of this unique board!
Bite the Bullet to Get the Best Gifts for Young Men
Take more of a novel approach for your awesome gift with this engraved bullet whiskey stone gift set. Now, when is watching his go-to action movie or playing his favorite FPS, he'll have a set to match! This has got to be the coolest way for a younger guy to enjoy his Jack Daniels, Maker's Mark, or Crown Royal!
515+ AMAZING WHISKEY GIFTS FOR MEN>
The Latest and Greatest Shaving Technology
He deserves to look and feel his best all the time. With this heated shaving dispenser, it'll be easier than ever before for him to look his best! There is nothing like the hot shave from a barber, and now he can experience that at home too! This is one of the most technologically advanced gift ideas for young men that he'll wonder how he ever lived without! He'll get the best shave of his life using the warm shaving cream from this high-tech dispenser.
Make Him Master of the Grill
Make him feel like he's the master of the grill with this bamboo cutting board! He'll think this board is the coolest thing he's ever seen because it's customized just for him and gives him the perfect surface on which to prepare food for the grill and to serve said delicious foods to his guests! He'll be so thankful for such a unique, personalized present that makes one of his favorite hobbies even better.
A Spot for His Classiest Accessories
Give him a gift that will be more than something cool in the moment, but something that will change his life. Thanks to this custom watch case and valet tray combo, getting ready for work or for a date night will never have been easier. Aside from giving him a gorgeous way to show off his watch collection, this case keeps all his accessories in one place. Now, he doesn't have to look behind the dresser or between the couch for the accessory he needs since he has the perfect place to store them!
Unique Wine Gift Box Set
The best gifts for young men don't have to be super complicated. This stainless steel wine tumbler box set is a phenomenal gift that any young man will be crazy about. He'll think the glasses are the classiest ones he's ever seen due to their sleek black look and stainless steel texture, and he'll feel so cool with his personalization on them. No matter what drink he's in the mood for, these glasses will be the ones he reaches for!
Vintage Shoes are the Best Gifts for Young Men
Is there any instant mood booster better than a fly pair of new shoes? These vintage Nike shoes are awesome gift ideas for young men that'll make any man feel like a whole new awesome version of himself. He'll love how confident he feels wearing these incredible shoes and how they look good dressed up on a date night or dressed down at the grocery store.
A Modern Gift for a Young Man
He's the type of young man who definitely prefers modern glassware to old-fashioned glasses. This sculpted glasses and decanter set is a fantastic example of modern, handsome glassware that he'll think is awesome! It's one of the best gifts for young men because not only will the personalization on the decanter make him feel really cool, but using the uniquely-shaped glasses will make him enjoy his favorite drinks more than ever before when he had to use old-fashioned glassware.
Handsome, Customized Sign
Part of him has always dreamed about owning his own bar. With this handsome, custom bar sign, he can do just that! He'll love having this cool sign hung up in their home bar or bar area, making them feel like a successful owner of their very own pub. They'll really enjoy having their friends over to see and hang out at their bar, and they'll like knowing they have the coolest hangout spot!
Beer Mugs with that Real Bar Heft
Speaking of a home bar, there's no gift ideas for young men that'll make him feel like he's at a bar while at home than this beer mug gift box set! He'll love these manly, hefty, custom beer mugs and how they look filled to the brim with his favorite brew. They'll make drinking beer more enjoyable than ever before because of their heft and manliness!
A Traditional, Classy Blazer
Young men pride themselves in always looking their best, and part of that is wearing nice clothes. Make sure he's always dressed to the nines with this traditional, classy blazer! He'll love owning such a versatile piece of clothing that he can wear to the office or even on a fancy date night.
A Personalized Ammo Set He'll Love
Don't let another gift-giving occasion go by without getting him one of the most incredible gift ideas for young men out there—this ammo can gift set! Seeing his name on this phenomenal set will make him feel like the most important man in the world. He'll love using the glasses to enjoy a chilled drink of his favorite beverage. You can even include a bottle of his favorite inside the ammo can with this gift!
135+ INCREDIBLE AMMO BOX GIFT SETS>
Best Additions to His Glassware Collection
All young men should cultivate a varied glassware collection. That's why this beer snifter set is one of the best gifts for young men. He'll feel so sophisticated using this set to enjoy fancy beers, really taking in the aromas of the beers the way only snifters can allow him to. He'll love having the perfect set to use to really enjoy beer when he wants to celebrate a personal or professional achievement or simply wants to relax after working hard.
One of the Best Gift Ideas for Young Men for Gifting a Bottle
Get him a bottle of his favorite liquor as a gift, but with a twist! This wooden gift box is the perfect way to give a bottle because it's personalized just for him, which will feel much more special than just handing the bottle to him. It also serves as a way he can keep a bottle of spirits safe and sound until he decides an occasion is worthy of popping it open.
Coffee and Foosball
There's no way he doesn't think this gift is the most unique, impressive gift he's ever gotten! This foosball coffee table is incredible because he'll think the classy look of this table is really great, and the foosball game beneath it is a blast! He'll love challenging guests to games of foosball using this gift.
Because He Deserves a Cold Drink
He's a hard-working man who is deserving of the perfect deliciously chilled drink whenever he pleases. This whiskey gift box set is what he's missing from his life! He'll think the unique glasses are really awesome and fun, especially when there's a special occasion like a holiday and he wants to celebrate with a drink. It's the perfect set to take out whenever it's time to celebrate or party!
A Fun Decor Item for Him
What could make more awesome gift ideas for young men than gifts that are so unique they didn't even know they existed? This USA beer cap map is so different and cool that he'll immediately fall in love with it. He'll have a blast trying different beers with his buddies and placing the beer caps inside this unique sign. You can be sure this is a gift that he will hang proudly on the wall!
Poker Set of the Best Gifts for Young Men
Make game night his new favorite night with this monogrammed poker set! He'll be in awe of how cool this gift set is and how it has everything he and his buddies need for hours of fun playing poker or any other card game they can think of. He'll love being able to hold his cards in one hand and this cigar glass in the other, sipping his favorite whiskey and smoking his cigar of choice.
Showcase His Favorite Music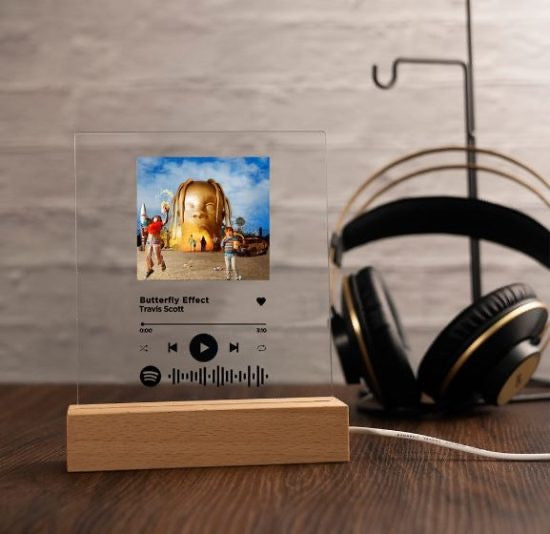 Get him a gift that shows you know specific details about him. He has a favorite artist or song that you want to pay tribute to with an acrylic music plaque! He'll love this creative present that shows off a song in a very unique way. He'll love having it displayed in his home as one of the most special decor pieces he's ever had!
A Classy Whiskey Gift Set
Keep him feeling like the classiest young gent in the world with this incredibly elegant twist whiskey glass box set. Although he may have a few whiskey glasses, you know he doesn't have something this cool. From the gorgeous keepsake to the unique glasses and the engraving, he's never gotten a gift that has made him feel as grown-up as this!