It's always fun giving gifts on holidays, but one element that's missing from common gift-giving occasions is the element of surprise. Imagine the look on his face when you present him with an amazing gift and it's not Christmas, his birthday, or your anniversary! Those gifts you give just because are some of the best and most thoughtful gifts for men he'll ever receive. The just because gifts for him you should be looking for are gifts that you know he'll love using and will also come as a complete surprise to him! These just because gifts for boyfriends, husbands, or any other special man in your life are sure to surprise him and make him smile from ear to ear!
Biggest Just Because Gift for Him Ever
Talk about a BIG surprise! When you present your man with this giant beer mug, he won't be able to believe it! He'll feel incredibly special seeing his name and initial on such a unique, awesome mug. It's so hefty and huge that he can pour an entire liter of his favorite beer inside. He couldn't ask for a cooler, more awesome gift, especially as a just because gift.
He'll Never Put This Gift Down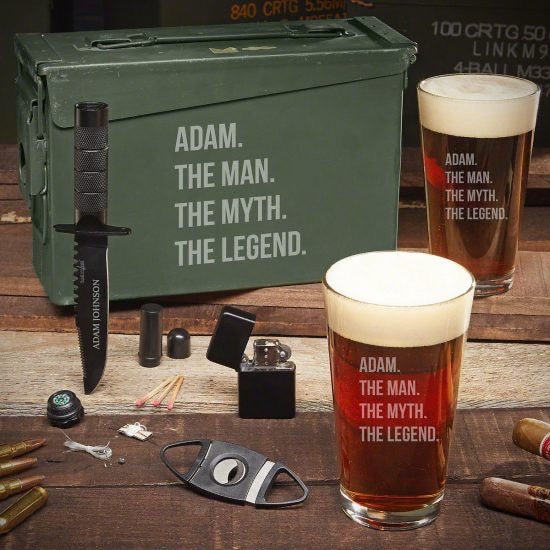 Many women would love receiving a nice purse filled with goodies out of the blue. What's the male equivalent, you might ask? It's this personalized ammo can set! It's one of the greatest just because gifts for him because it's super unique, and he can use it to carry around or store anything he wants in the can. He will definitely feel legendary using this can and the pint glasses!
Chill Just Because Gifts for Boyfriends
When you're looking for the quintessential just because gift, you need to consider something that you know they won't be able to stop talking about. For that kind of gift, you need this whiskey gift set. First off, he'll be so pleasantly surprised to see his name on the box and glass! With this gift, he can enjoy a chilled glass of whiskey or another favorite spirit with you as he tells anyone with ears about the awesome gift he just received for no reason!
Surprise Sign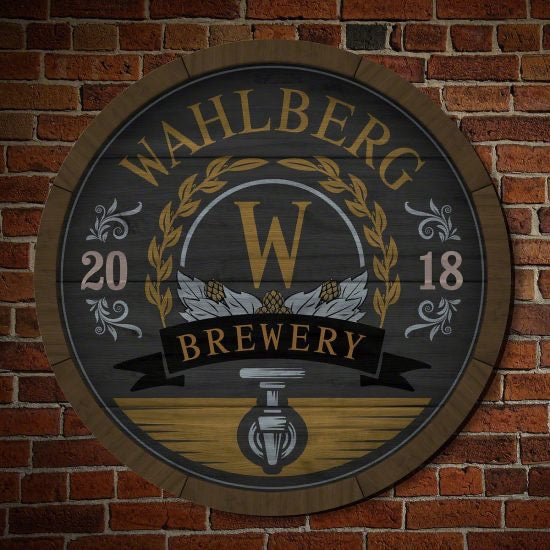 Turn that nook in the kitchen, set of glasses in the garage, or fully-fledged bar, into an official home bar with this surprise wooden sign! This is the perfect gift to give him at any time. Any man will be grateful forever when you put his name over his own home-made bar establishment. Each time he looks at his sign up on display, he'll smile from ear to ear at this awesome surprise gift.
Two Part Just Because Gift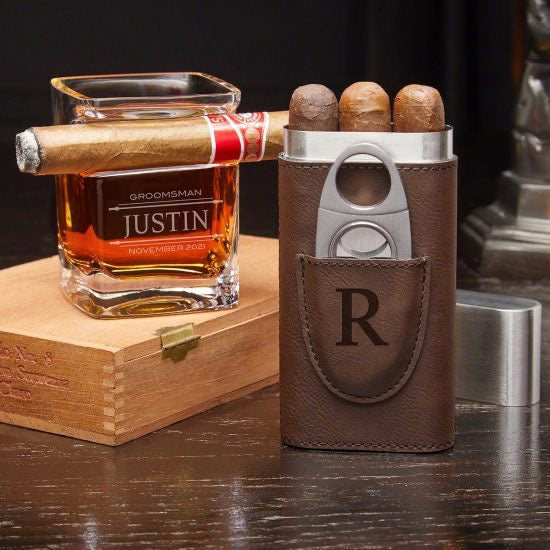 One key element that is important when you're searching for great just because gifts for boyfriends is that it has multiple uses. That's why this whiskey and cigar gift set is a fantastic surprise gift set! Now, he can easily enjoy stogies on the go or have a cool, refined experience at home. Thanks to the engraving of his name and initial, he'll feel classier than ever each time he takes a pull off his cigar or sip from his whiskey. You can be sure he'll wrap his free arm (you can't expect him to put his awesome cigar glass down) around you to thank you for this awesome and thoughtful gift!
557+ PERSONALIZED WHISKEY GLASSES>
Soft on His Feet
Bring comfort to his feet with these fur moccasin slippers as just because gifts for him. No matter where he's standing, his feet will remain toasty warm and maintain a good grip on the ground beneath him. These are great for lounging around the house or even if he is having a sick day, you simply can't beat these unique gifts for men. He'll have a hard time taking them off to put on real shoes when the time comes!
Chop Up Everything
There's nothing that will make his kitchen experiences better quite like a personalized cutting board! Whether he's making a five-course meal or simply chopping up limes to go in his Modelo or Corona, this board will come in extremely handy when he is in the kitchen. This thoughtful, useful gift will even look great when he leaves it out on the counter to display it between uses!
Surprise Gift Fore Him
A gift that lets him play one of his favorite games anywhere he wants is one of the best just because gifts for boyfriends. This golf putting gift set is the perfect gift because it helps him practice his short game no matter where he is. At home? He can putt. At work? He can putt. Pretty much anywhere else? He can putt. You just know he'll love it!
From Boyfriend to Bartender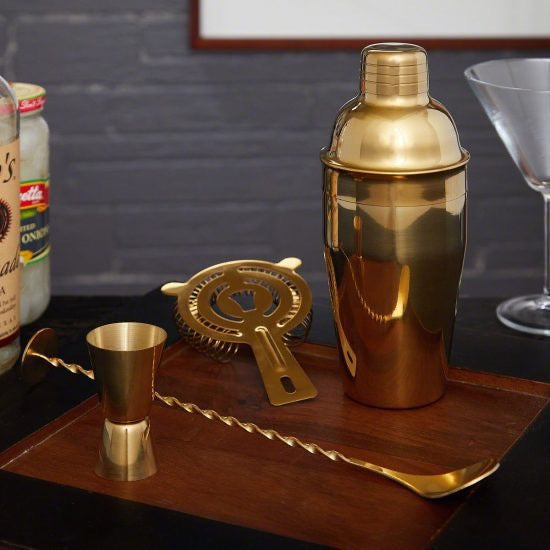 Who wouldn't want a gift that gives the ability to enjoy endless boozy beverages? This bar tool set is a phenomenal gift that will help him feel like a brilliant mixologist every time he uses it! He'll have such a blast concocting various cocktails inside the shaker using the tools. He'll love receiving this gift out of the blue from you!
Most Delicious Just Because Gifts for Him

There's just something about a random, delicious cookie basket that just makes people feel loved! When you present your man with this gift basket, his mouth will immediately begin watering, and he'll jump up and down for joy! He'll feel so grateful to receive such a delicious array of cookies inside this basket.
Best Way To Collect Memories
There's never a wrong time to start cultivating a collection. Help him do that by getting him a personalized shadow box! He'll love collecting beer caps, cigar bands, photographs, wine corks, ticket stubs, or any other small items inside this box to store as memories. He'll be so surprised to receive such an amazing gift from you for no reason!
Carry His Beer with Ease
A custom wooden beer caddy makes the perfect just because gift for him because it is unique, and it'll definitely surprise him! It's an awesome gift idea that he never realized he wanted. He'll absolutely love using it to transport beer when he goes to the beach, a party, or anywhere else where beer would be appreciated. In no time, he'll wonder how he ever lived without it!
Just Because Gifts for Him and His Wine
Just because you're surprising him with an unexpected gift doesn't mean that you can't go all out. Give him a custom wine box that will blow him away! When he sees the engraving on the lid, he'll know he's getting something special. When he sees his favorite wine and all the tools he ever needs to enjoy it, he'll be wondering what he did to deserve such an amazing gift.
Carry All He Needs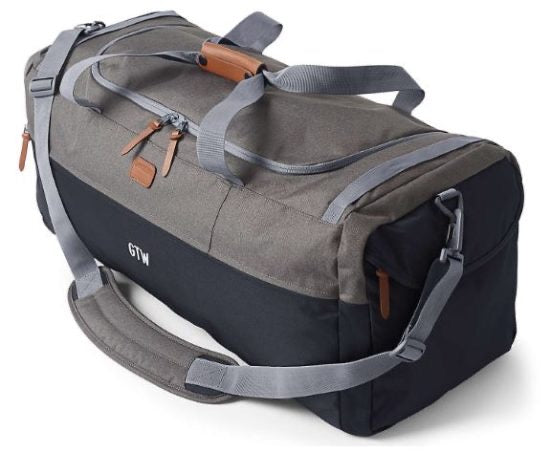 This just because gift for him is one that will come in handy time and time again. Whether he's traveling across the world or down the street, this duffle bag is just what he needs to transport clothes, toiletries, or anything else to his destination. He'll love the helpfulness of this awesome bag, and he'll really like how sleek and stylish it is.
Whiskey Gift Box Your Man Will Love
When your man sees this whiskey gift box, he'll definitely think that he's forgotten about a major gift-giving occasion. He won't be able to believe you've bought him a gift so amazing for no reason other than to show him how much you care about him. It will make him smile every time he sees it, and he'll have such a fun experience sipping chilled whiskey from the glasses.
657+ AWESOME WHISKEY GIFTS HE WILL LOVE>
Unique Personalized Sign For His Home
Go a step further than just handing him an awesome gift. Hang it up on the wall for him instead! When he walks in and sees this personalized wooden sign hung up in his bedroom, man cave, or home bar, he'll instantly be shocked by how cool it is! He'll never want to look at another sign for as long as he lives.
Bet on This Just Because Gift for Boyfriends
Just because gifts for boyfriends should provide him the means for having the time of his life. This poker set is a great gift for him because you know he'll have such a blast having a night playing cards with his closest friends. He'll be so happy knowing you bought him his most favorite gift for no reason at all!
Dress Up His Feet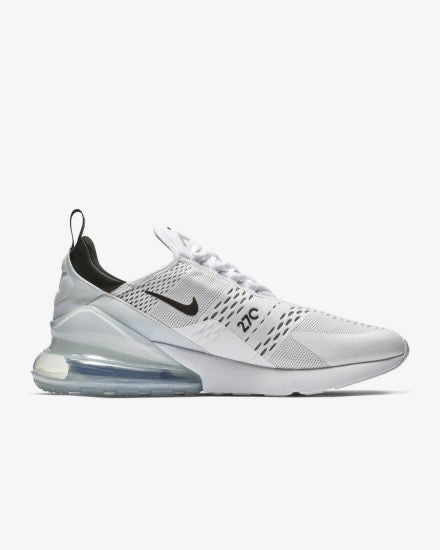 When you want to get him a gift that you know without a doubt he'll like, go with a brand that never fails him. These Nike sneakers will make his day because not only do they look awesome on his feet, but they'll make any physical activity, from playing basketball to going on a walk, easier and more comfortable. He'll want to wear these amazing shoes every day.
For a Legend Only
Sometimes, a good reason for a just because gift for him is that he's a legendary guy and deserves a gift! This personalized beverage set will have him feeling extra legendary as he sips his coffee, tea, or any other preferred beverage from this pint glass, and he'll really appreciate how the growler keeps his favorite drinks at their ideal temperatures. He'll love receiving this thoughtful, useful gift from you out of the blue.