Graduation is a big deal whether he's graduating from a four year university, a trade school, or getting his master's in grad school. That young man has spent years working toward this degree and he deserves a great gift to congratulate him or help him prepare for the next step in his life. The top graduation gifts for guys are usually household or tech gifts that he'll enjoy using for his new job or leisure, like a nice set of glasses or a briefcase. Before you start shopping for these cool graduation gifts for guys, you should consider a few things: Does he need anything to help him for interviews or to look professional for his new job? What kinds of things does he enjoy doing in his free time? Don't worry, we've thought of everything and found the best graduation gifts for him whether he's just gotten his Bachelor's in English or is graduating from Harvard Law School.
A Beer Mug As Big as His Accomplishment
Graduating is a big deal, which calls for big gifts. This gigantic beer mug is one of the best graduation gifts for guys! After all, he's only been over 21 for a short time and is still trying different beers and liquors. This whopper of a mug can hold an entire liter–that's about 3 bottles' worth! He'll love that it's personalized just for him, too, and that he can enjoy plenty of beer until halftime without having to leave his spot on the couch for a refill. This mug will certainly help him get through early adulthood! Just make sure to give him a case of his favorite beer to go with it.
Manly Graduation Beer Gift Set
This ammo can gift set is one of the coolest graduation gift ideas, and if you're looking for the amazingly manly gifts for graduates you found the ultimate set. The custom ammo can will come in handy for work, and the pint glasses are the perfect addition to his home so that he can knock back a couple of cold ones with a friend. Pocket knives are essential accessories for men due to their many uses, such as opening packages, cutting stray threads, or even for shotgunning a can of beer. Or, he can just open his beer with the cool bottle opener made from a genuine .50 caliber bullet.
Must-Have Graduation Gift: Bamboo Cutting Board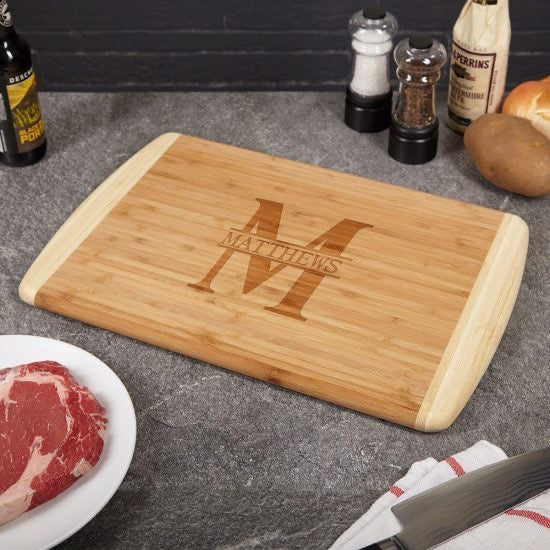 Gone are the days when he lived on instant noodles, fast food, and energy drinks. Now that he's graduated and beginning his career, he needs to have the proper tools to prepare his meals more efficiently. One of the best ways to help him out is with a cutting board. Both a lovely addition to his kitchen and a very useful cooking tool, he'll love experimenting with different meal prepping techniques and chopping styles on it. Plus, it'll last him for years to come!
Variety Gift Set for Grads Who Drink Beer and Liquor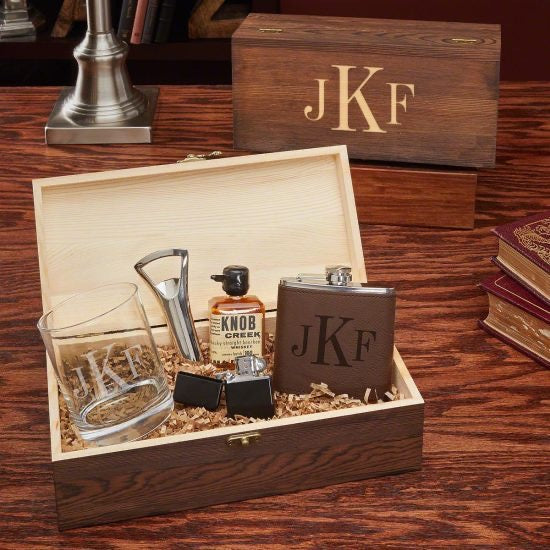 You want to give your grad a great gift, but he likes so many things that it's hard to narrow down what to get him! He likes beer, liquor, video games, reading, all kinds of sports, and more. Your solution? A gift basket assorted with a variety of his favorite things! This one is themed around drinking for the guys who enjoy a cold beer as much as they enjoy a nice bourbon. He'll love having a monogrammed flask and rocks glass to enjoy Fireball on the go or a glass of scotch at home after dinner. The nickel-plated bottle opener will come in handy so that he isn't Googling ways to open a bottle without an opener on hand. The lighter is great for making Flaming Dr. Peppers for himself and his friends or to light up a couple of stogies for special occasions. Any guy graduating would enjoy this complete set!
The Coolest Graduation Gift Set for Any Guy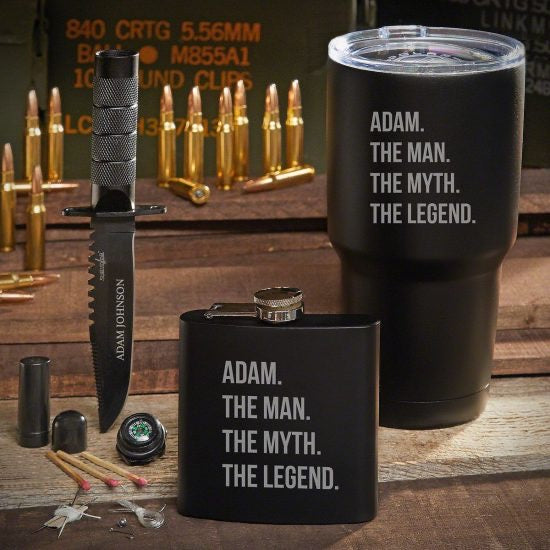 Not sure what to get the young grad in your life? You know what kind of degree he's getting and that he enjoys spending his free time traveling or outdoors. That's all you need to know! This gift set is the perfect graduation gift for him or any young man because it is so useful and cool. The travel tumbler is great for bringing his coffee along to work or for his early morning trip to the mountains. When he feels like a drink, his new flask will be at his side so that he can enjoy a shot of his favorite liquor after work or on the go. The tactical survival knife will become his new must-have travel accessory as it has tons of different uses and a handy survival kit in case of emergencies. To top it all off, the engraving on this set declares him as "The Man. The Myth. The Legend." Seriously, you can't find a cooler graduation gift!
Make His Notes Digital
His college days may be over, but he'll probably still have to take notes for work! This handy gadget turns all of his hand-written notes instantly digitized. Now he'll have a digital copy without having to type out his notes again! How cool is that? This writing set by reMarkable uses a special notebook and pen to wirelessly communicate each note straight to his smartphone to be accessed on the app. Thanks to your awesome graduation gift, he'll be extra prepared for work and might even impress his boss!
Giant Cocktail Shaker
Now that he's 21 or older and graduated from college, he's started to experience various cocktails, beer, and fine liquors. He's a fan of mojitos and the occasional Old Fashioned, but has no idea how to make them at home. He wants to impress his friends, coworkers, and dates by making their favorite drinks when he entertains them at parties. With this giant cocktail shaker, he can make up to 10 martinis at once! Pair this custom cocktail shaker with a recipe book and he'll be ready to get cracking on making his own drinks at home. He might even try it out at his graduation party!
Even Graduates Need Coasters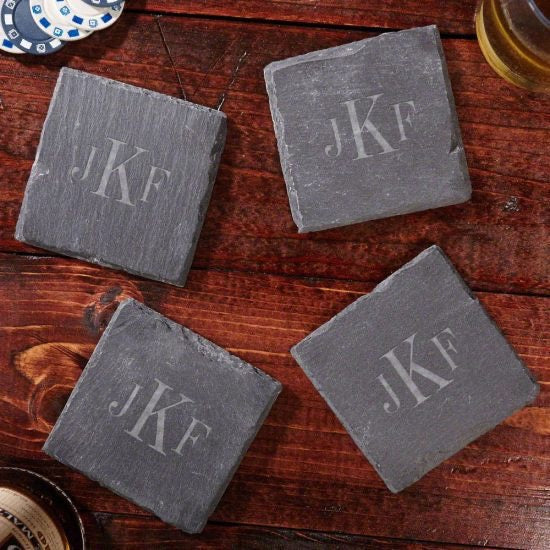 After living in the dorms all through college, your graduate is ready to move into his own place. He'll need more furniture, dishes, glasses, silverware, the works. You can't forget the coasters! He'll love these monogrammed slate coasters, they're perfect for any kind of decor. Pair these coasters with a bottle of his favorite wine or whiskey and you've got the perfectly practical graduation gift for him!
A Unique Piece of Decor for Him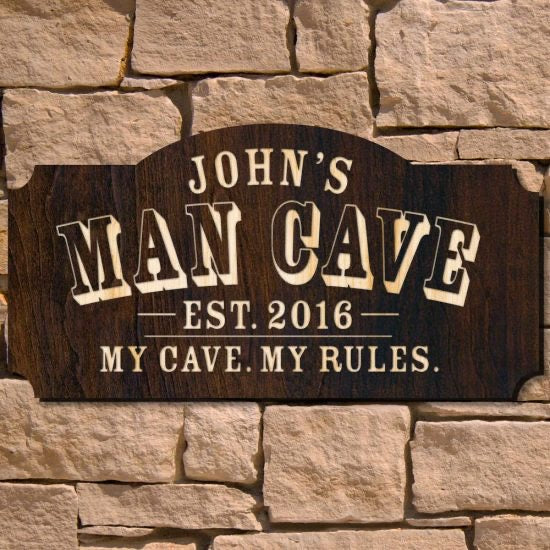 There are more things to celebrate besides just graduating from college! The young grad in your life is officially a legal adult ready to take on the world, be truly independent, and start his career. He'll want his place to be cool and manly, and perhaps have his own man cave in it. What's a better graduation gift for guys than a personalized man cave sign? He'll love having a cool piece of decor for his bachelor pad!
Unbreakable Wine Glasses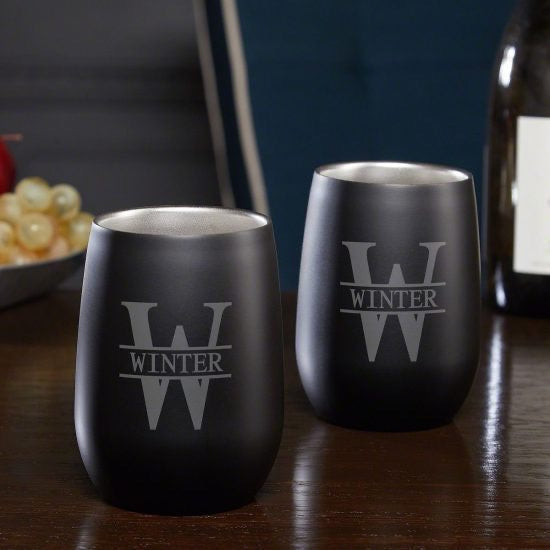 Your young grad wants to be a distinguished gentleman who drinks fine wine and whiskey just like his boss and dad do. He's already acquired a taste for scotch, but wine is a different story. He doesn't have any wine glasses and doesn't know much about it, so why not surprise him at his graduation party with these unbreakable wine glasses and a nice bottle of pinot noir? He'll be so surprised that you gave him a nice gift that will help him out in the long run. He will especially love that the two stainless steel glasses are engraved with his name and initial. Now he'll have the proper glasses to serve his dates or friends with when he offers them wine!
Make Sure He's Always Well Groomed
Speaking of distinguished gentlemen, he has to make sure that he looks classy and professional at all times while he is in an entry level job. Appearances are everything, and he wants to look like a put-together, responsible man who knows how to take care of himself. One of the best graduation gifts for him is a Birchbox subscription! He'll get high quality body care, hair products, excellent skin care, and more with each box. His skin and hair will look younger and better than ever before, and his female coworkers will want to know how he does it.
A Nice Decanter Set for Entertaining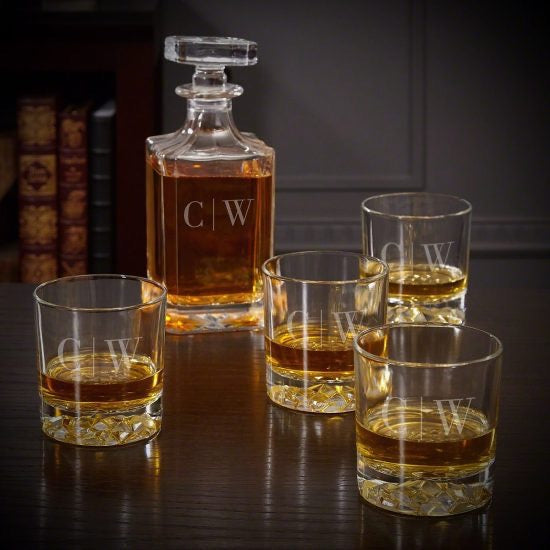 A young man graduating college doesn't want just any old stereotypical graduation gift of new clothes or just a $20 bill, he wants something to help him feel like the accomplished young man that he is. With this handsome decanter set, he'll feel like a classy guy who can impress anyone he speaks to. The crystal decanter and matching unique rocks glasses are breathtaking, and sure to add a luxurious touch to his home. By far one of the most impressive graduation gifts for guys, this set will be with him from his entry level position as an intern to the day he becomes a CEO.
A Fun Party Game for His Friends and Family
Your graduate will miss going to frat parties and going to the football games with his friends. He loved playing games with his classmates and drinking beer together, but the fun doesn't have to end now that he's graduating! This bean bag toss set will keep the game going for years to come. His fellow graduates will love using these when he brings them over to watch the game on TV or for his family cookouts.
The Best Gift for Any Graduate
Want to give your graduate something useful that will help him out for years to come? Flasks are versatile accessories that any graduate can enjoy. He can bring his favorite liquor along when he goes to a work party, hanging out at his best bud's house, and going out to the local bar after work with his coworkers. This handsome flask gift set is a great graduation gift for guys thanks to the handy flask and pocket knife. Bonus: the gift box is actually a cigar box where he can store plenty of stogies to light up for his boss when he comes by his office.
The Best Way to Travel with Beer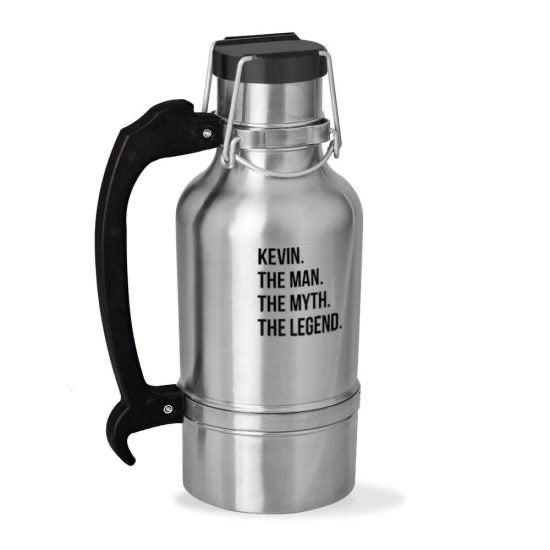 Now that he's done with school, he'll have time after work and on the weekends to have fun with his friends and new coworkers. He'll finally be able to attend his friends' cookouts and go to the lake with his family instead of being stuck at home studying. One of the best graduation gifts for him is an insulated drink tank, which is the best way to bring beer anywhere he goes! Made of double walled stainless steel and vacuum-insulated, this incredibly growler will keep his beer ice cold for 24 hours even in the hot summer sun! He'll love being able to bring along plenty of his favorite craft beer to the party his friends are throwing or the local BYOB neighborhood cookout with his parents.
Professional Briefcase for His New Job
The first big step every young man has to take after graduating from college is to get a job or an internship with his new degree. He's got a lot of interviews lined up, and you want to help him look his best for each one. One of the best graduation gifts for guys is a briefcase! This handsome business-style briefcase has tons of pockets, plenty of room for his laptop, and will help keep him organized and professional.
Essential Whiskey Set for Beginners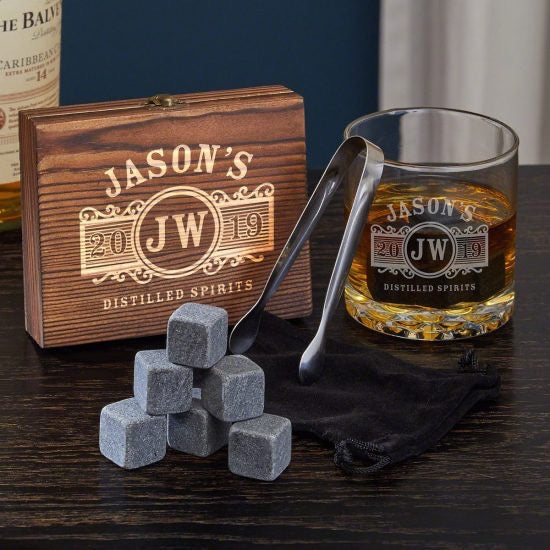 Now that the young graduate in your life is heading into the corporate world, he needs to learn the ways of his elders. He'll soon learn within the first few weeks of his new job that his boss and several of his coworkers enjoy drinking whiskey and discussing it, so he should join them! A classic graduation gift for guys going into business fields, this essential whiskey gift set has everything he needs for a proper scotch on the rocks. Pair this set with a bottle of Woodford Reserve so that he can get a taste for top-shelf whiskey and impress his new coworkers!