21 Fantastic Christmas Gifts for Parents
Christmas is all about being with loved ones and enjoying time together. However, getting the perfect Christmas gifts for parents and other family members and friends is also part of the fun of the holiday. It isn't always easy to think of ideas for your parents' holiday gifts, because you want to buy them something out-of-this-world amazing. They've done so much for you, so you want to get them something very important and meaningful that they will treasure and enjoy. This kind of gift would be something that is unique that they couldn't pick up at a local convenience store or even at the local mall. It is also something that you know they enjoy but don't typically buy for themselves. But what wouldn't they buy for themselves? Would they find helpful, practical gifts meaningful? Christmas gifts ideas for your amazing parents aren't always obvious, so check out these gifts for parents for Christmas that they are sure to love.
Wine Christmas Gift for Parents
Nothing says Christmastime like a nice bottle of wine. Your parents deserve a beautiful wine gift set for Christmas. This engraved stemless wine glass gift box set couldn't be more perfect for your wine-loving, classy parents. This set comes engraved in a beautiful brown Maplewood gift box that your parents can use to store items and to display as decor. Inside the box are four beautiful crystal stemless wine glasses that your parents can use to serve their guests over the holidays. This is a perfect gift for parents who love wine, and they'll enjoy this beautiful set for years to come.
Box it Up
You know you want to buy your dad a bottle of his favorite whiskey or other liquor as his Christmas gift, but your amazing father deserves something a little more special and fancy than just a bottle. The perfect gift is a personalized whiskey gift box. This intricate, beautifully crafted wooden box is crafted from an American Maple wood blend and has sturdy metal hinges and a solid metal clasp. Your father can continue to store a bottle in this box, or he can re-purpose it and store anything he desires inside.
Circle Wine Sign
Parents love home decor. It's just a fact. You know that they don't have anything on their walls right now that they love more than they will love this custom wine bar sign. This elegant, rounded sign will stand out on your parents' wall near their bar or in their kitchen. It is engraved with a name and date, which adds a personal touch that your parents will absolutely adore. Your parents would love this Christmas gift because it is a beautiful addition to their home.
Glasses and Coasters – a Classic Set
Your mother is a beautiful woman who deserves so much. She has cultivated a lovely home, so why not give her something charming to put in her home? These gorgeous stemless wine glasses and white marble and acacia wood coasters would make a stunning addition to her home. She will enjoy drinking her chilled Pinot Noir more than ever when drinking out of these glasses, and these lovely coasters will ensure that her and her guests' drinks won't form condensation rings on her coffee or kitchen table. These items will help her enjoy her wine more than ever and be a beautiful touch to her home.
Mug Christmas Gift for Parents
Beer is a classic drink that your parents love enjoying together. Half the fun of enjoying it is using the proper glass or mug. This set of four beer mugs is essential for your parents to properly enjoy their beer. To make this gift even better, pair these mugs with this durable bottle opener. Your mom and dad will be very grateful for these high-quality mugs and bottle opener.
305+ BEST CUSTOM BEER MUGS & STEIN GLASSES EVER>
Christmas Cookies
What is one of the main things you think of when you hear the word "Christmas"? Christmas cookies! This set of 12 homemade cookies will be a delectable gift for your parents for Christmas. There are 10 flavors available, so you can pick 12 cookies of any variety to go in the set. These amazing cookies come in a lovely brown package, making it a terrific gift. If you want them to love what you give them, this is the gift to give!
Wine Set They'll Love
Oftentimes, a set of items makes the best, all-encompassing gift. This beautiful wine set is the best set for your parents so they can fully enjoy their wine drinking experience. With this stunning brown box that can be used to store anything they desire comes two matching, elegant wine glasses plus a corkscrew to open even the most tightly sealed wine bottles. Also included is a wine stopper crafted from quality optic crystal with a stainless steel base to ensure that your parents' wine stays at its highest quality for as long as possible. Don't let your parents' holiday wine experience be the same experience they have every year – make it way better.
Ammo Can Set for Dad
If beer drinking was a sport, your father would be an Olympian. He loves beer, so you always consider beer-related gifts for him. For Christmas, get him the most unique beer gift set on the market. This ammo can gift set includes two awesome pint glasses that he can use to drink his favorite beers. It also includes a handsome black flask, so he can take his liquor discreetly on-the-go with him. An axe comes in the set as well, so your dad will be prepared if he's out in the wilderness and needs to chop through some thick shrubbery. This delightful set is an amazing Christmas gift that your dad will greatly enjoy.
Set Them Up
Your parents are classy and amazing, so they deserve a gift that's classy and amazing. This handsome custom whiskey gift set is a one of a kind gift that your parents will adore. Included in this set is a beautiful wooden box that your parents can store photographs or other mementos inside. A stunning whiskey decanter is included to ensure that your parents' whiskey is poured only when it has reached its top quality. The two whiskey glasses and set of nine whiskey stones will make their whiskey-drinking experience better than it ever has been before, ensuring that their whiskey stays chilled without being diluted. This marvelous gift set is even better than anything Santa could give your parents. They will make you their new favorite kid after you give them this!
Keep the Corks
Beer is a strong passion for many people, including your parents. Let them show off this passion with a wine cork shadow box. This box is a fantastic way for your parents to cultivate a collection of their wine corks or anything else and show them off in a classy and attractive way. A round opening is on the top, making it easy for your parents to drop their corks inside. Tons of corks can fit inside this box, so they don't have to worry about running out of room inside it. This would make a terrific Christmas gift for parents because it is both an appealing piece of wall decor and a way for them to display their cork collection.
Bonded Forever
Your parents love each other greatly, and they want to be together all the time. That's not always possible, so buy them something that will help them feel like they are always together, no matter how far apart they are. These bond touch bracelets are the perfect Christmas gifts for inseparable parents; each of them wears one on their wrists, and when one touches the top, the other will feel the vibration in their wrist. These bracelets are waterproof and have a battery life that lasts up to four days, so these bracelets don't have to be worried about too much. Celebrate your parents' love during the holidays with this amazing gift.
Moscow Mules Every Day
Your parents are obsessed with Moscow Mules. They would drink them all the time if they could. Well, now you can make that dream a reality. This engraved Moscow Mule gift set it the best Christmas gift for parents who are crazy for the classic cocktail. These stunning mugs will ensure that your parents' cocktails will stay cold for long periods of time, so they can spend the holidays relaxing with friends and family, not worrying that their drinks are reaching room temperature. The box also can be personalized with the initial of your choice, so it makes a beautiful decor piece as well as a convenient place to store small objects. This gift set is a phenomenal gift for your parents on Christmas that they'll enjoy immensely.
She's Beauty and She's Grace
Women love two things: wine and beautiful kitchen decor. Buy your mom two of her favorite things in one with this ravishing wine decanter. A stunning blend of classic and contemporary, this decanter is a tear drop design of flowing lines and a hole sculpted into the center of the glass. It's so visually alluring that all your mother's guests will stop and stare at its beauty. It holds up to 32 ounces of her favorite wine, and even has a crystal stopper to ensure that her wine stays fresh and impurity-free for hours.
Cutting Board Christmas
Functionality is key, especially for gifts for parents on Christmas. Cutting boards serve a huge purpose for couples who likes to cook, and you know your parents have made you so many delicious meals in your life. This cutting board is a great gift for your parents for Christmas. This thick board is crafted from acacia wood and looks rustic, like you just chopped it from the tree yourself. It's an amazing Christmas gift because Christmas is a time of remembering your loved ones and being with family, and this gift is all about celebrating your parents who began your family years ago.
Chilly Weather, Chilly Wine
Wine glasses are a staple for any kitchen, but some parents have plenty of typical wine glasses and want to branch out. Yours would love this set of two stainless steel wine glasses. They are crafted from premium stainless steel, so your parents' wine still stays chilled for hours on end. The outside walls of the glasses are a stunning matte black and can be personalized with a name and initial, so it will be no doubt to your parents' guests that the coolest glasses in the room belong to them. This is the perfect wine-related Christmas gift for parents.
171+ AMAZINGLY UNIQUE WINE GLASSES>
Breakfast? Say No More
Who doesn't love breakfast food? Your parents love it, and have made you delicious breakfasts countless times in your life. This breakfast basket is a great way to repay them for all those breakfasts. It has everything your parents need for the best breakfast they've ever had. With a beautiful new batter bowl, this basket also comes with gourmet pancake mix, maple syrup, and coffee. Your parents' mouths will immediately begin watering when they open up this gift Christmas morning. Include a gift message to make this flavorsome gift even more special.
Beer Sets are the Best Sets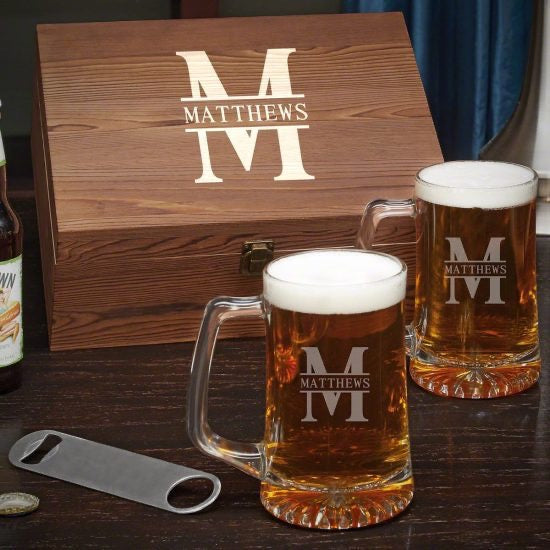 Sometimes, men just want a nice mug full of beer. This beer mug gift set is a fantastic Christmas gift for dads who appreciate beer and fine gift sets. This set includes a beautiful brown box with a clasp, a high-quality, attractive bottle opener, and of course, a handsome beer mug that can hold 25 ounces of his favorite brew. The box and mug can be personalized with a name and initial, and there's an option to engrave the bottle opener with a name as well. This personal gift will make your dad's face fill with joy when he unwraps this Christmas morning.
Great Sign for Their Home
Your parents have recently moved into a new house, and you're wanting to make it feel even more like home just in time for the holiday season. This is a simple yet lovely sign that would look stunning hanging on your parents' wall. It is crafted from gorgeous birch wood and stained a lovely dark walnut finish. It's a simple rectangle shape that is engraved with a last name and a year to really claim the new house they are now calling home. Your parents will adore this sign, and all their guests will be jealous.
A Woman's Toolbox
Your parents are wine aficionados with a love for wine and wine accessories. A personalized wine box and tool kit is the ideal gift for them to fully enjoy their wine. This wine box is a beautiful, sleek black that would look stunning in their kitchen. Inside the box is a cushioned satin lining to ensure that the bottle of your parents' favorite red will stay safe and sound. In the lid of the box are four spots for wine tools with the tools inside. Tools included are a bottle stopper, corkscrew, foil cutter, and aerator, so they're all set when it comes to wine tools. Put a bottle of her favorite wine in the box when you present it to your parents, and you have the most amazing gift ever.
Sweet & Salty
You can't go wrong with gift baskets or food, so combine the two for the perfect gift for parents for Christmas. This sweet and salty gift box has the perfect combo of snacks that your parents can eat for a long time. This hand-packed gift box contains several different snacks, including pistachios, peanut brittle, gourmet trail mix, and chocolate covered raisins. Your mother and father will be obsessed with this scrumptious gift basket and thank you over and over again.
Fancy and Classy Christmas
Fancy and classy: the two words that describe your parents. Also, they're the two words that describe this gift. This decanter and glasses gift box set is what your parents need this holiday season. Along with the stunning, handcrafted wooden box is this beautiful crystal decanter, perfect for making your parents whiskey taste better than ever. The four glasses are Canadian Glencairn glasses, so they are sturdier and less likely to break if dropped. This Christmas gift for parents is amazing and will make all their friends jealous that they have the best child in the entire world.
292+ TOP CHRISTMAS GIFTS FOR PARENTS>