Whether this is your first or fifty-first time meeting your boyfriends parents, figuring out what to gift them can be stressful. You want to give a more thoughtful gift than a bottle of wine, but you know that bathrobes are a bit too personal. The best gifts for your boyfriends parents find that perfect balance between impersonal and personal as well as show them that you put a lot of thought into their gift. To help you find the perfect present for any occasion, we've put together some amazing gifts for your boyfriends parents that are sure to impress them and make them love you even more than they already do.
Best Whiskey Gift Set Ever
When it comes to gifts for your boyfriends parents, it's best to stick to something that you know that anyone would love. This whiskey stone gift set is a phenomenal choice because they'll be able to enjoy perfectly chilled drinks together. They will really appreciate that you bought them a gift that helps them make the most of time spent together. Who knows, they may even have a toast right away in thanks to your unique and incredible gift!
Beer Gift Set for the Holidays
For a phenomenal anniversary or Christmas gift for your boyfriends parents, this beer gift set is absolutely perfect. It's a great gift because his parents will greatly enjoy bringing the growler to the brewery together and bringing home delicious beers. Add a six pack of one of their favorite brews and you're golden!
Wonderful Wall Sign
This custom wooden sign is the perfect piece of decor that they will adore! Its rich dark brown color won't clash with any of the decor in their home, so you that they'll love it and put it on display right away. Thanks to your great gift, everyday they get to look at their own personalized piece of home decor, could they really want a gift better than that?
Decanter and Decor
This globe decanter set is a stunning gift that they will love! They'll feel like the coolest parents ever having a gift that is both gorgeous and that they can enjoy delicious drinks from. The beauty of this set will astound them each and every time they see it in their home, making it a fabulous gift for your boyfriends parents.
381+ HANDSOME WHISKEY DECANTER SETS>
For the Wine Cellar Gift for Boyfriends Parents
Have their home feel like their own personal vineyard with an amazing, customized wine cellar sign. This sign is the perfect gift for your boyfriends that will fill them with joy every time they see it because of how unique and thoughtful of a gift it is. It will look absolutely beautiful wherever they hang it in their home, and they'll thank you again and again for it!
Palatable Pizza Crate
This pizza crate is an excellent Christmas gift for your boyfriends parents because who doesn't love pizza? This savory gift has all the makings of a delicious pizza, from dough for a crust to seasonings. His parents will be utterly impressed with you for getting them such a delicious, unique gift that they can use on a date night or special occasion.
Their Own Special Set
This decanter set is an ideal gift for your man's parents because it gives them a special, high-quality glassware set with their name on it—how cool is that? They'll love spending time together, sipping on their delicious whiskey with the most beautiful glasses they have ever seen.
Their New Favorite Kitchen Accessory
This custom wooden cutting board is an awesome gift for your boyfriends parents that they'll love using to make delicious food. Not only will it make cooking and chopping so much easier, but they'll really like displaying this board in their kitchen when it's not being used. They'll absolutely love this personal, multipurpose gift.
Red Wine Glassware Gift
Buy them a gift that they'll greatly enjoy in this customized wine decanter and glasses. It'll make them really happy to have such a beautiful set that has their name on everything! They'll definitely use this lovely glassware to toast to their wonderful son and his thoughtful girlfriend.
Not Just a Bottle of Liquor
You've got your sights set on a bottle of their favorite whiskey and some accessories as the perfect gift for your boyfriends parents. Gift the bottle in this classy gift box for a nicer presentation as well as something they can use for a long time, and give them these unique whiskey stones to keep their whiskey nice and chilled. They'll be so impressed with the elegance of this creative gift that helps them enjoy their favorite whiskey.
Everybody Loves Candles
Your boyfriends parents will definitely love this candle set. It's a simple yet elegant gift that they'll really appreciate! They will be delighted to light these in their home because not only will they make the space smell phenomenal, like huckleberry, bamboo, and more, but they will provide a calm atmosphere within the home.
Gift for your Boyfriends Parents For Their Favorite Indulgences
This ammo can gift set is such a cool gift that your boyfriends parents won't believe how amazing it is! They'll love the novelty of the repurposed ammo can with their initial on it, and storing their drinking accessories or anything else inside it will bring them immense joy.
Wine and Beer Gifts for Boyfriends Parents
For his beer and her wine, this Mr & Mrs beer and wine cork sign is a phenomenal gift you know they'll be obsessed with. They'll love having a gift that shows off one of their favorite ways to spend time together. Each time they have a date night or just need to unwind, they get to fill out their side of the sign just a little more with some of their favorite brand's wine corks and beer caps.
307+ AMAZING CUSTOMIZED SIGNS>
Wonderstruck by the Diamond Decanter
Do you want your gift for your boyfriends parents to stun them with how amazing it is? This diamond decanter set will have them picking their jaws up off the floor! They'll be blown away by the beauty and elegance of this gift and they'll immediately fill the decanter with their preferred whiskey or other liquor and admire how it looks inside. They'll feel like a king and queen when they're drinking from their high-class diamond glasses, and they'll love all the compliments they receive from their friends!
Worth Way More than a Thousand Words
Provide them a way to have as many photos of their loved ones as they want with this digital picture frame! This amazing gift makes it easy for them to load thousands of photos and videos onto this device so they can have a slideshow of their favorite pictures playing at all times. Your boyfriends parents will love this technologically advanced gift and will be so impressed with you for thinking of it.
The Best Gift for Boyfriends Parents for Poker
This brilliant gift of a poker set will make his parents very happy! They'll be so thrilled to host a poker night with their friends using the excellent accessories in this set. The case makes it really easy for them to transport the set in case they want to take their game night on-the-road.
It's a Cognac Christmas
Give them a gift that will make them feel classy every time they see it, let alone when they get to use it with this cognac glass set. Make this an unforgettable Christmas gift for your boyfriends parents . The two of them will feel so special seeing their name on this thoughtful gift! You can be sure that every time they have a sip of their favorite cognac, they'll be thinking of you and that if you're this good at giving gifts, you are definitely the perfect girlfriend for their son!
Show off the Corks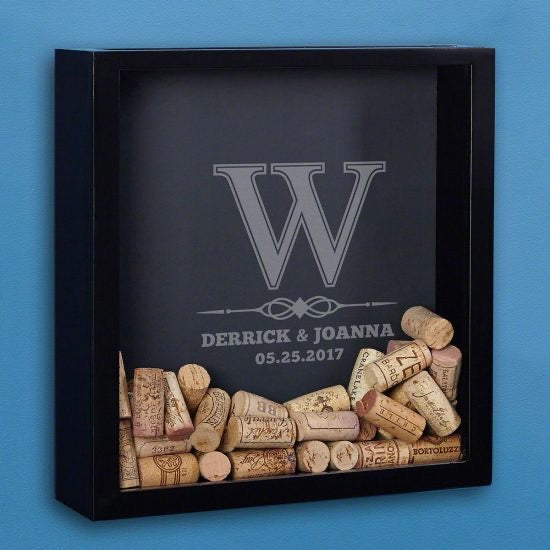 This shadow box is the perfect gift for them because they'll be able to save all of their wine corks, bottle caps, photographs, or whatever they choose to collect from good times they've spent together. They'll really like how it looks hanging on the wall in their living room or kitchen, filled with their growing collection!
Christmas Isn't Complete Without Chocolate!
Repay them for welcoming you into their family with an amazing Christmas gift for your boyfriends parents: a dessert pedestal and chocolate biscuit gift box! The buttery chocolate biscuits will look almost as good as they taste on the dessert pedestal, and your boyfriends parents will thank you for such an aesthetically pleasing and delicious holiday gift!
Cocktail Gifts for Boyfriends Parents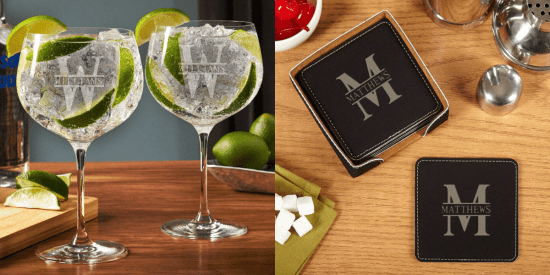 These balloon glasses and customized coasters are absolutely perfect gifts that they can use all the time! They'll love the matching personalization on these awesome items as well as the convenience they provide when they want to enjoy cocktails or any other delicious beverage.
A Bottle of Wine is More Than Fine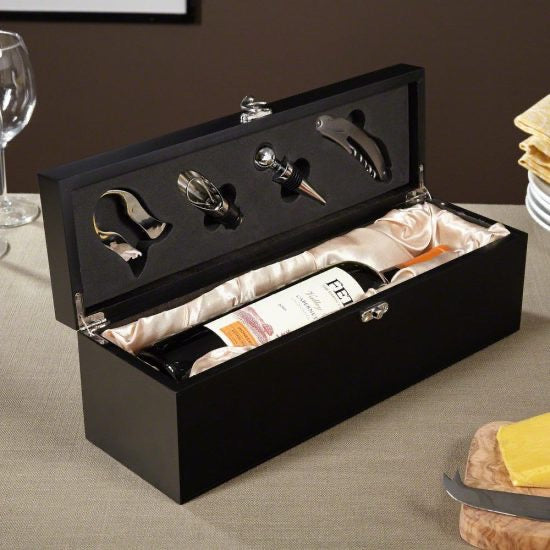 Okay, so maybe you do want to give them a bottle of wine. There's nothing wrong with that as long as it's paired with something awesome like this wine box and tool kit. This handsome black box is cushioned to protect the bottle, and the tools will make indulging in wine so much easier for your boyfriends parents. They will truly be thrilled to receive such a brilliant wine gift from you!
147+ IMPRESSIVE GIFTS FOR BOYFRIENDS PARENTS>