Dads and their daughters share a special bond unlike any other. This Christmas, you want to give your dad something unique and thoughtful that shows him how much you love him. Unique Christmas presents for dads from daughters are thoughtful and considerate, such as personalized items, cool tech gadgets, and sets with all of their favorite things. Dads are typically hard to buy for, so you have some things to consider: What Christmas gift ideas for men can I give dad that he'll actually use? What kind of gift can I give that we can use together? What kind of Christmas gift do dads love to get? Relax, you're sure to find something perfect in these 27 unique Christmas presents for dads from daughters.
To Dad From Daughter Beer Mug
Your dad might just cry when he unwraps this incredible beer mug on Christmas. One of the best Christmas presents for dads from daughters, the engraving says it all: "Dad, you will always be the first man I ever loved." The relationship between you and your dad is something that can never be replaced, even with your significant other. Your dad is the first man to show you how you deserve to be treated by a man, such as making you hot chocolate on cold winter nights, giving you his jacket or blanket when it's chilly, and taking care of you when you get sick during cold and flu season. He is the first man you've ever loved, and this sweet and thoughtful beer mug will remind him of how much you love him every time he uses it. You could make him some hot apple cider to enjoy at Christmas dinner so that he can use it right away, or pair it with a six pack of his favorite beer.
My Favorite People Call Me Dad Gift from Children
If you and your sister(s) are trying to find an awesome Christmas gift for dad that you can give to him together, look no further. This unique decanter box set is one of the best Christmas presents for dads from daughters because it has so many uses. Each piece is engraved with "My Favorite People Call Me Dad" along with all of his children's names. He can display the whole set in his bar area or keep it safely stored in the included gift box for special occasions. If his kids are all of age, then you can share a drink with dad right after he unwraps it. He can even reuse the gift box to keep all kinds of keepsakes such as Christmas crafts you and your sister(s) made, holiday photos, and more.
Ammo Can Gift Set for Father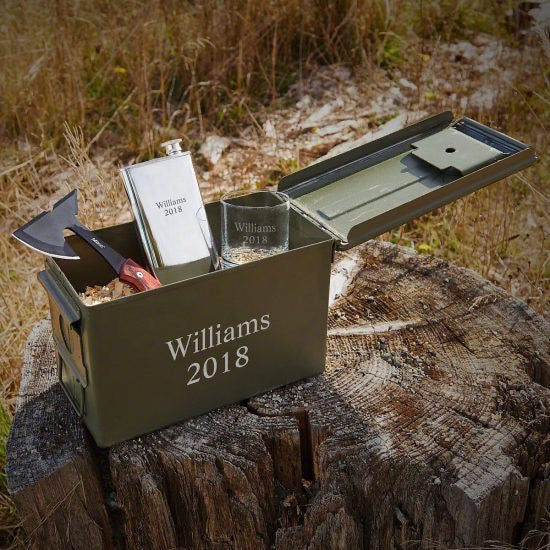 Do you have a military or outdoorsy father? This ammo can gift set is a really cool and unique Christmas gift. The genuine repurposed military ammunition box is great for storing all kinds of things such as his hunting ammo, fishing gear, small Christmas decorations, Christmas cards, and more. The hatchet is perfect for chopping fresh firewood to make a nice warm fire for roasting chestnuts or s'mores on a cold winter day. Dad can share a shot of whiskey from his new liquor flask to warm you both up as you're helping him shovel snow all morning. After you go inside, you can pour him some eggnog to enjoy in the new whiskey glass. Everything in this set is useful and unique, making it one of the best Christmas gifts for dad from his daughter.
Unique Rolling Wine Glasses for Dad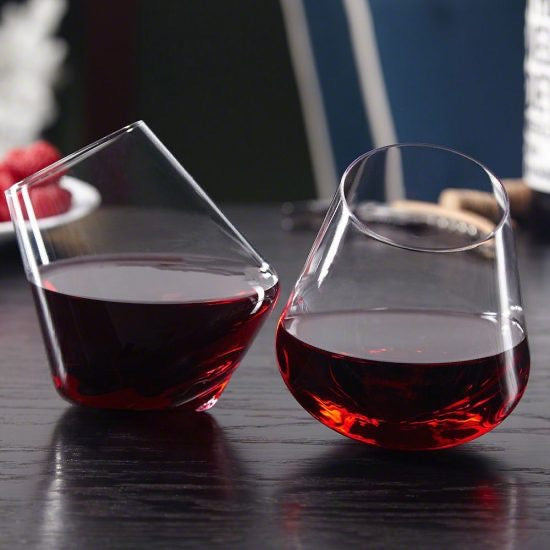 Is your dad a red wine guy? He'll get a kick out of these cool wine glasses that roll around on the table. The unique design makes these glasses not only fun to play with as he drinks, but the rolling motion aerates the wine and improves the taste. You two can make up a drinking game based on how many times the glasses spin. These glasses are perfect for enjoying a special wine to celebrate Christmas together in a fun way and make one of the coolest Christmas gifts for dad from his daughter. These are so nice, it may be more than dad who enjoys them. The glasses may end up being some of the best Christmas gifts for parents they've ever received.
Cool Whiskey Glass for Cool Dads
The perfect whiskey glass for adventurous men or dads who like cool glassware, this awesome rocks glass has a mountain inside it! There's nothing better than a nice glass of whiskey to warm up with after a cold day outside with dad. When he drinks from this glass, he'll remember the fun ski trip you had and the beautiful snow-capped mountains or when he took you rock climbing on a real mountain for the first time. Gifts that remind dad of something special you shared together like a vacation are thoughtful and perfect for giving at Christmas. This awesome whiskey glass is one of the most incredible Christmas presents for dad from his daughter that he'll treasure forever.
201+ MORE UNIQUE WHISKEY GLASSES FOR DAD>
Garmin Speak Plus with Alexa and Dash Cam
Dads love dash cams and smart tech, so Garmin put them together to make this awesome dual gadget to give him this Christmas. This incredible Speak Plus is compatible with Amazon's Alexa and has a built-in dash cam so that Alexa can give him directions, play music, announce traffic updates, and interactive games. It even has collision and lane departure warnings to help keep your dad safe on the icy winter roads. Your annual holiday trips to grandma's house have never been better!
Dad's Own Marquee Sign for His Home Theater
Is your dad a movie buff who dreams of having his own home theater or already has one that's missing something? Then he'll absolutely love this unique marquee sign that will make his home feel like a real theater. You could have him unwrap it as you put in the disc for your favorite Christmas movie and hang it above the TV for him. Now family movie night is complete!
Golf Ball Shadow Box for the Dad Who Loves Golf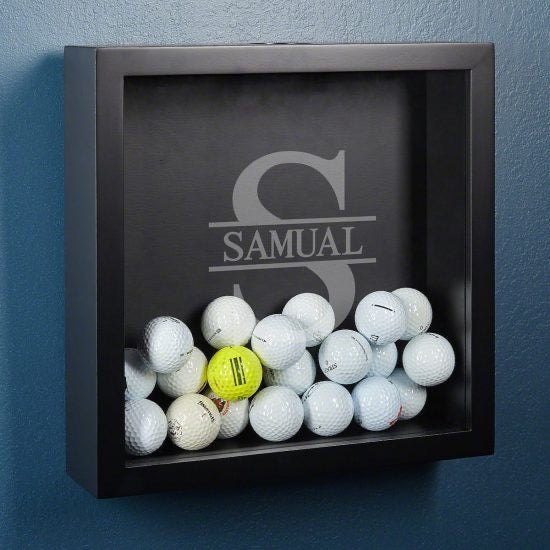 Does your dad like to collect things? This shadow box will let him display his collection of bottle caps, cigar wrappers, golf balls, ticket stubs, shotgun shells, and other small items. He can even start a new collection this Christmas and track his progress each year until it's full so you can get him another one. The shadow box is perfect for hanging on the wall or displaying on a table or other flat surface. You can even start the new collection together as a special activity, which makes this one of the best Christmas gifts for dad from his daughter for both of you to enjoy.
Cutting Board for the Dad Who Cooks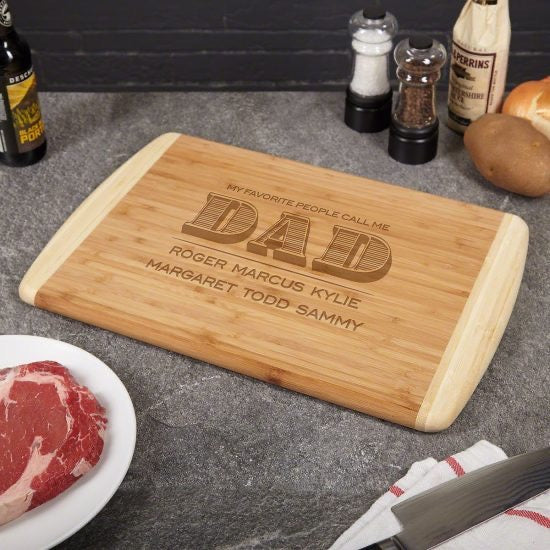 If your dad likes to cook, then he'll love having his own bamboo cutting board. Now he can chop, season, slice, and more without making a mess of mom's countertops. He'll love seeing the engraving of "My Favorite People Call Me Dad" and his children's names as he's preparing dinner for the family. This would be perfect for surprising him with on Christmas morning so that he can use it right away to make breakfast for everyone and for dinner later. Don't forget the bow on top!
Cigar Flask for Christmas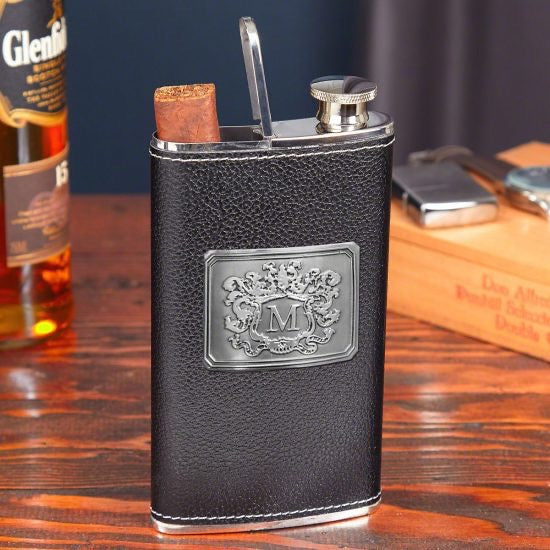 Does your dad enjoy a cigar now and then? Does he also enjoy having a drink as he smokes? Then this is the perfect gift for him: a liquor flask that holds both a few ounces of his favorite spirit and his favorite stogie. Now he can celebrate Christmas in his own way with a trusty cigar and sip of bourbon from his trusty new flask. Don't forget a bottle of his favorite liquor and a box of his favorite stogies to make it one of the best Christmas presents for dad from his daughter.
209+ MORE COOL LIQUOR FLASKS DAD WILL LOVE>
Drive An Awesome Classic Car for a Day
Is your father a fan of cars? This Christmas, give him a whole day to drive his dream car. Whether he likes old classic models or fancy new sports cars, there are plenty of choices for him. He can take you around town and drive through the Christmas lights show in an awesome 1967 Ford Mustang or take you out to dinner at a fancy restaurant in a 2008 Ferrari F430. This will be a Christmas experience he'll never forget and a fun new memory to share together. This is one of the most unique Christmas gifts for dad from his daughter that he'll go crazy for.
Travel Growler for Dads On the Go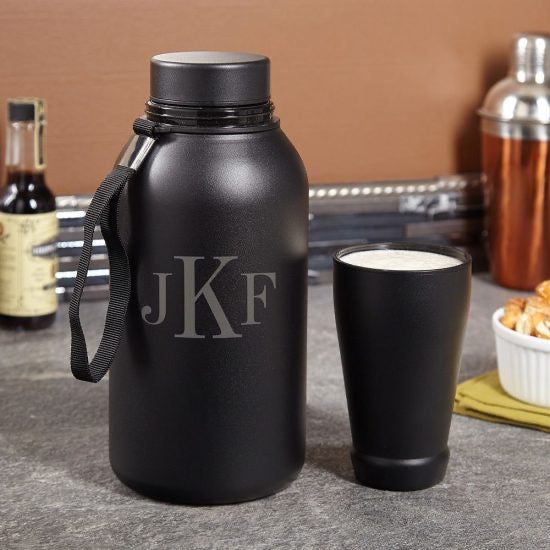 Is your dad the adventurous type or always traveling? Then he needs a quality growler to bring his favorite beverages along with him. This insulated growler will hold 64 ounces of any liquid and keep it hot or cold all day long. He can bring along hot chocolate for everyone to sip on between Christmas carols around the neighborhood. The most unique feature of the growler is the included cup that fits perfectly on the top, which makes it ideal for traveling. He can use it all year long to bring water on his hikes, beer to family BBQs, eggnog to Christmas at grandma's house, and so much more. This handy growler will make his travels so much easier, making it one of the best travel Christmas presents for dad from his daughter.
Custom Bar Sign for Dad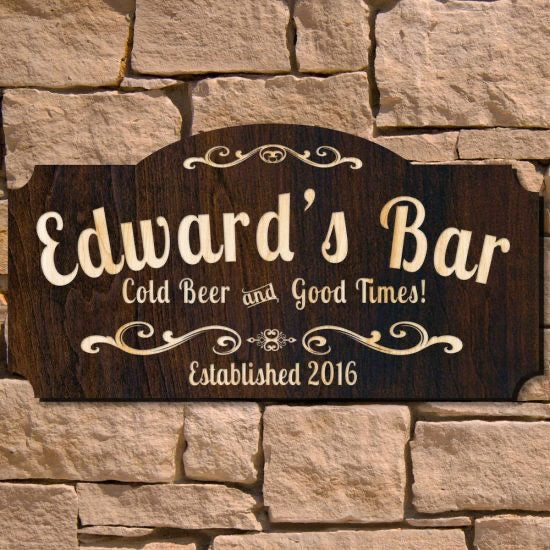 Has your dad always dreamed of having his own bar? Now he can get it started with this official bar sign. Perfect for hanging on the wall or standing as a table decoration, this bar sign will be the perfect addition to any room. You could pair this sign with a cocktail tool set or a six pack so that he can serve drinks to everyone at Christmas dinner. This awesome bar sign is one of the most unique Christmas presents for dads from daughters to give the dad who dreams of owning a bar one day.
BBQ Set for the Dad Who Grills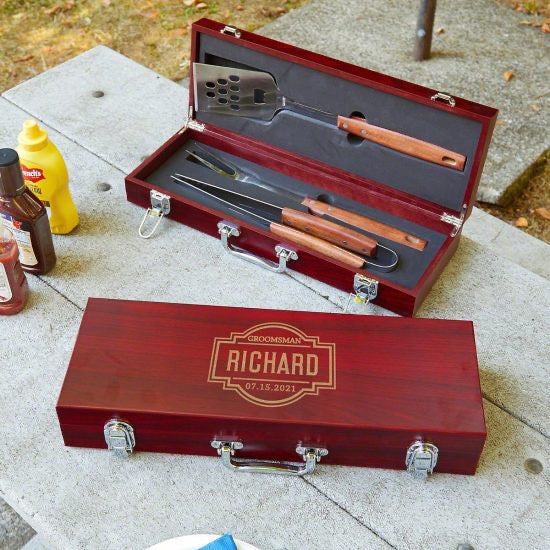 Is your dad a grill master or wants to become one? With this high quality BBQ tool set, he'll always be prepared. This three piece set fits snugly in a handsome carrying case so that he can bring his tools with him to the neighborhood cookout, Christmas dinner at grandma's, and the lake in the summer. He can use them right away on Christmas Day to serve up juicy steaks or burgers for dinner.
To Dad From Daughter Travel Tumbler
If your dad is always on the go, then you should give him a unique travel tumbler that will remind him of how much you love him every time he looks at it. This tumbler is made of double walled stainless steel and vacuum insulation so that his coffee stays piping hot for 6 hours and ice water chilly all day long. It's perfect for bringing hot chocolate along when you two go look at Christmas lights or sing Christmas carols with your neighbors. He can take this travel tumbler everywhere and think of you, making it one of the most thoughtful Christmas gifts for dad from his daughter.
Dad Pocket Watch for Christmas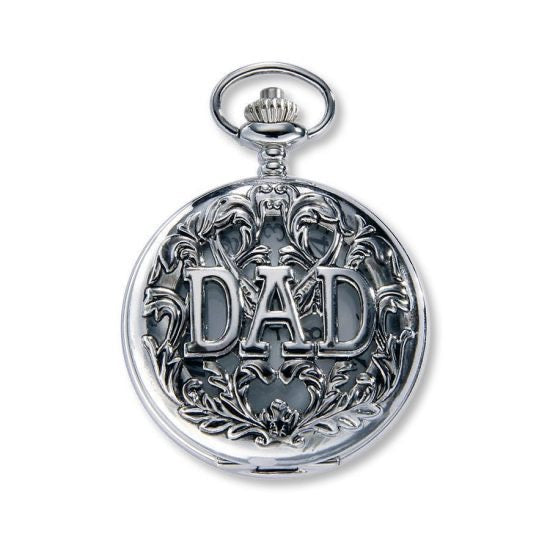 Watches are pretty stereotypical Christmas gifts for dads from daughters, but a pocket watch is truly unique. This gorgeous pocket watch is a classier alternative for dad to carry every day or for special occasions. He'll want to check the time every few minutes just so he can show off his fancy new watch. The "Dad" design will remind him that you, his special daughter, gave this incredible watch to him for Christmas every time he looks at it. The watch comes with a chain, pouch, and matching money clip as a complete gift set for dad.
To Dad From Daughter Pint Glass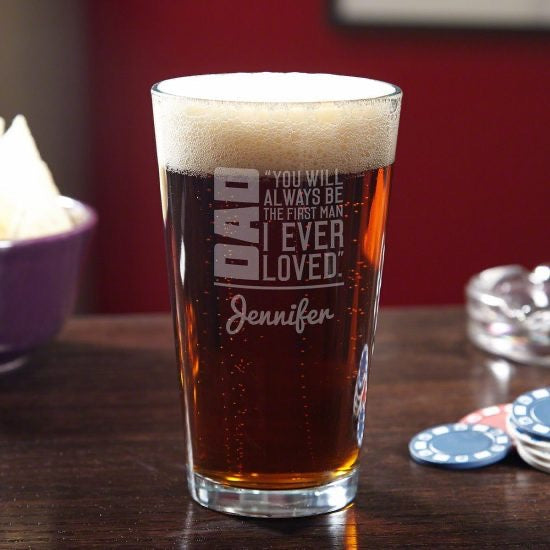 Your dad is part of many firsts in your life. He heard your first words, helped you get your first car, showed you how to put up Christmas decorations, and most importantly, he is the first man you ever loved. This unique pint glass conveys just how much you love your dad and how important he is in your life. When he unwraps this touching gift on Christmas morning, he might just cry when he reads the engraving. He'll use this special glass every day to drink his milk in the morning, enjoy a craft beer after dinner, and share a glass of eggnog with you. This pint glass is one of the most sweet and unique Christmas gifts for dad from his daughter that he'll ever receive.
Stainless Steel Wine Glasses for Christmas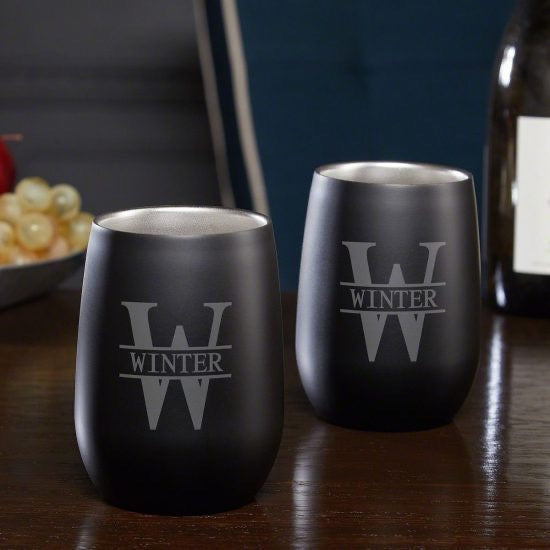 Does your dad like wine? These insulated stainless steel wine glasses will blow him away this Christmas. The natural coolness and double walled insulation of these glasses will make sure that the wine inside stays chilled for white wine and slightly cooler than room temperature for reds. With this set of two, you and dad can have a glass of holiday wine or sangria right after he opens them. He can even keep them in the fridge to keep his drinks extra chilly.
World's Best Dad Wooden Sign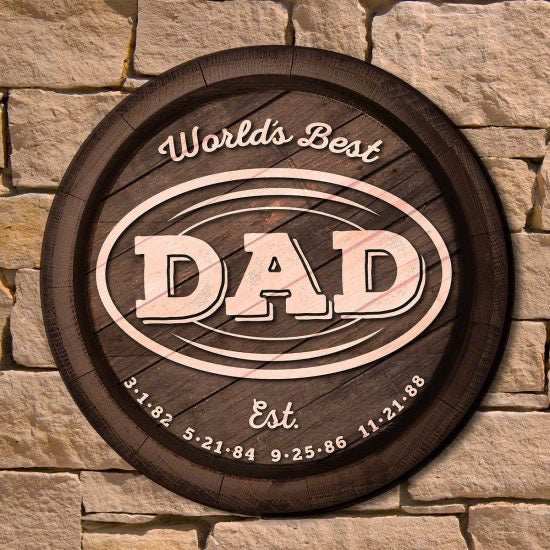 Your dad is the best father in the world, and you want everyone to know it. This Christmas, your dad will unwrap this awesome custom wood sign that is so thoughtful, he might shed a tear. He'll want to hang this somewhere everyone can see, like right above the couch in the living room. This custom sign has all of his children's birthdays engraved on it, which means he'll never forget your birthdays again!
Beer Gift Set for Dad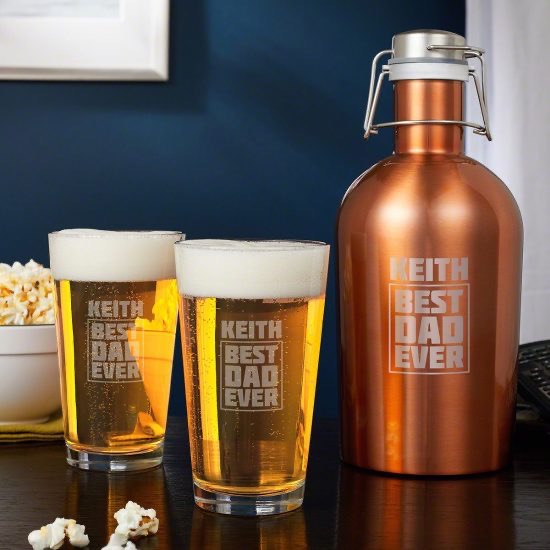 Every dad who loves beer knows that the best kind of beer is served in a pint glass. This growler and pint glass gift set is the ideal Christmas present for dad from his daughter because now you two can share a beer together and celebrate the world's best dad. The insulated growler is perfect for traveling so that he can bring his favorite beer or other beverage on the go. This set is also ideal for dads who brew their own beer because he can store his newest batch in the secure growler and keep it fresh until he pours a glass for you to try.
Super Nintendo Classic Edition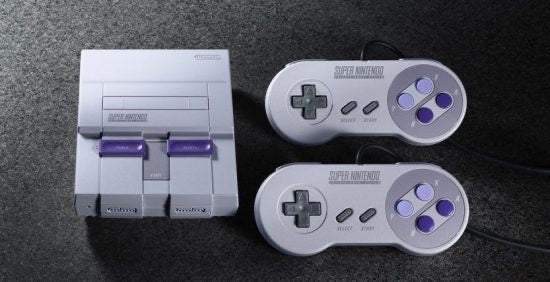 Did you and your dad grow up playing the Nintendo together? Now you can relive all of your favorite games with the Super Nintendo Classic Edition. It comes pre-loaded with all of the biggest hits: Super Mario World, Kirby Superstar, Super Metroid, Mario Kart, and Legend of Zelda. You and dad and play Christmas day away with the included controls. If you have any old SNES cartridges laying around the house, you can play those too!
Pint Glass Cigar Gift Set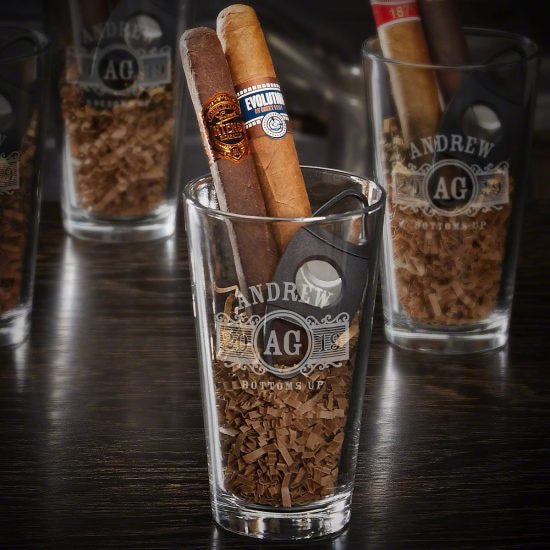 Does your father enjoy beer and cigars? This is the perfect gift set for him. Included is an engraved pint glass, cigar cutter, and plenty of room to include a couple of his favorite stogies. You can cut dad's cigars for him cleaner than ever and pour him a cold one right after he unwraps it on Christmas Day. If you also like cigars, you can enjoy a couple of celebratory smokes with dad after dinner.
Brandy Warmer Set for Christmas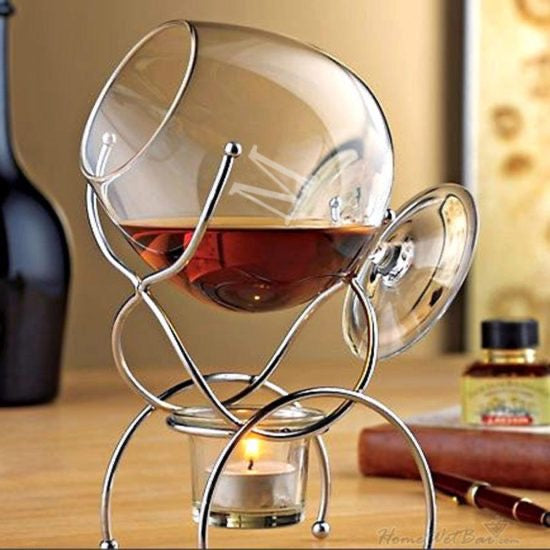 There's nothing like a warm glass of brandy to warm up with after a long day out in the snow. With this warmer set, dad can have a perfectly warmed glass whenever he wants. It's the perfect drink to enjoy after shoveling snow out of the driveway or sledding with you down the tallest hill in the neighborhood on Christmas morning. The tealight at the base of the warmer gently heats the brandy to unlock the exotic flavors so that he can enjoy every sip to the fullest. You could get a set for you too so that you both can enjoy a warm brandy together on these cold winter days. This Christmas present for dad from his daughter will make sure that he's toasty warm after a snowball fight with his grandkids.
Beer Tap Handle for the Home Brewer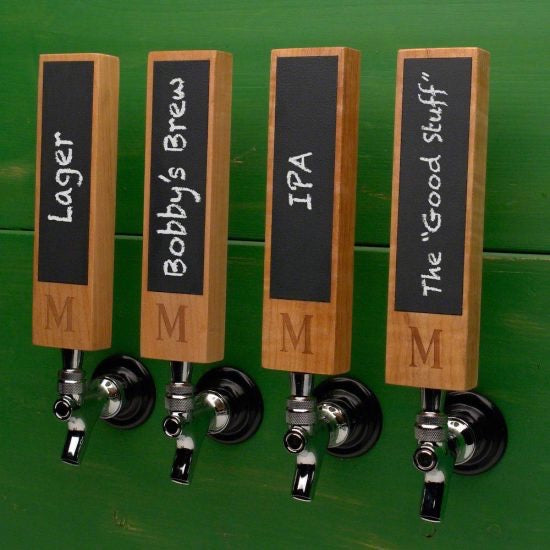 Does your father have a home bar or home craft brewery? Then he needs a tap handle! He can easily hook it up to his keg and pour everyone his seasonal beer to try at Christmas dinner. The tap handle has a chalkboard area so that he can write what kind of craft brew he's serving. This makes it much easier to serve beer at the Christmas party for the whole family and every beer tasting event year round.
Ultimate Beer Gift Set for Christmas
Looking for the most unique beer gift set for your beer-loving dad? You've found it. This is the ultimate gift set for beer lovers: two custom pint glasses, an engraved amber beer growler, and a bottle cap map of the U.S.A. He can start a new bottle cap collection this Christmas and display it for all to see. The growler is perfect for storing his craft beer, like his special holiday batch he just made to serve on Christmas Day. It'll keep it fresh and safe from harmful UV rays, which affects the taste. The two of you can share a beer right after he unwraps this awesome gift set with the two matching pint glasses. This ultimate beer gift set is one of the coolest Christmas presents for dad from his daughter ever.
Smart Thermostat for Dad
Dads are notorious for being sticklers about the thermostat, so why not get him one that gives him more control than ever? The awesome Honeywell Smart Thermostat has so many unique controls, such as 7 day customizable options, filter change alerts, can be controlled from anywhere with his smartphone, and even senses when he's coming home so that the house can be his preferred temperature when he arrives. He can hook it up easily right after he opens it on Christmas Day and make the house toasty warm and comfortable. This smart thermostat really is one of the coolest and most unique Christmas gifts for dad from his daughter. Now he'll really mean it when he says not to touch the thermostat!
To Dad From Daughter Cocktail Glass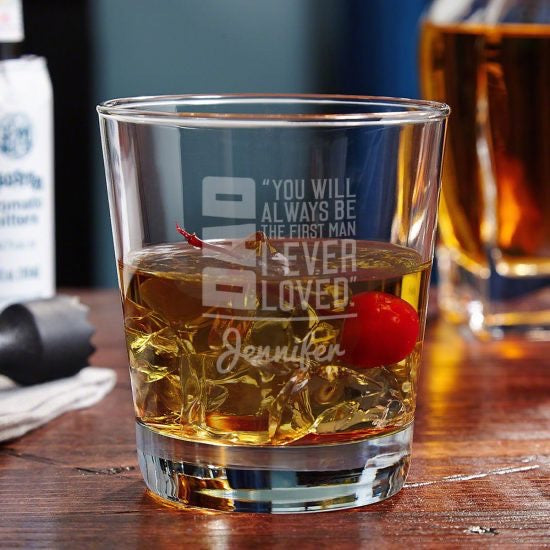 Even if you have boyfriend or husband, your dad is still the most important man in your life. This custom cocktail glass is the perfect way to reassure him that you're still daddy's little girl. Christmas this year will be extra special with this unique present that he'll never expect. You can make him a holiday cocktail or pour him a glass of his favorite whiskey to drink right away. He'll treasure this special glass forever and always think of you when he uses it. This glass is one of the sweetest and most unique Christmas gifts for dad from his daughter that will make this holiday season extra special the two of you.