You still remember the first sip of whiskey you ever had. Your life was forever changed. It doesn't matter if it was from a Solo cup or a pull straight from the bottle, you knew you had stumbled upon a golden elixir. But as you've developed a real affinity for the spirit, you realized it should be consumed in only the top whiskey glasses. Thankfully, we've worked tirelessly to find and bundle the world's best whiskey glasses from 2020 into a single list. You'll be sure to find the glass that fits your whisky, bourbon, and scotch needs.
Ultimate Set of Whiskey Glasses
It's completely understandable if you like variety or simply have a hard time pulling the trigger on what's the best whiskey glass. This ultimate whiskey set was crafted with you in mind. It's one of the greatest hits of the best whiskey glasses available. You'll soon realize one glass works better for one kind of whiskey while a scotch you enjoy is ideal for one of the others. You can feel confident building your whiskey collection with this set.
Complete Whiskey Gift Set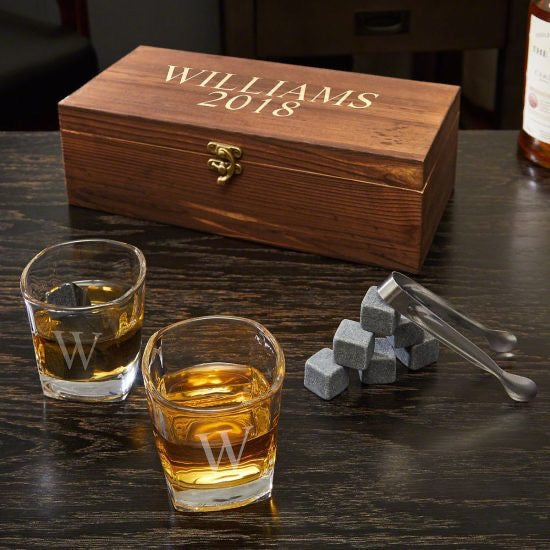 It's 2020. You know that whiskey is meant to be savored. You're guilty of taking a quick shot now and then whenever the moment called for it. Who isn't? But some bottles of whiskey call for you to taste every delicate note. This Schaefer box set has two of the best whiskey glasses meant to push those notes to the forefront. The set comes with whiskey stones so the flavor won't be diluted, and even a dashing wood box to store everything until your next whiskey tasting.
Never Have Watered Down Scotch Again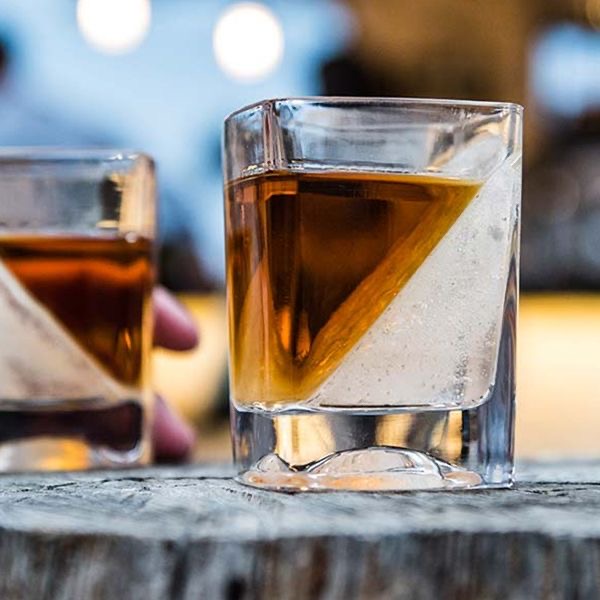 A delicate spirit requires a delicate approach. You know when you've dropped in a couple ice cubes into your whiskey and had your last sip that you're just tasting slightly brown water at that point. This whiskey wedge glass forms a perfect wedge of ice in one half while leaving the rest to be filled with the whiskey of your choice. You'll have a uniquely chilled spirit you won't find anywhere else. The frozen wedge melts slower than typical ice cubes, allowing you to experience the full, chilled flavor and makes it one of the best scotch glasses out there.
Classic Double Old-Fashioned Rocks Glass
A classic approach is never wrong when it comes to enjoying whiskey. No, it's not the plastic cup you still fill up with your favorite spirit. This Buckman style glass has everything you need in a whiskey. You can enjoy your spirits neat, on the rocks, or even with a mixer. It's not the fanciest whiskey glass, but it's a great all-purpose whiskey glass.
A Bold Whiskey Glass Set for All
Whiskey is a great drink to share with others, and with a set of bold whiskey glasses like these, you know you will want to share a drink with a friend or family member any chance you get! The thick glass gives these double old-fashioned whiskey glasses a hefty feel that makes each sip of that fantastic brown liquor feel like a refined experience. So when you've got this gorgeous decanter set in your home, don't be shy, pour two glasses and enjoy a great drink with someone special!
379+ WHISKEY GIFT SETS AND GIFT BASKETS>
Colorful Stained Whiskey Glass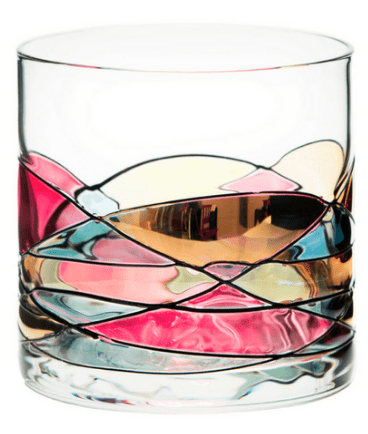 If you're looking for a unique glass that is designed to impress, Cornet Barcelona has you covered with their gorgeous stained whiskey glass. The beautiful colors of the stained glass wrapping throughout reflect the whiskey within, creating a breathtaking colorful effect. The design is inspired by Barcelona's famous Sagrada Familia Basilica, which has incredible stained glass windows. Your guests will all want to have their drinks in such beautiful glasses!
Crystal Glasses Fit for Any Occasion
Many people believe that the finest whiskey in the world hails from the emerald isle of Ireland. These Dublin crystal-cut whiskey glasses embody the essence of whiskey's oldest and finest distillers. With a set of four, you can share these with anyone in your life. They'll be appreciated by whiskey beginners and enthusiasts. Their intricate design makes them look great anywhere in the home or office.
Fun Decanter Set for Whiskey Drinkers Who Like the Macabre
Whiskey is supposed to be fun. You have a ritual with whiskey shots that ensures your team will always beat their rival. It's the first drink you reach for when you want to celebrate. A phantom skull decanter with matching whiskey glasses adds a sense of fun and sets the tone for any occasion. It's as much a centerpiece as it is a premium whiskey tasting set.
A Suave Scotch Glass That Holds Your Cigar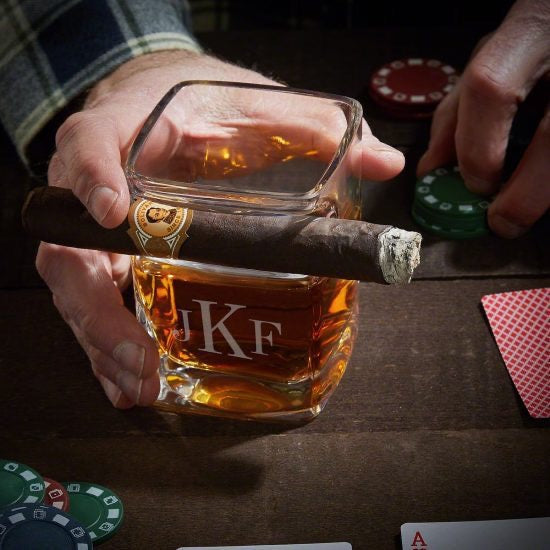 At one point in your life you thought the best combination in the world was peanut butter and jelly. When you entered adulthood, you realized it was actually whiskey and a quality cigar. This incredible whiskey glass blends this perfect combination seamlessly. You'll be able to keep it all in one hand and still have a free hand to answer texts, high five friends, or change the channel on the TV. This whiskey glass, in particular, makes an awesome gift for any guy.
Regal Aerating Whiskey Glasses
Throughout history, even royalty has appreciated a superb whiskey. This set of Dimera whiskey glasses are covered with a regal crest to bring a little royalty in your home. The slender rim on these uniquely designed whiskey glasses funnels the aroma of your favorite scotch or whiskey to your nose. Its wide base is perfect for swirling the drink and unleashing any subtle notes that may lay dormant otherwise. It will give you a fresh experience with a whiskey you've already tasted a thousand times. Even if it was just sampled as recently as 2018.
Cool Frosted Glass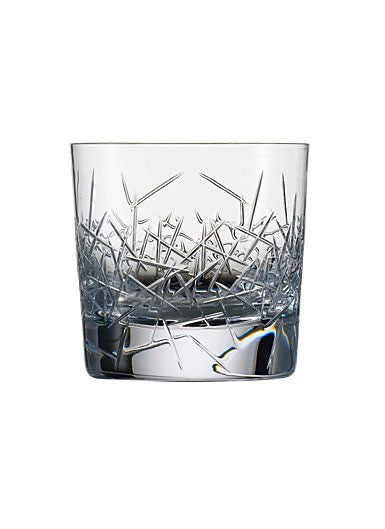 Presentation matters just as much as the actual whiskey itself when serving a scotch on the rocks. The right glass can truly enhance your experience, especially when it looks like it's been frozen over like this awesome glass. The crystalline effect looks just like a light coating of frost in the middle of winter. While this doesn't actually make your whiskey any colder, the thick base will help insulate your drink. You'll certainly reach for these cool glasses whether you feel like an Old Fashioned or straight bourbon.
Timeless Round Whiskey Glass
A classic approach to whiskey glasses will never be a bad thing. Those designs stick around for a reason. This Eastham whiskey glass is arguably the most timeless design in the bunch. Its classic cylinder allows the whiskey to breathe, makes it comfortable to hold, and is great for adding in a couple of ice cubes or whiskey stones. This glass can even be personalized so everyone knows who has classic taste in glassware.
Blade Runner Glasses
No list of the best whiskey glasses would be complete without the glasses from Blade Runner. Easily the most iconic whiskey glasses used in cinema, you can now get a matching pair for your own home bar or man cave. These glasses are mouth-blown by an Italian boutique to ensure each one maintains the highest level of quality. After drinking from this set, you won't even care if you're a replicant.
Steer Your Way Toward this Decanter Set
Take full charge of your whiskey experience with a decanter set that will have you seeing red if you don't have it in your home. This bull decanter is one of the coolest and most impressive ways to store your whiskey as it decants. Plus, it even comes with whiskey stones and the most classic, best whiskey glasses out there, a set of old-fashioned glasses! Whether you like mixed-drinks, chilled drinks, or neat ones, this glassware set is sure to show off your strong love for your favorite liquor.
Send Your Whiskey Rolling
You pride yourself on your sense of humor. You realize that even in the most serious of situations a little levity can go a long way. A Roly Poly whiskey glass is always teetering on the edge like it's about to topple over, but it will remain perfectly balanced. It's a fun way to enjoy scotch, bourbon, or rye whiskey. And it's even better to catch any friends or family off guard when they first set this glass down.
Crystal Glencairn Glass
Scotch is arguably the most well-known whiskey variant, but a standard won't do for a drink that takes years to perfect. The Glencairn glass has become the standard for great whiskey glasses for Scotch drinkers. This crystal cut whiskey glass is shaped to allow you to nose the drink before you take a sip, which enhances the flavor the moment it hits your tongue.
Impressive Geometric Duo
Maybe you did your thesis on postmodernism. Or maybe you're just a big fan of Andy Warhol and Charles Moore. Either way, you like what you like. That's why a set of art deco glasses are amazing whiskey glasses to add to your carefully curated pad. They exude luxury without breaking the bank. It's a contemporary twist on the standard whiskey glass.
Whiskey Glasses with a Twist
You know the importance of presentation. You're always dressed for any occasion. Your living room is immaculate in case guests come over. If this sounds like you, then this personalized gift set is the only missing in your life. The twist glasses are the perfect companion for any whiskey connoisseur, especially one with a sense of style. The whiskey stones are just the crème-de-la-crème of this set.
101+ WHISKEY STONES FOR YOUR WHISKEY GLASSES>
A Tumbler Unlike Any Other
Whiskey is aged for years, sometimes decades, before it's deemed ready to be consumed. Why should your whiskey glass be any different? Discommon put that line of thought into their Lowball whiskey tumbler. It's crafted from aerospace-grade aluminum with textured details along every centimeter. When it comes to exquisite whiskey glasses, Discommon's tumbler cannot be beat. So when you reach for your top shelf whiskey you should be pouring it in this glass.
The Only Glass that Fits Perfectly In Your Hand
You've always been an art lover. You even started framing your posters in elementary school. Your whiskey glass can reflect your sensibilities. This sculpted whiskey glass is art personified in barware. Not only is it perfect for sipping some classic Kentucky rye, but it's also shaped to fit any hand comfortably. It's a one-of-a-kind, just like the art hanging on your walls.
Improve on an Old Classic
The old-fashioned glass is a classic way to enjoy a drink. In fact, some might even say that old-fashioned glasses are the best whiskey glasses you could ever get. However, that doesn't mean you can't improve on a classic. Pair up a set of these glasses with a custom engraving and whiskey stones, and now you've got one of the coolest whiskey experiences out there!
Relive Your Climbs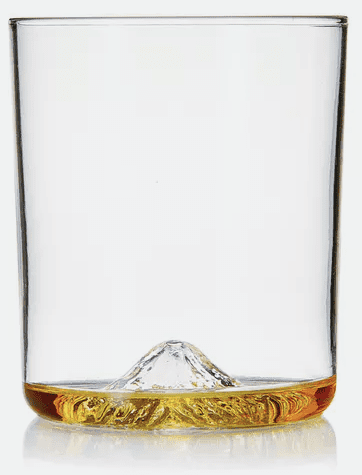 Your goal in 2018 was to scale Mount Fuji and celebrate with a glass of scotch in your hand. You might not have quite made it, but you can get a baby step in that direction with these Whiskey Peaks glasses. The base is molded to be a replica of Mount Fuji, so you can get that manly experience and pretend you're scaling the famous mountain with every sip you take.
Arm Yourself with the Best Whiskey Glasses
Drinking whiskey always seems to evoke a certain legendary feeling. To be honest, who doesn't feel somewhat mythic as they sip on their favorite whiskey or scotch? That is why taking a set of engraved old-fashioned glasses out of an ammo can is clearly one of the most awesome ways to enjoy this fantastic liquor. You can even store a bottle of your favorite brand inside the ammo can, alongside your glasses, this way when you want to share a drink with a friend, you've got everything you need in one spot!
A New Angle on the Old-Fashioned Glass
It'll be pretty hard to feel like a square when you're enjoying a neat whiskey from the best triangle whiskey glasses around. Take the old-school old-fashioned glasses and make them feel more modern with this unique angle on the classic whiskey glass. This set of four is engraved which when you add that on top of their shape, means you'll have a super cool set of glasses that are fun to drink out of and will impress all of your guests.
Unique Personalized Whiskey Glass
A true whiskey glass should be crafted from premium glass and have a bit of weight to it. This Uptown whiskey glass is rounded so it fits perfectly in your hand. It also has a weighted bottom so your whiskey doesn't gain heat from the surface. There's also an elegant bubble in the middle of the base representing the subtle details that you don't always notice on the surface with a premium whiskey.
Monogrammed Whiskey Decanter Set
It's irresponsible to have your whiskey just sitting in a bottle. If you're determined to get a solid whiskey glass for your needs you should at least be pouring from a decanter. Luckily, this set fills two holes in your barware. The decanter is great for any kind of liquor, but makes whiskey's golden hue even more impressive. This set is paired with a couple of Buckman whiskey glasses, so you and someone else can enjoy your liquor how it was meant to be enjoyed.
The Newest Tasting Glass
Take a more modern and unique approach to your tasting glass with a Tuath. These tulip shaped glasses are the perfect way to find all of the flavorful notes in your drink that may be trapped behind a strong taste of alcohol. The unique shape actually helps to mitigate the sharper notes which allows you to get the best tasting experience possible. Even the grip of this glass is game changing. The base of this glass ensures an ease of handling while also making sure your hands will never warm your drink. If you really want to fully experience your whiskey, don't miss out on this modern classic!
A Glass Fit for Whiskey Cocktails
Versatility is key. You know this. It's why in little league, you were determined to the best switch hitter any tee-ball coach had ever seen. Benson style whiskey glasses have a wide base that slightly curves the closer it gets to the rim. This design makes it on the rare glasses that's equally ideal for straight whiskey, on the rocks, or with a mixer. If you like some variety in your whiskey then this whiskey glass should be a part of your collection.
Sleek Steel Tumbler
Yes, fantastic whiskey glasses do come in stainless steel. You already appreciate all of the stainless steel items you use in your everyday life, so you might as well appreciate what it can do for your whiskey. Not only is this glass shatterproof, but it's also temperature resistant with a design that highlights the complexities of any whiskey. Brumate's NOS'R whiskey glasses even claim to have 20 times better temperature retention than your standard fare, allowing you to appreciate each sip without feeling rushed.
For Everyone's Palate
Have a matching set of tasting glasses? How about a set of four whiskey glasses in general? If not (or if you want to replace your old ones) these double snifters are perfect. They have a tulip shape which is perfect for experiencing getting the full palate of flavors each time you take a sip of whiskey. However, these glasses are also larger than most tasting glasses. That means you can enjoy a sizable drink without having to worry when you need your next refill!
An Ice Glass with Class
Check out the coolest whiskey glass around! Sorry for the pun, but this carved ice-shaped glass is sweet. Not only is this unique glass something amazing to look at, it is actually useful for those who like to enjoy chilled whiskey. This classy glass refuses to sweat, so add in a few stones or ice-cubes and enjoy without ever worrying about a coaster ever again!
389+ PERSONALIZED WHISKEY GLASSES>
Only the Finest Whiskey Gift Set for a Legendary Man
Close your eyes and think of a single legend that didn't enjoy whiskey. It can't be done. It's an impossible task. You know in your heart of hearts that you've always been a bit of a legend. Legends drink with a Buckman glass and add in a few whiskey stones from this set so they can have a perfect evening. This set is ideal for the guy that wants to reflect on his legendary day with a nightcap and have the few essential tools he'll need.
You Have to See This Glass to Believe It
Nothing will ever shoot you down. Not even if you're in the middle of Wild West style shootout. That's where this Bulletproof whiskey glass comes into play. It's a great gift for men that have a sense of humor, avid hunters, or gun enthusiasts. You even have different bullet options to pick from, which adds a little thrill to each glass you drink from.
The Classiest Way to Serve Scotch to Guests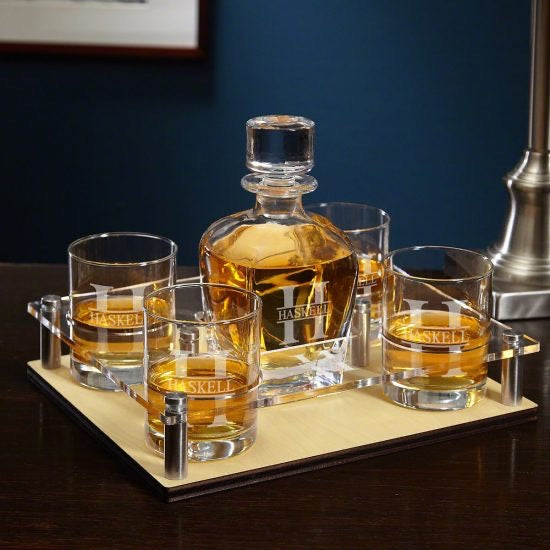 Priding yourself on being a good host is nothing to scoff at. People remember who brings their A-game every time when they're guests in their home. A presentation set is the only thing you'll need to make an impact when you're playing the host. It not only makes the whiskey look amazing in the decanter, but the 4 amazing whiskey glasses are great for anyone, no matter how they prefer their whiskey.
Whiskey Sphere Set
Enjoy your whiskey at your own leisurely pace. This whiskey set with two large stone spheres allows you to sit back, relax, and take your time with your drink. With these stones, you don't have to worry about your drink becoming watered down when the ice melts, no! Now, you can swirly your glass to your heart's content with a whiskey sphere which is perfect for chilling your drink and will never dilute any flavor.
A Must-Have Glass for Any Connoisseur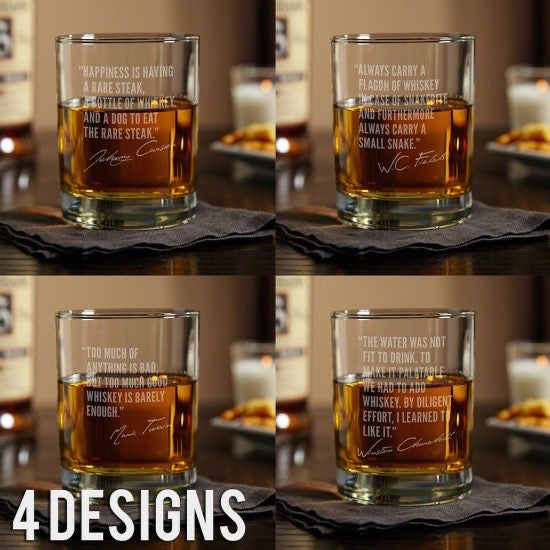 Whiskey inspires greatness. All of your best ideas have come while enjoying a night cap and you're not alone. These Famous Men of Whiskey glasses come with some of the most well-known quotes when it comes to everyone's favorite liquor. From Johnny Carson to Winston Churchill, you can find a quote that you most identify with or get the whole set if you can't decide. Plus, when you drop one of these quotes on your friends you'll seem like you're an endless source of wisdom.
Geometric Tumblers
Lead-free crystal is a huge plus in a premium whiskey glass. You also want a glass that's going to stand out amongst your glassware. These prism-faceted whiskey glasses hit both of those marks. They have a standout design you won't find in other glasses and they'll make any whiskey look incredibly enticing. It's what makes them great gift ideas for birthdays, holidays, or any occasion.
Tumblers Made from Genuine Horns
From the halls of Valhalla to the castle of Winterfell, horns were the preferred method of delivering bourbons and whiskeys to the mouths of thirsty warriors. These whiskey glasses are crafted from actual ox horn and finished with a bright polish. They're ethically sourced and no two are exactly alike. You'll never feel closer to your medieval roots then when you're drinking from these whiskey tumblers.
Classic Whiskey Glass with a Little Extra Insulation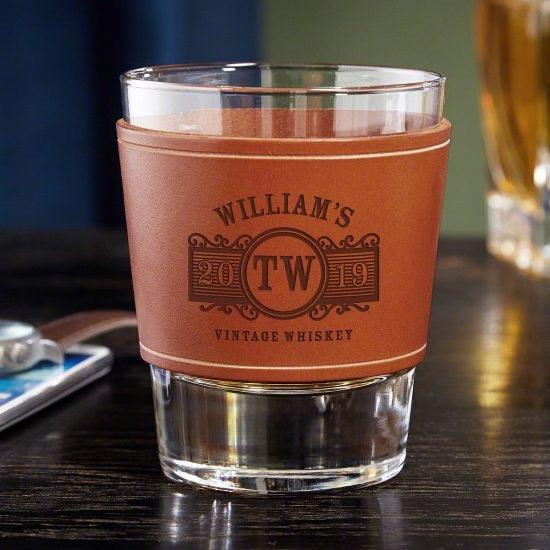 There's nothing wrong with being practical and responsible. Your car hasn't been one mile overdue for an oil change. It's an admirable quality and one that will serve you well in a whiskey glass. The leather wrap on this whiskey glass prevents the heat from your hand from warming the whiskey and altering the flavor. The practicality of it all makes it an awesome gift for your dad that made you learn how to change a tire before you even got your driver's license.
Scotch on the Rocks With Style
If you like a little flourish with your whiskey, then an On the Rocks-style glass is what's missing for your collection. It's ideal for the man that loves cocktails like an Old Fashioned. Treat yourself in 2020 by throwing in your whiskey of choice, a dash of bitters, some sugar, and a cherry or an orange peel to give it that flourish that any quality whiskey cocktail should have.
The Best Large Whiskey Tasting Glass
Never worry about only having a shot worth of liquor in your tasting glass again. This Canadian Glencairn is the best whiskey glass for both tasting and enjoying large amounts of whiskey at the same time. Perfect for drinks with ice or whiskey stones, this large glass can accommodate anything you throw at it!
629+ MORE WHISKEY GLASSES YOU WILL LOVE>