Adding onto or creating a home bar is always a fun experience. This is an area of your home that you can make just as unique, cool, or fun as you are! However, there are a few home bar essentials that everyone should have. It doesn't matter if you're starting your home bar or have had one for decades, these are the tools, glassware, or decor that you must-have to call your home bar completed! Don't settle for a somewhat complete bar with things you'll get eventually. No! Your bar needs to be as stocked with tools and decor as it is with liquor. So make sure your bar is as fun or badass looking as you want, filled to the bring with alcohol, and has every kind of tool you could ever think of for any drink you may have to make!
Whiskey Stone Sets are Home Bar Essentials
A great place to start when building your home bar is with a matching set of glasses. Having an official look to your bar will never come sooner when you've got a custom set that has your name or design right on each piece. However, depending on the size of your bar, you may want to start small and then go big, making a whiskey stone set perfect! Even if you only have a table and two chairs, this is the perfect way for you to enjoy a bottle of Johnnie Walker Gold Reserve.
Brandish Your Beer Stein
Whether you plan on getting one or an entire set, beer steins are absolute home bar essentials. There is simply no better way to enjoy a beer with friends and family than when it comes from a stein. These are even great ways to decorate your bar. If you have a long countertop or mantle, how cool would it look to have a row of steins with each family member's or friend's name engraved? Nothing will make a beer-loving bar feel more personal than a stein for each patron!
Classy Stemless Barware Glasses
Ensure you have enough barware glasses for everyone when you break out the Merlot with this phenomenal stemless wine set. Wine glasses are a classic glass for bars, and for good reason too, wine is a fantastic drink to enjoy with friends and family. However, it is time to modernize. Ditch the stemmed glasses for a classy and sleek set like these cool looking stemless ones instead. They even come inside a matching keepsake, which can be the perfect place to store your glasses when the bar is closed, or if the glassware is always on display, make the box a keepsake for all the corks you've popped since opening your home bar.
Tools of the Trade
For your chosen profession you have a set of tools you use every day, right? It doesn't matter if it is behind a desk at a computer or working with your hands on a carpentry project, to get the job done you need the right tool. So, why wouldn't you set yourself up for success at your bar with the tools you need for perfect mixed drinks and cocktails? Ensure you have the home bar essentials with this kit that has literally everything you'll need to make Mojitos, Old-Fashioneds, or any other drink your patrons could want!
A Taste of the Best Glassware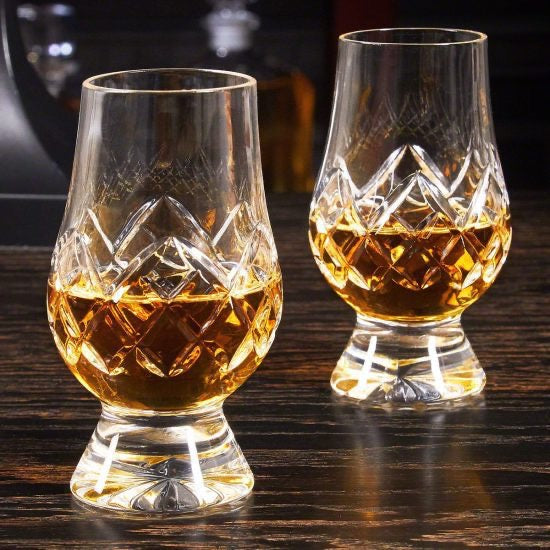 Many bars already have a few glasses for their preferred style of drink. You may even have a few favorites that you love to drink out of each time. However, when you've got a special bottle you really want to savor or a person coming over that you must impress, look no further than a set of crystal glasses. Nothing makes a drink more special than when a set of gorgeous Glencarins are brought out for this specific occasion. Add a special touch to your next drink with this phenomenal set of barware glasses.
847+ MUST HAVE BARWARE GLASSES>
Ultimate Bar Furniture
Every bar needs a table and chairs for everyone to hang out, drink, play games, or even just talk. Make it as bar themed as possible by getting a furniture set that has been handcrafted out of old whiskey barrels! Who wouldn't love to enjoy a Jack and Coke or a neat glass of their favorite whiskey while they're sitting on and using a cask as their furniture!
Dispense Shots and Cocktails
Add a bit of flair and convenience with a revolving liquor dispenser. This cool bar tool isn't just effective at pouring cocktails or shots but it will also add a wow factor when anyone looks at the counter of your bar. This is the coolest way to store the bottles you know you'll be pouring shot after shot of. This dispenser is also a fantastic way to store the bottles you know you'll always be using as your go-to mixers. Looking like a professional upscale bartender will never have been so easy!
Servin' in Style
A great set of glassware can immediately change the feel of your bar. When you're serving a friend or family member, they may still feel like they're just having a drink with you at home, but once they are handed a tasty scotch or bourbon inside these tasting glasses, they'll feel like they've gone and went to the classiest bar in town. They'll be swirling and sniffing their drink in no time. With a set of glasses this cool, classy, refined whiskey drinking just comes naturally!
State Your Home Bar Essentials
What is a bar without decor? Dress your place up with these awesome home bar essentials! A beer cap map is a fun way to track the good times you've had at your establishment while also showing off some pride for your home state. Fill this map out with your go-to brands or from your collection of various craft and rare beers, either way, this awesome sign will slowly become more and more unique to you and your fantastic beer taste!
Fantastic Beer Flight for the Bar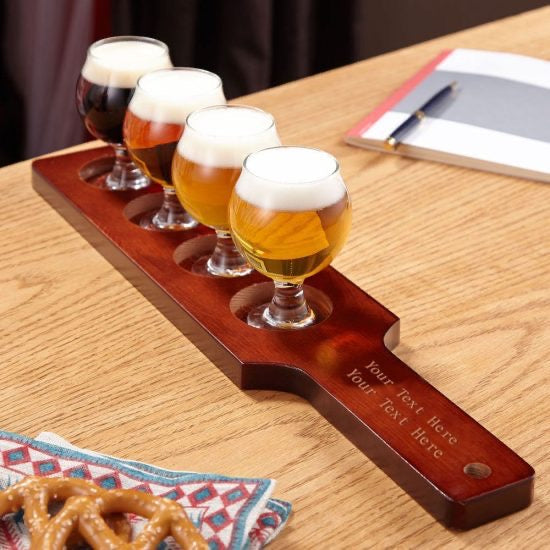 Your bar will really take flight when you're serving guests with beer flights! How much fun will it be to host tasting parties with custom engraved flights with your own barware glasses? Have them rate their favorite IPA's, Ales, Pilsners, or any of the other cool brews you've got on tap!
A Bright Home Bar Ideas
No matter how awesome your home watering hole is, it won't matter how cool it looks if no one can see it. So you will definitely want to make sure to get a great light set for your bar, you can't just use whatever fixture is already hanging from the ceiling. However, you don't want to get just any lights to decorate your unique home bar. Instead of a general set of bulbs or lamps, get yourself these wrought iron fixtures to make your home bar bright and unique!
For the Home Bar Cigar Lounge Combo
A great thing about doing things your way, and at home, is that you can make things as fun and as relaxing as you want. Plus, in doing so, you can also have some of the coolest barware glasses out there, like these cigar whiskey glasses! Make your establishment a cigar lounge too when you're enjoying a fine Breckenridge bourbon and Espinosa Habano stogie. Better yet, because of the utility of these glasses, anytime you need a refill, you don't even have to set the glass down. Simply grab the decanter with your free hand and you're good to go!
The Biggest Home Bar Essential You Need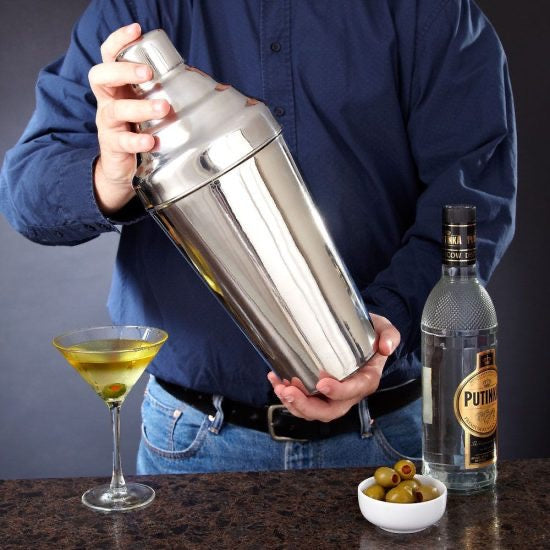 Some home bar essentials need to be just as funny as they are essential. Everyone needs to be able to make a proper Martini; however, that doesn't mean you can't have fun each time you do with this absolutely massive cocktail shaker. Got a lot of guests that want the same drink all at once? BAM! Now you've got them covered. They'll laugh at the novelty at first, but they definitely agree that this is an absolute must-have for the home bartender.
Always Be Ready for Wine Time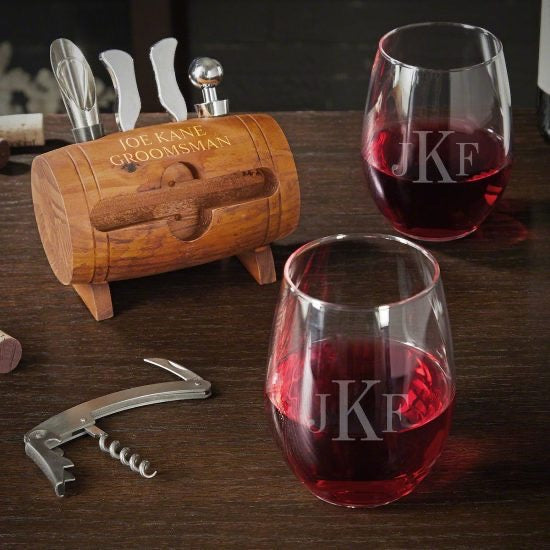 Never be without the proper tools to enjoy a glass of wine ever again. Now that you run your own home bar, you can never be too prepared. Thanks to this unique wine barrel and wine set, you will always be ready to pop the cork off a Chardonnay or a Riesling to enjoy with your spouse or a good friend. Perfect for large home bars or starters alike, this set is the ideal personalized touch to make your bar truly feel like you've made a bar perfect for you!
For the Brewmeister
When you're making your own establishment, you need to make sure you make the space your own. Ordain your bodacious beer abode with a custom brewery sign to make your favorite drinking spot feel as official as the public watering hole you used to go to. Whether this is propped up on a stand on the counter or hangs proudly behind the bar, there is no better way to make your home bar feel more official!
325+ PERSONALIZED SIGNS FOR HOME BARS>
For Stacks of Alcohol
Do you simply have too many bottles of fantastic booze? Is there a clutter of liquor that you can't find space for? Look no further! A corner caddy is the coolest way to stack all the liquor you could ever want in your own personal establishment.
Custom Cigar Humidor
Create the coolest cigar and home bar with an essential item, this ammo can humidor! For the bar that loves to pair a stogie with a drink, stories, and good times this humidor is a home bar essential! It'll have a ton of cigars ready to be deployed in the name of a good time as well as being one of the coolest looking items sitting on your bar.
Monogrammed Barware Glasses
Don't just get run-of-the-mill barware glasses when you're trying to make your home bar as unique to you as possible, get a custom set to make your new favorite place to escape from the world and enjoy a drink as special as possible. You and your guests will have so much more fun when you're toasting to a great evening when you're all holding classy, monogrammed, stemless wine glasses!
The Biggest Beer Mug for Bars
Mugs are home bar essentials, but giant mugs—those are a must! Never feel thirsty again when you and your buddies are drinking from a set of mugs that must seem endless. No matter how much you chug, it seems like you're barely putting a dent into this fantastic mug! Maybe it's because this awesome piece of glassware holds 3x more than your standard mug?
The Coolest Cocktail Gift
Want to feel like the classiest establishment in town? Especially when you're comparing your home bar to the normal dives and hot spots around town? Simple, get yourself a custom ice bucket with matching glasses! This old-school cool is a great way to enjoy a classy cocktail tail. The never-ending ice means you can spend the whole night serving drinks behind your counter or you can take the bottle, the bucket, a good friend, and relax with unlimited cold drinks all night long!
A Sign of a Great Bar
Is it even a bar if it doesn't have an LED sign? Get your own light-up sign to hang or display near your bar! This way, everyone will know when you're open. Depending on how big your home drinking spot gets, you could even put it in the window to let the neighbors know when it is time to come over for after-dinner drinks.
Caps off for Home Bar Essentials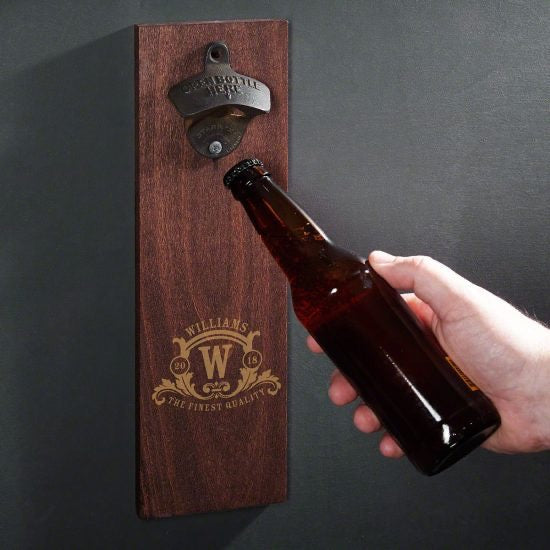 Whether you want to pop bottle caps off with ease yourself or you want your patrons to be a little more self-serving, a wall-mounted bottle opener is a great idea for every home bar. These wall bottle openers are home bar essentials because this not only makes opening your favorite brew easier, it makes it look so much cooler too! That is even before you take into account that this bottle opener has your name and an awesome design engraved on it too!
Classy Cognac Glassware Set
Want to have your drinking establishment stand out from every other home or public version any of your friends have ever been too? Add a cognac set! This will be a fantastic way to surprise a buddy with a classy drink that is perfect for a cold winter day as the two of you kick back and relax. These custom barware glasses are the ideal way to enjoy a fine drink and stay in high spirits!
Protect Your Bar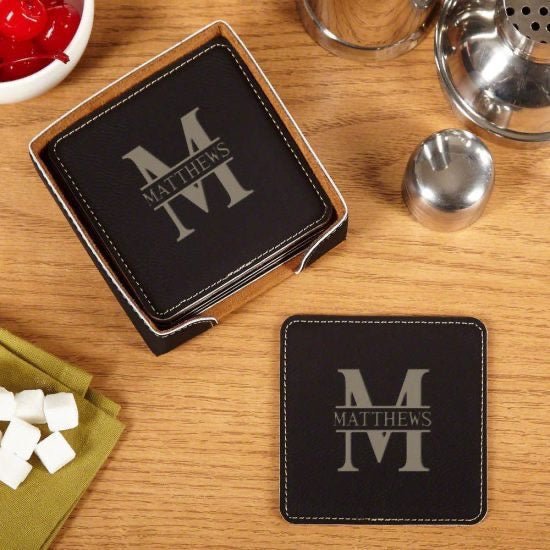 You've put all the work into creating a custom bar top, you've stained wood, gotten marble, or even made one out of beer caps. The last thing you want to do is get rings all over it. Instead, add some class with a simple item, coasters! Custom coasters are the coolest way to make your home bar feel legit while also protecting your counter!
Match Your Pint to Your Coaster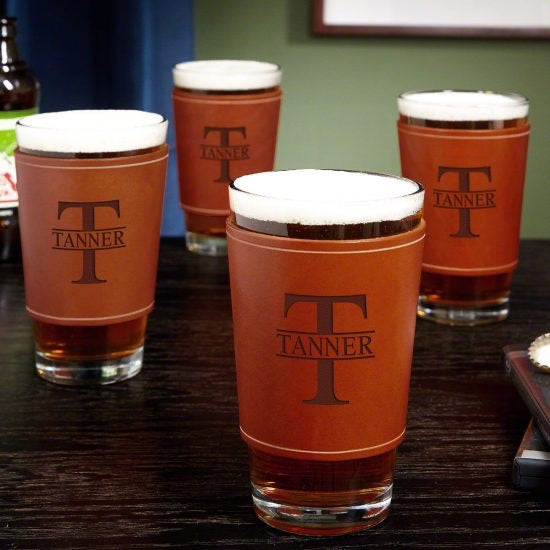 Be the swankiest home bar ever by matching your coasters with some dapper pint glasses! This set of barware glasses are wrapped in leather, which makes them easier to hold as well as way cooler to look at. These glasses are an essential item for every bar. Is there anything more classic than enjoying a beer out of a pint glass?
For the Day After
The morning after a great night with friends at your home bar can be a little rough. Something to take the edge off the next day is an absolute home bar essential that should be kept stocked at all times which is why you always need to have a hangover cure at the ready. Bloody Mary kits should always be at the ready to deal with people who indulged in a little bit too much fun at home with friends and family. Plus, what bar could be better than one that doesn't just make good drinks, but is also one that takes care of its patrons the next morning too?
Perfect Pub Sign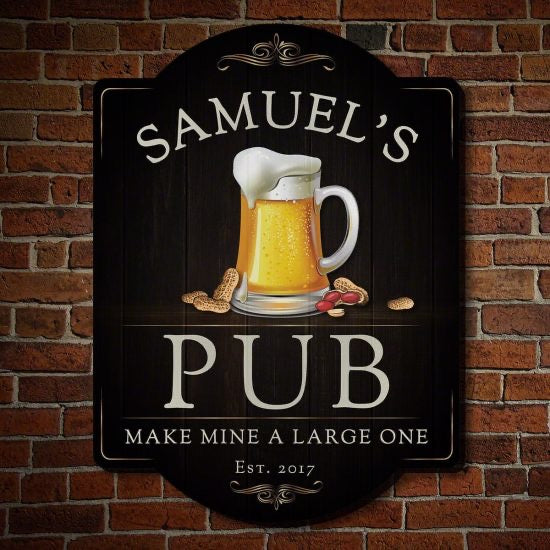 Add a little bit of old English cool to your bar by making it the classic pub! Hang up a custom pub sign with the year you put your own place into business to feel like the bar owner you've always wanted! Add some warm beer and soccer on a television and you'll have the most English bar around!