They've been the ones who have pushed your business forward, they've been the ones who sacrifice their time. Day in and day out they show up to put in all the work that makes your business successful. For your employees, make sure you get corporate gifts that they'll actually love! These useful gifts for their desk or home should be unique for the team or the person as well as being something that helps them enjoy their time when they're not in the office. Leave all the generic gift ideas behind, you want to go the extra mile for your employees because you know that every single day they go the extra mile for you too. So, sit back, relax, and find the an impressive corporate gift that is just as unique and awesome as your team!
An Epic Ammo Can Gift for Corporate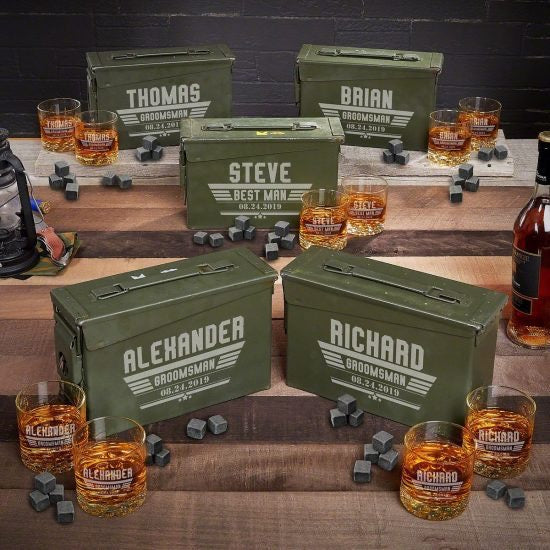 You've always seen your employees as your soldiers. Whether you are the owner of a small company or a manager of a larger one, you want your soldiers to be well equipped right? Then give them these awesome ammo can whiskey gift sets as the resupply of corporate gifts they've been needing! These ammo cans make incredibly versatile gifts for both the office and at home. They can be used as a badass filing cabinet system, a toolbox, or it could hold all their new whiskey accessories.
Custom Gift Boxes for Everyone
Make it seem like Christmas came early this year when your employees arrive at their desks, each to find an engraved gift box filled with custom presents too! Because of the unique personalization as well as the wooden box, you won't even want to wrap these gifts. So when each person makes their way into the office to find their flask and rocks glass, don't be surprised when you end up with an inbox full of thank you emails!
Keep Your Corporate Gift Ideas Classy
Take your process for corporate gift ideas to a whole new level with this watch case gift set. Sure, most employers get a single gift that might be unique, but you're not here for what most employers do, you're here to stand out. So make a lasting impression with your employees when each of them has a personalized watch box gift set with their name and initial on the whole thing! It'll be so cool to see the watches and watch cases make their way in and out of the office, and even seeing the flask at this year's holiday party! Talk about a great corporate gift idea!
A Breath of Fresh Air in the Office
Some of the best corporate gifts are as simple as a plant for their desk. However, that doesn't mean that you have to keep these basic. Instead, you can get them these succulents that come inside a gorgeous reclaimed wood base. The best thing about the succulents, aside from brightening up any office space, is the ease of care! These plants thrive indoors, so when you get them for a whole team your office might just start looking like a beautiful garden!
Custom Decanter Gift Set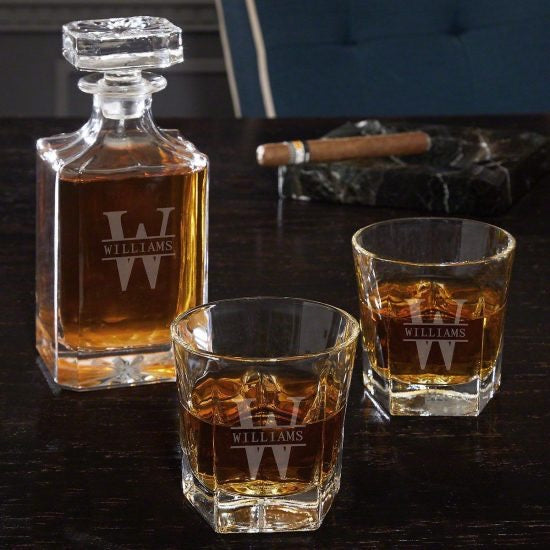 Got a team that deserves one incredible gift to reward them for their hard work? This classy decanter set is perfect! It is incredibly sophisticated looking, ensuring they'll know you went to great efforts to show how much you appreciate their work and support for the company. Now, when their day is done and they've kicked off their work shoes, you can be sure they'll be drinking whiskey neats or Old Fashioneds using their newest gift!
419+ DECADENT DECANTERS THE WHOLE OFFICE CAN ENJOY>
For the Seasoned Employee Gift
Keep the office smelling like fresh grilled BBQ with an unforgettable custom grill toolset! This is the ideal gift set to take them from pressing staplers and filling out spreadsheets to flipping burgers and searing steaks. This could even make this year's grilling cook off all the more competitive!
Meat Their Expectations for Corporate Gifts
Speaking of grilling food, pair that grill toolset with this box that has been packed full of premium cut fillets! They don't even have to grill these if they don't want to, this steak box is so juicy and tender they will turn out fantastic on a stovetop as well. A premium team who has brought you so much success deserves to be treated to a few premium cuts of meat, it's the least you could do!
A Mug Set of Corporate Gifts That'll Have Them Feeling Smug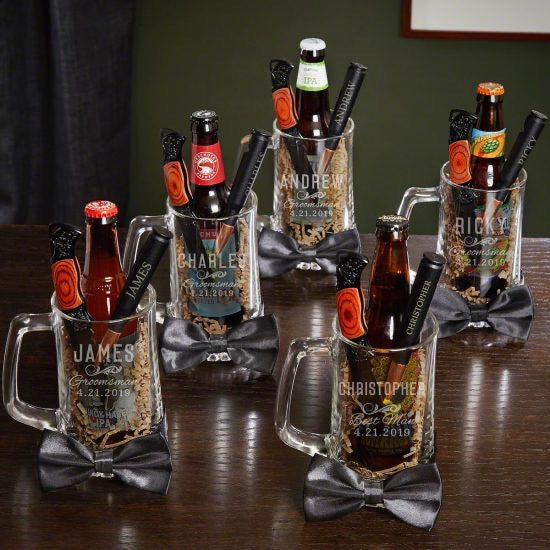 Help your whole team celebrate a major victory or the accomplishment of finishing your company's biggest project yet with this mug set of personalized gifts! They'll all be ready to pop the tops off a few brews and have a toast to themselves for working as incredibly hard as they have over the last few months. Better yet, you can be sure these are going to become their new favorite beer tools to use at home too! So whether they're celebrating a company accomplishment or simply kicking back after the workweek, you can be sure they'll be putting this gift set to use!
Help Them Enjoy Their Downtime Wine Time
If there is one gift that is always appreciated by everyone it is a wine gift set. Most people love a good glass of wine but have been using their same old glasses they first got for wine years ago. So, make sure to update their cabinets and reinvigorate their love of wine with a set of matching, engraved stemless wine glasses! This set of four means they will be able to share your fantastic gift with friends and family every time they host and have guests over!
Recharge Their Batteries with This Corporate Gift
Corporate gift ideas can be anything from a cool gift around the house to something unique for the office, but how about something for both? This wireless charging pad is also cordless which means no matter where they are, they can get a full charge on their phone. It doesn't matter if they drained their battery while taking videos of their kids at home or if the podcast they listen to at work depleted the charge, this power station will ensure they have unlimited power!
A Badass Gift for Badass Employees
Have a less traditional office? One that has to do with a few more manly things than most? Make sure you get a fitting gift set! This bullet whiskey stone gift set is sure to make any of your employees instantly grow a beard just from finding it on their desk Monday morning! What makes this even better is it is a fantastic gift they can use at the company party, at home, or on the go! What is better than a gift that they can actually use everywhere?
A Classy Beer Gift
Strongly contrasting the whiskey stone set above, this engraved beer stein is a classic gift that you can hand out to any employee as the perfect show of appreciation. Steins are fantastic for a celebratory toast and a relaxing beer sip. However, they are also gorgeous display pieces for a person's home. So, whether they are a beer aficionado or not, you can be sure each of your employees will want to show off this unique corporate gift!
Keep 'Em Cozy
Every office is too cold for some, so make sure everyone is comfortable with a fleece blanket! Even for the guy that is always too hot, this blanket will be perfect for keeping him warm during the frigid winter. However, you're not just a regular boss, you're a cool boss. So when you searched out corporate gift ideas you didn't just get a standard blanket, you found one with their monogram on it, how awesome is that?
For the Coolest Employees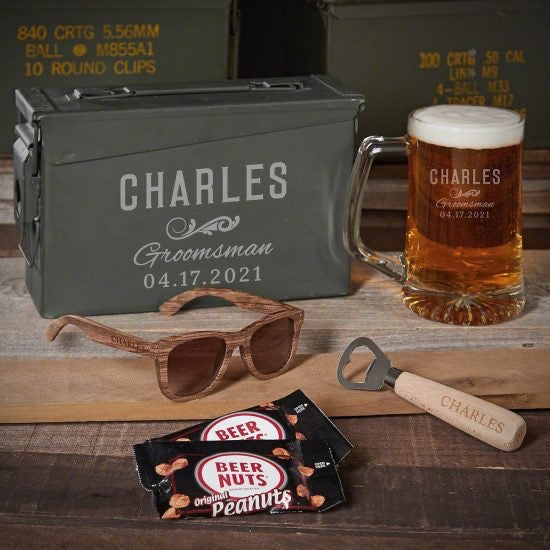 Fill your office with swagger with one of the most complete corporate gifts sets any employee has ever seen before! This engraved ammo can set that comes with a beer mug, sunglasses, a bottle opener, and nuts is the perfect way to prepare them for the massive party you're surprising them with. Whether it is for Christmas or your most successful quarter yet, you can be sure you'll be part of a few toasts thanks to this epic ammo can gift set!
An Ice-Cold Corporate Whiskey Gift Set
There is something truly special about coming to your desk in the morning to find a gift waiting for you. However, with these personalized whiskey stone gift boxes, you can take things a step further because no employee has ever come in to find a gift this good waiting for them. From the engraved wood grain to the quality glasses, it'll be like finding a treasure on their desk they never knew existed!
535+ CUSTOM OFFICE GIFT BOXES AND GIFT SETS>
For the Remote Workers
Don't forget your remote workers! Not everyone has to be in the office to be considered a valued employee. Remote workers don't get those in office gifts but you know they're just as deserving, so spice up their home life with a remote gift box you can easily send to their house! This set has everything to show you appreciate them and want them to have a great home workspace, from snacks to office supplies to even candles, you simply can't go wrong!
DIY Personalized Corporate Gifts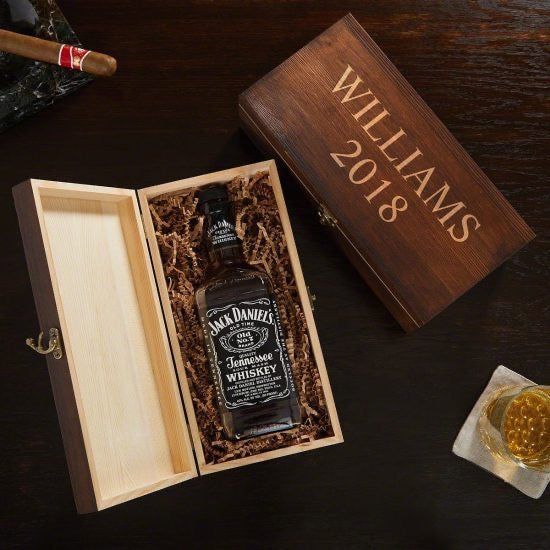 Haven't quite found the exact gift you've been looking for yet? Why not make one? This custom liquor gift box is a great way to give them that quality bottle of scotch or bourbon you've talked about; however, you can also fill it with anything you want! From office snacks to tech gifts and everything in between, you can make this set of corporate gift ideas as unique to your employees as you want!
Superb Stogie Carrying Case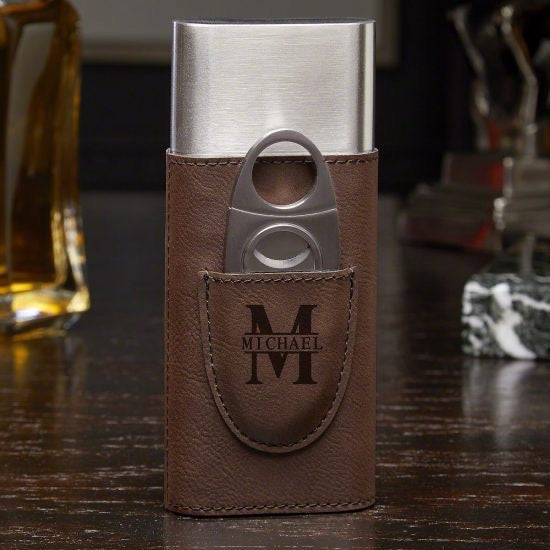 Keep your gift simple with an embossed cigar case as the subtle but very meaningful thank you gift. These are perfect for helping employees celebrate a fantastic quarter, a signed deal for their biggest contract yet, or the completion of a multi-year project. Take things a step further and throw in a few stogies and this will be a corporate gift that won't be soon forgotten.
Don't Bag on a Good Duffel
Ensure your corporate gift has everyone coming into work in style with a leather duffle bag that is great for everyone at the office! This is the ideal way to bring in anything extra with them or even a spare set of clothes for those that need to change for a meeting or who like to hit the gym during their lunch break!
Prepare Them to Enjoy Their Wine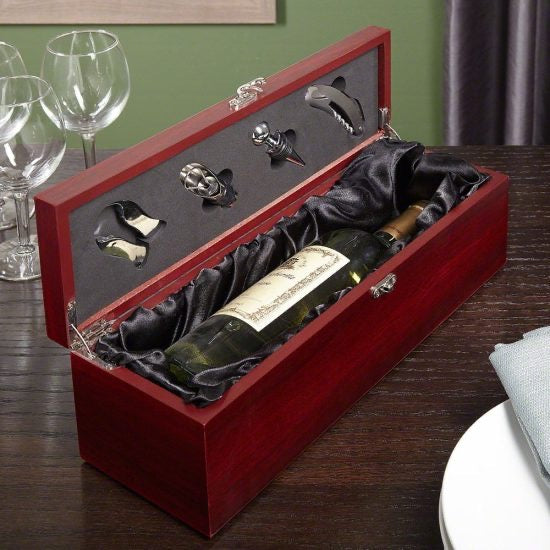 Send them home over the holidays or on a four-day workweek with an unforgettable gift, this cherry wine gift box. It is the perfect way to show them thanks for all the time they have invested in making your company the great success that it is. You can even have a bottle of wine waiting for them inside, and since you sent them home over the weekend with it, you've also just given them the perfect date night gift too!
A Gift for Chill Employees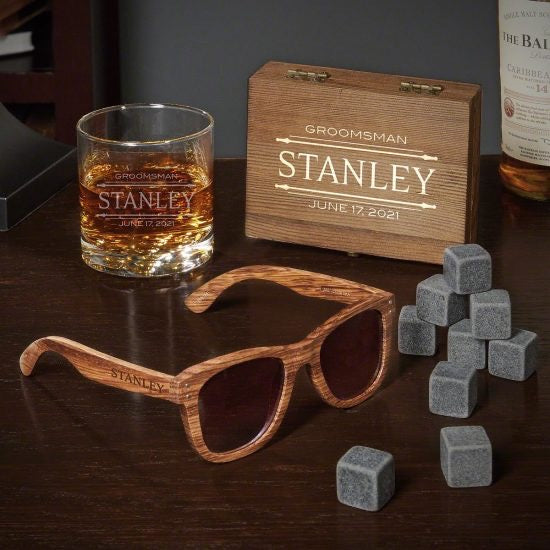 Need a corporate gift to help kick things off at a holiday party or to ensure everyone is as excited for the amazing last quarter as you are? Look no further than this sunglasses and whiskey stone gift set! Take a picture with the office all rocking out their stunning personalized shades and later that night, they too can have a celebratory drink to a job well-done thanks to their unique whiskey gift!
Stock Them with Socks
Keep your employees comfy while working with a fun set of high-quality socks! These are a great set of corporate gifts because you know they'll work for everyone! From the fun casual guy to the dressed-up office employee, these socks won't just look better than anything they have on their feet currently, they'll feel better too!
Great Growlers for the Team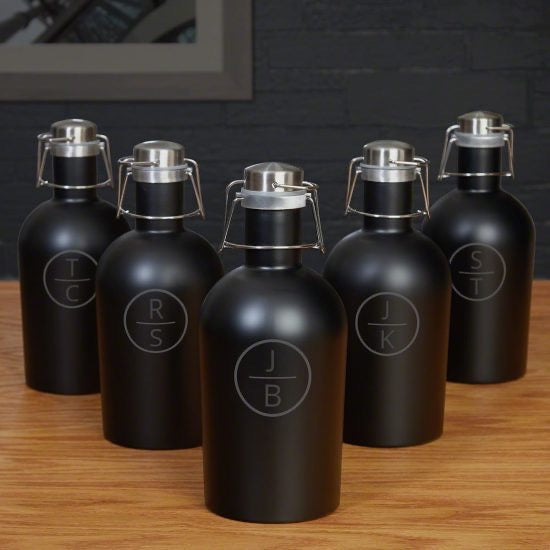 Bring the team together with a night out on the town and while everyone is celebrating with food and drink, that will be the perfect time to break out your brilliant corporate gift ideas, these engraved blackout growlers! This way, they can immediately top off their growler with the favorite beer they've had that night (on you of course) and bring some of the fun party home with them! Don't be surprised when you notice these in the office either, they're sure to bring in chilled water, tea, or hot coffee with these too!
Corporate Gift Ideas Good Enough They Can Scentsy It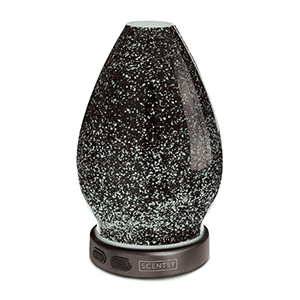 A great way to make the workplace more pleasant is by keeping everything smelling fresh. Although this Scentsy gift can work in any office, you should consider getting it for your remote workers. Who doesn't want a home to be infused with some of their favorite scents? The infuser also lights up, making it a gorgeous gift to look at at night as well!
 Keep the Coffee Coming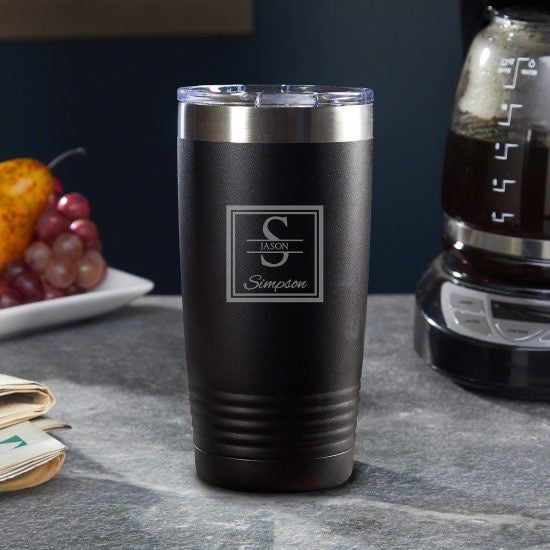 What office space doesn't run off of coffee? You know in your heart of hearts, coffee fuels your business so much that you couldn't have been this successful without it. So, make sure your corporate gift ideas aren't just great gifts but also make your office even more productive by getting custom coffee tumblers for everyone in the office! This gesture will definitely not go unnoticed and now, they can even bring some of their gourmet coffee from home before including in the company coffee pot.
Make it a Movie Night
Make every night at home a special night for everyone with this family-sized movie gift box! Full of snacks and credit toward a rental, they can watch the latest movie from the comfort of their home just like they're in the theaters but this time they won't have to spend a fortune in movie candy popcorn! This is one of the most perfect gift sets to make their time away from work as relaxing as possible.
A Box Full of Corporate Gift Ideas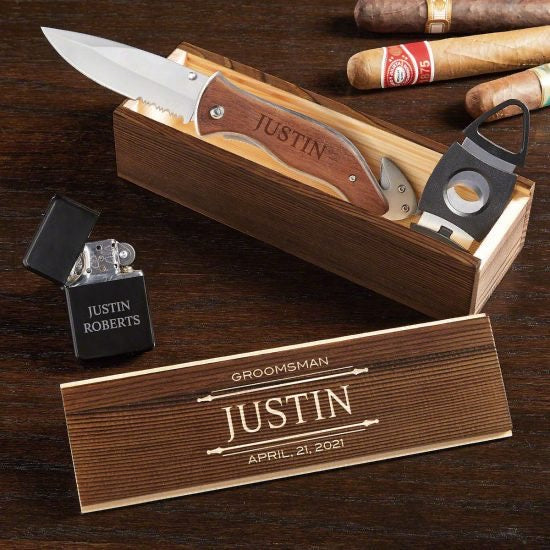 Give them a full box full of corporate gifts with this personalized cigar box gift set. Although this box set is smaller than many others, the custom engraving on the knife, box, and light will speak volumes about how much you enjoy working with them. Add in a few cigars, maybe a little paid break during work, and take them outside to have a celebratory smoke!