Gifts are a great way to form or reinforce great business relations. You can give business gifts to anyone you interact with while working at your company. These presents are tokens of appreciation that the recipient will take great joy in receiving. Everyone from your own coworkers, customers, and new business associates love being appreciated with a great gift. But what makes a great gift for these situations? Well, you want to make them feel special and like you got a present made just for them, do so by getting a gift you've customized just for them! Personalized gifts are great presents for promotional gifts or for within your company. Add strength to business relations, old and new, with these great business gifts!
The Ultimate Decanter Business Gift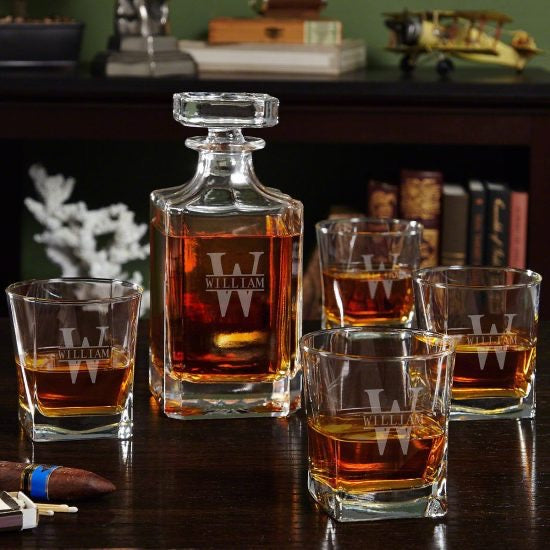 Make them awestruck with this amazing decanter set! This is the perfect gift for either a great customer whom you've had fantastic interactions with or for a potentially new business relationship. You can even make this an ideal promotion item for your business by engraving your logo or business name on the set. This decanter set is sure to be a gift that puts a smile on their face. You'll have them feeling like Don Draper, and you know as soon as you give it to them that they will have the decanter out on display at all times. And who knows? Maybe the next time you them they will thank you for the great gift with a glass of their best scotch.
A Winning Wine Gift Set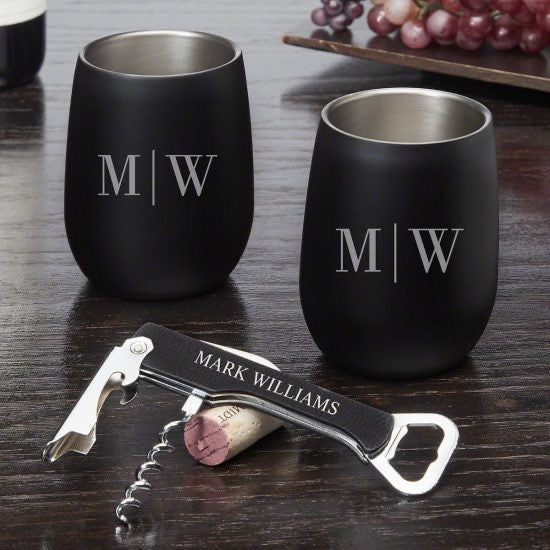 Make your employees day with a tumbler set they won't soon forget! These wine tumblers are a fantastic business gift; after a long day at the office, you know your employees like to have a glass of wine with dinner or maybe as they unwind with a book or their favorite television show. So, why not get them a personalized set that insulates their drink? Your workers will love that they'll be able to open up a new bottle of wine and share it with their loved one, all with this one gift!
A Gigantic Gift
When you have an entire business team to reward, picking the right gift can feel daunting. It may seem like any direction you take could be the wrong path, but not with a huge beer mug! Plan to give this gift right before an office lunch or party where they can get all of their business gifts at once, and nothing will over shadow the biggest beer mug you've ever seen! Make sure to engrave the mug for each of your employees though, that way no one mixes up whose is whose!
The Perfect Business Gift Basket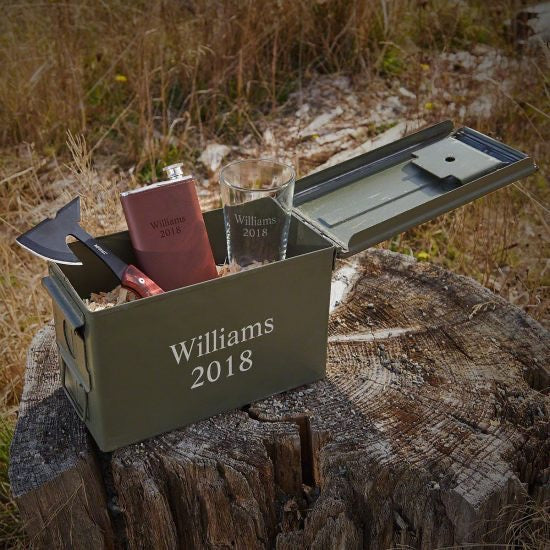 When working with a new business relationship, a good gesture may be to send a gift basket to the head honcho at the new company. They've gotten flowers, edible arrangements, maybe even a bottle of bourbon before, but they've never gotten a gift box as cool as this! Take them by surprise with an ammo can made to be awesome! This will be one business gift they'll never see coming. This memorable gift will always stand out in their mind, which means you can start off your new relationship off on a great note. This is a promotional item for your business that is sure to create new, long lasting relationships!
The Best Box They'll Ever Get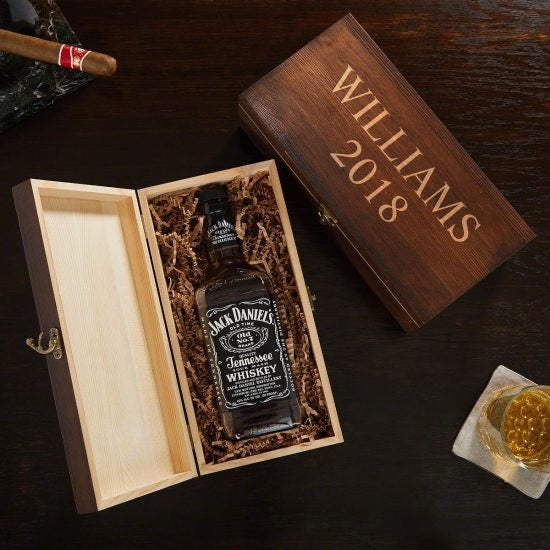 Although a bottle of their favorite liquor is always a guaranteed hit for a business gift. It can feel a little lazy. It doesn't show as much thought or effort as other possible gifts you could get them. However, that isn't to say alcohol doesn't make a great gift because it absolutely can. Make your next gift stand out by dressing the bottle up with an engraved liquor gift box! The box will be the perfect way to present your thoughtful gift and it'll last! They'll gladly enjoy the bottle, but by pairing the gift box with the bottle, they will have something to remember their awesome gift long after their favorite whiskey has been drank.
Keep the Coffee Coming
Introducing your employees to a new potential subscription for gourmet coffee may be one of the best gifts you ever give them. You see how much they love their coffee each morning, so get them started with their very own 3-month subscription to an awesome coffee sampler. This is a gift at the office that every coffee lover will be able to get behind. By the end of their 3-month subscription they'll have had 12 new flavors of coffee and are sure to have found a few that they know they'll be reordering!
This Decanter Means Business
To really wow someone with a piece of glassware it needs to look inspiring. The twist in this crystal decanter and its matching glasses will ensure that the recipient will be amazed by this gift for years to come! The sweeping design filled with bourbon or whiskey will look stunning on any desk! This set is perfect for thanking a phenomenal customer whom you've had a fantastic relationship with or to establish a new relationship! This gift will be the best promotional item for business relations that anyone has ever received!
The Best Office Mug
Few things in life feel as special as being given a beer stein. Not only are they functional, but they are great pieces of decoration as well. They look fantastic anywhere you put them. These make a great gift for your accomplished workforce! A lot of business gifts end up being something like a gag coffee mug or maybe even a gift card, but when you hit them with one of the original Germanic beer drinking mugs, they'll be awe struck! They can either use it for beer or even make it a decorative piece at home or in the office.
The Best Personalized Tumbler Business Gifts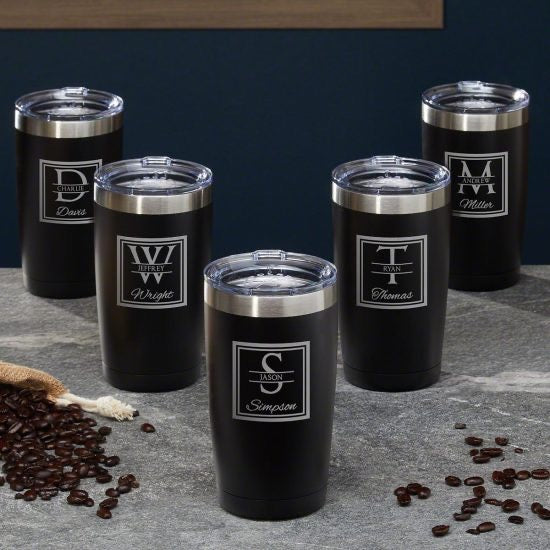 The team has been doing great work this quarter and you want to keep all the good energy going. A tumbler that could have the company logo or could be personalized per employee is exactly what you need! It'll keep their drinks at just the right temperature (hot or cold) and it works even better than a Yeti. Your employees will love the simple gesture that will improve the quality of their lives at work! And think, you'll get to see their appreciation when they use this tumbler every day!
Toast to New Beginnings
Sharing a drink has long been a way for people to come to an agreement. Continue that tradition with this phenomenal promotional item as a business gift. This gift allows you to celebrate the new business relation you've established with their favorite cigar and whiskey. Bring over a nice 12-year Glenlivet scotch or maybe his favorite bourbon to put this business gift over the top. Either way, this gift ensures they'll enjoy their next drink!
They Won't Stand for a Lesser Gift
Poor posture is something many desk employees suffer from. The endless hours of sitting at a desk in front of a screen almost seems to encourage slouching over. Make your employees feel better with a gift that improves their lives! A desk stand that raises everything will force them to look up and put their arms at a better angle for when they are typing. A gift like this is sure to put a buzz in the air!
Travel Growler for Any Occasion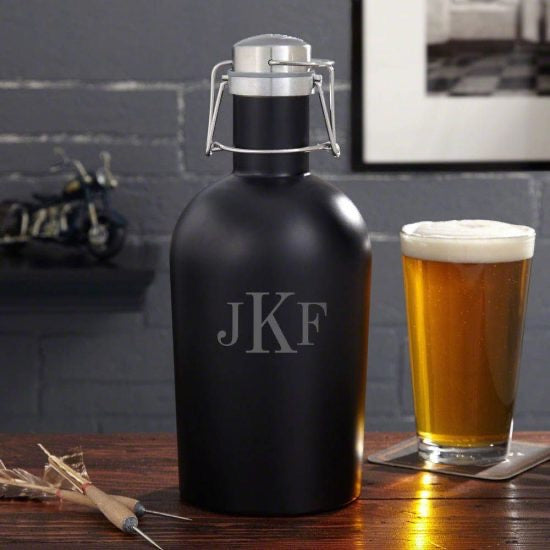 During the office hours, around the water cooler, you often hear the bulk of your employees talking about going out to their favorite craft beer bar or out to different breweries in town. For employees who love beer, nothing quite beats their very own personalized growler. Taking an interest in your workers outside of work hobbies will mean that you can give a better gift than they would have ever imagined. And as a bonus, in the mornings the growler can also be used to keep their favorite coffee in!
A Gift They'll Remember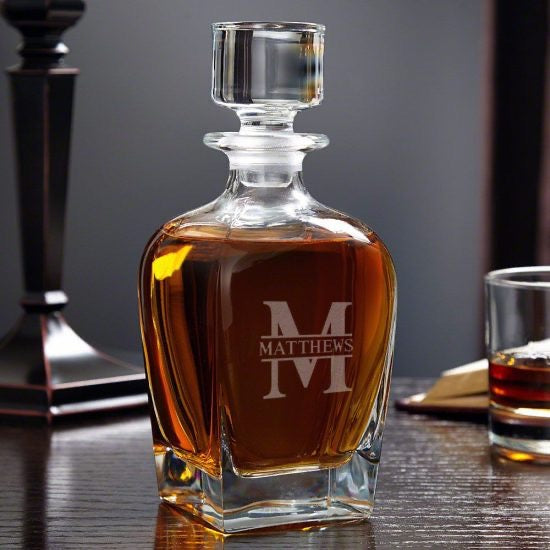 A decanter is an incredibly stylish gift to a customer who has been with you for years. Whether there is a special occasion like the holidays, or you think it is time to recognize someone who has been a loyal supporter of you for years, this decanter is a fantastic gift. You've gotten to know this person over many interactions, so you know how much they'll enjoy their very own decanter on their end table. With a gift like this, you'll have them feeling like they're Don Draper!
Celebratory Cigar Set
When it comes time to celebrate, few things beat the pairing of a good whiskey and some cigars. This set makes a great personalized gift for the employee or employees who have pushed your business to the next level! They've worked hard for months and now have achieved a goal for you, so take them out and give them their own cigar and whiskey set that lets them reap the rewards of all of their hard work!
A Shot at the Best Desk Gift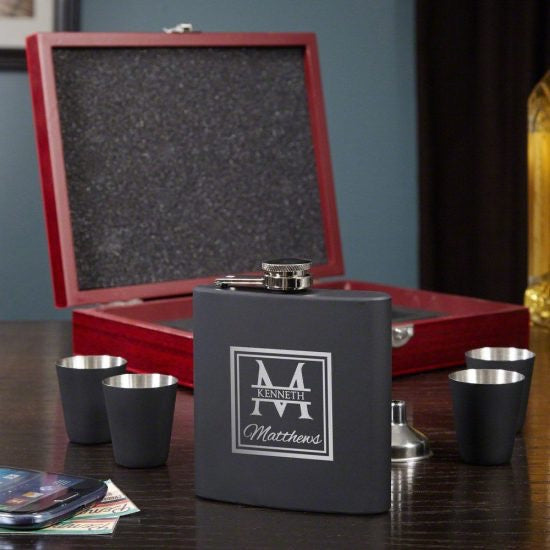 Gift sets are fantastic ways to work in a promotional item for your business. When working with new people or just wanting to thank a partner, why not get an engraved flask set to celebrate either a new beginning or what the two of you have achieved? You know how great the gorgeous set will look on their desk and that it is a gift they'll love using. The flask and shot glass make a sleek set ready for any occasion.
Wow Them with Sound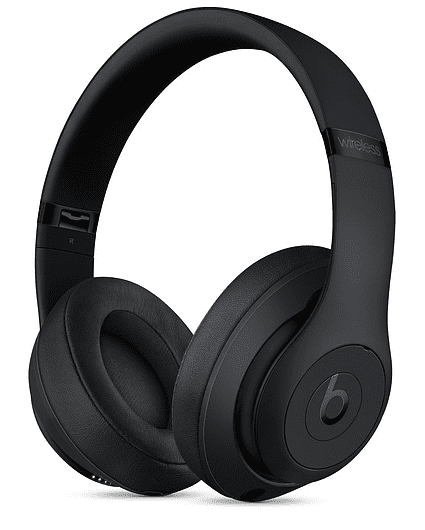 Many of today's workers get more done with headphones because they can block out distractions. They do so by listening to music, podcasts, audiobooks, or some other form of entertainment that they love. Keep up moral and production with a great gift for the office, their own set of over-the-ear headphones! The foam on the ears makes these a comfortable set to keep on all day long. With an awesome audio gift, you'll not only show appreciation but you'll improve their work life vastly!
Custom Wine Gift for Employees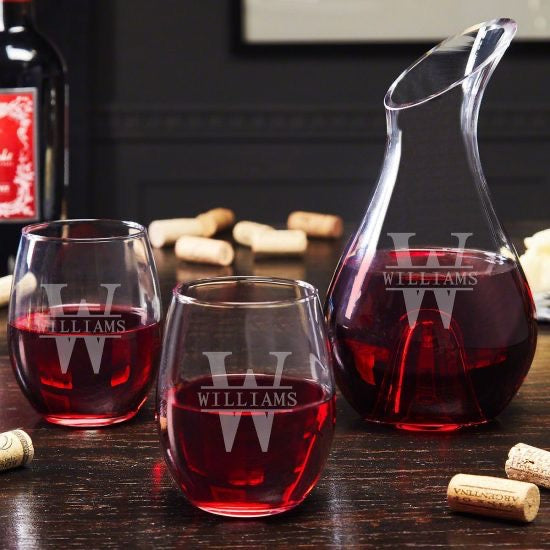 Not all great victories are celebrated with beer or whiskey some are marked with wine. A classic way to mark a successful partnership is over a great glass of wine. Show your new business partner you are invested and excited in your joint venture with this awesome wine decanter set. This will surely be one of the most unique promotional items for a business gift that they have ever received.
Some Companies Run on Coffee
Whether they're early birds or they're burning the midnight oil, nothing ever beats a piping hot cup of coffee. A set of coffee mugs and their very own carafe is a perfect gift for all of your hardworking employees. They'll be able to have their favorite brew of coffee ready on hand at their desk. This gift still gives the personal feeling you are after since you can have each of the name's custom engraved onto their mugs and matching carafe. They'll never run out of coffee either because each of them now has an entire half-gallon of insulated coffee storage! Now, that should be enough to get even the earliest starts or latest of shifts through the night without a problem!
The Perfect Post-Work Party Set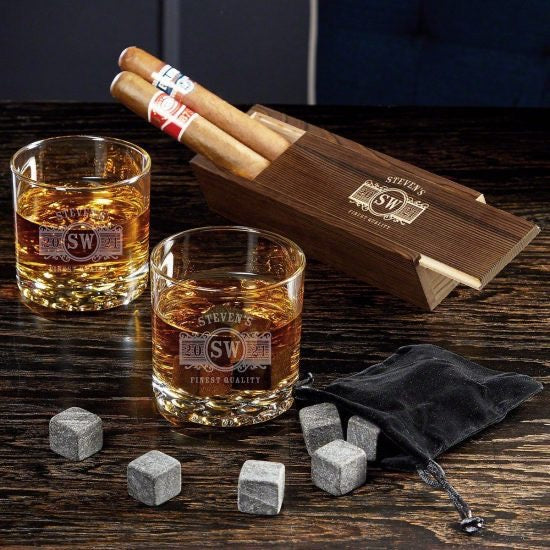 To show true customer appreciation, give a business gift that will never be forgotten. A whiskey set that comes with a personalized cigar box is a fantastic way to show gratitude towards someone who has been coming to your business for years. They'll be able to celebrate or relax in-style with this engraved set. You could even make this the ultimate gift set by including a bottle of their favorite liquor and two great stogies inside the box!
Awesome Ammo Can Business Gift
Your employees are in need of an awesome business gift for their great work over the last quarter. Give them a set that they can use whenever they need! They can celebrate that night with their new flask while the ammo can become the perfect travel storage unit. Your employees can bring their things to work in it or even make it a new unique filing cabinet in the office! Get your employees a gift so awesome that you may even want it for yourself!
Whiskey Business Gift
Form a fantastic new business relationship with an ideal promotional item for your business. Sending whiskey gift set is a great way to show appreciation, partnership, and respect. The set comes off as incredibly classy and you know it will either look great on their desk or will become their new go to set for having a relaxing drink after work. And who knows, since there are two glasses you may eventually get invited over to share a drink from this great gift set!