Friendships are some of the most important relationships we'll make in our lifetimes. When the occasion calls for it, a gift can be an awesome way to show your friends how much you value having them in your life! To really demonstrate their importance to you, unique gifts for friends should be tailored to fit you and your friends' relationship while also being something so unique they'll know you looked high and low for the perfect gift! Customized presents, for example, will always make them feel special! We've found some amazing and unique personalized gifts for friends that will make any pal feel incredibly appreciated, whether it's for their birthday, Christmas, housewarming, or any other occasion!
A Toast Toward an Awesome Friendship
It's actually impossible to see a wooden box and glasses engraved with your name and initial and not instantly smile! That's why this personalized whiskey stone box set is one of the best unique gifts for friends money can buy. No matter the occasion that the two of you are celebrating together, your friend will want to immediately pour themselves a glass of whiskey and use this gift to celebrate!
Most Gorgeous Wine Glassware
Whether they're a seasoned sommelier or just have a glass of wine on occasion, this wine decanter set is a stunning gift! They'll be so thrilled to see this personalized set that they'll immediately want it to become their new way to enjoy their favorite red or white wine. This stately set is so gorgeous, in fact, that they'll want to make it the new centerpiece of their living room, home bar, or kitchen! Whether this set is used to congratulate them on a new job, given as a birthday present, or any other special occasion, they'll feel so beloved when you give them this gorgeous personalized glassware.
An Ammo Can for a Friend
Personalized gifts for friends don't only consist of glassware, of course! This custom ammo can is an awesome friend gift that you'll be so proud to give because of how amazing and useful it is! Whether it's utilized for decor or actually as a container for your friend's sentimental items, fishing tackle, or hunting equipment, they'll love it and never forget the occasion on which their good friend gave them such a phenomenal present.
One-of-a-Kind Unique Gifts for Friends
When a gift-giving occasion gives you the opportunity to let a friend know that they're one-of-a-kind, you can't simply show up with a mediocre present! Go above and beyond the call of friendship-gifting duty with this whiskey decanter set! Your pal will feel so special knowing you went to the trouble to get them a gift that's personalized just for them. They will love knowing that their custom set is the only one like it in the world!
This Gift Rocks!
Friends love coming together and having a good time, and one of your friends in particular makes a terrific host for the get-togethers. Get that incredible friend a birthday gift that will make every gathering better from here on out—a portable smartspeaker! This is one of the most unique gifts for friends out there that you know they'll get an absolute kick out of! They'll love this hands-off version of a speaker that will make jamming to rock, hip hop, or country with friends easier and more fun than ever before.
Sign for Any Occasion
Maybe it's for the holidays, a birthday, or a milestone anniversary. It doesn't matter which occasion, because your friend deserves a gift that brings them joy not just when they open it, but every day! This personalized bar sign is a phenomenal choice that any pal will fall instantly in love with. This sign will not only make their home bar or kitchen look awesome, but seeing their name on top will make them feel incredibly special!
321+ HANDSOME PERSONALIZED SIGNS FOR FRIENDS>
Grill Up Some Personalized Gifts for Friends
The friend you're buying for isn't too complicated, so you know they would enjoy a gift that's practical. What's more practical than a gift that helps them make delicious food? This personalized BBQ tool set! Make their next session on the grill more incredible than ever because not only do they get a new set of high-quality tools, but the case is also engraved with their name! How cool is that?
Got Your Friend's Back
Few gifts are both useful and stylish like this black backpack, making it an awesome gift that any of your friends will like a lot. Whether it's for a thank you for helping you out with something or a holiday gift, they'll be extremely grateful for a gift that is aesthetically pleasing and makes life easier.
It's Perfect for Them
When you're celebrating someone, like for a promotion at work or getting engaged, it's important to find the unique gifts for friends that others would describe as "right up their ally." That's where this beer mug set comes in! For the friend who is passionate about having a brewski now and again (and again), this gift will seem like a dream! They'll love seeing the personalization on the mug and using it all the time.
Most Impressive Thing in the Kitchen
There's nothing quite as impressive as a handsome cutting board, especially when it's engraved with their name and initial! As soon as they lay eyes on this board, they'll be so surprised by how amazing it is and be very excited to use it to whip up something delicious in the kitchen. When it's not being used, they'll definitely want it displayed in their kitchen as an attractive piece of decor.
Watch for this Gift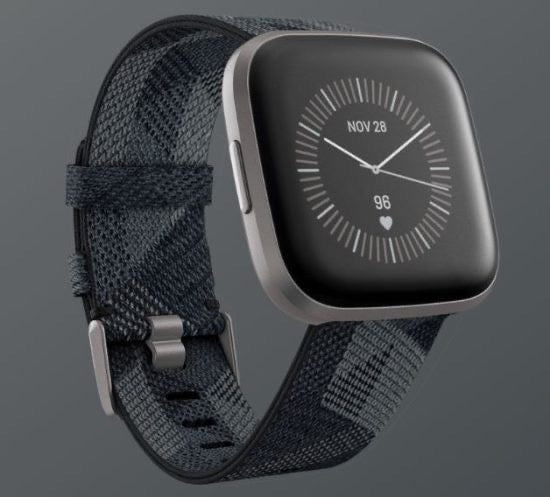 Take your gift-giving game to a whole new level with this FitBit Versa 2! This incredible smartwatch is amazing because it will help your friend make the most of exercising, track their sleep, listen to music, and even get notifications from their smartphone. They'll be a huge fan of this high-tech gift that they'll wear on their wrist for a very long time!
Create Endless Memories with Poker
Friendship is all about both looking back on shared memories as well as creating new ones. With this custom poker set, endless memories will be created playing card games, with both friends and family, that they'll look back on fondly forever. They'll love the personalization on the leather case that keeps the cards and chips safe and sound!
Unique Gifts for Friends Beyond the Glass of Wine
Few gifts really convey appreciation for a friend quite like a delicious bottle of wine. However, go above and beyond that level of appreciation with this gorgeous wine box gift set! Your friend will be stunned by how amazing this gift is that gives them not only the perfect place to store a bottle of wine for a special occasion but all the tools they need to enjoy it. Add their favorite bottle of wine inside for truly the perfect present.
Snacks are the Ultimate Friendship Presents
Giving your friend a gift that will fill their heart is always good, but it's even better when it also fills their stomach! This snack gift crate is filled with scrumptious goodies that will have any friend feeling unworthy! From the three-seed crackers to the German chocolate cookie bars, with each magnificent bite they'll grow more and more thankful for this amazing gift and your friendship!
Simple Whiskey Stones and Glass Set
No matter the gift-giving occasion, your friend deserves the best gift you can find. Sometimes, simple yet incredible personalized gifts for friends make the best ones, just like this whiskey glass and stone set! To celebrate a big event in their life with a toast or when they need to relax, they need nothing more than their handsome personalized glass and whiskey stones.
683+ AMAZING WHISKEY GIFTS FRIENDS WILL LOVE>
Most Fun Board Game Ever
When it comes time to celebrate your friend, no matter if it's their birthday, bachelor party, or any other special occasion you know that a fun game is called for. That's why this Beeropoly board game is such a terrific gift! Your friend will get a kick out of this unique game that keeps the celebration going for hours! They'll definitely consider it the best way to celebrate, no matter what the occasion is.
Snap a Pic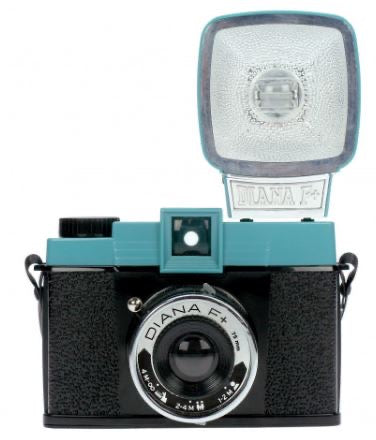 There's no way any of your friends won't instantly be obsessed with this handsome film camera! This vintage gift is one of the more unique gifts for friends out there that your friend will have a blast with! They'll really like taking pictures the old-fashioned way. This vintage camera and the developed photos is surely a way to make these photos into memories your friends will cherish forever!
Congratulations with Personalized Gifts for Friends
The best way to congratulate a friend is with an awesome personalized present that they can use to celebrate in full! With these stainless steel tumblers, their white wine, cocktail, or any other beverage will stay the perfect temperature until the very last drop. They'll love raising one of these handsome glasses to the exciting things the future holds!
A Gift Set They Won't Stop Thinking About
For the specialist of friends, only the most unique gifts for friends will do. This ammo can gift set is just the kind of incredible gift that your friend won't be able to stop talking about! They'll absolutely love having their name on the handsome ammo can as they display it in their man cave or use it to store useful items. The pint glasses are perfect for them and a friend like you to share a drink!
Take Pictures in a Whole New Way
A picture is worth a thousand words, so make sure your friend has an awesome way to take those pictures. This smartphone tripod is perfect because it means they never have to have someone there to take the photo they want of themselves and their loved ones! They'll love the ease with which they can use the Bluetooth remote to take photos with their phone on this tripod. It'll totally change the picture-taking game for them!
Wall Decor Full of Memories
Speaking of unique ways to capture memories, this is another remarkable item that makes a terrific friend gift—a custom shadow box. Whether your friend wants to keep photos, bottle caps, cigar bands, or anything else inside this handsome box, these objects will represent moments in time that your friend never wants to forget. This shadow box will look incredible mounted on the wall in their home, forever reminding them of the best times of their life.
Life of the Party Forever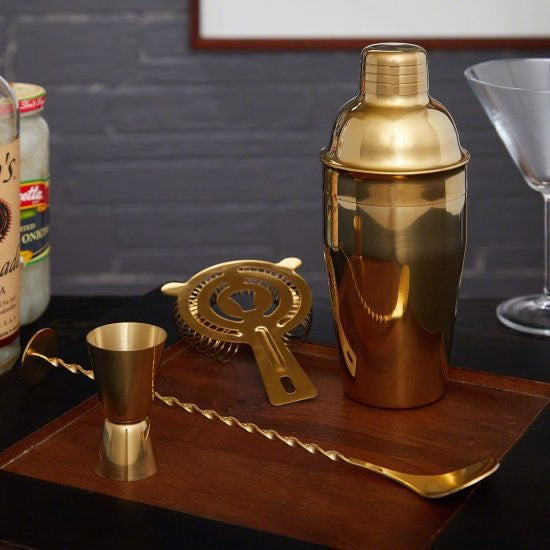 One of the things you admire most about your friend is their ability to be the life of the party! Once they get their hands on this gift, that title will be undeniable! With this bar tool set, your friend will become an expert bartender, able to make themselves and the rest of your friends delicious cocktails! They'll love showing off their new expertise using these fancy gold tools, and they'll be so thankful for this gift that started a brand new hobby!
Protect Their Possessions
Sometimes, the perfect gift is the one that helps protect one of their most prized possessions. This Airpods case is an ingenious gift idea because it'll keep one of their most-used items from breaking when dropped or submerged. The handy key ring also makes them super easy to keep on your friend's keys so they never lose them!
Custom Bean Bag Toss Game
You want to find personalized gifts for friends that are out of the ordinary so you can ensure that your friend has never received anything like it. That's why this bean bag toss game is an excellent choice! They'll absolutely love seeing their name and initial on these awesome boards as all of their friends have a ton of competitive fun. They'll definitely want to host a backyard barbecue or other get-together so they can enjoy this gift with friends!
A Marble Gift They'll Love
Sometimes, it's the little luxuries in life that can make all the difference. This gorgeous marble wine chiller will make a world of difference for your friend's wine consumption and table decor! Their favorite bottle will stay freezing cold for hours inside this unique invention. The customization makes the marble chiller even more beautiful, and they'll love the way it looks on their dining room table!
Stylish and Warm Unique Gifts for Friends
You can't go wrong with a piece of clothing that anyone would love! This Patagonia puffy jacket will keep them snug and warm even in the coldest of weather. It's the perfect gift for a friend because it'll help them look good and feel good. After all, what more could they want? They'll feel so stylish sporting this attractive clothing item, and they'll feel so extremely grateful for such a high-quality gift.
For Their Adventures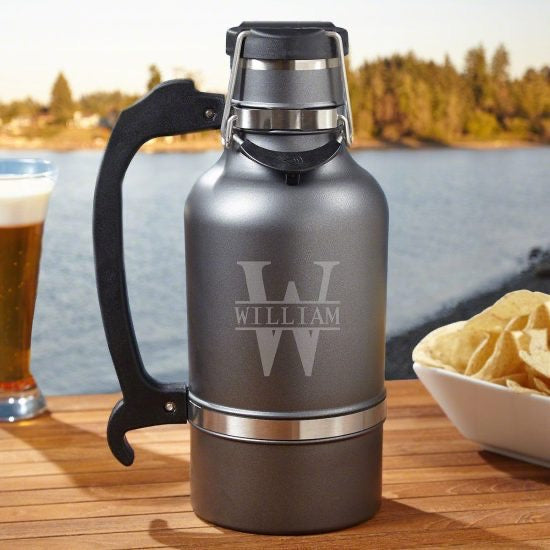 Your friend's adventurous spirit is something to be admired. Make sure they're fully equipped with all the water, beer, or coffee they need with this handsomely personalized gunmetal growler! No matter if they're taking a road trip across the country or headed to the woods for some time with mother nature, they'll be so thankful for such a creative, bold growler that matches their audacious personality.