When someone does a nice thing for you, it's important to say "thank you." However, don't just send a card or a text, send them a nice gift! Thank you gifts show the recipient that you are truly grateful for them and that they are important to you. Sending a nice gift to business partners or employees helps build good relationships as well and it shows them that you really appreciate them for working with you. When it comes to thanking friends or family for attending an event you threw or for doing you a favor, sending them a gift expresses how grateful you are in a thoughtful way. Appreciation gifts can be big or small, but they should definitely be all about the people you're giving them to!
Turn a Bottle of Liquor Into a Thoughtful Appreciation Gift
Planning on giving out bottles of liquor as your thank you gifts? Step your gifts up a notch by gifting them with a custom engraved wooden gift box! You can even customize the lid of the box with up to two lines of text to tailor it to your client or occasion. By giving a bottle of liquor in a custom gift box rather than a generic, disposable gift bag, you're showing the person you're giving it to that they are important to you.
Cool Liquor Flask Set
Whether you're looking for a simple but cool gift to send to your clients or give out to your employees for Employee Appreciation Day, this custom flask set is perfect! The handsome matte black flask comes engraved with their name, and the matching black shot glasses are great for enjoying shots with their friends or coworkers! Appreciation gifts can be simple like this one, but the fact that you're giving them something personalized is that extra thoughtful touch that goes a long way.
The Perfect Thank You Gifts for a Special Occasion
Nothing says "I appreciate you" more than this custom crystal decanter set! Whether it's a close friend who did something nice for you or you're thanking a high-profile client for becoming a partner, this three piece decanter set is the perfect way to show your gratitude. Designed to impress, anyone who receives such a luxurious thank you gift will proudly show it off!
Customizable Thank You Gifts
It doesn't matter what occasion you're giving a thank you gift for, this customizable whiskey gift set is perfect for anything! You can get creative with the lines of engraving to say anything from "Thank You for Being a Company Partner" to "A Token of Our Appreciation." Anyone who receives this thoughtful and cool whiskey gift set will certainly never forget you and be telling everyone they know about their amazing gift!
The Most Unique Thank You Gift for Men
For the guys, nothing is cooler than this beer gift set! Clients, groomsmen, coworkers, employees, and even friends would feel appreciated after receiving such unique thank you gifts. This manly beer gift set almost has it all too, so don't forget to include a bottle of beer to complete it before you give it to him!
459+ GIFT SETS AND GIFT BASKETS TO SAY THANKS>
Flowers Are Always a Good Idea
When in doubt, send flowers with a thank you card! Pro Flowers has hundreds of different bouquets and vases to choose from, so if you know the recipient's favorite flower, they'll appreciate your thoughtful gesture even more! Flowers are usually the best way to thank someone for a favor or for thinking of you, usually in a formal way.
Send a Bottle of Wine in Style
While nice bottles of wine are great appreciation gifts, you can make them even better by sending them in their own custom gift boxes! Whether it's to your employees to thank them for a successful quarter or for a friend who helped you in a time of need, they'll definitely feel special with this gift box. Complete with a custom engraved lid and an assortment of all of the tools they'll need to enjoy your wine, this is so much better than a run-of-the-mill wine gift bag!
Professional Thank You Gifts for Clients or Business Partners
Looking for thank you gifts that are a little nicer for your boss, partners, or important clients? This impressive decanter set is the ideal gift to show your appreciation for someone who has helped you out in a big way or done something really nice for you. The entire set fits neatly on a serving tray that is both great for displaying when not in use and for bringing drinks to guests, which makes it perfect for keeping in the office!
The Perfect Appreciation Gift for Someone Who Enjoys Cigars
For the person you want to thank that enjoys cigars and whiskey, no gift is more perfect than this awesome gift set! From the cigar-holding whiskey glass to the custom engraving, this set is just too cool. Anyone you gift this set will be highly impressed by such a generous thank you gift whether it's your boss, a family member, or a new client!
Unique Thank You Gift
When it comes to thank you gifts for someone who likes beer, don't just get them a six-pack of their favorite brew. Step it up a notch and pair it with this custom beer stein! Anyone who likes beer needs a German-style stein to enjoy beer like they do in Bavaria, the fatherland of the golden beverage. Even if they don't actually use it to drink from, the stein looks great as a piece of decor!
You Can Never Go Wrong with a Gift Basket
Sure, everyone loves gift baskets with fruits and chocolates, but you know what's even more impressive? A breakfast-themed thank you gift basket! Packed to the brim with bagels, muffins, coffee, and jams, this basket has everything they need to have a tasty morning. This basket would be fantastic for showing your appreciation to customers, clients, or friends.
Classy Thank You Gift Set
Are you thinking about giving a bottle of whiskey and a pack of stogies as your thank you gift? Present them with this classy whiskey glass and cigar case to make sure your gift is unforgettable! The elegant initial on both items (either of yours, your company's, or of whoever is receiving it) is the final, personal touch that ensures your gift will mean a lot.
Cool Thank You Gift
Looking for a thank gift to show your appreciation for your groomsmen, friends, club members, or a coworker? A custom wooden beer caddy is by far the coolest idea! Don't give your beer caddies empty though, fill them up with bottles of beer to make them even better thank you gifts!
Appreciation Gift Set with a Little Bit of Everything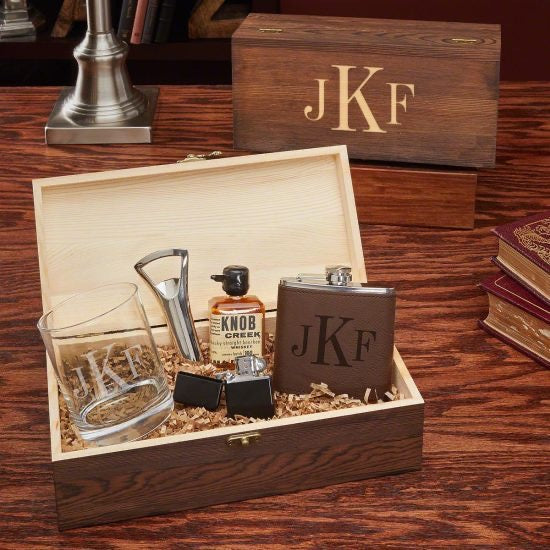 Can't decide on just one gift to give? Go with a gift set that has a little bit of everything! From a custom rocks glass to a nickel-plated bottle opener, this unique box set has multiple items that anyone can enjoy. You can even include more gifts of your own, like their favorite candy or a gift card to their favorite restaurant. The best part about this monogrammed gift set is that there's something in it for everyone, which means it can be given to anyone or multiple sets to several people as matching appreciation gifts!
The Manliest Thank You Gifts
Men typically aren't into the standard gift baskets that you would normally send as a thank you gift, so you should get a manly ammo can set like this one instead! Everything about this gift set for men is practical, so you know that anyone who receives it will enjoy it. This set would be a great appreciation gift for an employee who loves the outdoors, a friend who enjoys going hiking or backpacking, or even your best man.
Gourmet Chocolates Are a Sweet Way to Say Thank You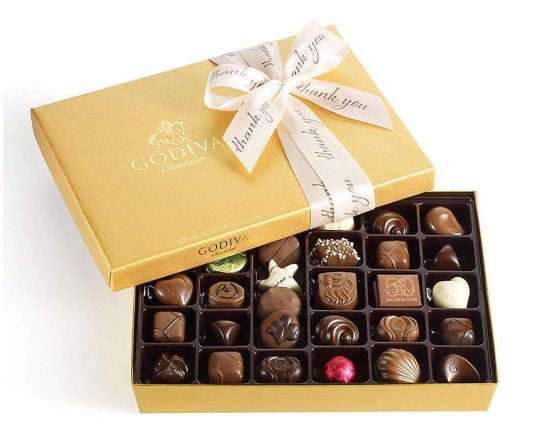 Chocolates are never a bad idea to show someone how grateful you are whether they're an outstanding employee or a friend who threw you a party. Godiva makes delectable chocolate truffles and candies that are so good, they'll be tempted to eat the entire box in one sitting. Tied with a lovely "thank you" ribbon, this gourmet chocolate thank you gift is sure to be the tastiest gift they've ever received!
Go All Out with a Decanter Set
Do you know that the person you're sending a thank you gift likes whiskey? Instead of just a bottle of whiskey, send them a monogrammed whiskey decanter set! This four piece set is great for enjoying a drink after work with a friend or their spouse, and looks impressive on display in their home bar or at their office! Decanter sets make great thank you gifts for clients or business partners as a way to show your appreciation for them working with you.
589+ WHISKEY GIFTS FOR EVERYONE>
Show Your Gratitude With Beer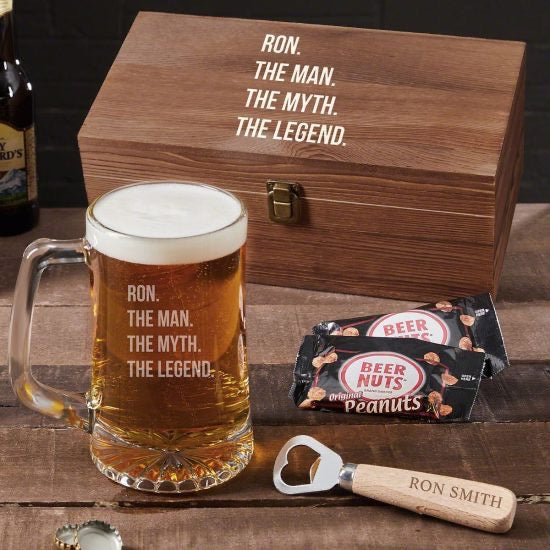 Nothing says "I appreciate you" more than a custom beer mug gift set! The gift itself says it all by declaring the person who receives it as a legend, but they will certainly appreciate the tasty beer nuts and the awesome beer mug inside. By far one of the easiest go-to appreciation gifts that you could give to all of your employees or groomsmen, this cool beer mug set is perfect for any occasion.
Suave Flask Gift Set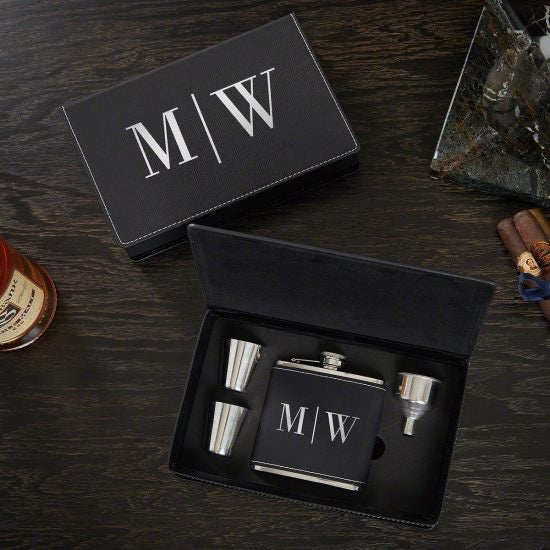 Anyone would be thrilled to get this handsome leather flask gift set! The elegant monogram is simple but classy, and makes the flask suitable for a black tie affair. A couple of these flask sets would make fantastic thank you gifts for groomsmen, new clients, employees, or anyone else you want to show appreciation to!
Unique Whiskey Gift Set
Why send an ordinary bottle of whiskey when you can send an entire gift set that they can enjoy? This unforgettable thank you gift is generous and unique in that it's personalized and comes with so many things! Plus, it has additional room inside to add even more items like sample sized liquor bottles or cigars. Whoever receives such a cool gift will be certain to do more for you in the future!
Let the Cookies Do the Talking
Go the extra mile with your edible gift basket with cookies that say "Thank You," for you! They even say it in multiple languages too. These tasty, beautiful cookies are perfect for sending to friends, coworkers, and family members who deserve something special to show your appreciation.
An Appreciation Gift That Will Last for Years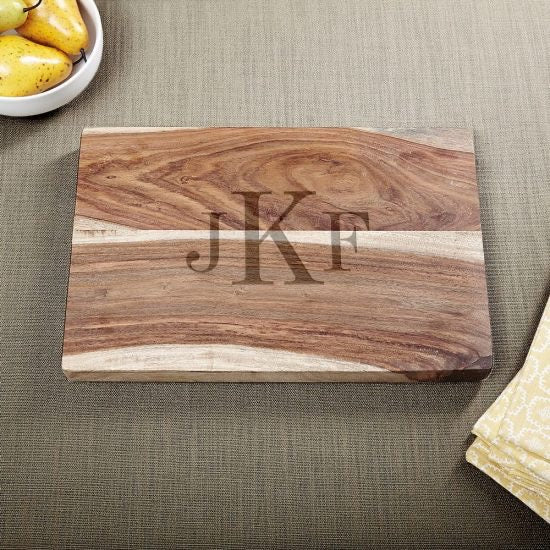 Looking for appreciation gifts that are meant to last a little longer than a one time use? Cutting boards are designed to last for years, especially this gorgeous sheesham one! Elegantly monogrammed with their initials, they will have a reminder of you and your generosity in their kitchen for years to come. Talk about a memorable gift!
Larger Than Life Thank You Gift
Want to send someone a big thank you? Do so with this giant beer mug! With its huge capacity of holding an entire liter of beer, whoever receives it will certainly feel appreciated. In fact, you can also give them a six-pack of their favorite brew so that they can enjoy it right away and see just how many cans or bottles it holds! (Hint: it's 3).
Show Your Appreciation With Fine Whiskey Gifts
Anyone who deserves a notable thank you deserves a notable gift, like this unique whiskey gift set! This set has everything they need to enjoy a glass of quality whiskey like a true connoisseur. The set even comes with two glasses which makes it perfect for sharing their new gift with you or their spouse. Make sure to pair the set with a nice bottle of whiskey so that they can try out the glasses and whiskey stones right after opening up your amazing gift.
Unforgettable Interactive Thank You Gifts
You can't get any more memorable than this! By giving someone a bottle cap map of their home state, they can have a cool piece of decor that they can use to start a collection of bottle caps as well as a subtle display of their state pride. This particular gift is perfect for businesses thanking their local clients, customers, employees, or partners. In fact, they would make great giveaway gifts to thank your loyal customers for their continued support of your local business!
The Ultimate Relaxing Appreciation Gift Set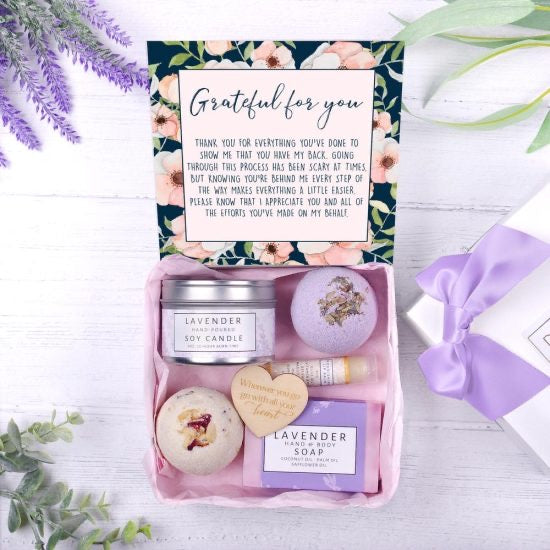 Are you looking for thank you gifts for women? Show the girls your appreciation with the ultimate relaxing spa gift set! Whether it's for your bridesmaids, the friends who threw you a party, your friends for their support, or your coworkers for their hard work, this set is guaranteed to please! After all, nothing says "thanks for everything you do" like an at-home spa treatment.
Impressive Wine Decanter Set
Show your appreciation in style with this gorgeous personalized wine decanter set! Red wine is always better when it's decanted properly, and this set ensures that the recipient can enjoy their favorite red to the fullest. Of course, it's not complete without a bottle of wine to try it out on, so don't forget to pick up an aged Merlot or Cabernet before giving your gift!