UPDATED 2-27-2018
Decorating your very own home bar can be a daunting task. It's your sacred space to unwind and naturally you want it to reflect your personality and taste. For those of you having a difficult time deciding which direction to take your home bar design, I reached into every corner of the internet to bring you the most clever and unique ideas to keep in mind when designing your favorite room. Whether you prefer a refined atmosphere, vintage, or rustic, there is a design for every imbiber! So grab a beer, whiskey, or glass of wine and get inspired because here are 71 totally unique ideas for decorating your home bar.
1. Recycled Beer Can Track Lighting
This home bar decor is completely unique. The materials are easy to obtain, and let's face it, most of us have some empties lying around. Since you can pick and choose what cans to use, you will have some completely original home decor. 
2. Bookcase Bar
Change your bookcase into a boozecase with this cool at home bar design. Books and bottles are comparable in size, making library shelves great pieces of home bar furniture. 
3. Liquor Cabinet
When it comes to home bar ideas, this one is simple, subtle, and an easy DIY project for a productive weekend. 
4. Bottle Cap Backsplash
:
Put those bottle caps to good use and transform them into home bar decor instead of litter on your carpet. A modern twist on classic bar designs. 
5. TV Bar
Turn a thrift store find into an awesome home bar design. We love this very Mad men inspired decor. Great for a basement bar or game room. 
6. Home Bar Signs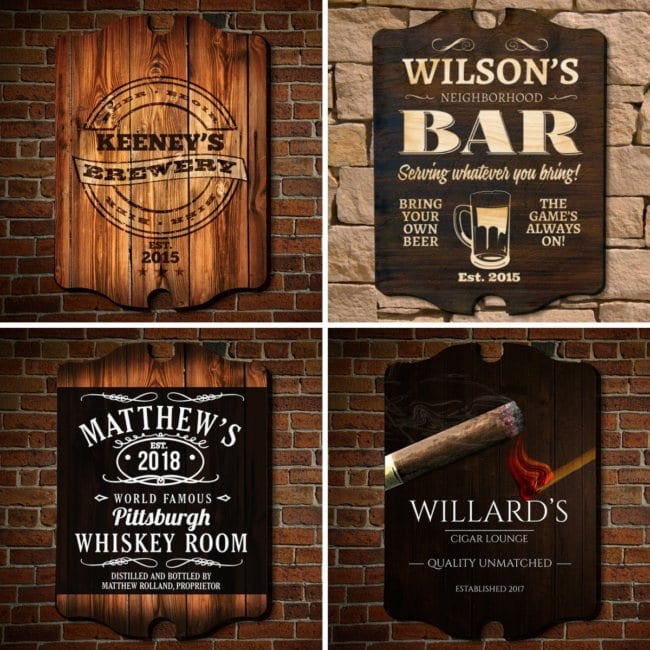 No home bar is complete without some signage. These personalized bar signs are the best, get one or two and personalize them with your name so everyone knows who's bar they are visiting.
7. Old Piano Bar
For the musically inspired drinker, this home bar is a must and will keep your guests talking! Install a little basin in one of the stools and you'll get one of the most unique wet bar cabinets in the world. 
8. Globe Bar:
Now you can map your tastes with this cool home bar globe, an excellent choice for refined and worldly imbibers. Plenty of room to hold all your favorite liquors and also wine. 
9. Skull and Antler Bar
In-home bars should reflect your style. For those who want a more rugged, southern inspired bar, accents of skulls and antlers can give your drinking space a really intriguing look. 
10. Wine Barrel Outdoor Sink
If you're seeking out outdoor bar ideas, look no further than this awesome barrel sink. This would look great on any deck or patio. 
11. Vintage Truck Bar Top
I am in love with this idea. Re-purposing junkyard cars can make for an excellent conversation piece and bring a vintage vibe to spacious house bars. 
12. Fish Tank Bar
For those who drink like a fish, look into integrating some fish friends into your home bar ideas.
13. Beer Cap Map
Collect your bottle caps in style with these awesome beer cap maps. Not only is it a cool way to display what you've tried, but it also looks great, turning your caps into art.
14. Suitcase Bar
If you're short on handy man skills but big on thrifting, a vintage trunk can add a lot of interesting detail to your bar plans.
15. Cork Words

Just corks and glue can make fun DIY home bar ideas.
16. Whiskey Bottle Lights
Light up your home bar in style with this awesome whiskey bottle bar decor. You can also switch up the bottles or even use old decanters! 
17. Large Spool Bar
Forget your boring deck and create a sweet outdoor bar on a budget. 
18. Beer Bottle Chandelier
For those classy folks who also love their beer, this home bar idea is just what you need to add a fun touch to your drinking space.
19. Cork Candles
When it comes to home bar ideas, there are few as simple as this one! All you need are a few candles, some corks, and a vase style of your choosing. 
20. Pallet Bar
When all you need is pallets and stone blocks why wouldn't you want to do this? The perfect piece of inexpensive small bar furniture. 
21. Wine Bottle Chiller
How you present the wine is almost as important as keeping it cold. This custom wine chiller made of marble does both making it a smart, must have home bar accessory. Bonus, if you use it for red wine it keeps any drips off your counter-top. 
22. Repurposed Wine Barrel
Snag an old bourbon barrel and turn it into an awesome home bar. Some breweries and distilleries sell them after they are through with a batch and you can pick up one for super cheap.
23. Re-Writable Tap Handles
Change up your home brews and always display what's on tap with a chalkboard tap handles in your home bar.
MORE CUSTOM BEER TAP HANDLES >
24. Record Bar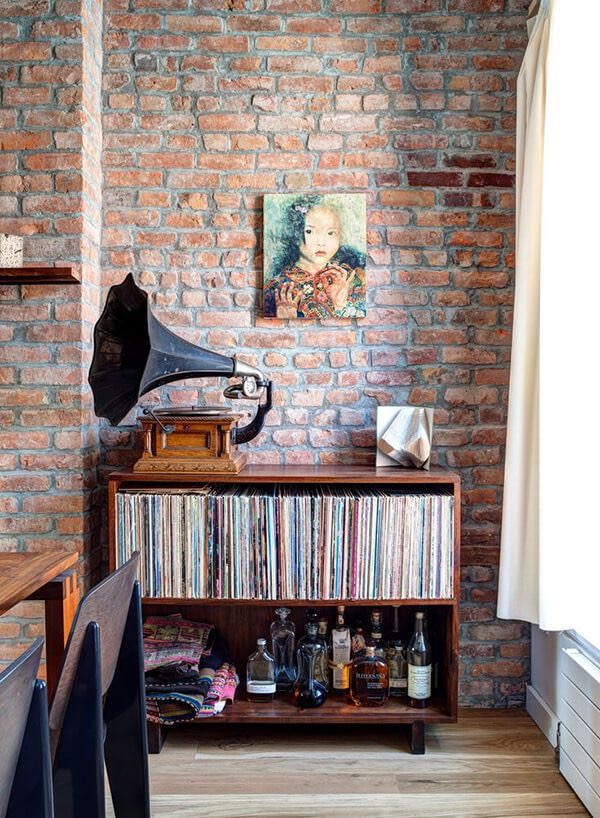 For the drinkers who love vinyl on the side, your record player table can serve as an awesome looking home bar setup, giving it a nostalgic and vintage feel.
25. Pallet Rack
Easy to do, this rustic DIY bar can be accomplished in a weekend and will look great in any living space.