71 Awesome Home Bar Ideas!
26. Giant Jenga
A staple at any neighborhood pub, bring this fun game to your own game room decor and you'll be entertained for hours. It also makes a fun game for the kids when the adults have locked away the booze.
27. DIY Pipe Bar
I like to think of this bar cart as a symbol of liquor flowing, and flowing, and flowing. Is Merlot on tap merely a pipe dream?
28. Wine Bottle Wicks
This lighting fix, is unique and crazy simply. Not only would it look great in your home bar but also your kitchen or living room. These pre-made wine wicks are easy to use, simply insert them into a empty wine bottle, and instant cool bar lighting.
29. Vodka Skull Lamp
While you can purchase one of these awesome liquor bottle lamps, it seems you could probably craft one yourself fairly easily if you're up for a little challenge!
30. Billiards Ball Display
A great idea for pool sharks, this idea would also work for golf balls or baseballs, depending on the theme your home bar reflects.
Complete the billiard theme of your home bar with a sign that everyone will love to have hanging above the bar, on the wall, or even near the pool table. Engraved with your name, this is the finishing touch that will make your home bar stand out against every other bar out there!
31. Fun Wallpaper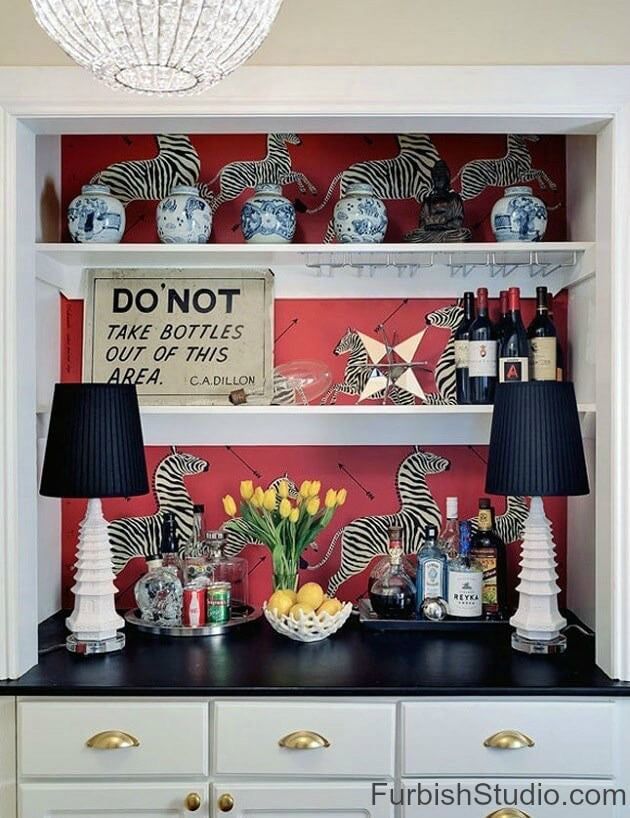 Spice up your home bar design with fun prints and wallpaper if you are going for more eclectic decor.
32. Armoire Bar
No need to throw out that old armoire, simply refinish it and make it into a beautiful home bar.
33. Keg Stool

This seating idea is perfect for a man cave or garage bar, also great for home brewers.
34. Touchdown Field Goal Detail

Awesome for a football inspired man cave or fun home bar, this design brings a fun and exciting feature that is sure to be a conversation starter.
35. Work Bench Home Bar
For the DIY man what better idea for a home bar design than utilizing a workbench? This idea is great for garage bars.
After finishing your DIY garage, who could resist seeing a custom made plaque as the way to ordain their garage or garage themed home bar as their official hideout?
36. Firefighter Home Bar
Firemen will love this themed home bar decor. Just don't drink and slide down poles.
37. Classic Tiki Bar
A classic bar design that remains popular to this day. Tiki bars are amazing for channeling a vintage 1960s vibe.
38. Barware on a Cart
Match-y bar ware is so passe. Don't be afraid to collect different styles and color variations. Glass, stainless steel, copper, ceramic, enamel, empty jelly jars… you get the picture.
39. Wine Display Under Stairs
Under the stairs is not just for imaginary friends and boogie monsters anymore. A fun and different way to display your extensive wine collection.
40. Decanters are Back – In a Big Way
Let's face it, a home bar without decanters is well….bare. Old is new these days, and decanters are back in style in a big way. Class up that joint with some vintage style with some custom engraved decanters.
MORE WHISKEY DECANTERS FOR HOME BARS>
42. Wicker or Wood Baskets
Use wicker baskets for a quick and organized home bar design. Perfect for napkins, booze bottles, fruit, cans of San Pellegrino, and more.
43. Booze Drawer
Keep your booze on lock-down and out of sight. This is a perfect home bar idea for couples with kids who like to keep the liquor put away.
44. Chalk Walls
Everything you ever needed to know you learned in kindergarten. These chalk walls are perfect for doodling or writing down what drinks you like to make and want to offer for the night.
45. Sculpture Bar
If you have a cool $500,000 to spend for this limited edition bar set created by late artist and sculptor François-Xavier Lalanne would be an incredibly fun bar cabinet idea for a safari themed room. Or if you've always been a fan of Hungry, Hungry Hippos. Also it would make a great conversation piece. Most likely about Hungry, Hungry Hippos.
46. Plants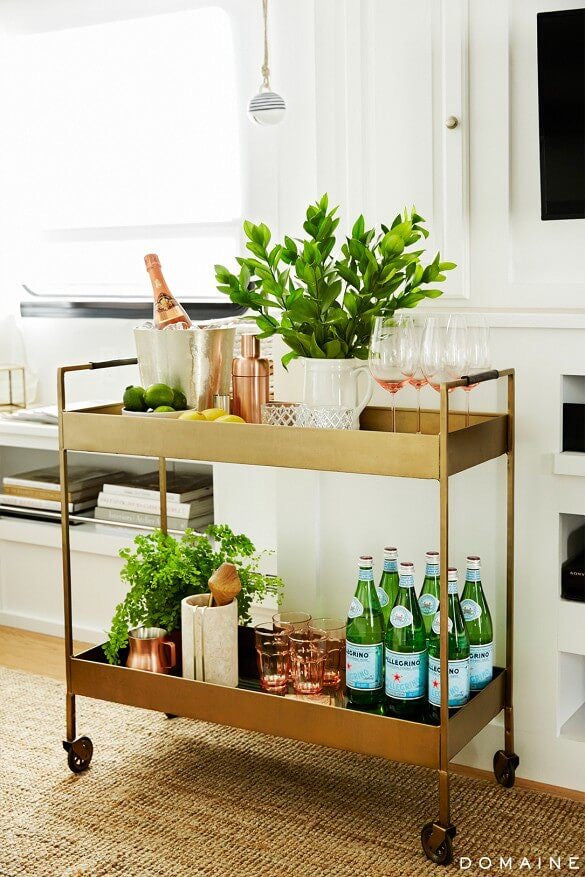 All booze is made from plants, so they fit right in! Don't be afraid to bring the outdoors in and make your home bar a part of nature. Home grown herbs like basil, mint, and rosemary can be used in your cocktails, too.
47. Re-Purposed Old Yard Tools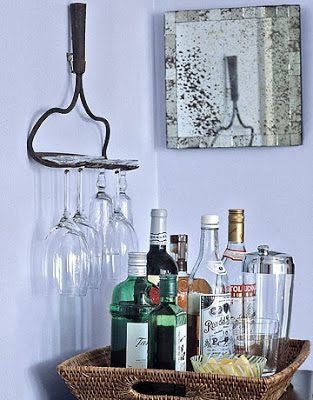 A perfect rugged look for a rustic home bar. Hang wine glasses in an old rake, or turn a wheel barrow into an ice chest. We do not recommend using a water hose as a straw.
48. Funky, Unusual Glassware
Change it up and opt for out there glassware, it will add character to your bar decor and catch your guests eye.
430+ GLASSES TO STOCK YOUR BAR>
49. Antlers. Real Antlers!
A great option for hunters, antlers are cheap or even free if you live in an outdoorsy area, and look great on a bar cart. Not really the hunting type? Vintage stores are a great place to find antler accessories and odd taxidermy specimens for some of the coolest bar ideas.
50. Growler Lamp
Once you've finished a growler of beer, you can either have it refilled, or create are! If you're fond of home brewing or craft beer in general, a growler lamp makes for a unique touch in your home bar design.